Category:
10 Best TVs for Dorm Rooms in 2023
We independently research, test, review, and recommend the best products. As an Amazon Associate we earn from qualifying purchases.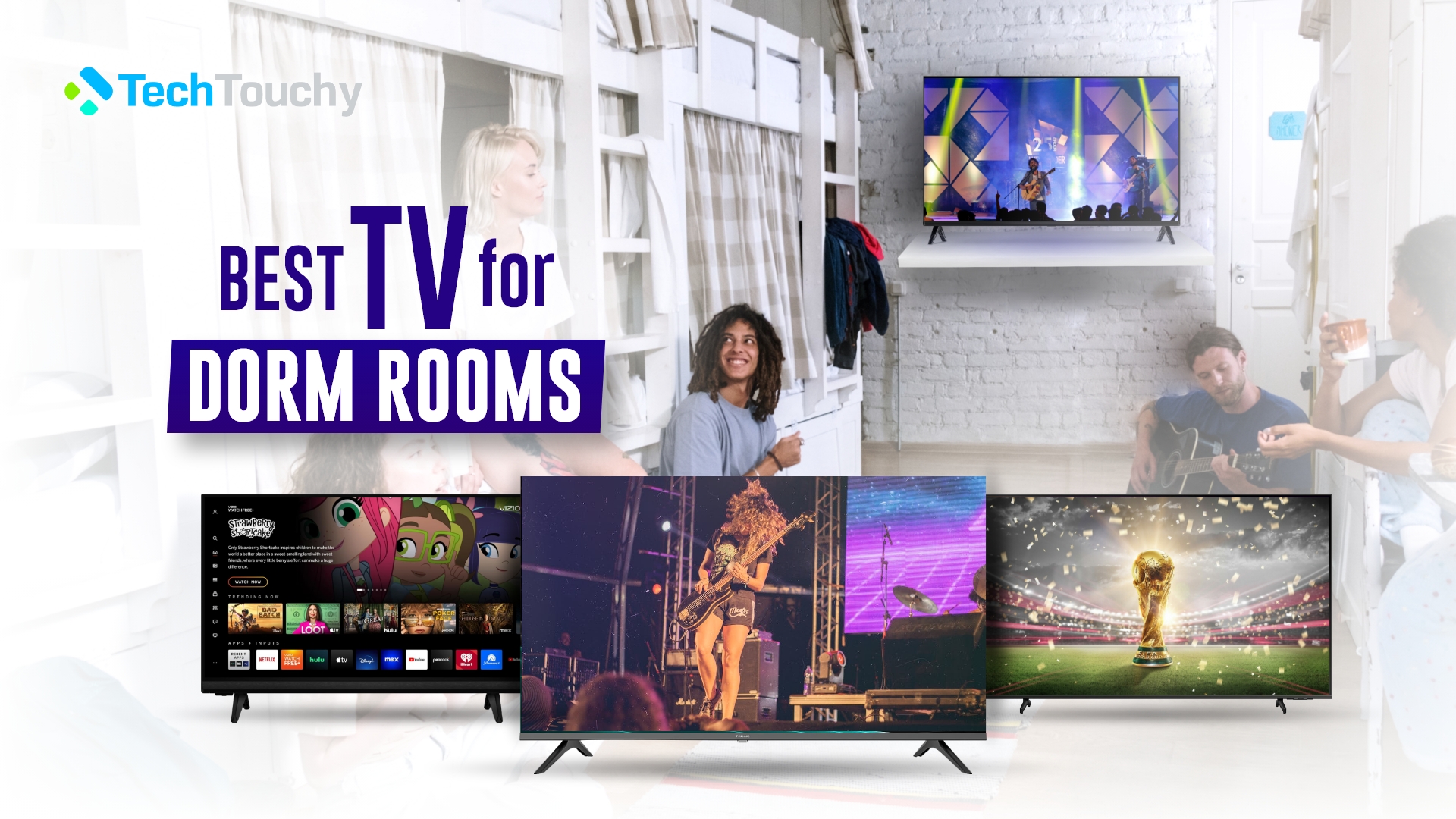 A TV in the dorm room can be a necessary boost of entertainment and mental morale after the long and tiring college days. Manufacturers might not make TVs, keeping dorm rooms specifically in mind. However, they designed them in such a manner that makes these TVs applicable to college dorm rooms. So you might come to a standstill while choosing the best TV for dorm rooms.
Things to consider before buying the best TV for dorm rooms
As mentioned earlier, plenty of options are available when choosing the best TVs for college dorm rooms. Therefore, you need to have a clear idea about what you need. As a result, there are some certain things we would recommend you to consider while choosing the best TV for dorm rooms.
Size
One of the first questions you need to solve while buying dorm TVs is what sized TV is good for a dorm room. Now, the best TV size for dorm rooms depends on a few factors. The most key of which is your sitting distance for TV. Usually, dorm rooms are not that big. So, your sitting distance will most probably be within 6- feet. Considering that, the best TV size for dorm rooms is within the range of 32″ -43″. However, there is no universal certified TV size for a dorm room. Therefore, if your dorm room is smaller or you'd not be sitting far away from the TV, you might choose a small TV for your dorm. Similarly, a big-sized (more than 50 inches) is a good dorm room TV size if your dorm room is bigger.
Streaming ability
Let's be honest. You are not buying a TV for productivity. You want to have some good moments and chill with your friends while watching movies or TV series. Thus, it becomes important that your TV can stream platforms like Netflix, Amazon, or Hulu. Subsequently, you should also have a TV that can easily connect to Wi-Fi. Having these qualities is surely a plus for your dorm room television.
Connectivity
You might want to use your TV for gaming, too. In that case, your dorm room TV needs to have sufficient HDMI ports to cover that need. We would suggest that you take note beforehand of how many devices you want to connect and find a TV with the exact number of HDMI ports.
Display quality and Refresh rate
The best TV for dorm rooms should have a good display quality for the comfort and enjoyment of your viewing experience. Our recommendation is to pick a TV that has UHD 4K resolution or  4K HDR. If that's not possible, you should at least go for a TV with 1080p HD.
On the other hand, the ideal refresh rate for the best dorm room TV depends on your usage. If you use the TV only for streaming, then 60-75 Hz should be good enough. But if you want to use it for gaming reasons, then we prefer you to choose at least 120 Hz.
Price
As we are walking about the best TVs for college students, price might be the most important factor to consider. Therefore, while purchasing a TV in the dorm room, you should carefully check your budget range and find the best solution within that range.
Other features
Sound quality is another important factor in deciding the best TV for dorm rooms. You must select a TV with good sound quality. If you have difficulties finding one, then you can opt for a compatible soundbar. Additionally, the best dorm TV should also have built-in QAM Tuners and ATSC tuners, too, if possible.