Category:
BONAOK Q37 Wireless Bluetooth Karaoke Microphone Review
We independently research, test, review, and recommend the best products. As an Amazon Associate we earn from qualifying purchases.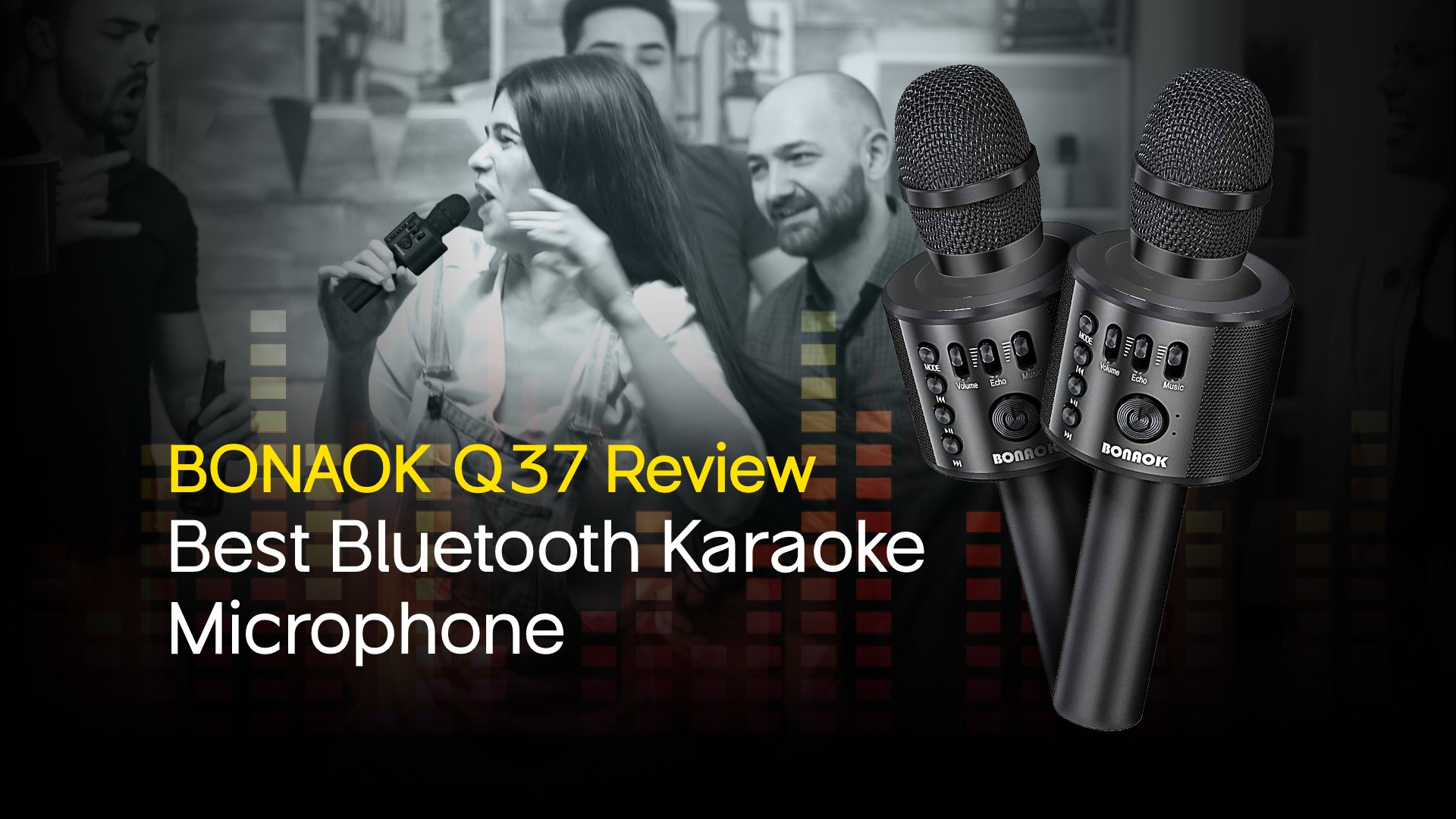 Intro
There are many unique products on the market for microphones right now. Among them, the Q37 model of the BONAOK wireless Bluetooth karaoke microphone is considered one of the best. Its price may place it in the affordable category. However, looking at its features will certainly change your perspective. The Q37 comes with features that exactly perform what it claims to do. In this BONAOK microphone review, we will try to go in-depth into all of its features and perks.
Product Overview
The Q37 comes inside a surprisingly good quality case. You are also getting one micro-USB and an audio cable. It initially appears to be a standard karaoke microphone. However, the Q37 reveals itself as a versatile device on close inspection.
The microphone has a total of eight buttons for different functions. At the bottom, you can find a 3.5 mm jack and a micro-USB port for power input. The audio jack can also be utilized for the BONAOK microphone to connect to a speaker. You will also find a slot for an SD card with a maximum capacity of 32 GB.
This particular BONAOK wireless Bluetooth karaoke microphone uses aluminum as the primary material for this wireless microphone. It looks and feels premium at hand, which is surprising considering its price. In addition to its excellent build quality, the Q37 comes in 13 different colors. The sample we are using for this review is black.
Specifications of the BONAOK Q37 Wireless Bluetooth Karaoke Microphone
Product Dimensions: 4.25 x 3.86 x 11.02 inches
Color: Black (Multiple colors are also available)
Connectivity: Bluetooth, Cable
Compatibility: Laptop, PC, Tablet, Android, iPhone
Included with the microphone: Charging Cable, Audio Cable
Polar Pattern: Unidirectional
Battery Type: Lithium Polymer
Battery Capacity: 1200mAh
Special Feature: Multi-function buttons with Volume Control option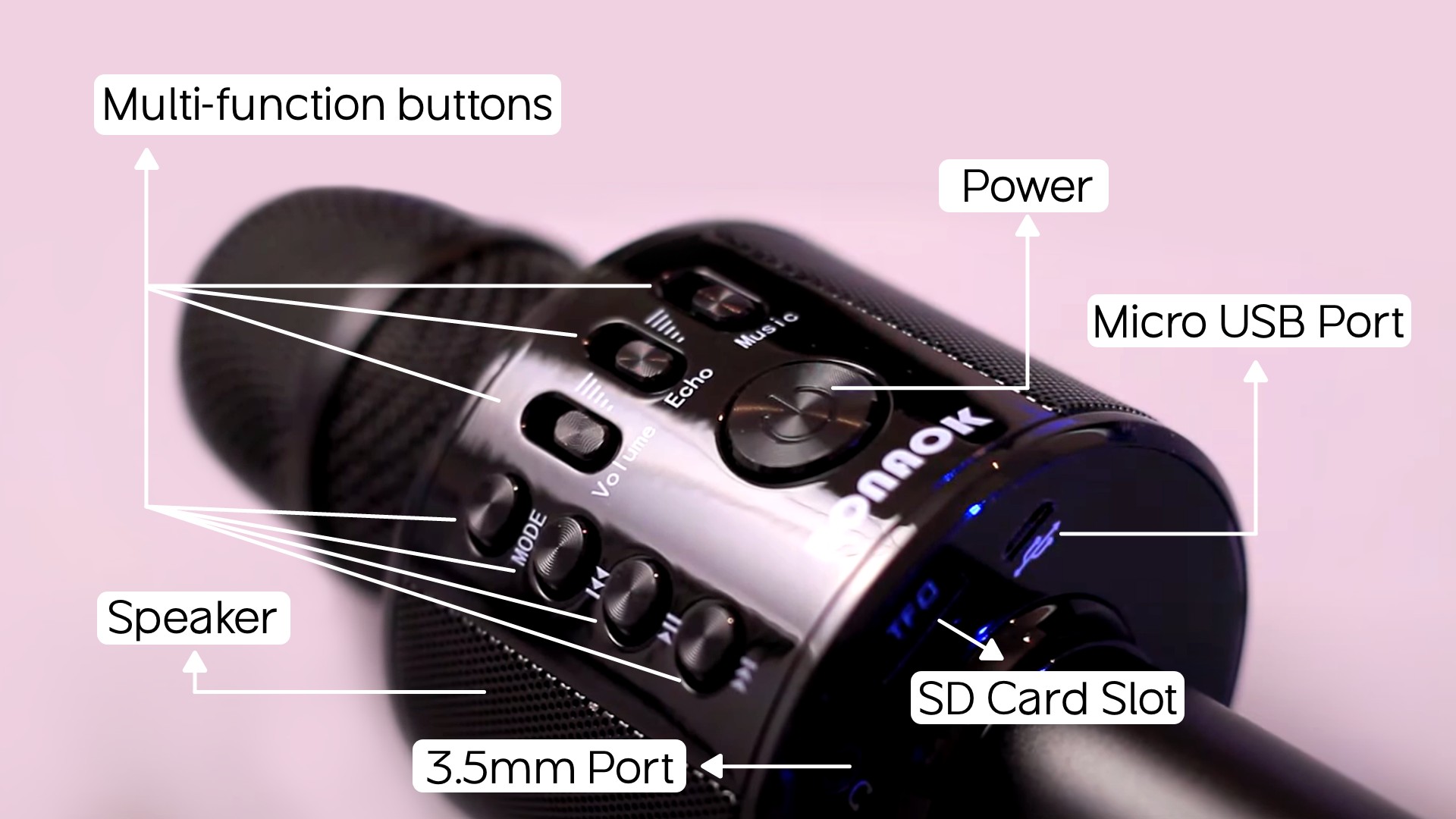 Performance analysis of the BONAOK Q37 Wireless Bluetooth Karaoke Microphone
The BONAOK Q37 fully supports PC, Android, and Apple devices. It offers Bluetooth wireless connectivity and audio cable connection as two options for connectivity.
Operational range
In our testing, it performs very well inside a 10m radius with Bluetooth enabled. When we pushed the device further than the 10m range, the sound quality deteriorated fast. But this is acceptable from an entry-level multi-function wireless microphone.
Connectivity
As easy as using the BONAOK microphone to connect to Bluetooth devices, the wired connectivity option enables higher-quality input and output at the expense of movement freedom. We tried to use the wired connection for mock interviews, which performed surprisingly well. Although, as a karaoke microphone, you should stick with the wireless option.
As tech reviewers, we love when manufacturers provide multiple workable connectivity options for user convenience.
Sound performance
This microphone's built-in clear audio function and vivid sound effects can filter the voice to produce crisper sound quality. The Q37 takes it further by giving you a dedicated echo sound button to tweak the level of live sound effects output. In terms of noise reduction capacity, the three-layer filter net is decent enough for the device's price.
When it comes to recording your song, don't expect a high-quality performance from it. It gets the job done on most occasions, but we recommend a more professional device for recording. If it is for fun, then the Q37 is more than enough to deliver.
The microphone uses the SD card to store the recording simultaneously, providing a space to store songs that you can play on the speaker or sing along. The BONAOK microphone's mode button lets you switch between the SD card and Bluetooth mode.
Speaker performance
The Q37 also works as a decent wireless speaker. You might think this might be a gimmick, as do we thought. Our BONAOK wireless Bluetooth karaoke microphone review proves it is also good at the speaker front.
However, the specifications of this device indicate it is meant to use as a karaoke microphone. You may use it for interviews or seminars, but it would be best to use lavalier microphones in those circumstances.
Needless to say, it won't perform as a speaker specifically built for music. However, if you consider this device's versatility, it is something to appreciate. BONAOK cleverly sets the speaker around the control panel area. You can put the microphone vertically on a flat surface or anywhere to listen to music.
Pros:
Compact and portable for any environment
It works with a variety of singing applications
The use of aluminum makes it a durable device
Easy to adjust the microphone, echo, and music level mode
Built-in battery with excellent performance that lasts up to 3-4 hours
Multi-function buttons are located all in the same place for easy navigation
Cons:
Not recommended for professional use
The speaker sound quality needs improvements
It could be more convenient if it came with a type C connector instead of a micro USB
How to connect BONAOK Q37 to Bluetooth enables devices
To learn how to pair the BONAOK microphone, start by enabling Bluetooth on your PC, iPhone, or Android device. Now search for the microphone's designated Bluetooth name (Q37). Click to pair and wait for a ticking confirmation noise. Enter 0000 if a password is requested. Finally, use your BONAOK microphone with a singing or karaoke app to sing along.
Difference between BONAOK Q37 wireless Bluetooth karaoke microphone and the Bietrun Wireless Microphone
Although the price difference is a significant drawback for the wireless microphone from Bietrun, it is similar in functionalities to the Q37. However, Bietrun builds its microphone for professional use. It has a UHF (Ultra High Frequency) range of 98ft and a Bluetooth range of 10m. Compared to that, the Q37 offers a similar Bluetooth range but a significantly lower operational range.
The Bietrun wireless microphone includes a receiver, which improves the device's overall performance. The Q37 does not come with such a companion device, as its main focus is portability. Moreover, the Bietrun microphone has a display for convenience, but the Q37 does not have any.
Our review of the Bietrun wireless microphone contains a more in-depth analysis if you seek a more advanced device.
Verdict
The BONAOK Q37 wireless Bluetooth karaoke microphone does an excellent job in terms of a portable wireless karaoke microphone. There are more expensive microphones from this manufacturer, but this variant is the best.
When used as a wireless speaker, the device might not provide the best audio quality, but that is to be expected from a product at this price. Besides that, the Q37 excels in everything from its build quality, connectivity option, audio output quality, and multi-functional buttons.
In addition, we love how easy it is to operate. If you are searching for the best wireless Bluetooth karaoke microphone, you have just found a functional and fun-to-operate device.
You may check our take on the best Bluetooth and wireless microphones if you want more analysis on similar products.