Category:
Gosky Monocular 12×55 Review – Best HD Monocular Telescope
We independently research, test, review, and recommend the best products. As an Amazon Associate we earn from qualifying purchases.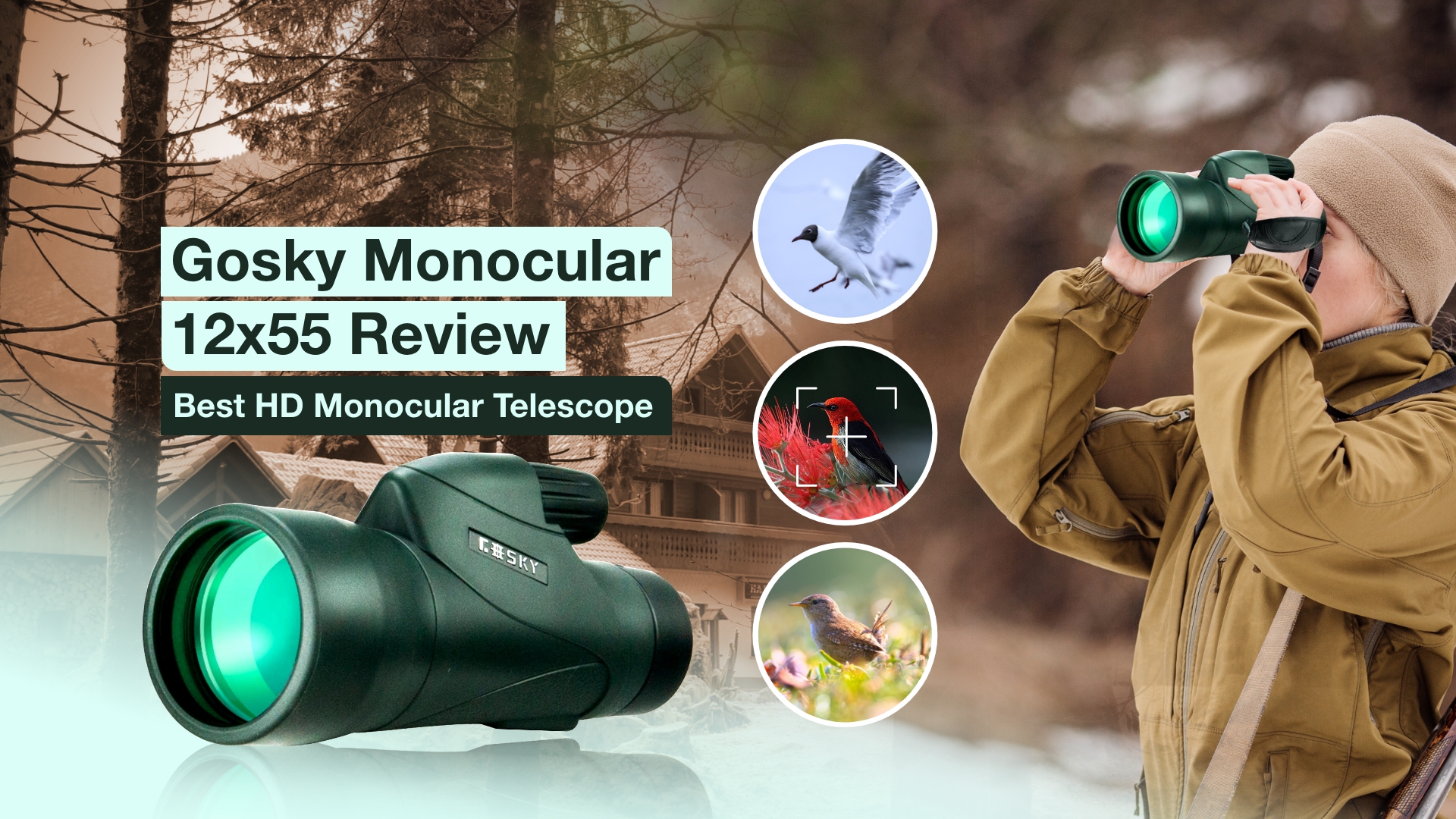 Monoculars work almost like binoculars but provide portability and enhanced usability for certain circumstances. The Gosky monocular 12×55 is appropriate for all uses, including wildlife photography, bird watching, and sports viewing. If you are tight on budget, it might be the perfect device on the market.
Product Overview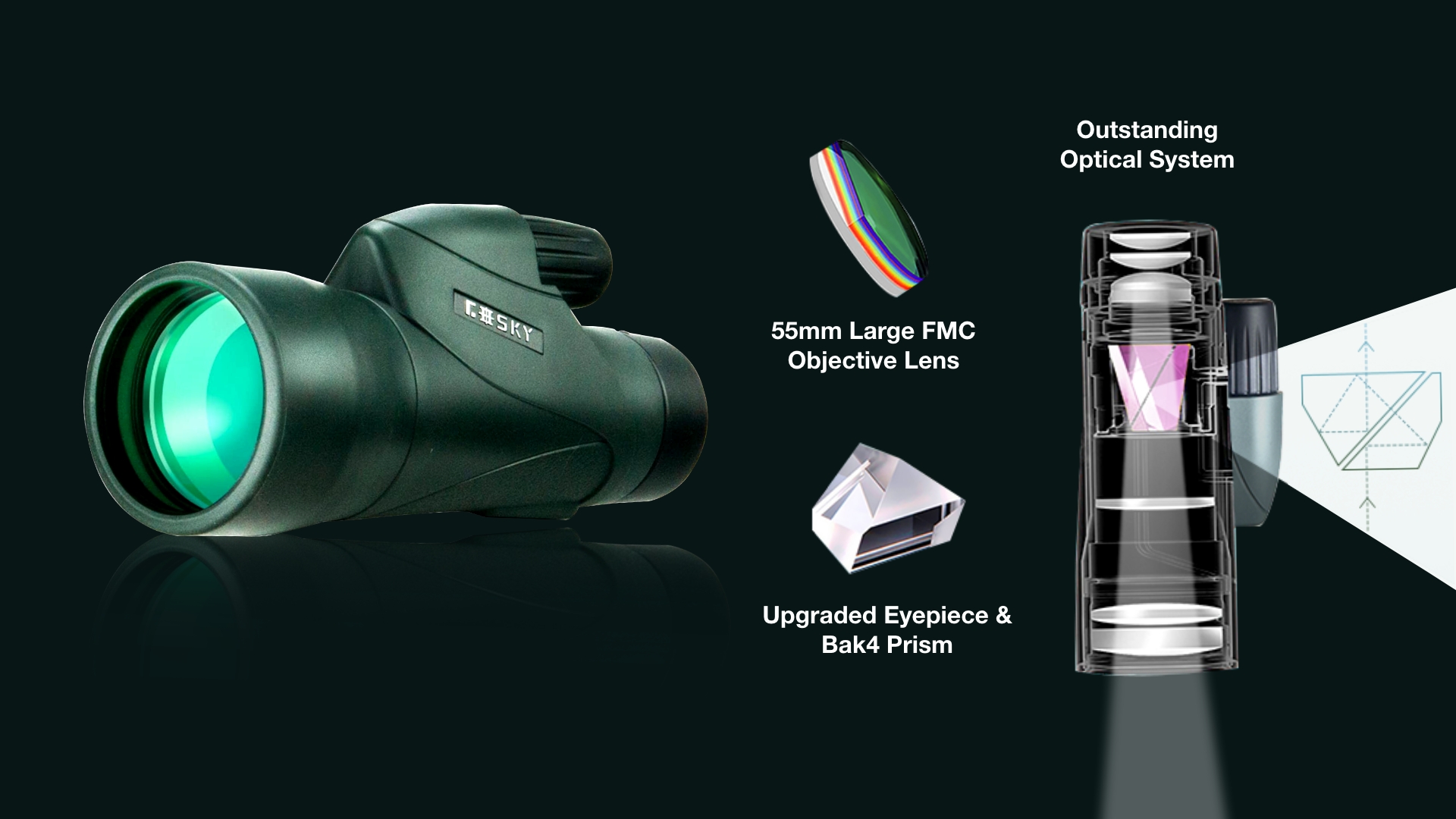 The Gosky 12×55 high definition monocular is a handheld device with a smartphone mount option. It is very lightweight, but the overall build quality expresses a rugged appearance. The unit we are reviewing does not provide a tripod but features a universal compatible smartphone adapter. It has a padded, faux leather hand strap that is adjustable and attaches with a nylon strap. The device also features a twist-up eyecup for a comfortable outdoor watching experience.
Specifications
Product Dimensions: 3.25 x 2.12 x 6.95 inches
Item Weight: 1.54 pounds
Finder scope: Reflex
Focus type: Manual
Objective lens diameter: 55 mm
Lens coating: FMC (Fully Multi-Coated)
Waterproof: IPX7
Box contains: Monocular, Phone Mount, Carrying Case, Hand Strap, Hand Strap, Hand Strap
Performance analysis of Gosky Monocular 12×55
The Gosky Monocular 12×55 is built for rough usage outdoors. To test its capabilities to the maximum, we have taken the device into a mountainous area with a wet environment. The results we have seen are outstanding compared with other pricy monoculars in the market. Everything from the body to the lens and build material shines to outperform any other competition.
Usability
The Gosky 12×55 includes several safety features that enhance its usability. For example, the included hand strap could prevent the lightweight monocular scope from slipping. The polymer casing is durable enough to withstand an accidental drop. The rubber lens coverings also add an extra layer of security. Gosky has an IPX7 nitrogen-filled construction that makes it waterproof, fog proof, dustproof, and shockproof, regardless of weather conditions.
Lens performance
The Gosky monocular comes with a 12×55 lens with a large field view. This lens setup is outstanding for distant viewing and arguably the best monocular for bird watching. The lens's performance is further enhanced using an 18mm BAK-4 optics prism and an FMC (Fully Multi-Coating) lens. It balances light transmission and unnecessary light reflection to deliver clear and sharp pictures even in challenging environments.
Mounting system
The Gosky 12×55 comes with a quick-alignment smartphone holder. It would help you to get your iPhone or Android phone attached to the unit and take pictures of distant subjects with a good amount of stability. Even though the holder is not quite as well-made as the monocular, it is still adequate for any given task.
Pros:
Excellent build quality and appearance
Adaptable smartphone adapter
IPX7 waterproof
Anti-fog lens coating
Smooth and easy focus knob
Comfortable twist-up eyecup
Cons:
Limited mounting system provided in the box
Verdict
A monocular is an excellent optical tool and an alternative to binoculars for outdoor activities. The Gosky Monocular 12×55 offers the best value for money in its class. Furthermore, Gosky is the best monocular telescope for you if you want a simple, straightforward and covers all of the basics.