Category:
JSSEVN Wireless Lavalier Microphone Review
We independently research, test, review, and recommend the best products. As an Amazon Associate we earn from qualifying purchases.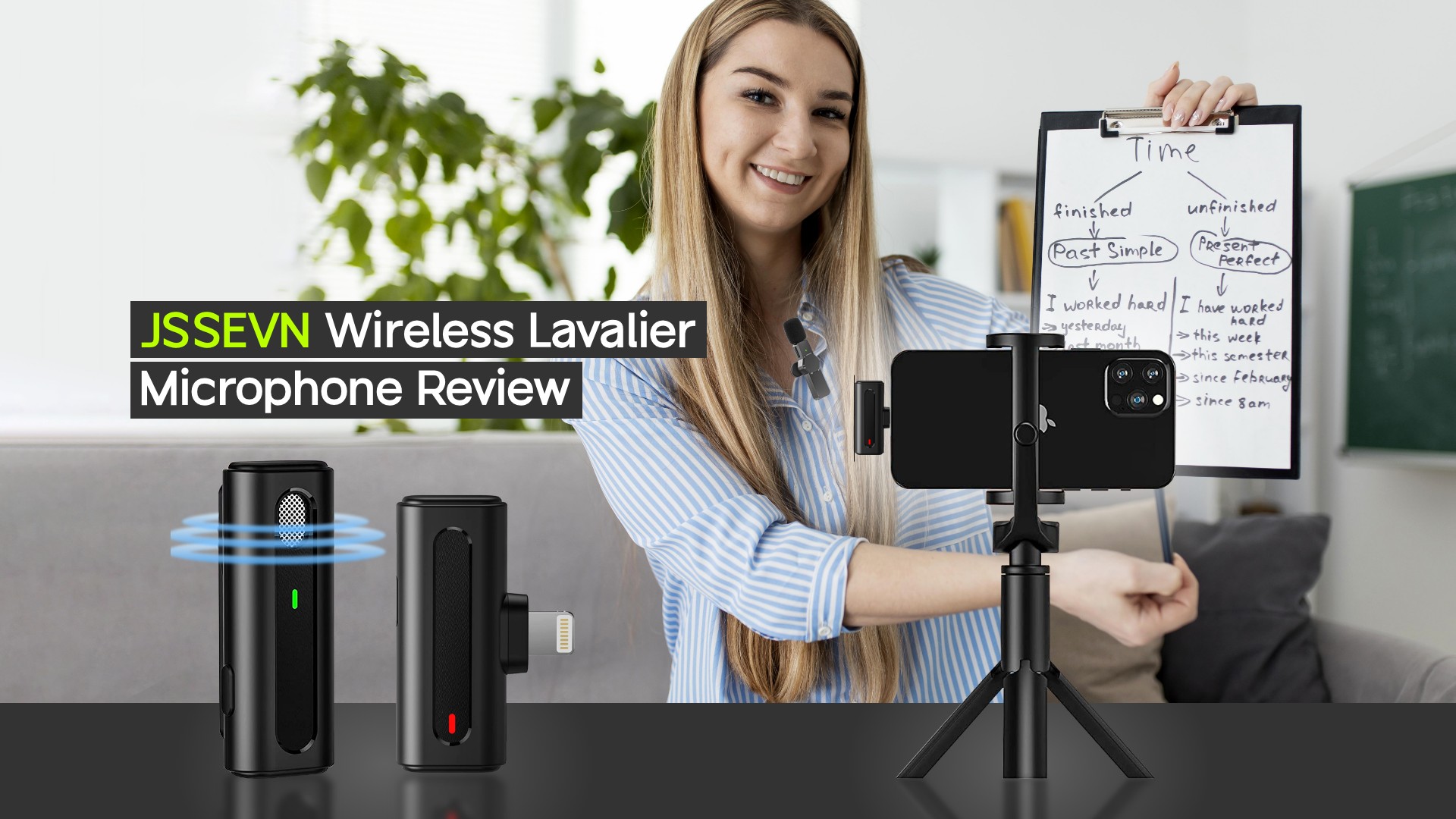 A Bluetooth lavalier microphone for the iPhone works best for recording audio on films and stage production. The primary benefit is that they enable you to broadcast and record audio without using a handheld or visible microphone. In that sense, the JSSEVN wireless lavalier microphone is the one you should try for its multipurpose benefits. You'll learn why we think this device is one of the best for your iPhone in our review.
Product Overview
By all accounts, the JSSEVN wireless lavalier microphone is a low-cost device. However, it has features that can compete with other high-end products in terms of usability. Its main selling points are excellent plug-and-play functionality and an exclusive iPhone compatible microphone. Aside from that, it manages to provide professional-level, high-quality recording in most situations.
The packaging of the JSSEVN wireless lavalier microphone is simple. It includes a microphone with a clip, a transmitter, a minimal cover, and a cable to charge the microphone. Apart from that, you also get two sets of windscreens and an extra clip.
We love that the transmitter features a charging port to charge your iPhone while recording. This simple feature itself sets this budget device ahead of many expensive variants. For example, in our review of the SHURE MV88, we were disappointed about excluding such functionality.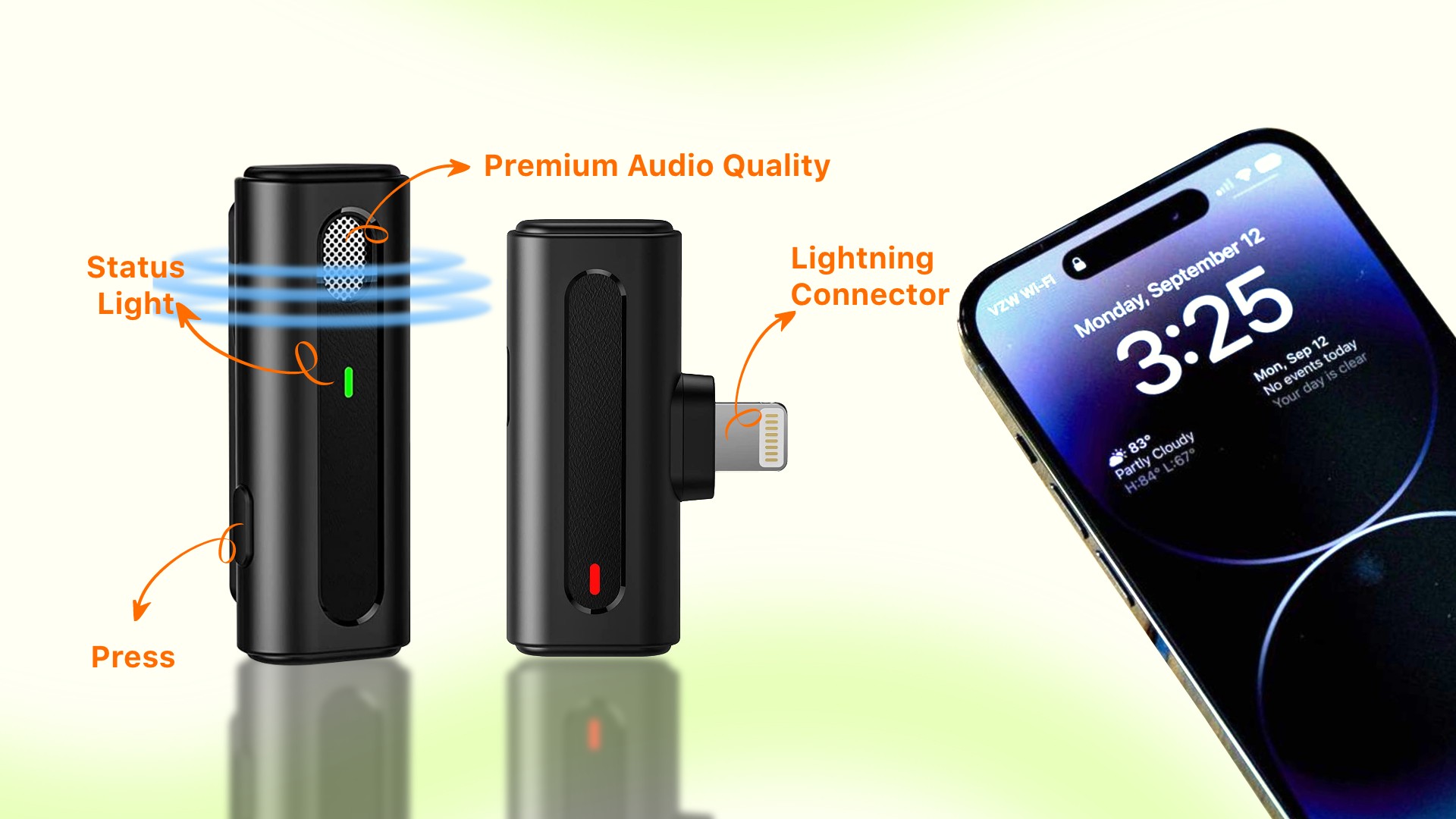 Specifications of the JSSEVN Wireless Lavalier Microphone
Product Dimensions: 2.8 x 4.6 x 3.6 inches
Color: Black
Connector type: Lightning
Compatibility: All iOS devices with lightning ports
Included with the microphone: Transmitter, Carry case, Clip, Foam Windscreen, Type-C charging cable
Polar Pattern: Omnidirectional
Special Feature: Charging port design
Performance analysis of the JSSEVN Wireless Lavalier Microphone
This lavalier microphone from JSSEVN does not need apps or the Bluetooth connection of your iPhone to function. Furthermore, the built-in noise-canceling feature and the sound sponge significantly reduce background noise and echoes. As a result, we managed to record clear audio with this tiny microphone in our testing.
JSSEVN also implements real-time auto-sync technology to reduce the time for video post-editing. We find this feature less effective in an open and noisy place. However, the microphone delivers excellent sound recording capability in a closed environment. Thus, it can be a perfect wireless shirt microphone for live streaming in such an environment.
The JSSEVN wireless lavalier microphone uses a 360°omnidirectional radio, and the high-sensitivity microphone can cover 65ft. However, you can't hear the audio from the device when the receiver is plugged in. It is because the receiver will occupy the space where the speaker of your iPhone is located.
Pros:
Excellent plug-and-play performance
Real-time auto-sync technology
Decent noise reduction capability compared to its budget-friendly pricing
360°omnidirectional radio with built-in 2.4Ghz frequency spectrum
Long-distance transmission up to 65ft
Exclusively built for iOS devices with wide compatibility
Cons:
Occasional echo sounds during the recording
You need to unplug the receiver every time to listen to the recorded video
How to pair JSSEVN Wireless Lavalier Microphone with your iPhone
First, make sure the microphone is plugged into your iPhone. Then press the microphone and check the light of the mic after pressing the power button of the mic. The status indicator light will flash while pairing, and the green light will remain constant after a successful connection. Conversely, the receiver will show continuous red light after a successful connection.
The difference between JSSEVN Wireless Lavalier Microphone and SHURE MV88 Microphone
The primary function of connection is similar among these two microphones. The first thing that sets them apart from each other is the price. The MV88 from SHURE is made of premium materials like aluminum. On the other hand, JSSEVN lowers its cost by using a decent-quality plastic frame. MV88 has unique features like voice-activated recording and specially-made free apps to configure sound quality.
The JSSEVN wireless lavalier microphone does not include such advanced features. However, it excels in usability features like charging your iPhone while recording. The MV88 from SHURE significantly lags in this department. You can read our SHURE MOTIV MV88 iOS Stereo Condenser Microphone Review to learn more about its features.
Verdict
The JSSEVN wireless lavalier microphone tries to be a budget-friendly microphone system for your iPhone. We discover that it achieves what it is meant to be after going through its capabilities and utilizing all of its features. Indeed, the more expensive microphones will provide advanced features, but JSSVEN offers us a budget-friendly alternative, and we love it. You may check our take on the best Bluetooth and wireless microphones for more options.