Category:
Pankoo High Power Monocular review
We independently research, test, review, and recommend the best products. As an Amazon Associate we earn from qualifying purchases.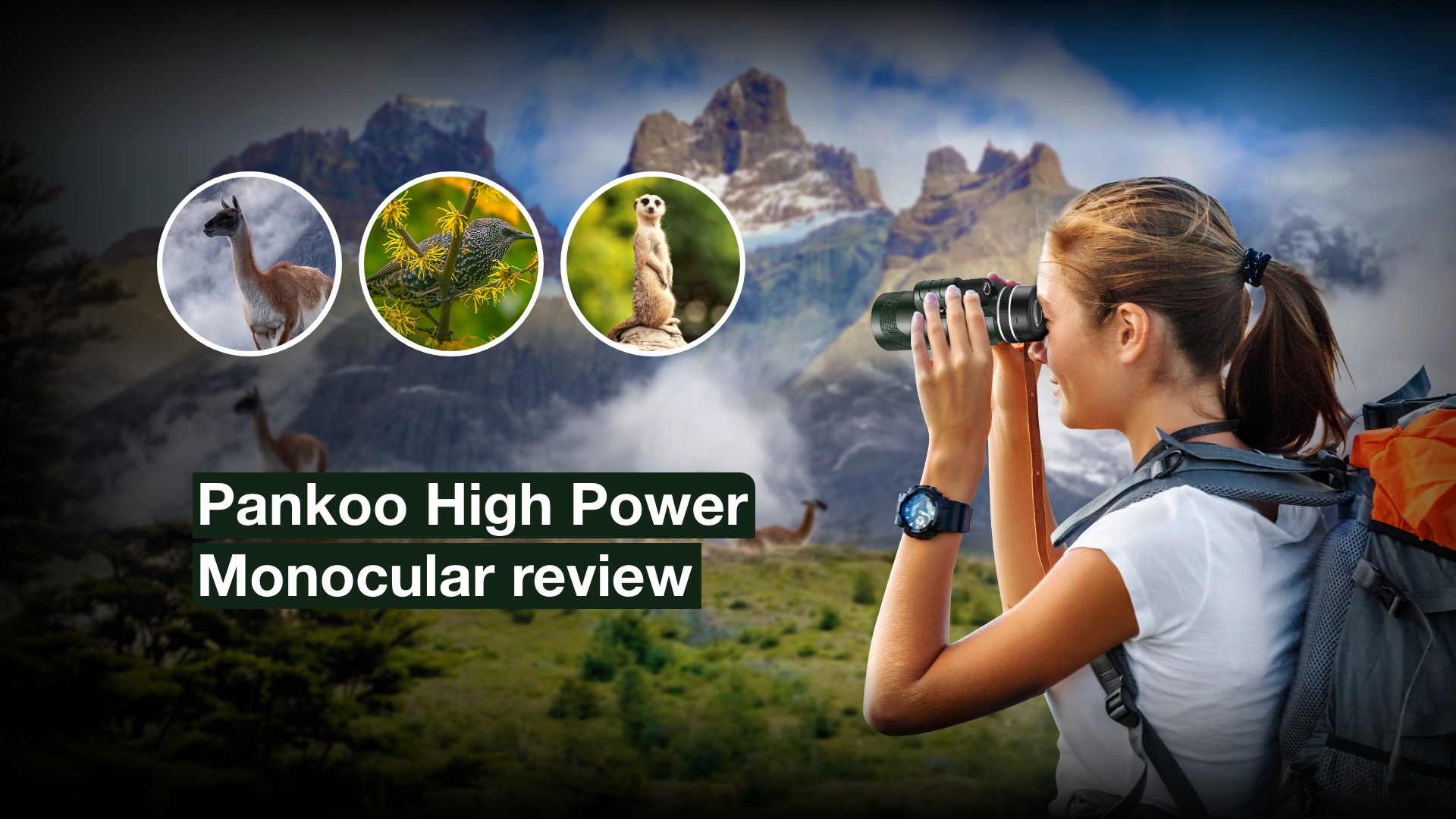 A monocular is a handheld refracting telescope used to see distant things up close. Pankoo is considered an outstanding choice among many monoculars out there for its performance and affordability. Therefore, here we will review the Pankoo monocular telescope deeply and investigate all its pros and cons.
Overview of the Pankoo Monocular Telescope
Unlike conventional telescopic sights, monoculars use an optical prism to keep the image in its proper orientation. Therefore, the Pankoo monocular is more convenient and affordable than a pair of binoculars due to its smaller size and less weight but having comparable optical performance.
Additionally, Pankoo 40×60 monocular includes a smartphone holder for easy alignment so that you can use the monocular with your mobile device. Furthermore, it has a multi-coated lens and a BAK-4 prism combined to provide a crisp, clear visual.
During our Pankoo 40×60 monocular review, we used it in harsh and extreme weather. As advertised, it was able to survive extreme weather thanks to its compact and strong body. Additionally, the visual unit is waterproof and covered with anti-fogging material. So, there is no concern about water damage when using it in a wet area or humid weather.
Overall, the Pankoo 40×60 monocular telescope can easily be used for many different activities. For instance, hiking, hunting, climbing, bird watching, baseball games, and more. Furthermore, the build quality is sturdy enough to withstand the toughest challenge in any use case.
Specifications
Product Dimensions: 3.32 x 3.1 x 3.4 inches
Item Weight: 0.86 Pound
Finder scope: Reflex
Focus type: Manual
Objective lens diameter: 60 mm
Lens coating: FMC (Fully multi-coated)
Box contains: Monocular, Phone Mount, Aluminum Tripod
Performance analysis of Pankoo monocular
For reviewing Pankoo 40×60 monocular telescope with smartphone holder & tripod, we chose some realistic scenarios. Therefore, we found a thorough performance review of the waterproof and anti-fogging system. In our extensive testing, the following prospects were in focus.
Outdoor performance
During our use of this monocular with smartphone holder & tripod, we found the performance is quite adequate as price. The body's textured finish and color make it easy to grip and blend in any environment. Also, the waterproofing and anti-fogging feature was very effective in real life scenarios.
Mounting system
The additional tripod and phone mounting system worked great. During our test, we used the tripod and phone mount on uneven surfaces and in harsh weather. The mechanism managed to withhold all obstacles and survived to do the job effortlessly. Overall, the build quality, tripod, and phone coupling mechanism were perfect during our test.
Zooming
The zooming performance was acceptable in this product. During our test review, we could easily zoom at a distance of 10-15 feet away. However, it is advertised as a 40×60 monocular, whereas the zooming is 10x only. Nonetheless, it is quite capable of creating a zoomed view during bird watching or sports, or any regular use.
Pros:
Remarkable appearance and build quality
Well-engineered mounting system and tripod
Lightweight and easy to handle
Waterproof and fog-proof
FMC coating provides UV ray protection
Cons:
The mounting mechanism is quite complex to use
Priced a bit high
Difference between Pankoo Monocular and Vivreal Monocular
Pankoo and Vivreal Monoculars are two different monoculars with almost similar functionalities but a considerable price difference. The Pankoo monocular provides significantly better lenses with sharper zoom quality. In comparison, Vivreal has a better knob mechanism for zooming in and out. So, if you are short on budget, Vivreal will be your choice. But if you want a proper unit, then go with the Pankoo Monocular without a doubt.
How far can you see with 40X60 monoculars?
A monocular equipped with a Bifocal Lens generally has a good and wide field of view. Generally, 40X indicates the zooming capability of an objective, and 60 indicates the size of the aperture in millimeters. In normal conditions, you will be able to zoom with such monoculars up to 420 feet or 1000 yards.
Verdict
This Pankoo monocular is a mid-budget monocular that is suitable for hiking, hunting, and usual photography with iPhone. Despite the zooming quality, it is quite a good choice at this price point. Also, this product's sturdy build quality and ability to withstand the harshest climate are very noteworthy.
So, go with Pankoo monocular if you are searching for the best budget monocular for your trips, birdwatching, and photography. Additionally, you can check some of the best monocular telescopes for iPhone to choose your perfect candidate.