Category:
SHURE MOTIV MV88 Review — Best Portable Microphone for iPhone
We independently research, test, review, and recommend the best products. As an Amazon Associate we earn from qualifying purchases.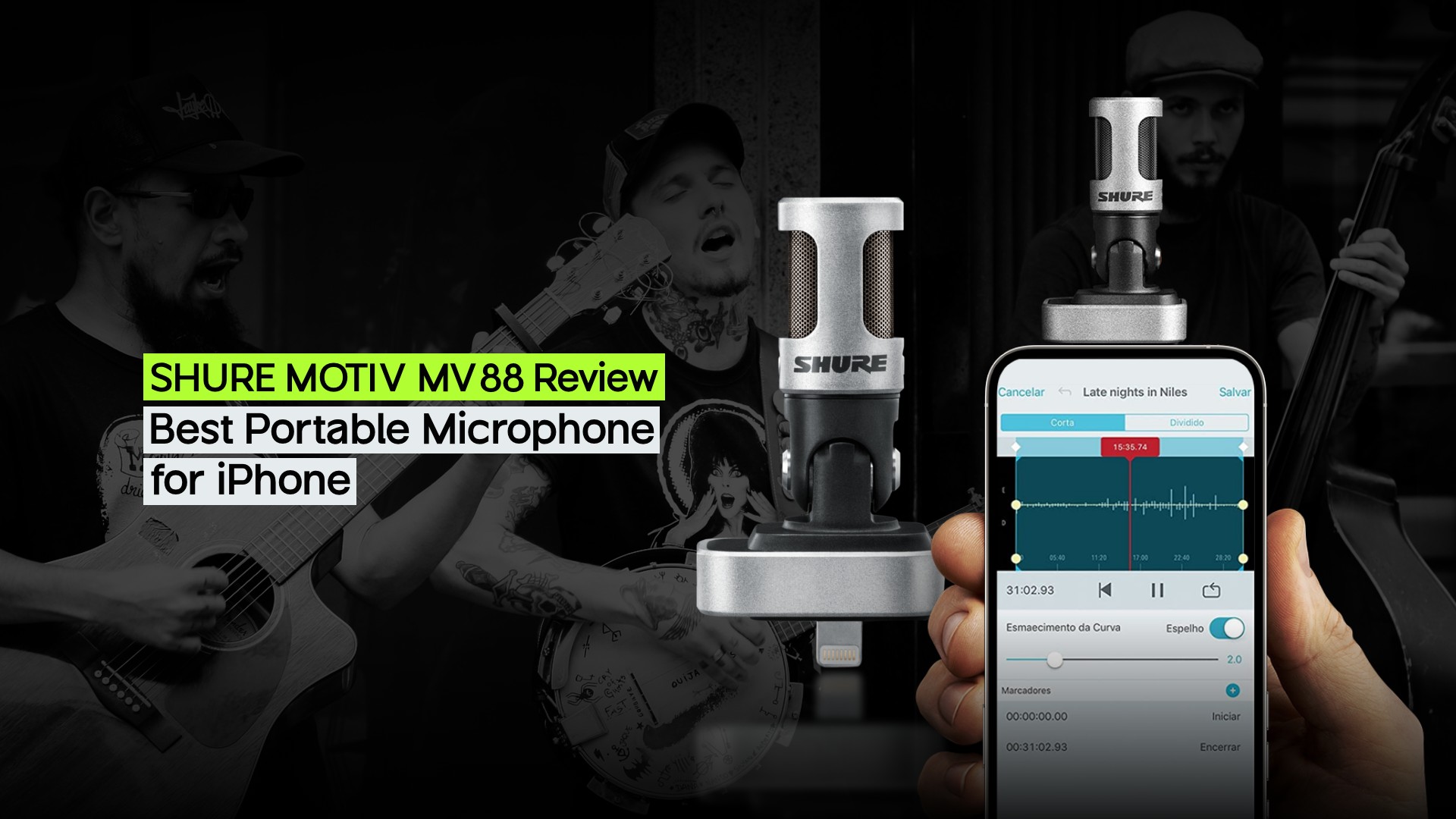 If you want a portable stereo microphone for your iPhone, the MV88 from SHURE is a must-have device. As an Apple MFi-certified device, you will see performance unmatched by any other microphone. In this review of the SHURE MV88 microphone, we will discuss every feature and perk of this excellent portable device and why we consider it the best.
Product Overview
The SHURE MOTIV MV88 is a digital stereo condenser microphone for iPhone with a minimal design and excellent build quality. This device's combination of metal and high-quality plastic construction ensures long-lasting performance and rough use in any situation.
The packaging of this device includes a carry case, a removable foam windshield, and a headphone monitor adaptor cable. SHURE maintains a high quality for all of the included accessories.
The MV88 is a simple plug-and-play device. It has a lightning connector at the bottom that you can plug straight onto your iPhone or iPad's lightning port. There are no buttons or switches on the unit other than a status indicator. It features a pivoting head that you can rotate to get multiple recording angles. The only drawback you will discover at first instance is the lack of a 3.5mm input.
The functions of this device are configurable through the ShurePlus MOTIV and ShurePlus MOTIV Video apps. Through these apps, we could customize settings and other aspects of the SHURE MV88 microphone.
Specifications of the SHURE MV88 Stereo Condenser Microphone
Product Dimensions: 2.8 x 4.6 x 3.6 inches
Color: Silver
Connector type: Lightning
Compatibility: All iOS devices with lightning ports
Included with the microphone: Carry case, Foam Windshield, Headphone Monitor Adaptor Cable
Polar Pattern: Multipattern
Special Feature: Voice Activated Recording
Performance analysis of the SHURE MV88 microphone
The SHURE MOTIV MV88 features three microphones within the head. It drastically improves the capacity of the device to record excellent-quality sound. However, the MV88 microphone largely depends on the two free apps developed by SHURE.
The ShurePlus MOTIV is for audio configuration, and the ShurePlus MOTIV Video is for video recordings such as interviews. We dug deep into these two apps to find out how they enhance the microphone's performance.
Sound recording performance with the ShurePlus MOTIV app
The recordings made using the ShurePlus MOTIV app are accurate, crisp, and clear, with an excellent frequency range and response. The MV88 catches sound accurately with minimum outside noise, even though the microphone is highly sensitive.
Inside the app, you can adjust microphone gain up to 36 dB boost, among other settings. The app can adjust stereo width, compression, limiter, high-pass filter, equalizer, wind reduction, and left/right swap. For convenience, the app also features five recording environment presets.
Video recording performance with the ShurePlus MOTIV Video app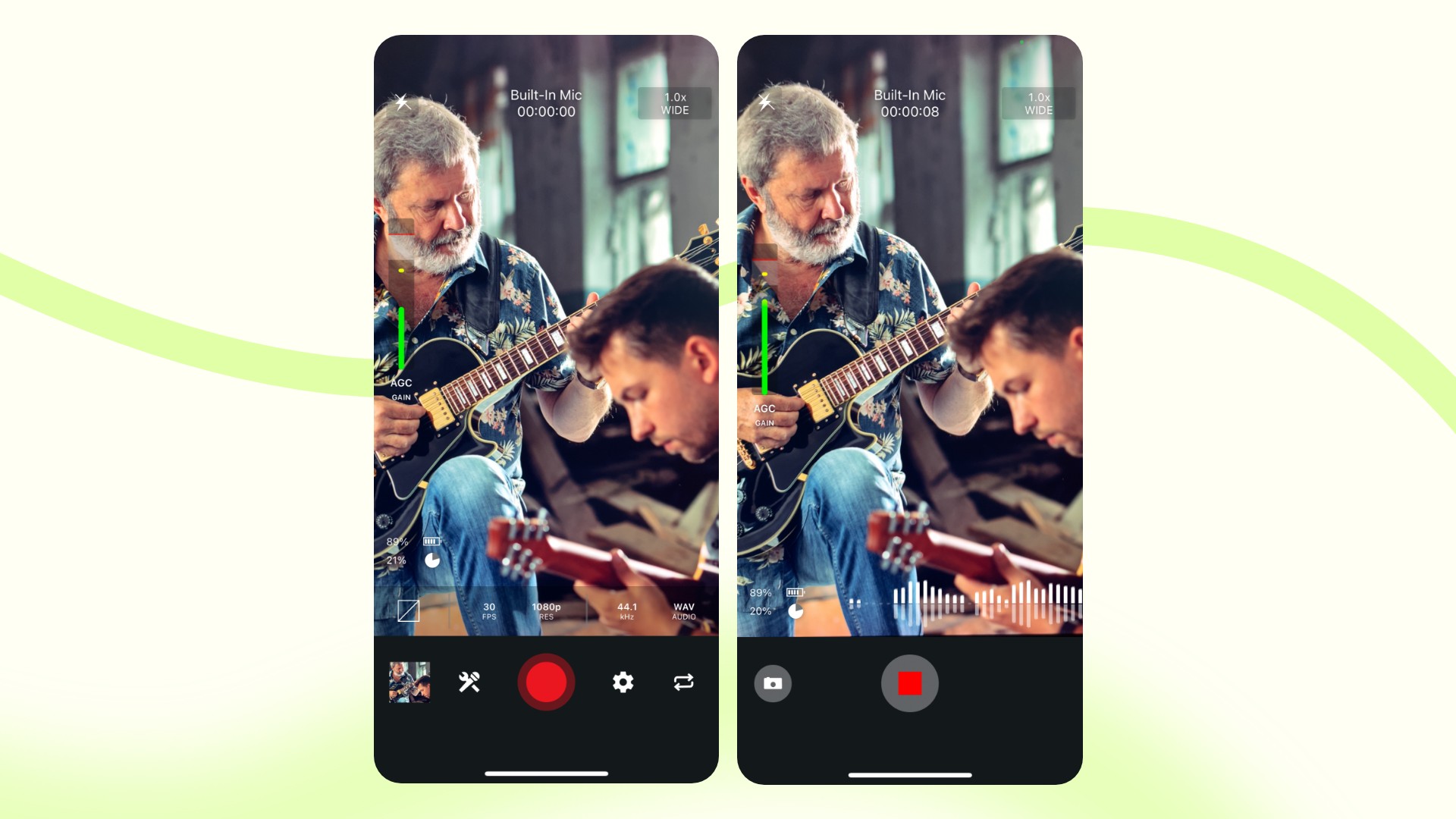 As much as we love the audio app, we loved using the updated ShurePlus MOTIV Video app. Although it is not a full-proof video recording app, it has mastered the fundamental features to turn MV88 into a decent mic for filming with iPhone.
Inside the app, you will discover tools to adjust FPS, change the video resolution, or select your preferred audio format. It could have been much better with more advanced settings, but you can always edit your videos with other third-party apps.
Pros:
Portable and compact microphone
Apple MFi certified
Durable aluminum structure
Adjustable head
Outstanding sound recording capacity
Excellent companion apps with multiple adjustable settings
Cons:
It does not work with devices with all-around cases
It has a compatibility issue with the latest iOS versions regarding live streaming
The difference between SHURE MV88 Microphone and JSSEVN Wireless Lavalier Microphone
The MV88 is undoubtedly the more expensive microphone for iOS, but the JSSEVN microphone is a strong rival. The MV88 has sophisticated features like voice-activated recording and free apps designed to control sound quality. The wireless microphone from JSSEVN excels in usability features, like allowing you to charge your iPhone while recording.
The MV88 outperforms its competition in the build quality as well. The JSSEVN is a good option if you need a plug-and-play recording device right away. Otherwise, if you want a rugged and adaptable microphone, stick with the MV88. You can read our JSSEVN Wireless Lavalier Microphone review to learn more about its advantages.
Apart from this SHURE MV88 review, you can check for more options in our take on the best Bluetooth and wireless microphones.
Verdict
The MV88 competes in a market saturated by different microphone manufacturers. The device itself is old compared to other recent microphones. However, SHURE struck gold with this condenser mic for the iPhone. Thanks to its excellent build quality, flexible recording options, and top-notch sound, it is still one of the best SHURE microphones for the iPhone.
You may check our take on the best Bluetooth and wireless microphones if you want more analysis on similar products.