Category:
10 Best Desks for Dual Monitors in 2023
We independently research, test, review, and recommend the best products. As an Amazon Associate we earn from qualifying purchases.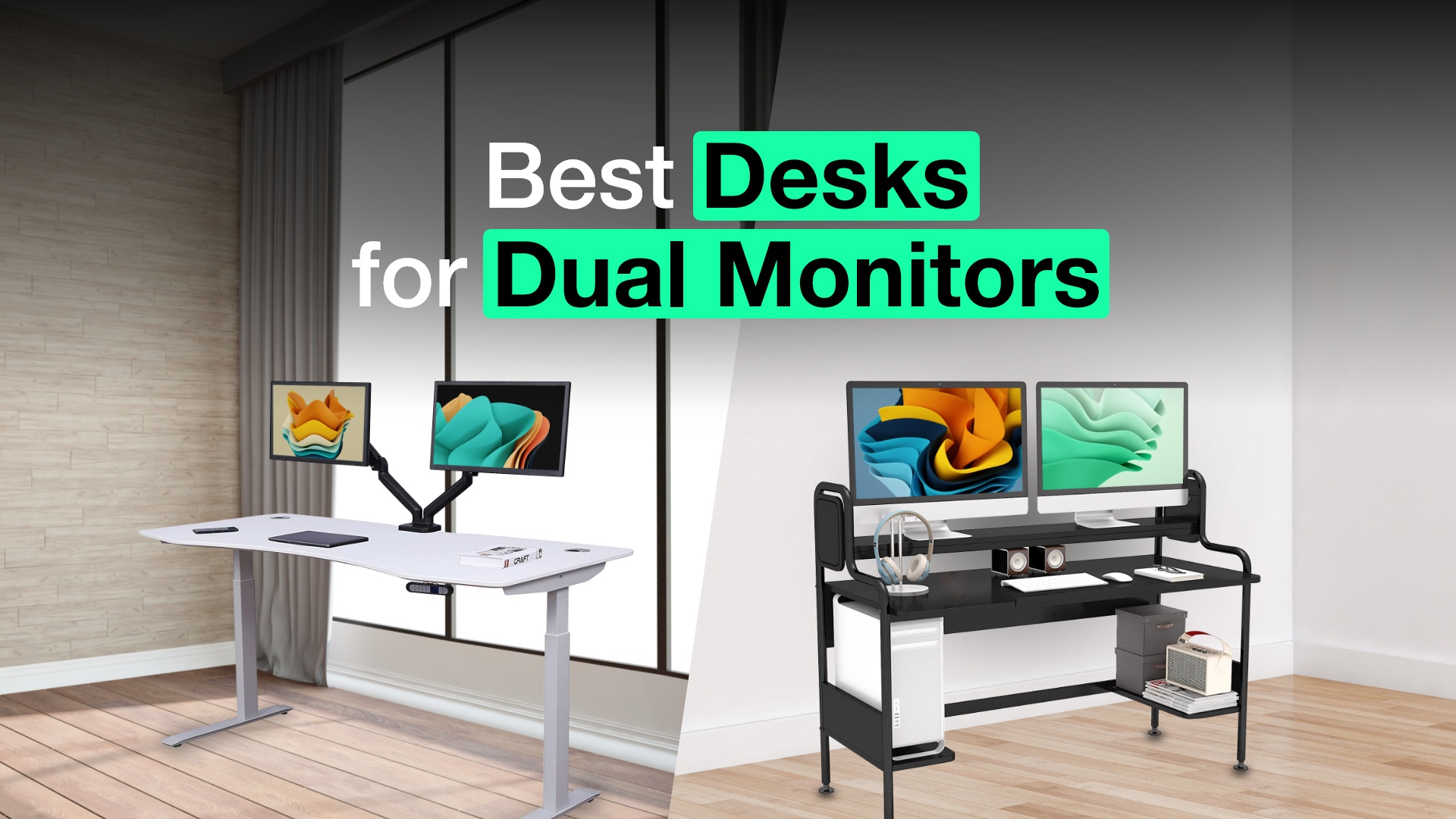 A spacious and well-designed desk lets you manage your dual monitor setup conveniently. But the suitable dual monitor desk varies according to your room setup and space. To help you build your dream desk setup, we have researched different desks and developed our top picks. We believe you will find the best desk for dual monitors on our list.
Things to check before choosing the best desk for dual monitors
A desk's suitability will vary depending on its functionalities. Hence, you should check some features before buying a desk for your dual monitors. We have designed a buying guide to guide you through this, including essential features.
Size & Space:
The size of the desk is essential. A desk might have a solid design, but it is of no use if it does not fit the space you have allocated it for. Moreover, you must check if the desk space is sufficient for you. Go for a spacious desk if you plan to do gaming with your dual monitors.
Build Quality:
The desk holds your keyboard, mouse, and other electronics with your dual monitors. Hence, it needs to have a strong build quality. Having a sturdy computer desk enhances your user experience. You would not want a desk that will start squeaking after a brief use. Hence, look for the build quality.
Also read: Best Desks for iMac
Design:
The overall design of the desk is crucial for the optimal experience. You should check if the desk offers options to adjust the height. Some desks come with in-built monitor stands, which are convenient and ensure easy setup. In summary, the best computer desks have a user-friendly design that provides great and smooth usability.
Other features
The presence of some external features on your desk can affect its convenience and compatibility with dual monitors. Such as, power outlets, USB ports, monitor raiser, cup holder etc. Power outlets can help you plug your devices without extension cords or power strips. One the other hand, USB ports can help you connect your devices without using adapters or hubs. So, look for the table that comes with features like these to enhance your productivity and reduce clutter on your desk.