Category:
11 Best Triple Monitor Stands in 2023
We independently research, test, review, and recommend the best products. As an Amazon Associate we earn from qualifying purchases.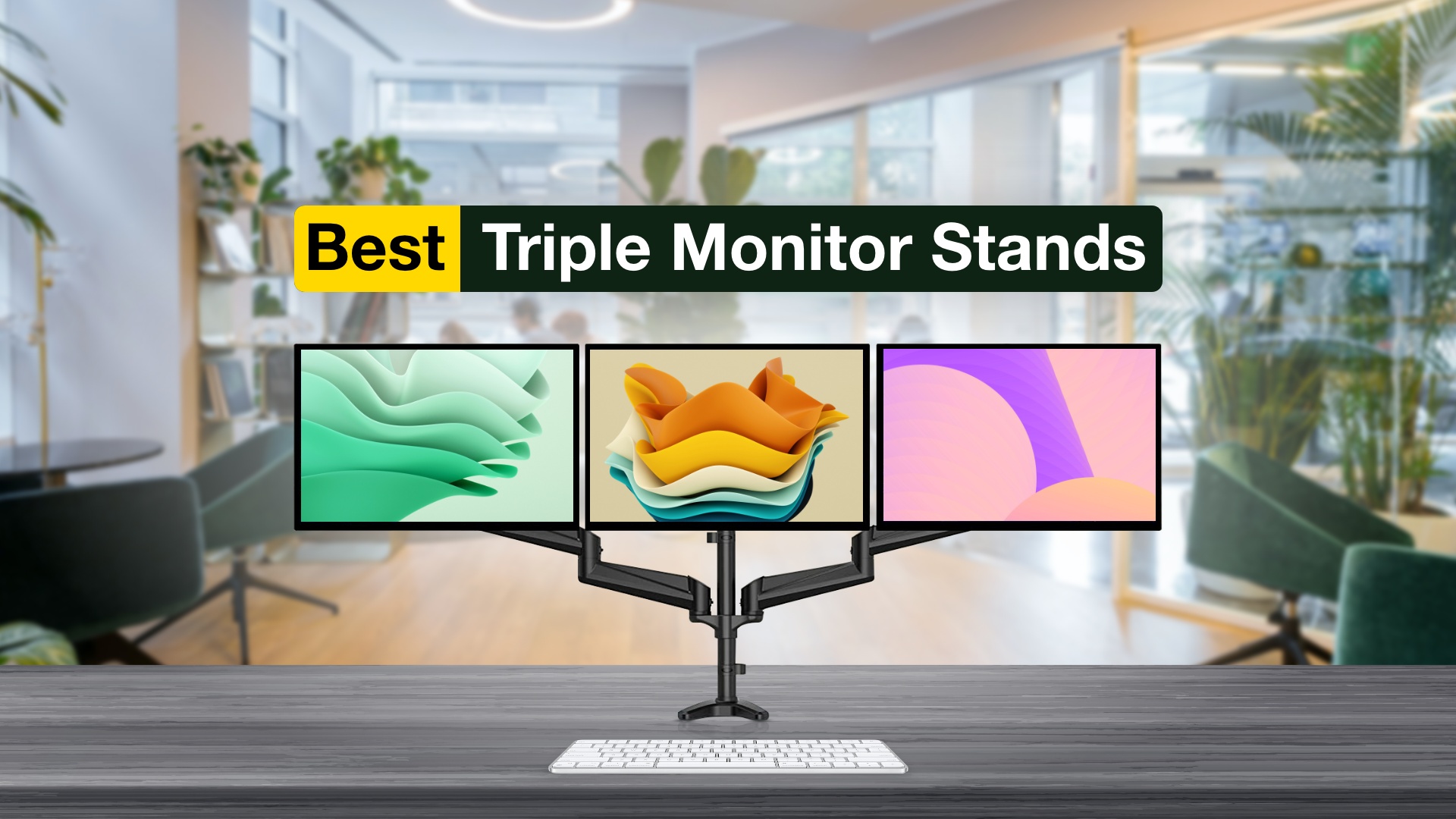 When building a PC for streaming, workstation, or gaming, users often prefer one with multiple screens, preferably three. But you need the best triple monitor stands to hold that many, especially huge ones. For this list, we will look at what to look for to find the best triple monitor mount. After narrowing down our three determining factors, we'll use them to compile a list to find our top pick.
Why do you need multiple monitors?
You might think multiple monitor mounts are a serious case of high-resolution resolution gone too far. But no, there are many advantages multiple screens can provide other than a wide viewing range for playing video games. They can help with multitasking, letting you work on one task while letting you keep track of another. We also covered dual and quad monitor stands.
Streamers often need multiple screens to help multitask and program management, especially when streaming video games. One monitor for the game you're playing, another to monitor chats, and one more to manage the streaming and recording software.
What makes for the best triple monitor
So, with everything we've just learned, let's look at what the best triple monitors look like. From what we've learned, we already have a good idea of our ideal three monitor mounts. We're looking for a monitor stand that doesn't break with a solid stand base while letting you adjust its orientation.
Stand Type: Clamps or Freestanding?
This factor is subjective and dependent on your table, but let's understand why it's crucial. There are two types of stands that a monitor can have: the standard freestanding monitor stands or secure desk-mounted clamps. You should consider the latter for its firm grip, but it's more complicated than that.
Desk-mounted clamps are preferred if you have a uniformly thick and strong desktop for the clamp to hold on to. However, the freestanding mount is preferred if you have a glass table or one without a lip to hold on to. This is because, without a lip, the clamp will fall. Moreover, the clamp's firm grip could damage or break any fragile material, especially glass.
Durability
Durability is an essential factor when looking for the best triple monitor stand. Holding on to three monitors while maintaining their integrity requires a lot of strength. The monitor stand's weight limit depends on the build and the material it is made of, which is difficult to determine.
It would help if you also considered your monitors' weight, as every monitor mount has different weight limits. The VESA mounting bracket, created and maintained by the Video Electronics Standards Association, is an easy way to find suitable mounting stands. Good durability helps hold the monitor, but intelligent users know their limits and how to set them up effectively.
Adjustability
The last factor we're determining is the adjustability of the monitor stands. You'll need to adjust and rearrange your monitors' orientation depending on how and where you're sitting. However, how much you can do depends on the monitor stand itself. But what kind of monitor stand you need depends on many things, from the chair you sit on to the desktop.