Category:
Bietrun WXM09 Review — Best Dynamic Wireless Microphone
We independently research, test, review, and recommend the best products. As an Amazon Associate we earn from qualifying purchases.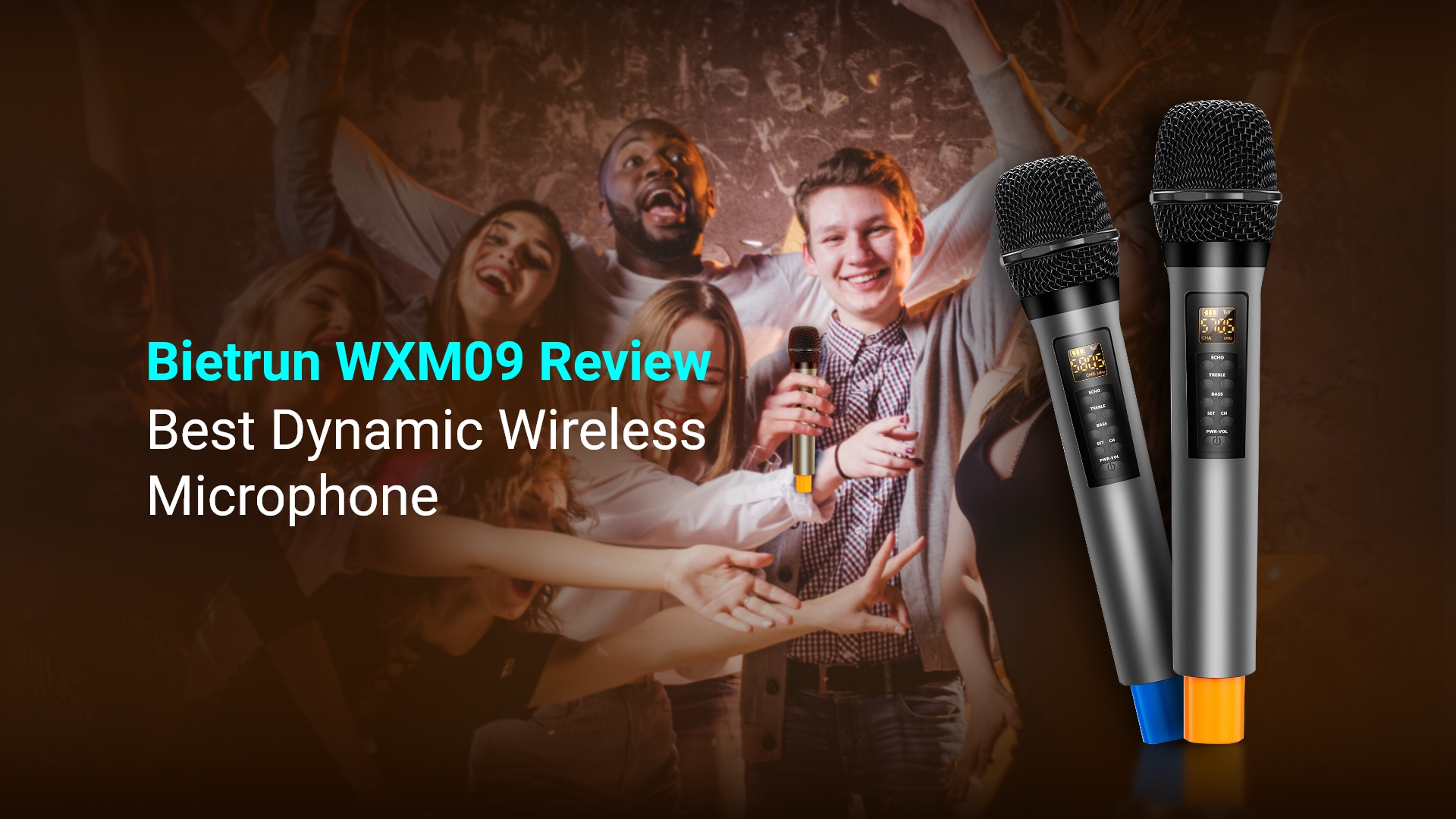 Wireless microphones are best for portability and ease of use in numerous situations. However, finding a decent-quality device that meets a user's needs is challenging. The Bietrun company is an exception; to test that, we have reviewed their WXM09 model and were surprised by the versatility of this Bietrun wireless microphone. This review will explain why it is one of the market's best wireless microphones.
Product Overview
By design, the Bietrun WXM09 wireless microphone is a karaoke microphone that you can use for other applications. The steel-meshed microphone head of this device uses a cardioid polar pattern that is best for isolating unwanted ambient sounds.
The multiple buttons of this device will let you operate and configure Echo, Treble, Bass, and Volume. In the package, you will get two microphones with similar function buttons. The dynamic front of this device also features a display that shows battery status, signal frequency, and channel status.
The second most important device in the package includes a rechargeable receiver. This additional device opens up many options for connection with external speakers and several audio systems. For example, we used it to test our JBL PartyBox 100 speaker and were impressed by the sound output.
The receiver of this Bietrun wireless microphone includes a charging port, a microphone connector indicator, and power charge indicators. In addition, it also features indicators for Bluetooth connectivity and microphone connection. Our Bietrun WXM09 wireless microphone setup guide will provide an in-depth analysis of the functions of this microphone with effects.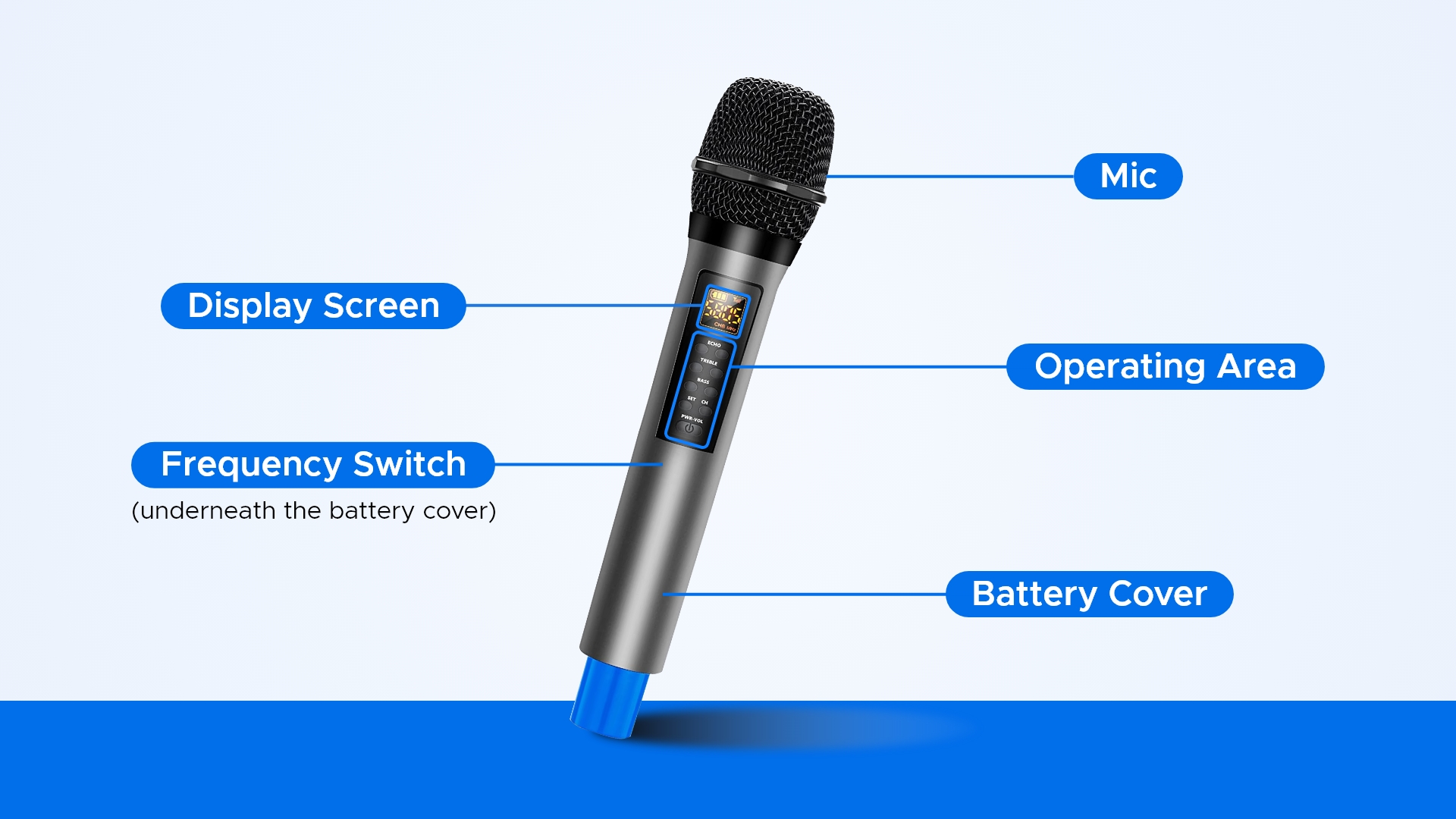 Specifications of the Bietrun WXM09 wireless microphone
Connectivity: Auxiliary, Bluetooth
Way of pairing: Factory default
Wireless frequency: U Band
Wireless distance: 30m
Audio signal: Digital sampling 48KHz
Frequency response: 50Hz-16KHz
Type of Mic: Moving coil Mode
Battery Type: Polymer lithium-ion battery (Receiver), AA Alkaline battery (Microphone)
Usage time: About 5-6 hours
Performance analysis of the Bietrun WXM09 Wireless Microphone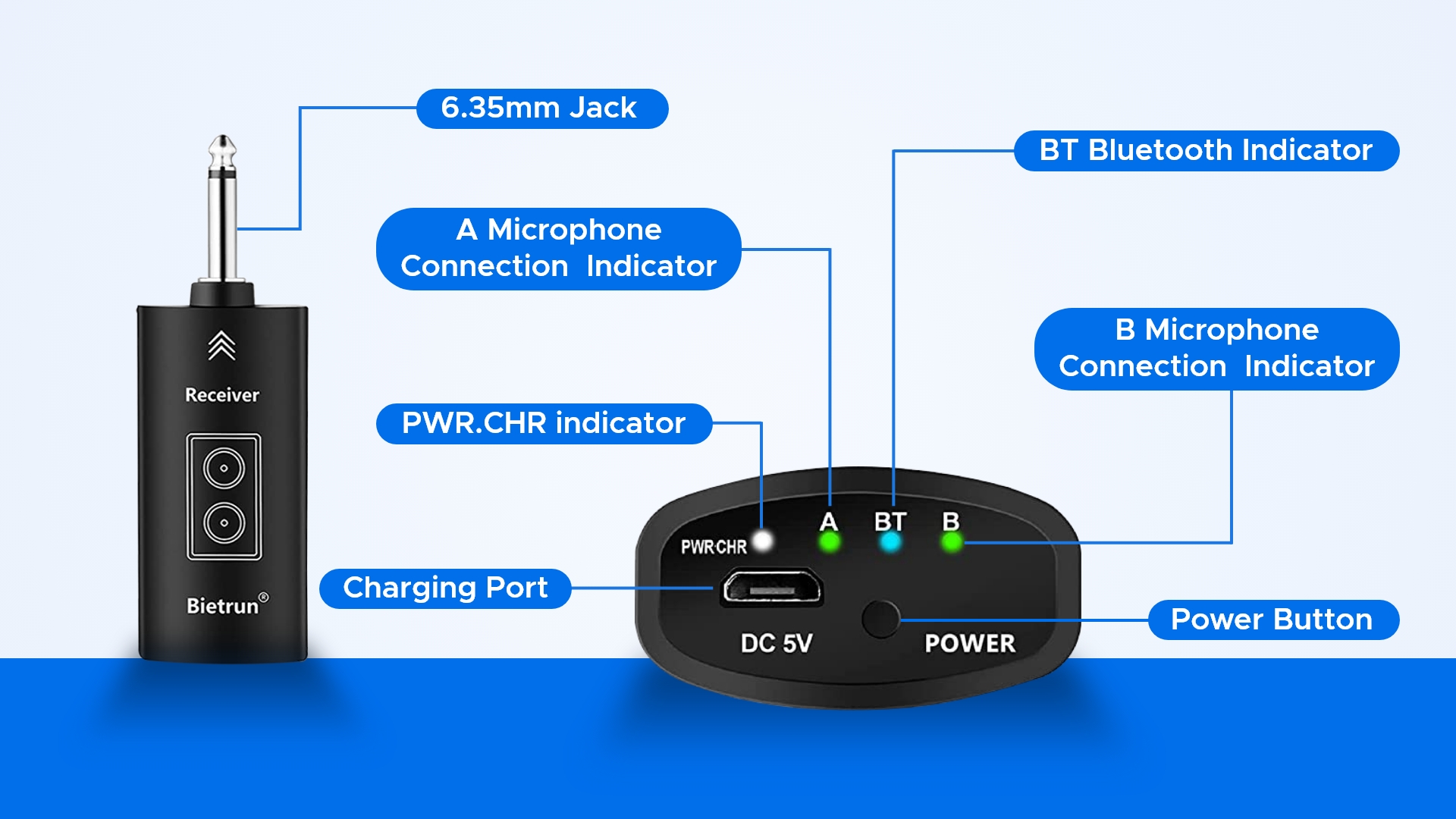 The WXM09 is a simple-to-use device for us to test and review right away. The connectivity setup may seem complicated for new owners, but it gets easier after learning about its functions.
Operational range
It is a wireless microphone with UHF transmission for good anti-interference performance. In our test phase, the WXM09 captures and produces clear signal sound quality within 30m.
Connectivity
Its application gets broader and more straightforward with Bluetooth connectivity. The factory default pairing with your iPhone or other handheld device elevates its adaptable nature. However, this Bietrun wireless microphone is specifically built to use with speakers or karaoke machines.
For that, it has an excellent receiver with several function-enhancing capabilities. The receiver of the WXM09 is rechargeable and comes with a 6.35mm mic input. Thankfully, Bietrun also provides a 6.35 to 3.5mm converter mic input.
In the case of wireless connectivity, Bluetooth gets turned on by default every time the receiver is turned on. To turn off this functionality, press the power button once. You can connect by selecting "Bietrun" from the Bluetooth connectivity list of your iPhone or other devices.
Audio performance
UHF band wireless transmission greatly helps the WXM09 produce excellent sound quality with little interference. On top of that, it uses 50Hz-16kHz frequency to reduce response time drastically. However, in our test, this feature had some trouble when used in a crowded place with too many obstacles. In typical situations, this Bietrun wireless microphone performs flawlessly.
Audio functionalities
Each Bietrun WXM09 wireless microphone with echo effects features several audio tweaking buttons. These buttons are easy to operate for adjusting bass, treble, volume and echo.
The controls are placed just below the display for convenience. We were surprised to find a frequency switch inside the battery cover. Frequency adjustment can negate signal interference when several running devices are in the same place.
Pros:
Compact and dual dynamic microphone suitable for any situation
LED screen display
Easy-to-use audio function buttons
Multiple sound effects adjustments
Powerful rechargeable receiver
Long-lasting battery with 1200mAH capacity
Excellent response time
Very effective at blocking howling and jamming
Cons:
You cannot add more than two microphones to the receiver
Ocassional inconsistent sound
How to connect the Bietrun WXM09 wireless microphone to Bluetooth enables devices
First, press the power button on the receiver to turn it on. Then wait for the blue light of the BT to flash. Now search for "Bietrun" on the Bluetooth list of your smartphone or other devices to connect. If the Bluetooth light on the receiver is always on or blinking, the Bluetooth is turned on. If not, press the power button just once to activate Bluetooth.
The Bietrun WXM09 Wireless Microphone vs. the BONAOK Q37 wireless Bluetooth karaoke microphone
The WXM09 from Bietrun is similar in functionalities to the BONAOK Q37. The UHF (Ultra High Frequency) range of 98ft from WXM09 is much superior to the Q37, making it suitable for more professional use. However, the Bluetooth range of 10m is similar for both devices.
On the other hand, the Bietrun wireless microphone includes a receiver which the Q37 does not have. The receiver helps the WXM09 to maintain excellent stability in sound output. In addition, it has a display for user convenience.
The BONAK Q37, on the other hand much easier to operate and connect. Moreover, you can use it as a full-fledged portable speaker. This unique feature in this budget karaoke microphone certainly sets it apart from other similar devices.
You may check our review of the BONAOK Q37 Wireless Bluetooth Karaoke Microphone for more in-depth analysis.
Verdict
The WXM09 from Bietrun is one of the best wireless microphones we have reviewed. It excels in fundamental functionalities to work as a professional device. Moreover, it also works exceptionally well as a UHF wireless microphone system.
The best part is that you can easily adjust the output sound quality by adjusting the treble, bass, and echo. This device's FCC-certified UHF frequency band makes it ideal for conferences, meetings, and outdoor or indoor karaoke events. On top of that, the FCC-certified UHF frequency band featured in this device makes it perfect for conferences, seminars, and outdoor or indoor karaoke activities.