Category:
Apple HomePod 2 Review – Everything You Need to Know
We independently research, test, review, and recommend the best products. As an Amazon Associate we earn from qualifying purchases.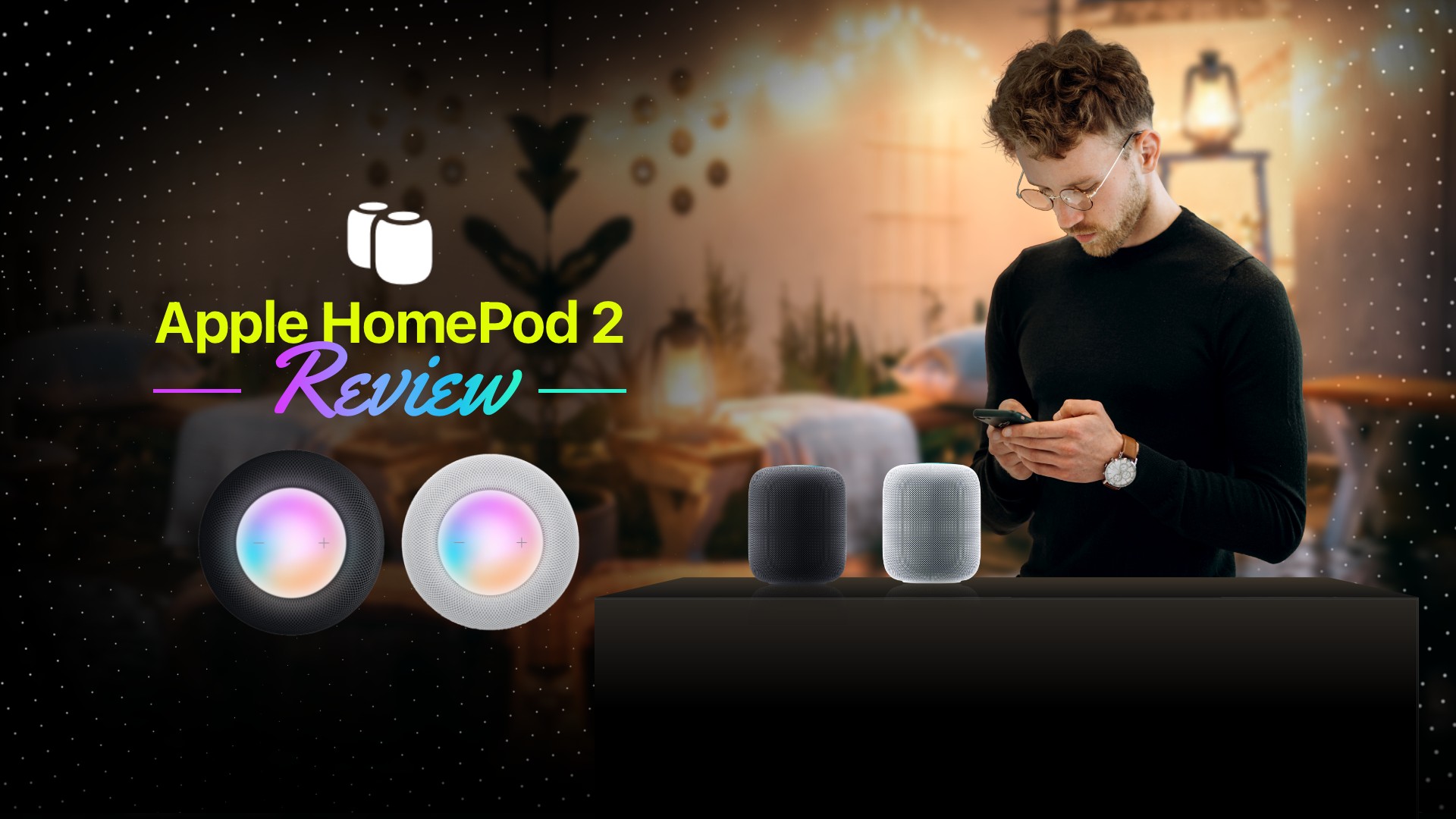 Back in 2018, when Apple launched its HomePod system, we loved it. Although it was not meant to profoundly change the smart sound system market, there were hints of greatness. While reviewing the latest HomePod 2, we found a few improvements that will significantly affect how you see an intelligent audio system. Our Apple HomePod 2 review will give you all the details and an in-depth analysis of one of the best smart speakers of this generation.
Product overview of HomePod 2
The new HomePod 2 (2023) looks similar to the original HomePod, but it has some significant upgrades inside. It has a detachable power cable, a faster S7 chip, and improved sound quality with five tweeters, one woofer, and four microphones. The HomePod 2 delivers a brilliant audio performance and Siri integration for your smart home.
Product specifications
Weight: 5.16 pounds (2.3 kg)
Size: 5.6 x 6.6 x 5.6 inches
Color: Midnight, White
Connectivity: Wi-Fi, Bluetooth 5.0, Matter, Thread, Apple HomeKit
Sensor: Temperature, Humidity, and Sound recognition
Speakers: (4-inch) high-excursion woofer, Five horn-loaded tweeters
Microphone: Internal low-frequency calibration microphone
Compatibility: iPhone SE, iPhone 6s or later, or iPod touch (7th generation) running iOS 16.2 or later iPad Pro, iPad (5th generation or later), iPad Air 2 or later, or iPad mini 4 or later running iPadOS 16.2 or later Apple TV variants running tvOS 16.2 Mac running macOS Monterey.
Performance analysis of HomePod 2
The HomePod 2 has been praised for its stunning sound quality and smart features. Its sound output is energetic, bursting with detail, dynamic, and underlined with natural and resonant bass. In our HomePod 2 review, we will show how Apple manages to create this magnificent device.
Build Quality
The HomePod 2 has a simple and elegant design that comes in either white or midnight blue. The build quality is solid and durable, with no visible seams or screws. The speaker's top has a touch-sensitive surface that displays colorful LED lights and controls for playback, volume, and Siri. Compared to the older HomePod, Apple decided to shrink the top display surface.
The new HomePod's mesh coating looks identical to the previous model at first glance. There is a slight change in the diamonds in the pattern, as they now run vertically rather than horizontally. This design choice makes the new HomePod appear less bulky.
Smart Connectivity
The new HomePod has several connectivity options that you can use to control it and integrate it with your smart home. You can use AirPlay to stream music from your Apple device or other compatible sources. You can also use Siri to play music, podcasts, and radio stations, or control your smart home devices with voice commands.
You can change various settings of your HomePod 2 using the Home app on your iOS or iPadOS device, such as turning on sound check, automatic software updates, or restarting your HomePod. You can also set up your HomePod 2 using the app by following a few simple steps.
It also supports the Thread and Matter connectivity protocols and Apple HomeKit, allowing you to connect it to other compatible smart home devices and trigger automation while you're away. In addition, Apple has made connecting your HomePod to new WiFi simple.
Sound Performance
The HomePod 2 has a very bass-heavy sound that is versatile and balanced across different genres. It supports lossless, Dolby Atmos, and Spatial Audio formats for more immersive and varied sound signatures. When we compared the old HomePod with the latest, there were significant improvements in overall sound quality and clarity.
While testing the sound performance during our Apple HomePod 2 review, we found the new room-sensing feature to be another fascinating improvement. No matter where we put the device, it calibrated instantly to adapt to the new location and sound accordingly. Basically, the new HomePod uses its mics to listen to sound reflection, gets the required data from the environment, and adjusts itself.
However, that improvement might sound different depending on what you are playing. For example, the new HomePod could fine-tune every detail of the "A Little Piece of Heaven" song by Avenged Sevenfold, whereas the sound quality faltered when we tried the live music version. The result was similar on almost every other song of different genres. Now, that's a minor drawback that you can ignore when comparing the value the HomePod 2 provides.
If you seek perfection in every corner, go for the Sonos Arc soundbar or the adaptable Bose Smart Soundbar 900. Nonetheless, the premium soundbar option will cost more and require a lot of space to accommodate. On the other hand, you can put your HomePod 2 anywhere in your room and still enjoy an outstanding audio performance.
Pros:
Immersive, high-fidelity audio
Works like an intelligent assistant
Works seamlessly with your Apple devices
A powerful way to control your smart home
Private and Secure
Cons:
Downgraded bass performance from the previous model
Apple HomePod 2 vs Denon Home 150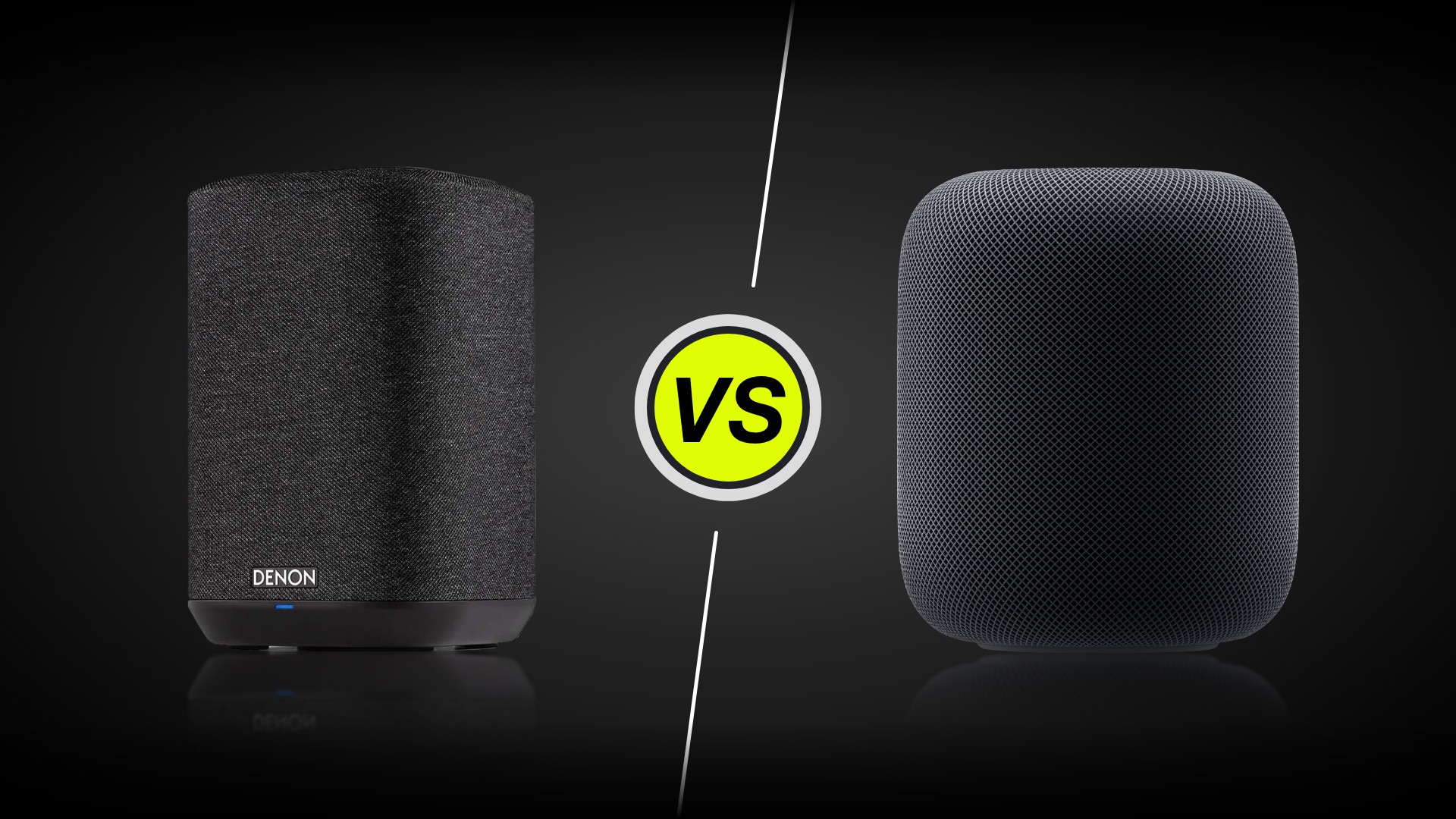 The HomePod 2 and the Denon Home 150 are wireless speakers that support AirPlay 2, but they differ in features, design, and sound quality. The first thing you will notice is their design. Apple kept the simple and elegant design of their old HomePod system, whereas the Denon Home 150 has a rectangular box shape with curved edges and a fabric wrap.
In a head-to-head fight regarding sound quality, Apple knocks the ball out of the park by introducing more advanced sound technologies. It incorporates an array of five beamforming tweeters, four microphones, and an S7 chip into the new HomePod. The Denon Home 150, on the other hand, uses two amps, a 3.5-inch woofer, and one 1-inch tweeter to deliver sound.
The HomePod 2 has superior sound quality with adaptive EQ, spatial awareness, Hi-Res Audio support, and stereo pairing capability. The Denon Home 150 has decent sound quality with clear highs and mids but lacks bass depth and richness compared to the HomePod.
Regarding convenient connectivity, the HomePod 2 has built-in Siri access to Apple Music, while the Denon Home 150 also offers Bluetooth, USB, 3.5mm aux, and Ethernet connectivity. The USB socket on the Denon Home 150 can play music stored on a USB key.
Should you upgrade to the HomePod 2?
The short answer is "definitely." The HomePod 2 is an ideal upgrade to the old model or the HomePod Mini, as Apple now focuses more on sound performance than aesthetics. The spatial audio experience is unlike anything we have experienced with a smart speaker. Although its connectivity and streaming options still need some improvement, the HomePod 2 is arguably one of the best smart speakers of this generation.
Verdict
The HomePod 2 is a great speaker for Apple fans who want to enjoy Hi-Res Audio, spatial audio, and Siri integration. It has a handsome design, an easy setup, and impressive sound quality. However, it has drawbacks, such as a lighter bass than the original HomePod and limited compatibility with non-Apple devices.
If this Apple HomePod 2 review was helpful for you, you should check out our other in-depth reviews. For example, our best center channel speakers review will give you alternative options if you want to stick with traditional speaker systems. Other than that, you may also want to know about the best speakers for MacBook Pro or iMac devices.