Category:
9 Best Center Channel Speakers for Your Home Theater in 2023
We independently research, test, review, and recommend the best products. As an Amazon Associate we earn from qualifying purchases.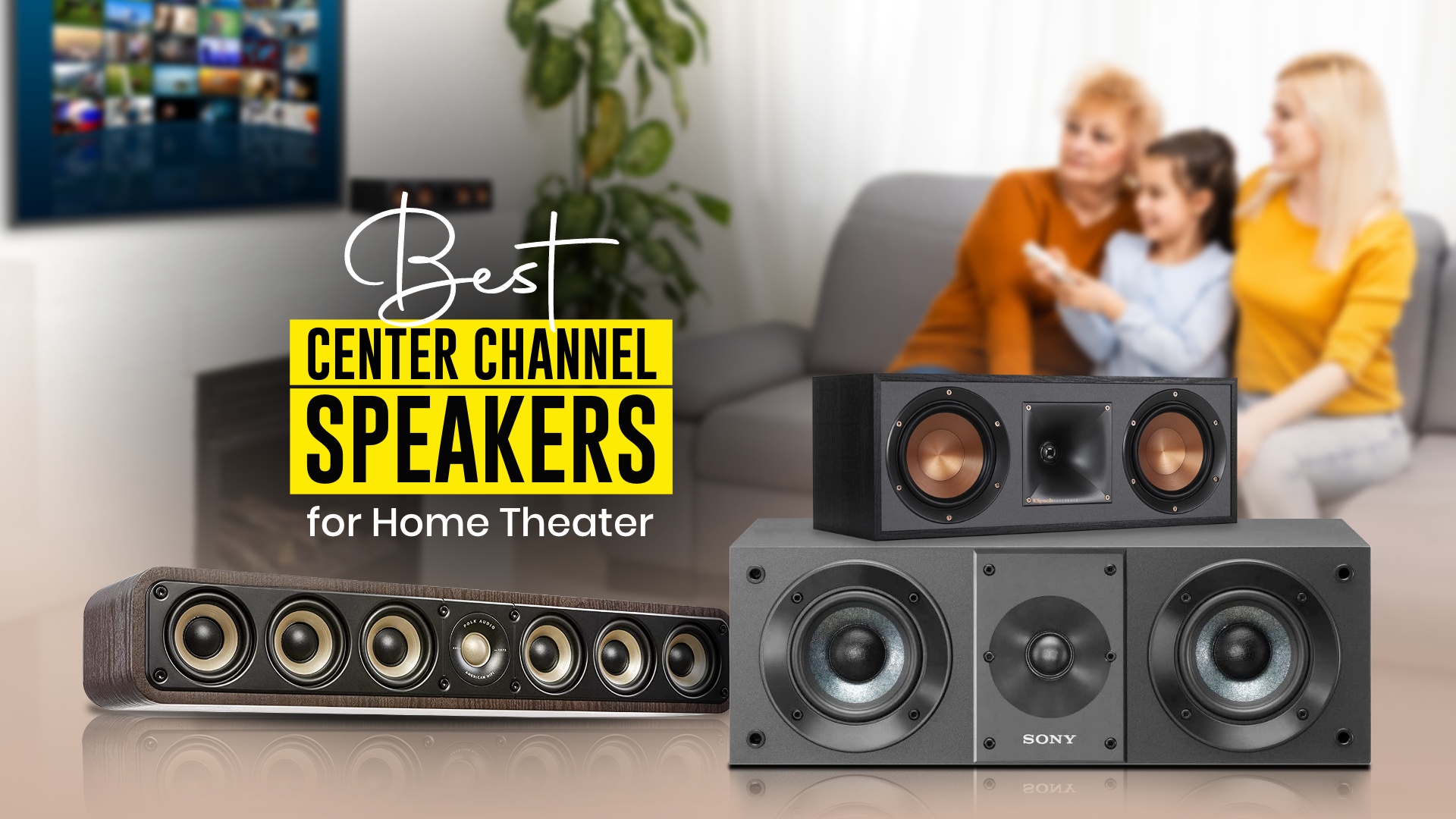 The center speaker for surround sound is one of the most important elements in a home theater. The best center channel speaker will make you feel like you are interacting with the character in real life even though it is on your screen. Besides movies, you can enhance the experience of listening to music with a center speaker for your home theater system.
What are center channel speakers for?
Center channel speakers are essential for creating a realistic and immersive sound experience. They help to ensure that dialogue is clear and understandable and that sound effects are accurately placed in the sound field. Center channel speakers can also improve the overall sound quality of a home theater system by providing a wider and more balanced soundstage.
Buying guide for the best center channel speakers for home theater
There are a lot of center channel speakers for home theaters on the market. However, the best center channel speaker for you will be the one that caters to your specific needs. As a result, you need to look for a couple of things to find the best center speaker for yourself.
Compatibility
First and foremost, the center channel speaker you have in mind needs to be compatible with the rest of the speakers in your home theater. For example, if you have a wireless system, you need to get a center channel speaker with wireless connectivity.
Dolby Atmos support
Dolby atmos support usually drives up the cost of any speakers. However, you can find some cheap center channel speakers that accommodate Dolby Atmos by foregoing other features. At the same time, you will find some expensive speakers that do not have Dolby Atmos support.
Sound quality
As you can guess, sound quality is directly proportional to the price tag of the speaker. The best center channel speaker for your specific home theater will be the one that has the best sound quality within your budget range.
Loudness
The loudness of the center channel speaker will come into play when you want to get the speaker for listening to music or for parties. However, if you simply want a center channel speaker for seeing movies in your home theater, loudness will not have much significance.
Size and form factor
A center channel speaker's size and form factor is important for a few reasons. First, the size of the speaker will affect the sound quality. Larger speakers can produce lower frequencies, which is vital for creating a realistic soundstage. Second, the form factor of the speaker will affect how it is placed in your home theater system. Center channel speakers are typically placed below or above the television screen, so you will need to choose a speaker that will fit in the space you have available. In our take on the best center channel speakers, we have included speakers with different form factors to keep variable options for you.
Watch the video below to learn how to position your center channel speaker according to its features to get the best sound.
Price
Center channel speakers can range in price from a few hundred dollars to a few thousand dollars. It's important to set a budget before you start shopping so that you don't overspend. For example, center channel speakers in the $100-$200 range are a good option for those on a tight budget. They offer decent sound quality but may not be as immersive as more expensive models. Mid-range center channel speakers provide a good balance of sound quality and value at a $200-$500 price point. According to our hands-on experience, these speakers are a good option for those who want a noticeable improvement in sound quality over budget speakers without breaking the bank. Finally, we have high-end speakers in the $500-$1,000 range. These offer the best sound quality and performance. These are the most suitable option for audiophiles who want the ultimate in-home theater audio.