Category:
7 Best Dive Watches for Deep Sea Explorations in 2023
We independently research, test, review, and recommend the best products. As an Amazon Associate we earn from qualifying purchases.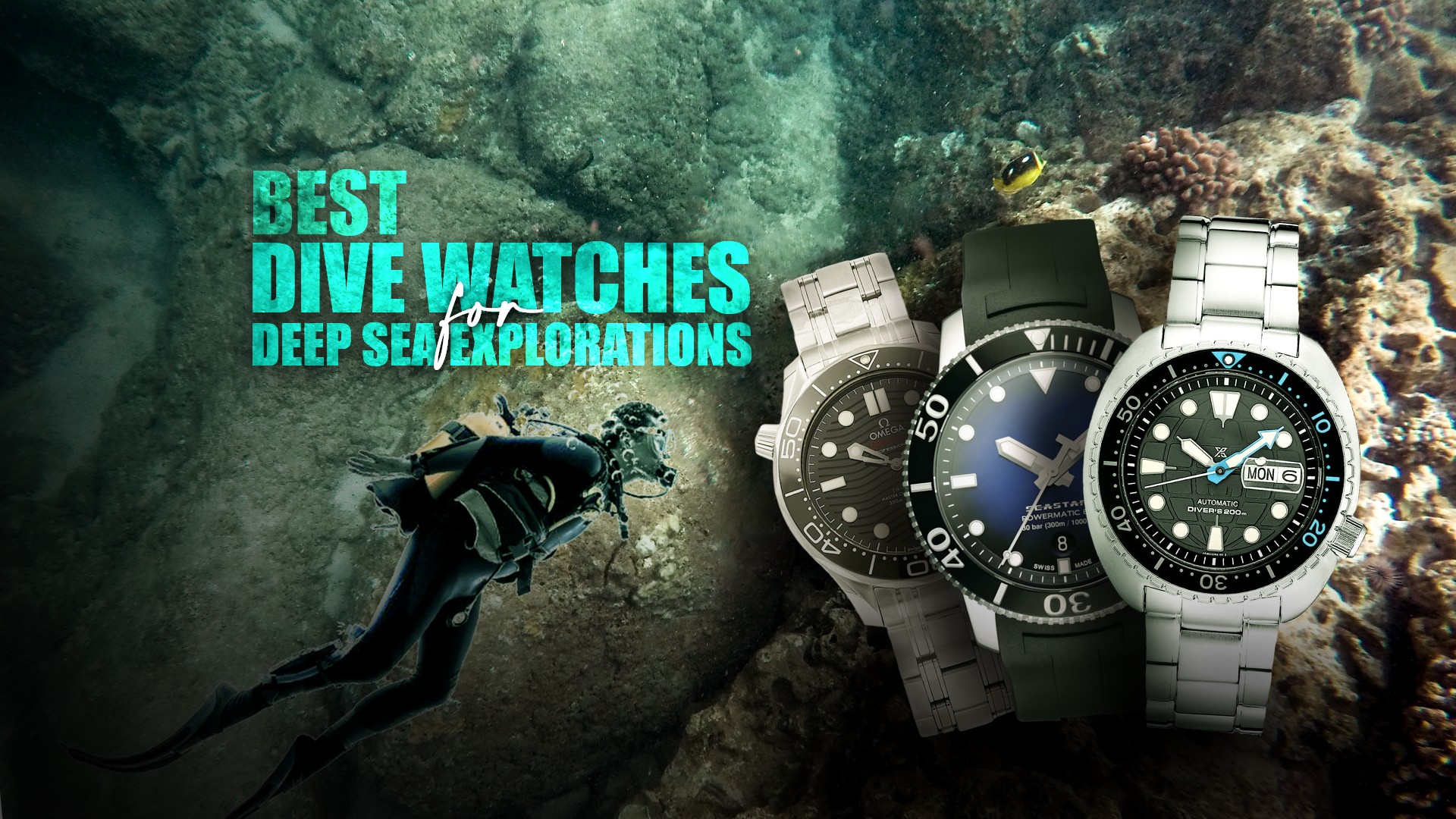 When you're underwater, swimming beneath the deep blue, it's important to keep track of your time. It helps to know how long you've been swimming close to the seabed. Hence, you'll need the best dive watch to take with you underwater, one that's water-resistant and strong. So, in this article, we have compiled a list of the 7 best dive watches specifically designed for deep sea explorations.
What should the best dive watch for deep sea explorations have?
So, what should the best diver watch have? Isn't water resistance enough? Well, not really; there are other things you need to consider when looking for the best watch for divers. Namely things like the watch's overall design and display, its strength and integrity, and how much water pressure it can resist. So, let's go over our brief list of factors we've looked over for this list.
Water Resistance
Water resistance is an obvious no-brainer; you're going to take this underwater, after all. But it's important to note that not all watches labeled "water resistant" are suitable for diving. Diver's watches should have a minimum water resistance rating of 200 meters to ensure they can withstand pressure at greater depths. But that's not where we're stopping, as we'll also look at how the watch can withstand high water pressure. This, in tandem with the watch's durability, is what will help determine which diver watch will be the best.
Also read: Apple Watch Bands for Surfing
Durability
Durability is a must when you're going underwater due to the increasing water pressure in the underwater depths. The watch must be designed to withstand these tough environmental conditions. The watch also needs to withstand a few bumps and heavy hits. It also helps if the material is strong and durable enough to handle all of that, like titanium or stainless steel. Also, the dial window should be made of scratch-resistant material, such as sapphire crystal, to ensure that it remains intact even in rough underwater conditions.
Design and Comfortability
The watch's design can often refer to how it looks and its style. But it can also refer to how the watch is designed around certain factors, for example, underwater pressure and a better display. After all, good looks are pointless if they can't even handle the crushing water pressure, which gets stronger the lower you go.
Comfort is another factor to take into consideration. A watch can have all the bells and whistles, but if wearing it feels like putting on a lead bracelet, why bother? Naturally, the weight of the watch might also factor in the comfort of the watch, given how unwieldy it can be. But we'll also take into account the material used in making them, particularly the watch strap.
Related: Best Underwater Camera Housings
Price
Perhaps the most important factor we have to consider is the price of the diver's watch. Believe it or not, these watches are very expensive, with prices often found in quadruple-digit territory. A diver's watch's price can vary significantly depending on its brand, the features it has, and the materials it is made of.
Some luxury brands can charge exorbitant prices for their diver's watches, often due to the use of high-quality materials and intricate craftsmanship. However, it is important to note that there are also more affordable options available on the market for those on a tighter budget. Ultimately, the price should be weighed against the overall quality and durability of the watch to ensure a worthwhile investment.