Category:
10 Best Monitors for Sim Racing in 2023
We independently research, test, review, and recommend the best products. As an Amazon Associate we earn from qualifying purchases.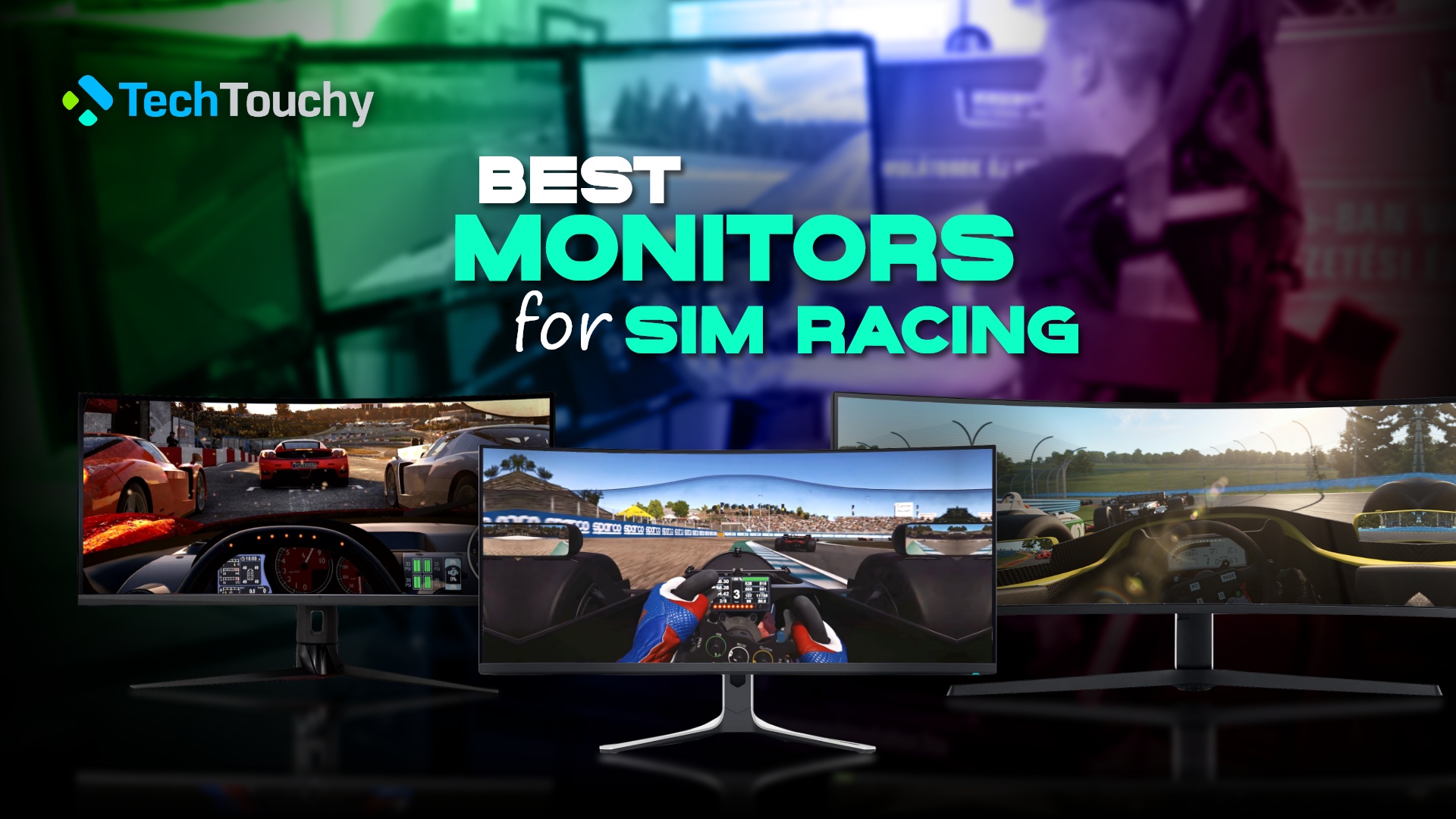 This buying guide explores the most advanced monitors built to transform sim racing from a fun hobby to a heart-pounding sport. We'll help you pick the perfect screen real estate with high-def details so realistically that you'll feel every engine roar and tire squeal as you battle opponents on the track. Let's bring the cheers of the grandstands to your gaming rig and find the best monitor for sim racing.
Essential facts to consider about best monitors for sim racing
To provide the most authentic experience possible in sim racing, which is an exhilarating and intense motorsport simulation, choosing the best monitor for sim racing is crucial. The right monitor can significantly enhance your enjoyment and competitiveness in virtual racing, regardless of your skill level or where you stand in your racing journey. You could also use a second monitor while gaming for more versatility. Now, let's delve into the essential factors to take into account when selecting a screen for sim racing.
Form Factor – Curved or Flat?
The shape of the display you pick for sim racing will seriously impact your experience. You've got two main options: curved screens or traditional flat panels. Curved monitors have become hugely popular with sim racers thanks to their immersive feel. The wrap-around screen pulls you right into the action, making you feel like you're sitting in the cockpit, blazing around curves.
Flat panels are a more classic pick noted for versatility. They work well for both single ultrawide setups and multi-monitor rigs. It comes down to personal preference and your desired vibe for your racing HQ.
Display Size and Resolution
A monitor's size and resolution are essential ingredients in sim racing's secret sauce. A bigger screen gives you a wider field of view, which can be critical for catching opponents moving out of the corners of your eyes.
Ultra-wide monitors like 34-inch and massive 49-inch models are famous for providing super immersive experiences. And remember, higher res makes details like speedometers razor sharp rather than blurred. Because modern graphics cards can easily handle high res, maxing it out takes your racing realism to the next level.
Panel Type
The monitor panel type you go with will significantly impact your viewing experience and help you choose the best monitor for sim racing. You've got three main options: IPS, TN, and VA panels. IPS screens are renowned for their stellar color reproduction and wide viewing angles. This makes them a top pick for racers wanting vibrant and accurate colors on the track.
That said, TN panels are often the most affordable and offer lighting fast response times sought after by competitive esports racers. VA panels strike a sweet balance between the other two, providing better colors and viewing angles than TN but not quite at the IPS level. Which route you take depends on your priorities and racing style.
Response Time
In the lightning-fast world of sim racing, response time is critical. This spec refers to how quickly a pixel can shift colors, and lower response times are better. You want blazing fast response below one millisecond, so fast-moving cars, spinning scenery, and quick turns look crispy and clear, not blurred.
Slow response creates distracting ghosts and smears that can throw off your driving. With speedy response, you'll rail corners and blast down straights, seeing every detail flawlessly, fully immersed in high-fidelity virtual racing.
Refresh Rate
A monitor's refresh rate, measured in Hz, is another make-or-break sim racing spec. Furthermore, you need screaming fast 144Hz+ refresh for buttery smooth visuals. Higher rates make high-speed driving appear fluid and natural, not jerky and disjointed. This transforms arcade racing into a truly immersive experience.
Match your monitor's max refresh to your graphics card's capabilities, and wave goodbye to jagged frames and stutters. With optimally synced refresh, you'll feel each gut-wrenching twist and heart-pounding straightaway.
Sync Technology
Sync techs like G-Sync and FreeSync take your sim racing immersion to the next level by perfectly aligning monitor refresh with GPU output. This synchronization eliminates nasty screen tearing and stuttering that can throw you off your game.
Whether you've got an AMD or Nvidia graphics card, look for a monitor that supports the matching sync tech. The result? Seamlessly smooth visuals that make it feel like you're truly hurtling down the track. With sync tech, you can focus on the hairpin turn ahead, not frustrating display issues.
Ergonomics
Ergonomics is crucial for sim racing monitor comfort during intense, extended races. Look for displays with adjustable height, tilt, swivel, and pivot so you can customize and dial in your ideal viewing position.
When you're chasing checkered flags for hours, poor ergonomics is a real pain in the neck. Prevent strains and discomfort by adjusting your display to match your space and body. Find your most comfortable settings so you can focus on the hairpin turn ahead, not the kink in your neck. With fully adjustable ergonomics, you can race for hours in ideal positioning.
Connectivity
Solid connectivity ensures your souped-up sim racing monitor performs seamlessly with your rig. When assessing ports, seek out the latest HDMI and DisplayPort versions to maximize resolutions, lightning-fast refresh rates, and silky-smooth performance. Older ports can bottleneck modern GPUs.
Choose a future-ready monitor with ports designed to handle intense high-fps gaming without compromises. This lets you squeeze every last bit of performance from your graphics card. With cutting-edge connectivity, you can fearlessly redline your rig, knowing your display can keep up. Focus on the checkered flag, not compatibility.