Category:
11 Best Monitors for MacBook Air in 2023
We independently research, test, review, and recommend the best products. As an Amazon Associate we earn from qualifying purchases.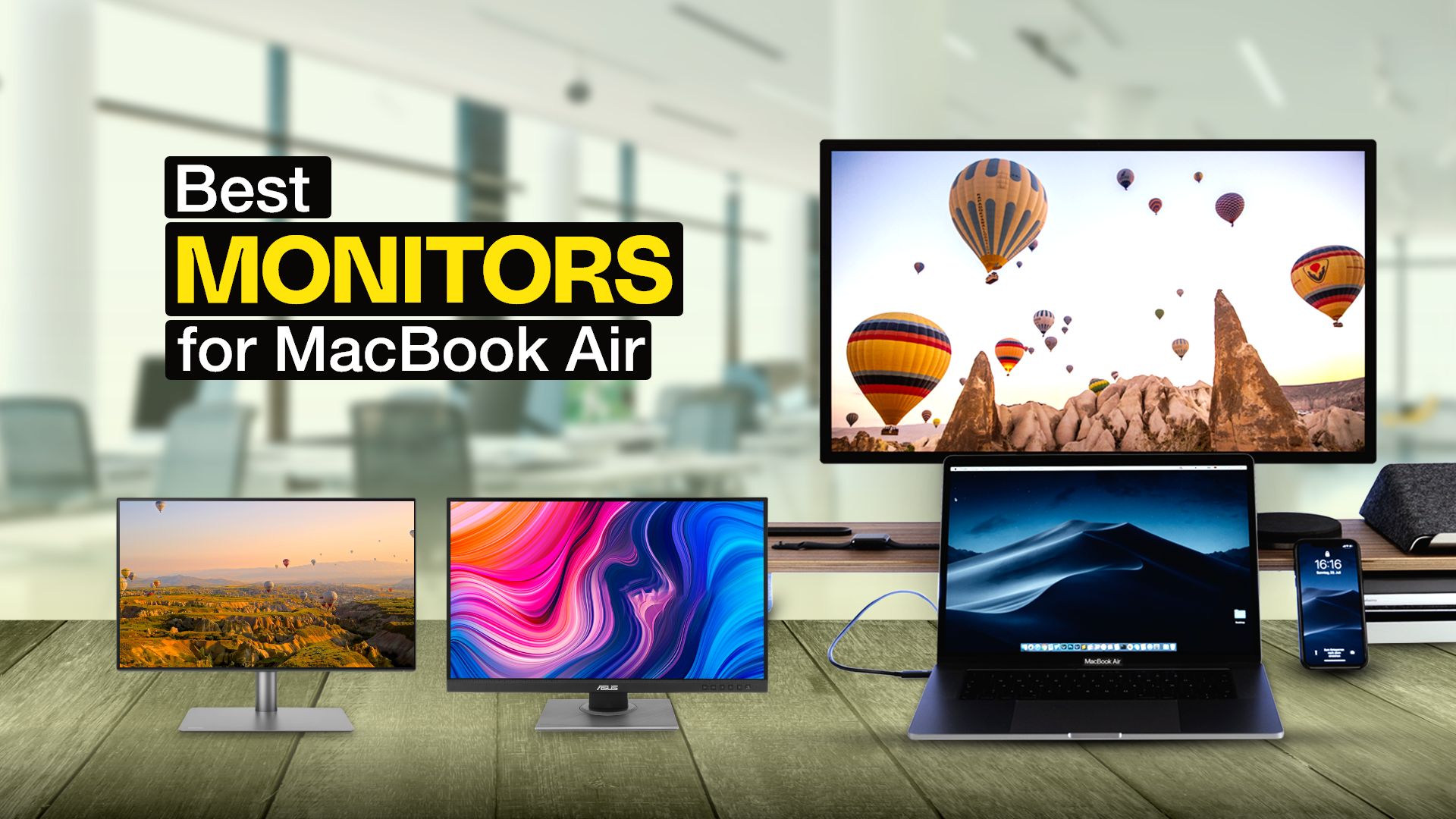 Are you looking for monitors for MacBook Air? With the USB-C video output, you can go for any monitor that offers compatibility. Hence, a lot of MacBook Air owners often try bigger and more customizable monitors. Here, we will recommend some of those demanding monitors. We hope it will help you to secure one of the best monitors for MacBook Air. Let's explore them and find out the details.
Important factors to check before buying a MacBook Air monitor
There are tons of monitors compatible with MacBook Air. Thus, we recommend you study the purchase factors beforehand because that is the best way to judge each product. As for these monitors, we do know a few things that are in common. For example, monitor size, resolution, etc. But, there are more factors to consider when getting a monitor for MacBook Air. Honestly, the display it already has is quite amazing. It does the job it is meant to do. But we want more, right? So, what are the key features you need to look for?
Size
Usually, monitor size refers to the common sizes we know. Although, it can't be a random number. The most common sizes are 24″, 27″, 32″, etc. Honestly, most MacBook users prefer a bigger monitor. You can go through a monitor size comparison to see how much it affects a user and his productivity. Besides, the feel also becomes completely different whether you are gaming or watching videos.
Bezel Design
Does your display have a bezel or not? The bezel is the distance between your screen and the border. Most people prefer it as low as possible to decrease distractions while watching. We refer to it in many synonyms, such as borderless, thin bezel, bezel-less, etc. A bezel monitor is often cheaper and has a low risk of getting side damage. On the other hand, thin bezel monitors look stunning. They give a more appealing visual to your whole setup.
Resolution
It is one of the most important things to consider. While selecting a monitor for MacBook Air, you have to pick up the best possible resolution. It can be 1080p(FHD), 1440p(QHD),  or 2160p(4K). Regular users prefer at least FHD. But the most popular options are either QHD or 4K. Remember that the resolution brings out the best experience for you.
Color Accuracy
Certainly, the point makes the meaning clear. How accurate color can your monitor generate? That is color accuracy. You know it's not really possible to match the real color with virtual colors. So, we expect the closest accuracy when comparing real-life colors. The fact is, most monitors boost or contrast a few colors. Depending on the overall combination, you may get unreal color output. Sometimes, it looks really great.
However, many users prefer the natural color balance. So, you need to make sure your monitor has accuracy good enough for your experience. It can be sRGB color percentage like 95-100% or p3 percentage as well. The higher the value, the better color output you will get.
Refresh Rate
Refresh Rate plays a big role in any monitor's performance. Simply, a higher refresh rate is better. There is nothing in between. You should try to get a high refresh rate. Although, it doesn't affect much in your daily activities.
Usually, 75Hz or higher should be perfect for your MacBook experience. More than that is exclusive for gaming, which is not mandatory for regular MacBook users. The common refresh rates are 60Hz, 75Hz, 100Hz, 120Hz, 144Hz and more.
Display Stand Adjustment
It is a hardware-related feature that you need to worry about. You may want to change the monitor position for a better view from different angles. That's why it's necessary to have a flexible stand that allows you to tilt the display. A few monitors also have height adjustment which is an exclusive feature but quite helpful.
Besides, it's even better if you get flexible pivot adjustment. All these adjustments help you to set up a productive multi-monitor workspace. However, many monitors only offer limited adjustments. Sometimes, that becomes a problem and is annoying. So, check out beforehand if you can adjust it from all directions.
Mounting Option
The wall mount is the most common and expected feature for any monitor. That goes for your MacBook Air monitor as well. There are two most common mounting options that we see. They are wall mount and desk mount. While wall mount is mostly demanding for its environmental look, desk mount is the most common one.
However, there are some latest and unique mount designs as well. As an example, many streamers or multitasking people are going for monitors with dual stands as their mounting preference. So, it would be better if you make sure that the monitor has the right mounting option that suits your setup.
Connectivity
MacBook Air supports USB-C, Thunderbolt 3 or 4 display output. As you should know, thunderbolt 3 is much faster than USB-C, while Thunderbolt 4 is twice as fast as Thunderbolt 3. So, you need a monitor that also supports similar connectivity for the best performance. A few monitors don't have these connectivities and may need a bypass.
Usually, we use adapters for the connectivity bypass. So, you should make sure which connectivities are available for the monitor. Common connection ports are USB-C(Thunderbolt), USB-C, DisplayPort, HDMI, and so on. A feature like a Daisy-Chain is also important. It gives you the option for a MacBook Air multiple monitors setup.
Extra Features
We don't mind having more features, right? So, having more features is always a bonus point. Build-in speakers and webcams, exclusive connectivity, extra accessories, and similar things are all extra features.
Best monitors for MacBook Air | Top 11 choices
Now that you know the prerequisites to explore monitors, it's time to dive into the appropriate products. Here, we have a list of 11 best monitors for MacBook Air. These monitors are different in features and their overall performance. Not to mention the cost. So, we just have to find one perfect monitor for you among these options. Let's start the selection.
List of the best monitors For MacBook Air in 2023
Apple Studio Display
ASUS ProArt Display PA278CV
BenQ DesignVue PD2725U
LG UltraWide 40WP95C-W
CopGain Portable Monitor
Dell UltraSharp U3223QE
ALOGIC Clarity
Samsung Smart Monitor M8
LG UltraFine 27MD5KL-B
ASUS ZenScreen Touch MB16AHT
PHILIPS 288E2E