Category:
How to Fix a Broken iPhone Charger
We independently research, test, review, and recommend the best products. As an Amazon Associate we earn from qualifying purchases. However, this doesn't affect the recommendations our writers make.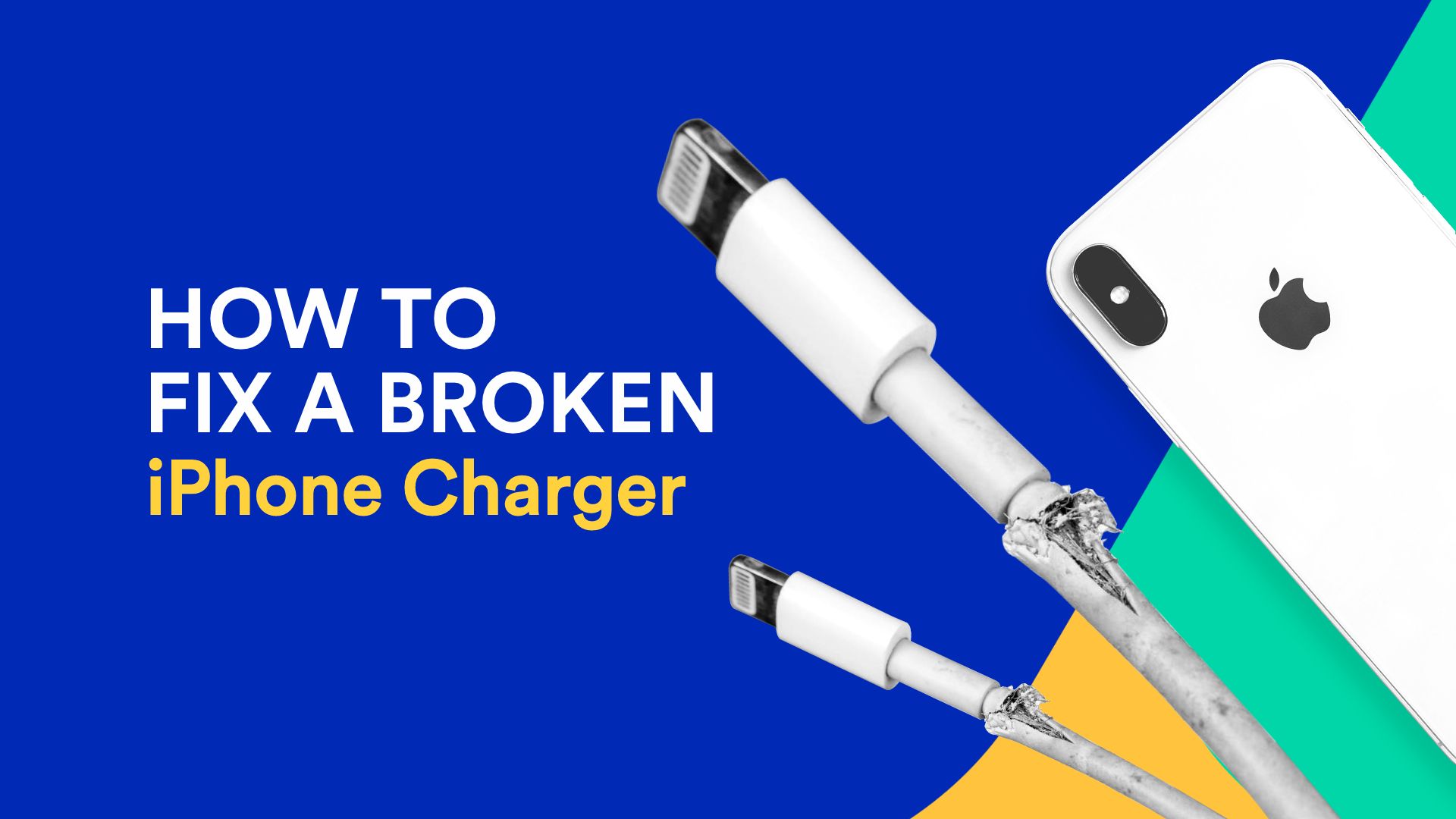 How often do you have to buy a new iPhone charger because your old one has just stopped working? Have you tried repairing the broken charger first before replacing it? The new charger doesn't come cheap, and we don't take good care of the existing one. So, in this how-to article, we will focus on how to fix a broken iPhone charger.
Why do iPhone Chargers stop working?
Before exploring how to fix broken iPhone chargers, you'd need first to identify the problem. There are many reasons why your iPhone chargers stop working, and you'd need to know them. An iPhone charger has two components, the power adapter, and the Lightning cable. The fault sometimes might lie on one of them. Or the problem might not be with your charger at all. So, before you perform any fix, have a look at this list.
Do you really have a broken phone charger?
Your Apple device may itself be faulty. So, try charging a second Apple device, and if that's charging, then the first one might have a problem.
Check your power outlet. Sometimes faulty outlet can prevent your charger from receiving any power.
Check whether your charger is compatible with your Apple device.
Sometimes the charging port of your device may be clogged. So use tweezers or toothpicks to unclog your charging ports, if possible gently.
If you've ruled out these problems, the fault lies in your charger. As we've established earlier, an iPhone charger has two components, a power adapter, and a USB lightning cable. Which means one of the two parts or both of them has faults.
In the next section, we'll explain the best hacks on how to fix broken iPhone chargers.
Learn how to fix a broken iPhone charger cable
Several things could happen to your iPhone charger cable that prevents it from working. In the following section, we've discussed in detail all the reasons why your iPhone charger cable is not working. In addition, we've also offered suggestions to fix your broken iPhone charger.
Old and frayed iPhone charger cable
Our iPhone charger cord does experience some severe wear and tear during its use. This might cause the cable to fray. Often the wires would twist at the ends, and this would cause the plastic covering to wear out. Luckily, you can adopt ways to repair your iPhone charger cord in such cases. Here are some recommendations on how to fix a broken iPhone charger wire:
Use electrical tape over the cable's frayed part.
Cover the worn area of the cord with heat shrink.
Repair the wire with soldering iron.
Step-by-step process on how to fix a broken iPhone charger cable with electrical tape:
Ensure that your cable is unplugged from a power outlet.
Then gently apply the electrical tape over the exposed area of the charger cable.
Don't wriggle or move the covered part of the cable too much when connected to an outlet. There's a small risk of electrocution.
Step-by-step guide on how to fix an iPhone charger cord using a heat shrink:
Make sure your charger cord is not plugged into an outlet.
Locate the exposed charger cord that needs to be covered. Further exposing the cable might be necessary by removing the plastic covering.
Measure the frayed area of the cord for the length of heat shrink required. Use slightly longer heat shrink to cover the cable adequately.
Slide the heat shrink over the exposed part of the cord and use a heat gun or a hairdryer over it.
Apply the heat over the heat shrink evenly on all sides to avoid overheating and leave it for a couple of minutes.
Learn how to fix a broken iPhone charger wire using soldering iron:
When the wires of your cable are faulty, you'd typically need to replace your cable. However, you can repair your cord if you have a soldering iron assuming you also know how to use one. You may need additional equipment like a glue gun, electrical tape, etc.
Firstly, you'd need to cut out the parts of the frayed cable carefully. Then gently separate all the wires from each other. Next, use your soldering iron to fix the broken connection between the wires. Then use a glue gun to insulate the wires so that they don't come in contact with each other. After that, use electrical tape or a heat shrink to cover up the exposed parts of the cable.
You'd need some level of experience to solder the wires successfully. Some of you might be tempted to replace your cable instead.
Using cheap iPhone charger cable
Another reason your iPhone charger cord is not working is that you've used a non-Apple certified cable. You not only risk your charger not working properly, but you also risk harming the health of your iPhone's battery. You should either purchase a cable from Apple or an MFI-certified brand.
Also, if you have a broken iPhone charger cord and don't want to attempt a fix we've mentioned previously, you could replace them with a new one. Apple offers its Lightning to USB Cable in three different sizes (0.5m, 1.0m & 2.0m). You can also check out the Apple USB-C to Lightning Cable. It is Apple's latest iPhone charger cable.
Strain on your iPhone charger cables
Sometimes your new or recently acquired charger cords can break or fray just like the old or worn-out ones. This could occur if you frequently use your iPhone when it's charging, which in turn causes tension on your cable. It will hasten the wear and tear on your charger. To avoid this, you should carefully handle your charger cord to avoid any strain on it.
In addition, you should also avoid overcharging your iPhone. This might, over time, affect the performance of the charger cable and the adapter.
What if the iPhone charger adapter is not working?
Now we're going to focus on what to do when it's your power adapter that's broken. First, we'd need to confirm that the charger's power adapter is at fault, not the cable. For this, we'd need to try using the power adapter with a charger cable that works. If your iPhone is not charging, then it's the adapter that's not working.
How to fix a broken iPhone charger adapter
There's nothing much you could do if it's the power adapter of your iPhone charger that's faulty. The chances are you're going to break the internal components of the adapter if you try to pry it open. We'd not recommend you to try fixing it yourself unless you know what you're doing.
The best course of action for you is to replace your power adapter with a new one. We'd recommend you purchase Apple 20W USB-C Power Adapter. This adapter works with most Apple products, including the most recent iPhone, iPad, AirPods, and Apple Watch models.
Wrapping up
We hope that this complete article on how to fix a broken iPhone charger cable and adapter was helpful for you. We continuously try to provide you with the best solution to any challenges you may have. For any attempt at repairing your own iPhone charger cable or adapter, we'd always recommend you take the necessary precautions against possible electrocution. This is because you're dealing with an electrical product.