Category:
How to Connect iPhone to Projector with Cables or Wirelessly
We independently research, test, review, and recommend the best products. As an Amazon Associate we earn from qualifying purchases. However, this doesn't affect the recommendations our writers make.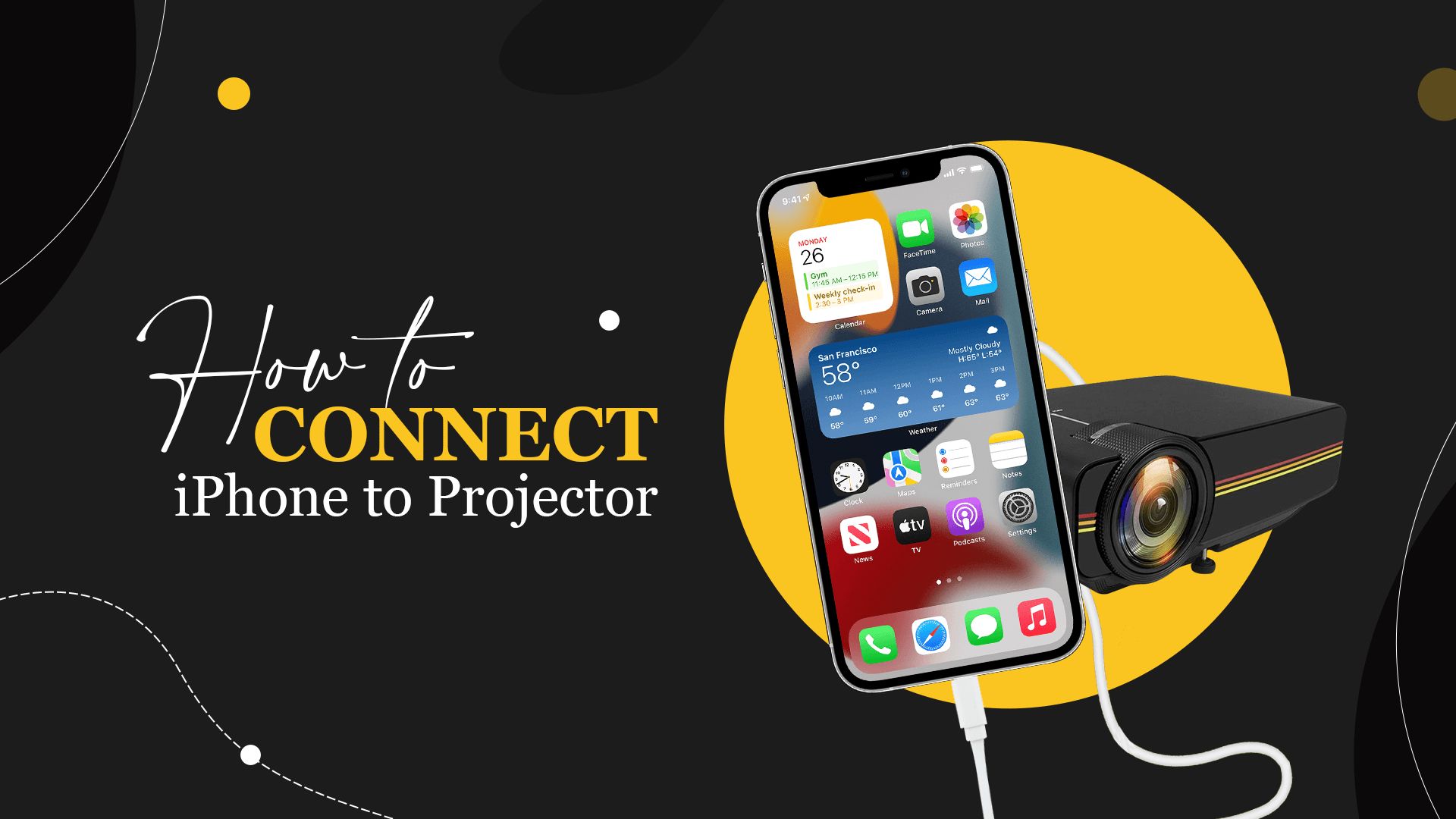 Have you been wondering how to connect iPhone to projector the right way? Read on because we will explain the ins and outs of streaming content from your iPhone to your personal projector screen in this post.
How to connect iPhone to projector using two simple cables
If you want to find out how to connect iPhone to projector wirelessly to a display, such as projector, Tv, or computer monitor, you'll need:
Digital AV or VGA Adapter
HDMI or VGA Cable
These iPhone to projector adapters connect to regular VGA/HDMI video cables by plugging into the Lightning connection on the bottom of contemporary iPhones. Therefore, depending on the cable type you have (HDMI or VGA), you need to get the corresponding adapter for your iPhone.
So, a regular adaptor cable is probably the simplest method to connect your iPhone to a projector.  A video cable is included with every projector. It connects it to the laptop, tablet, or phone whose material is being projected. That's what you'll utilize in this situation. However, because the iPhone lacks a standard video connector, you'll need to purchase an adaptor.
If you are regularly using the same projectors with your iPhone, you can probably get by with only one of these cords. Simply double-check the cable on the projector you'd want to utilize (VGA is described as the robust, 30-pin cable with the screws on either side; HDMI is the thin, wide plug used with HDTVs).
If you're frequently on the go and can't predict which type of cable will be accessible on the projectors you'll be using, it's usually best to have both cables on hand for optimum flexibility.
How to connect iPhone to projector using an HDMI or VGA cable
Connect the Digital AV or VGA adapter to your iOS device's charging connector on the bottom
To your adapter, connect an HDMI or VGA cable
Connect your secondary display to the opposite end of your HDMI or VGA wire (TV, monitor, or projector)
On your secondary display, turn it on
On your secondary monitor, if necessary, change the video source to the right one
Your iPhone, iPad, or iPod touch's screen should now show on your TV, display, or projector.
How to charge your iPhone while it's currently connected to projector
Most adapters have an extra Lightning or 30-pin Dock connector. Thus, allowing you to charge your iOS device while connected to a second monitor. To use the adapter, just plug in a Lightning to USB or Dock Connector to USB cable. The USB connector should then be plugged into a power supply.
Note: If you can view the video but not hear the audio, check to see whether you're using a Digital AV adaptor (which has an HDMI port). If you're using a VGA adapter, you won't be able to hear anything. Connect your VGA adapter to the headset port on your TV, monitor, projector, or stereo to hear audio.
How to Wirelessly Connect an iPhone to a Projector
A cable isn't necessarily required for every projector. In fact, some modern projectors allow you to connect your iPhone (or laptop) wirelessly instead of using cords. Because the specific procedures vary depending on the projector model, we can't provide a single set of instructions here. When you switch on some of these projectors, the instructions for connection are shown. Wi-Fi is typically used to connect to the projector. Simply follow the given instructions presented on the screen or given to you by the projector's provider, and your iPhone presentation should be projected in a matter of seconds.
How to connect your iPhone to a projector wirelessly using the iProjection app
With the Epson iProjection App, connecting iPhone to a projector is made easy.
Connect your smartphone or tablet to the projector's wireless network.
Select the connected projector in the app.
You're ready to start once you've chosen the web page, document, or photo you want to project.
To wrap up
We hope this how to connect projector to iPhone post will assist you in screen mirroring iPhone to projector on demand. No need for bulky and conventional projector machines. Let your iPhone do all the work.