Category:
Gigabyte M27Q Pro Monitor Review: All That You Need to Know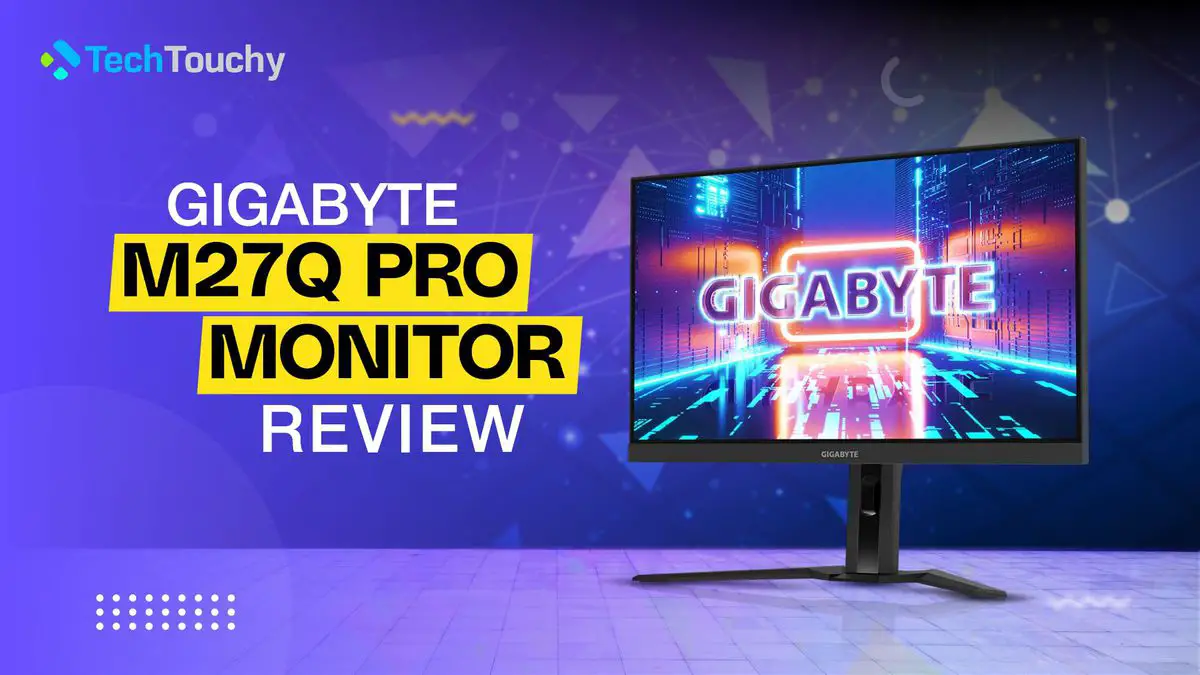 Finding a gaming monitor that could mitigate all of your gaming cravings on a budget?
Are you a streamer and looking for an ideal primary monitor that could assist you in controlling 2 computers just using one monitor?
Hold on a second there and look for this Gigabyte M27Q Pro Monitor that we will review here.
The Gigabyte M27Q Pro is one of the best budget gaming monitors with a 170 Hz refresh rate and 1440p resolution. One of the key features to attract gamers like you and me is the KVM feature. The outstanding display is going to be one of the best choices for graphics designers and video editors.
There are more mind-blowing features packed in this Gigabyte M27Q Pro monitor that you would love to know about.
So, without squandering any of our precious time, let us just get lost in the mesmerizing display of the Gigabyte M27Q Pro Monitor.
Overview of Gigabyte M27Q Pro Monitor
Gigabyte has launched its M-series monitors dedicated to gamers. They have used an LG IPS panel in this model, which is a super-speed IPS panel that is going to be tuned up to a 170 Hz refresh rate. The resolution is 1440p and has an aspect ratio of 16:9 with a 10-bit color panel. These things are already a thing to blow up the mind of a gamer.
They are the first to use the KVM feature on a gaming monitor, which is especially beneficial for gamers and designers. You are going to enjoy the ODS Sidekick feature for an easier monitor setting change.
Another interesting fact is that there are no external power adapters; rather, they have provided a built-in one. So, definitely, it would make your cable management easier. Also, there is a unique thing that you will probably not find in other ones, and that is speakers. Yes, there are two speakers built-in inside the monitor.
So, let us go a bit deeper. First, we are going to discuss the box contents.
Box Contents
So, you are going to get:
The Monitor
Stand
Base
2 Power Cables
1 HDMI Cable
1 USB Uplink Cable
Available Ports & Connectivity
It is also necessary to know the ports and connectivity before choosing a monitor. As you are going to do gaming and might be a streamer, connecting and managing multiple devices at the same time is crucial for you.
Let us discuss the ports available on this Gigabyte M27Q Pro Monitor:
2 HDMI 2.0 ports
1 DisplayPort 1.4
1 USB 3.0 Upstream Port
2 USB 3.0 Downstream Port
1 Earphone Jack
1 USB-C Port
Gigabyte M27Q Pro Monitor Specifications
This is time to get to know the specifications of this Gigabyte M27Q Pro monitor is going to providing us:
27″ SS IPS Display
400 NITs Brightness
Contrast ratio 1000:1
1440p resolution
Up to 170 Hz Refresh rate
10-bit display color
RGB Subpixel
VESA DisplayHDR400 Support
Built-in Speakers
OSD SideKick
6-axis color control
Built-in Speakers
KVM
Game Assist
Flicker Free
Anti-glare
Low Blue Light
28 W Power Consumption
Gigabyte M27Q Pro Monitor Design
Let us talk about the design of this gaming monitor because the outlooks of an object play a significant role related to satisfaction when we are going to use it for a daily purpose.
Build Quality
The body is built using polycarbonate materials. Though the body is made of plastic, the build quality is strong enough to be a monitor.
Weight
This monitor has a gross weight of 10.05kg.
Physical Looks
The rare panel has both matte and glossy finish along with some simple geometric designs that suit well with the looks of the monitor. Though it is a gaming monitor, it lacks the RGB illumination. The outer look has a simplicity along with an aesthetic look.
Stand
The stand is made of polycarbonate as well.
The base depth = 231 mm
The base width = 493 mm
Weight of the stand = 1.8 kg
Display Panel
This monitor has a 27″ flat SS IPS display. The display panel is surrounded by a 9 mm display bezel.
Control Panel
There is a control panel at the rear side of the monitor, which looks like a mini joystick. It can be accessed to change and go to different monitor settings easily without the annoying buttons.
Adjustments
The height can be adjusted within the 130 mm range.
The tilt range is from -20° to 5°
It does not support swiveling and cannot rotate the display either for a portrait view.
Display Specifications
We are done with the outlooks of this monitor. Now, let us get to the main thing: the display of the Gigabyte M27Q Pro Monitor.
The Panel
This monitor has a 27″ SS IPS panel with a 1440p resolution and 165 Hz refresh rate. This refresh rate can be overclocked up to 170 Hz using the Super Speed technology.
Display Surface
The display surface has a flat surface with an anti-glare protection.
Display Type
It has a super-speed IPS Panel Display with flicker-free technology.
Display Color
The display has a 10-bit (8-bit + FRC) color system. It uses RGB subpixels for better color correction, accuracy, and viewing sensation.
Resolution
This monitor has a 2560 x 1440 (QHD) resolution.
Pixel Density
It has a 109 PPI pixel density and a pixel pitch of 0.2331(H) x 0.2331(V) mm.
Aspect Ratio
The aspect ratio is 16:9.
Response Time
The response time is 1 GTG. This refers to the fact that a pixel takes 1 millisecond to transit from one gray level to another gray level on this monitor display.
Refresh rate
This monitor has a 165 Hz refresh rate, which can be overclocked to 170 Hz.
Color Saturation
It has a 98% DCI-P3 color saturation. The RGB subpixels make it more saturated and accurate with a more clear vision.
Brightness
It comes with a 400 NITS of brightness.
Contrast Ratio
This monitor has a contrast ratio of 1000:1
Viewing Angle
It is claimed that it has a 178° viewing angle.
Glare Resistance
There is a matte finish applied over the display surface. As a result, it exhibits anti-glare properties.
Recommended Post: 11 Best Monitors for Eye Strain
Gaming Features
As this is a gaming-focused monitor, you must be waiting to know about the gaming features that this monitor is offering.
So, let us find out its gaming features.
KVM
KVM stands for Keyboard Video Mouse. This is an amazing feature that is especially useful to the gamers.
You can simply bring your mobile phone or laptop's display to the monitor's display. You are just required to connect a USB-C to a USB-C cable to connect your monitor and that device.
With this feature, you can shift anything, especially any mobile game, to the monitor display and even control the monitor via keyboard and mouse.
You can simply switch between displays just by tapping the KVM button located at the rear of the monitor.
This is useful to graphics designers and video editors. It adds a plus point for multi-tasking as well.
Speaker
There are 2 speakers built-in of 3W power inside this monitor. So you can listen to your music, gaming sounds, or any other sound from your monitor in case your soundbox or headset gets damaged.
OSD SideKick
Changing your monitor settings via buttons is so annoying; that is why a mini-joystick is provided here to do so. But it would be even better if you could do so using your keyboard and mouse.
OSD stands for On-Screen Display. It gives you the facility to bypass button control and lets you access the monitor settings and modify them via your mouse and keyboard. It eases the whole thing.
Black Equalizer
The black equalizer allows you to have a clearer vision in the darker environment in the games. It is tough to locate and shoot enemies or understand the surroundings in the game when it is dark. So this feature actually reduces the gamma and lets you have a more clear vision that is going to improve your gaming experience.
Virtual CrossHair
Virtual CrossHair is one kind of aim assist. It creates a virtual crosshair on the screen that will help you to aim better in games.
Aim Stabilizer Sync
Aim stabilizer aids you in assisting while playing shooting games.
Free Sync VRR & G-Sync
It has FreeSync Support for VRR (Variable Refresh Rate) and also claimed by Gigabyte that this monitor is G-Sync supported. However, NVIDIA did not provide any official certification for G-Sync Compatibility.
RGB Illumination
It is a matter of disappointment, but there is no RGB illumination. As a gaming monitor, it could be desired that it has RGB illumination for a gaming vibe. But the manufacturers tried to keep it simple and wanted to provide an aesthetic simple look. That is why they omitted the RGB illumination.
Power Specification
Things you should have known as a gamer, you have already gone through that. But it is also vital to know about the power consumption of this monitor as this is also a crucial factor to know about before choosing one.
So, let us get to know the power consumption specifications of this Gigabyte M27Q Pro Monitor.
Power Consumption
It is claimed by the manufacturer that this monitor has a 28 W power consumption.
Power Board Type
A built-in power adapter is provided. So it does not require an external power adapter.
Voltage Rating
This monitor has a 100~240 Vac rating.
Power Saving
This is claimed by the manufacturer that it has a 0.5W power-saving mode.
Output Compatibility
This monitor has HDMI-CEC support. This monitor can be connected to other devices via HDMI cable and can be used as a display like a TV.
So let us know about this compatibility.
PS5
This monitor can be connected to a PS5 via HDMI cable, but it has a limitation. The HDMI 2.0 port is not capable of providing a 170 Hz refresh rate due to low bandwidth. HDMI 2.1 is required to do so. As a result, it will not support VRR and 4K resolution 120 Hz refresh rate as well.
Recommended Post: 11 Best Monitors for the PS5
X-Box
This monitor is compatible with Xbox but has an HDMI 2.0 limitation. It does support:
4k@60 Hz,
1440p@120 Hz,
1440p@60 Hz,
1080p@120 Hz,
41080p@60 Hz
but do not support 4k@120 Hz
Best to Use For
This Gigabyte M27Q Pro Monitor is best to use for:
Gaming
Graphics Designing
Video Editing
Productive Works
Content Watching etc.
This one is mainly designed to focus on gaming purposes. However, it is also ideal for graphics designers and video editors. Other purposes can be served as well.
Pros and Cons
Let us now know about the advantages and the disadvantages of this gigabyte M27Q Pro Monitors that will affect our final decisions.
Pros
Cons
170 Hz refresh rate gives fluidity for gamers and graphics designers
You can not enjoy the 170 Hz output if you are using the HDMI port for the monitor input. Because the HDMI 2.0 is not capable of delivering 170 Hz output.

 

You must use DisplayPort 1.4 if you want to enjoy the 170 Hz refresh rate.

FreeSync VRR and G-Sync compatibility for better gaming output
Do not support swiveling and orientation rotation
Low latency at 120 Hz and 120 Hz
More stuttering is observed at 60 Hz
KVM switching feature to give gamers an upper hand
The contrast ratio is lower
Anti-glare display
No swiveling option
Aim Assist and black equalizer for a better gaming experience
No orientation rotation option
Wide angle of view
No RGB illumination
Excellent color depth and accuracy
RGB subpixel provides better picture clarity and color accuracy
Built-in power board that gives an upper hand in cable management
M27Q vs M27Q Pro vs M27Q X
Here is a basic specification comparison among other M-series Gigabyte monitors:
| | | | |
| --- | --- | --- | --- |
| Factors | M27Q | M27Q Pro | M27Q X |
| Weight (gross) | 7.8 kg | 10.05 kg | 8.12 kg |
| Refresh Rate | 165Hz/OC 170 Hz | 165Hz/OC 170 Hz | 240 Hz |
| Brightness | 350 NITs | 400 NITs | 350 NITs |
| Color Saturation | 95% DCI-P3 | 98% DCI-P3 | 94% DCI-P3 |
| Display Colors | 1.07 B | 10 bits(8 bits + FRC) | 1.07 B |
| Response Time | 1ms MPRT | 1ms GTG | 1ms MPRT |
| Speakers | x | 3W x 2 | 2W x 2 |
| Power Type | Power Adapter | Build-in | Power Adapter |
| Voltage Rating | 19V DC 3.42A | 100~240Vac | 19V DC 3.42A |
The Ultimate Decision
The Gigabyte M27Q Pro monitor is aimed at gaming and has all the necessary and many more additional features that could make your gaming experience one of the best in this range of budget. The addition of KVM switching has added another dimension to the gaming features of this Gigabyte M27Q Pro Monitor. The built-in speakers are also a key point that should be noticed because they could serve you during your difficult hours.
We have highlighted everything you need to know as a gamer before selecting your next monitor. The latter is up to you and your preference. We would really appreciate it if you have any queries and ask us. We are free to resolve your queries.
Hoping that your next gaming monitor is going to bash up things and give you that fantastic experience that you are looking for.
Recommended Posts: