Category:
How to change color on REDRAGON keyboard- Full Guide
We independently research, test, review, and recommend the best products. As an Amazon Associate we earn from qualifying purchases.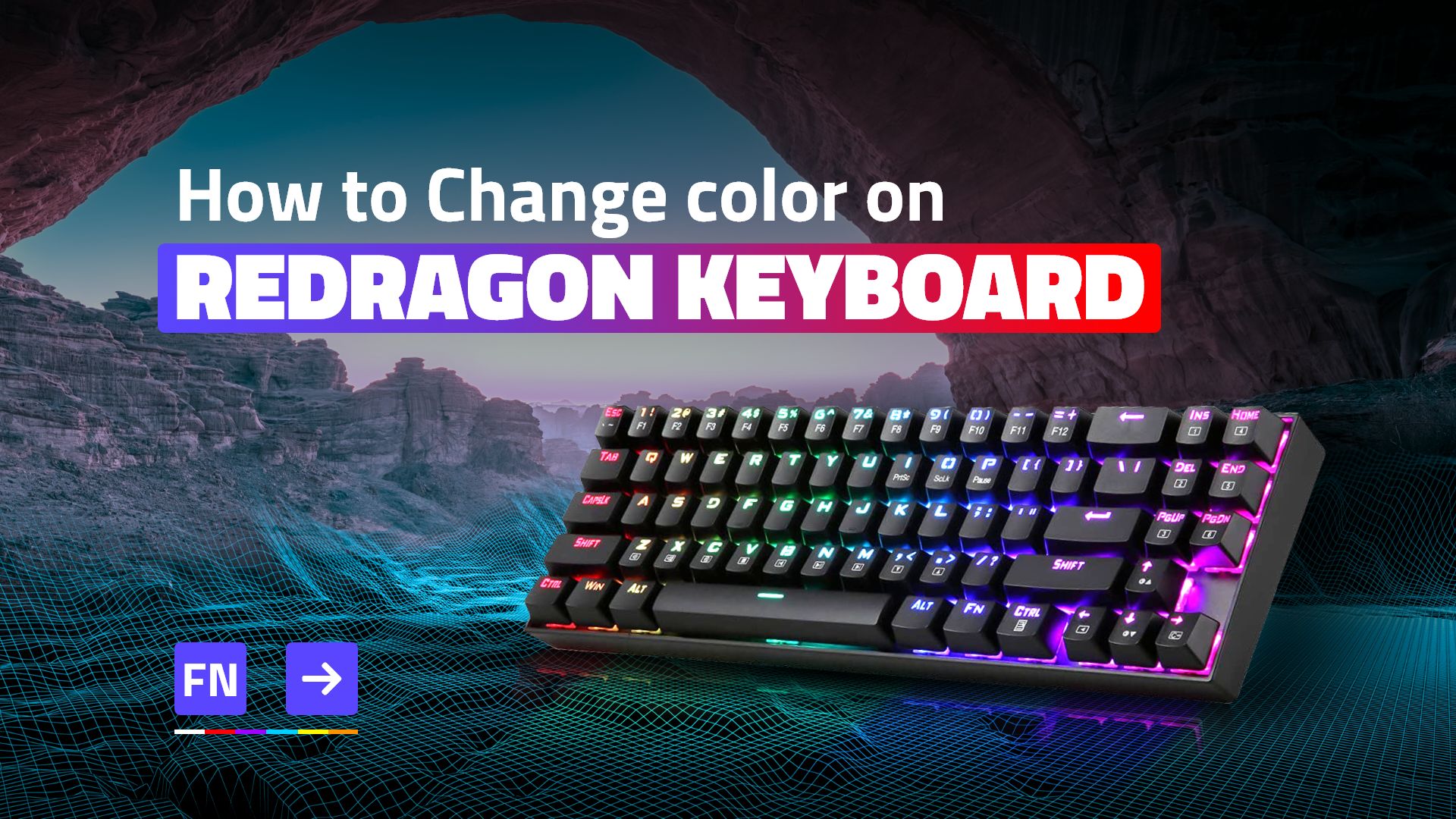 Are you wondering how to change color on REDRAGON keyboard? It's simpler than you might think! First, check out the Redragon Keyboard Manager software. Here, you can play around with different profiles and explore the 'Color' dropdown menu to discover the ideal hue for your keyboard. If you're not into the software thing, no worries! Press the Fn key and the right arrow together on your keyboard, and you can quickly flip through different colors.
If you've been scratching your head about changing color on a Redragon keyboard, breathe easy because you've landed in the right spot. Trust me, it's more complex than it seems. With a couple of straightforward techniques available, you'll master this quickly. So, shall we dive in?
How to change color on REDRAGON keyboard – Two methods
Hey, want to give your REDRAGON keyboard a fresh look? Awesome! Here, I'll walk you through two simple methods to change the color on your REDRAGON keyboard. Let's get started and bring some color to your typing experience!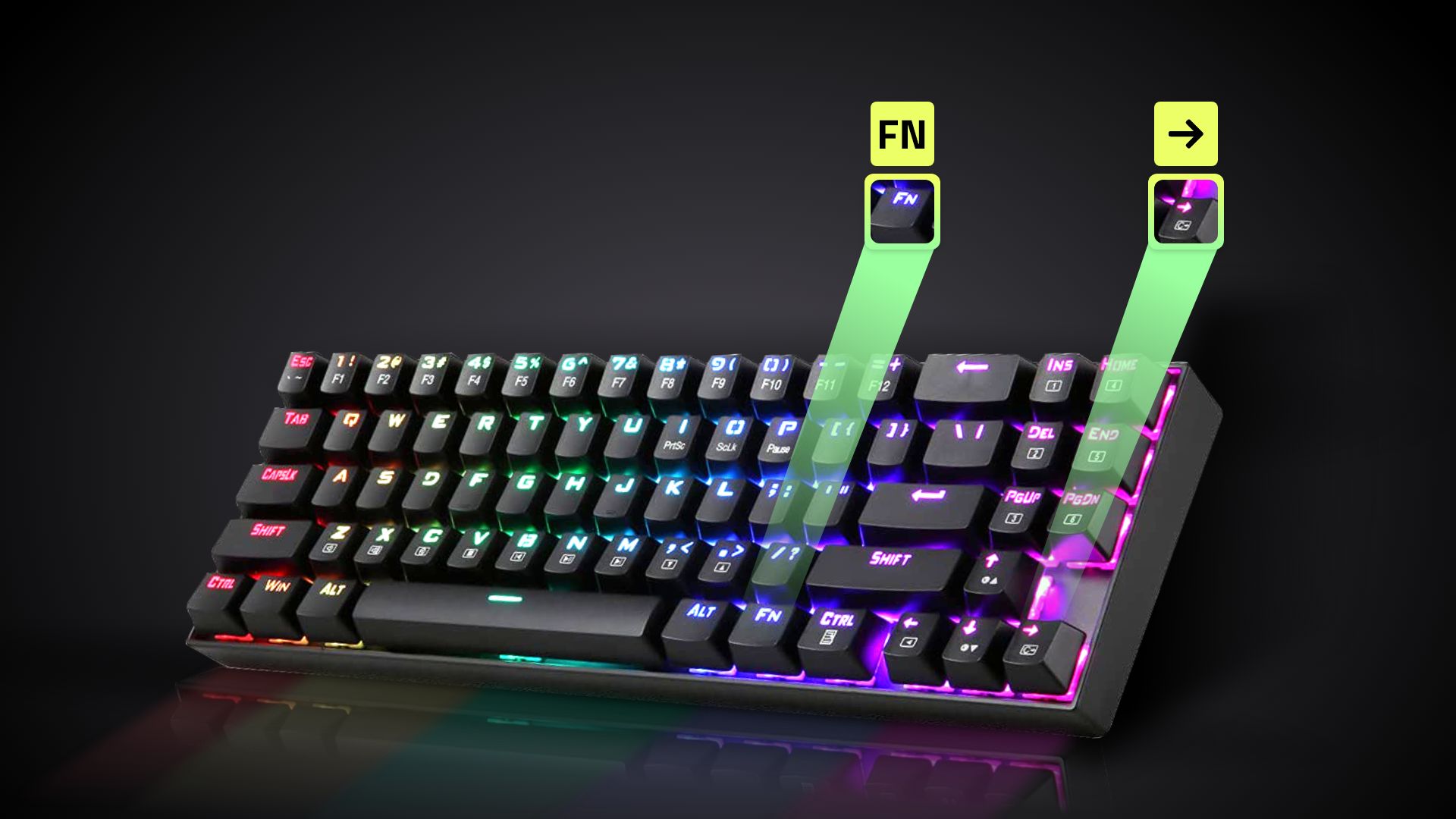 Method 1: Keyboard shortcuts
If messing around with software isn't your thing, don't worry – there's a straightforward way to swap between different color setups on your Redragon keyboard.
Sure, you might miss out on some fancy custom lighting options, but this method is quick and hassle-free, allowing you to change the entire keyboard's lighting in a snap. You need to hold down the function (Fn) key while tapping the right arrow key. It will switch your gaming keyboard to a different backlight color.
Feel like trying another color? No problem! Just hit the right arrow key again to see the next color in the lineup. Keep tapping until you find a shade that suits your style!
Method 2: Redragon software
Are you looking to add a splash of color to your Redragon keyboard? Their software's got you covered. It's not just about lights – you can also tinker with other neat keyboard settings.
Here, we will show you how to change your Redragon keyboard color using the Redragon software:
Step 1: Download the Redragon software
First off, you need to download and install the Redragon software on your computer. To do this, visit their site. On their site, you need to scroll down and select "Keyboards." Once you do, you'll spot a list of all the flashy RGB backlit keyboard models. Just find and click on your keyboard's model name.
Next, a window appears with the Download link for the software. So, click on the software link to get that download rolling. Is it done downloading? If the file isn't in ".exe" format, you might need a tool like WinRAR to unzip it. After unzipping it, go into the folder and double-click "setup.exe." Next, just follow the on-screen instructions, and you'll be all set to go!
Step 2: Open the Redragon software
Alright! With the software all set up for your RGB keyboard, you're now ready to play around and give your Redragon keyboard a fresh, colorful look. Let's get to it! So, connect your Redragon keyboard to your computer, then open the software.
Step 3: Change the Redragon keyboard color
Once you launch the Redragon software, pick a profile from the options available on the left side of the screen. Then, check that the "Light" option is selected. Now, delve into the menu next to it and select a lighting mode that catches your eye. If you prefer keeping it simple, "Fixed_on" is a great choice.
If you're leaning towards a solid color theme, select the "RGB" box. Finally, choose your favorite hue from the primary color options, or get creative with the color picker. Your Redragon keyboard should now be glowing in the selected color.
How to change color for specific keys on the REDRAGON keyboard
Using a keyboard shortcut, you can set a custom backlight color for specific keys on your Redragon keyboard. It may initially sound tricky, but it's easy once you get the hang of it.
Here's how to change the color for specific keys on a Resragon keyboard:
Press the Fn key and the tilde (~) key twice. Doing this puts your keyboard in backlight definition mode.
When you do this, you'll notice that the Num Lock, Scroll Lock, Win Lock, and Caps Lock indicator lights flash. It means your keyboard is ready for you to make changes.
Now, could you take a look at the tilde key itself? The color it glows right now is the color you're about to set for individual keys. Press the Fn key and the right arrow button to cycle through different colors. Watch as the tilde key changes its color with each press. Keep doing this until you find a color you like.
Once you've settled on a color, it's time to apply it to specific keys. Just press each key you want to light up in that chosen color. As you press each key, you'll see them change color to match your selection.
After you've set the colors for the individual keys, press the Fn and tilde keys together one more time. This action saves all the changes you've made.
If you want to set different colors for other keys, follow the same steps again. It's that simple!
Reasons to change keyboard color
A colorful keyboard can bring personality to your desk setup and boost its visual appeal. It's not just about style; it can serve some practical purposes, too:
Aesthetics: Adding a splash of color to your keyboard lets you express your style or match it with your gaming gear. It makes your workspace look more attractive.
Visibility: When the room has dim lighting, or you're gaming late at night, changing the keyboard color can make the keys easier to see. It's a handy feature for gamers and night owls.
Accessibility: Some people have trouble seeing specific colors due to conditions like color blindness. Switching to more visible colors on your keyboard can make typing more comfortable for them.
Ergonomics: Research suggests that specific keyboard colors may help reduce eye strain. It can make long typing sessions more comfortable.
Focus: Using different keyboard colors can set the mood for your activities. Red for gaming, blue for work – it can help you get in the right mindset and stay focused.
Are Redragon keyboards customizable?
Yes, you can. The Redragon mechanical keyboard barebones include all the essential features we typically need for customizing our keyboard. It includes 5-pin support, RGB lighting, and plate-mount stabilizers. The PCB also has a handy hot-swappable feature, which means you can change switches without selling them to the PCB.
How do I change the color on my REDRAGON keyboard?
You can use some simple key combinations to adjust the color on your REDRAGON keyboard. Here's how:
To make the brightness lower, press Fn and the left arrow key.
For more brightness, use Fn and the right arrow key.
To switch colors, press Fn and the up arrow key.
To change the lighting mode, press Fn and the down arrow key.
How do I change the color mode on my REDRAGON keyboard?
To change the color mode on your REDRAGON keyboard, press Fn and the F5 key. It will cycle through the different color modes.
Conclusion
Now you know everything about how to change the color on your REDRAGON keyboard. It's pretty simple, especially when you're using the official software. You can easily change your keyboard's appearance, whether you want to give the whole keyboard a fresh look or just a few keys.
Save time by holding the Fn key and tapping the Right Arrow key to change your keyboard colors. For a bit of creativity, press Fn and the tilde (~) key simultaneously to customize specific keys without any extra software.
If you ever get stuck, don't worry about contacting REDRAGON support. If you complete the article, you will know everything step-by-step to do it yourself! And if you find it helpful, check out our other articles for more useful tips.
Related Posts: