Category:
How to Change Razer Keyboard Color- Full Guide
We independently research, test, review, and recommend the best products. As an Amazon Associate we earn from qualifying purchases.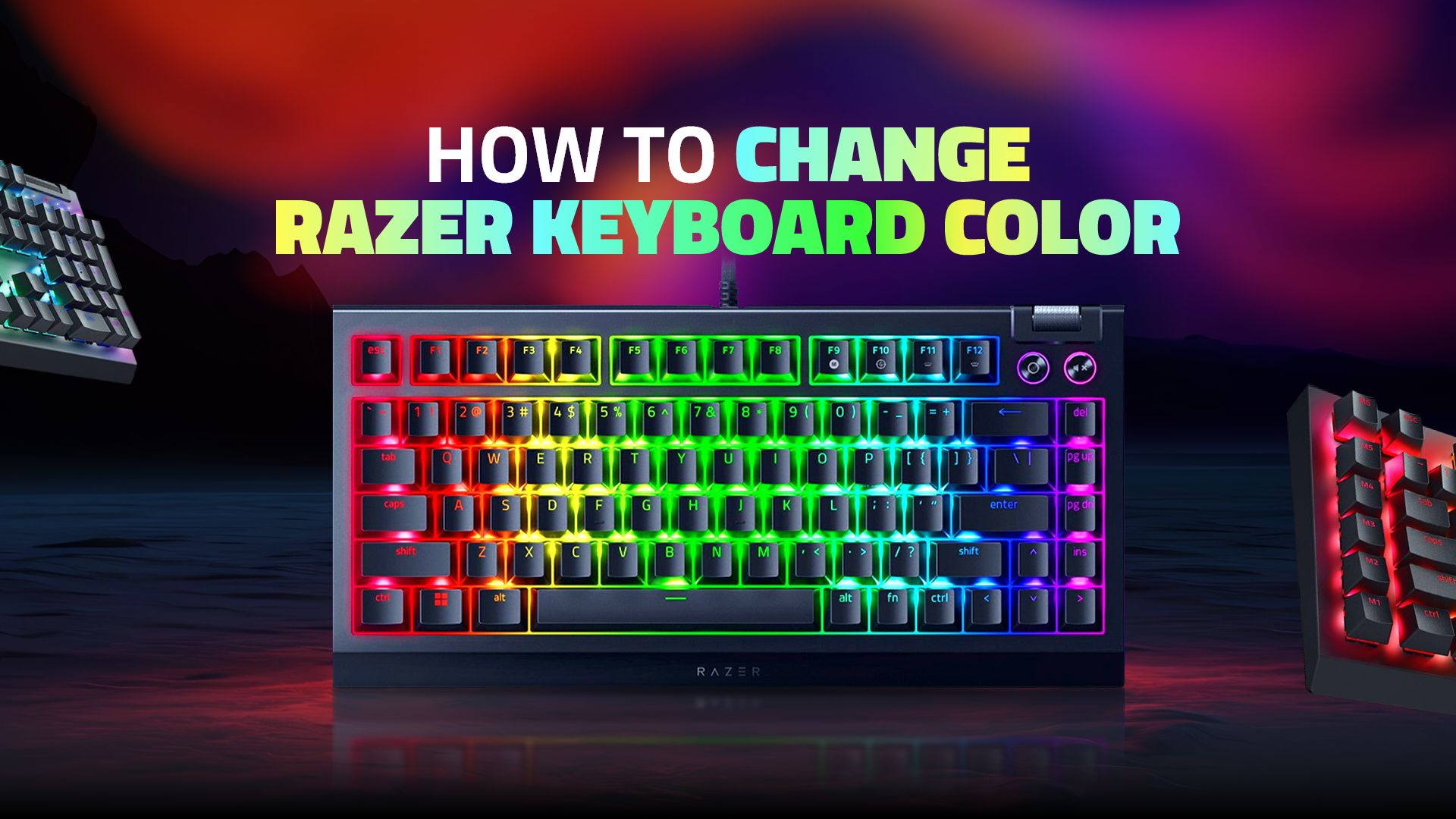 Hey, fellow gamers! Have you ever looked down at your keyboard mid-game and thought, "Hmm, a change of color would be nice!" If you're lucky enough to own a Razer, you're in luck! How to change Razer keyboard color, you ask? Hold that thought!
As most know, Razer has skyrocketed to become one of the world's leading gaming peripherals giants. Their keyboards? They are absolute legends in the gaming community. And the best part? Razer has made it incredibly simple to customize your keyboard's lighting effects or colors.
Keep reading this article; we'll guide you through changing those Razer keyboard lighting colors across various models and methods. Let's dive in together!
How to change Razer keyboard color with keyboard shortcuts
Do you have a Razer keyboard and fancy a lighting change? No worries! Check out the simple steps in this section. Here are the details!
Change Razer keyboard color with shortcut keys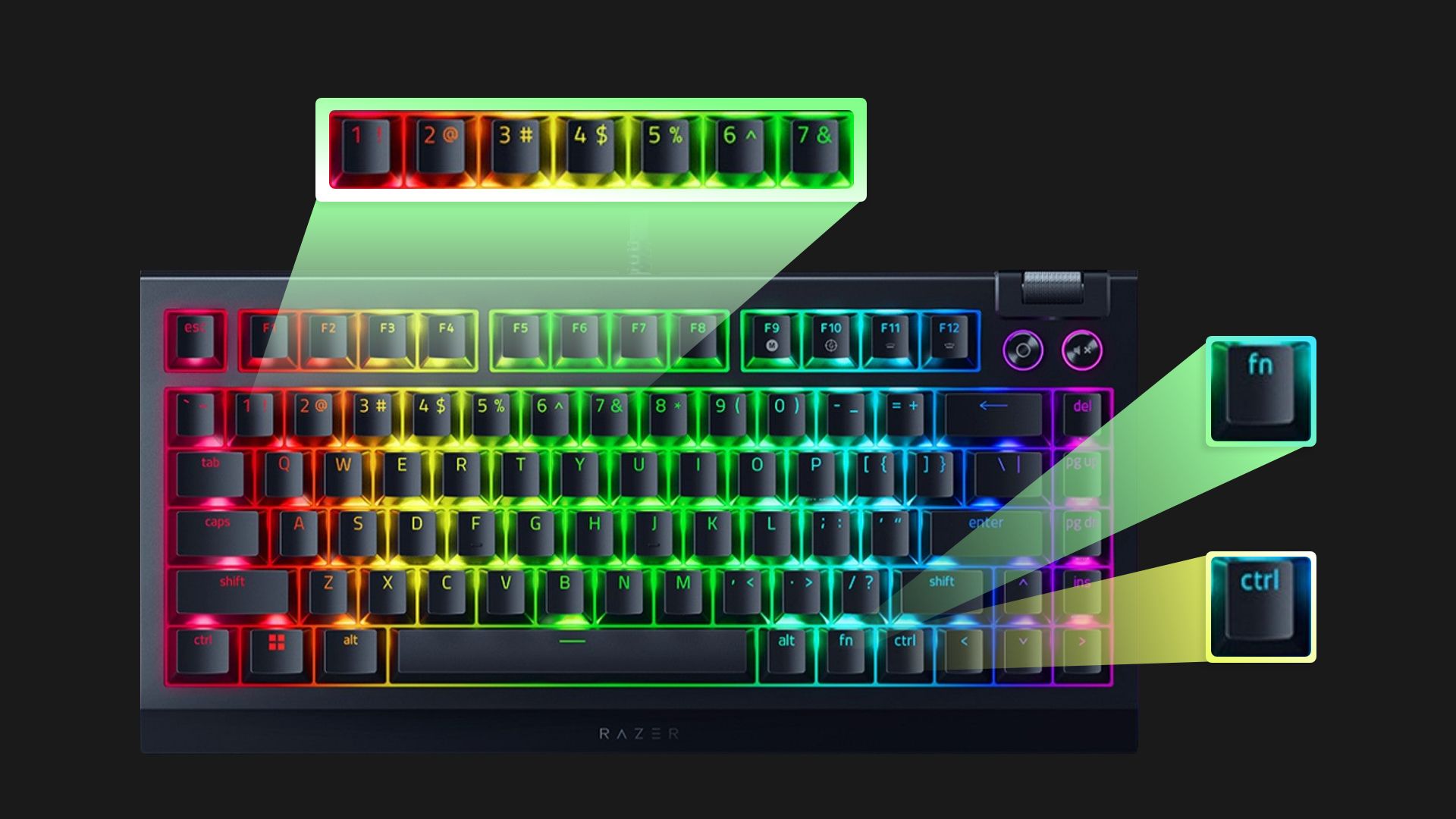 Did you know some newer Razer keyboards come with seven tremendous color profiles? Yep, it's true! Switching between them is as easy as pressing a couple of keys.
Give the FN + Ctrl + [1 to 7] keys a quick press! Your keyboard will light up with the color of that profile. It's a super easy and fast way to spice up you're gaming or typing experience.
Customize the Razer keyboard color with shortcut keys
But wait, there's more! If you want to add your personal touch to these profiles, open the Razer Synapse software. It's your gateway to making your keyboard look the way you want.
Also, you can easily control the lighting on your Razer keyboard with a few key combinations. If you want to cycle through different lighting effects, press FN and F5 together. To make the keyboard lights brighter, use FN + F6. If you're going to dim the lights, press FN + F7. And when you're ready to turn off the keyboard lights, just hit FN + F8.
Now, some Razer keyboards offer even more options. For instance, on the Razer BlackWidow V3 Mini, you can change the color of specific keys using these shortcuts:
FN + CTRL + 1: Turns off the paint.
FN + CTRL + 2: Keeps the color static.
FN + CTRL + 3: Sets the color to breathe.
FN + CTRL + 4: Makes the color cycle through a spectrum.
FN + CTRL + 5: Creates a wave effect.
FN + CTRL + 6: Makes the keys react to your typing.
FN + CTRL + 7: Gives you a starlight effect.
How to change Razer keyboard color with Synapse 3.0
Razer Synapse 3.0 is a tool that helps you tweak and customize your Razer devices. It's like a remote control for your gadgets but in the cloud. With Synapse 3.0, you can do cool stuff like change what the buttons do, make macros (which are like shortcuts), and even make your Razer stuff glow in different colors. This tool is handy if you're a gamer because you can create unique settings for each game.
If your Razer keyboard works only with Synapse 3, you can still change its colors. Just follow these steps:
First, Open Synapse 3 and find your Razer keyboard. Click on LIGHTING.
In the EFFECTS panel, pick the color and effects you want.
To switch between different lighting effects, click SWITCH LIGHTING.
Go to the KEYBOARD section, tap CUSTOMIZE, and then hit SWITCH LIGHTING again.
Choose your favorite lighting effect and click SAVE.
That's it! You've just changed the default colors and effects on your Razer keyboard.
How to change Razer keyboard color with Synapse 2.0
Razer Inc. created a unique app called Razer Synapse for customizing the lighting on your computer's peripherals. First, Download the app, then sign in, and you're ready. To switch up the colors, here's what you do:
Begin by launching Synapse 2 on your computer. Look for your Razer keyboard among the devices connected to your PC.
Click on the LIGHTING option. It is where the fun starts – you can tweak the brightness, effects, colors, and more to your heart's content.
After you've perfected your lighting setup, be sure to hit the "Save" button. It saves your custom lighting profile and remembers the assigned shortcut.
Now, whenever you want to switch to your chosen colors, use that shortcut. It's a quick and easy way to enjoy your personalized lighting!
Reasons to change keyboard color
Here are some reasons why changing your keyboard color can be a good idea:
To improve your visibility:
Switching up the keyboard color can make your keys easier to spot if you struggle to see your keys in the dark. It is super handy for night owls or gamers in dimly lit rooms.
To reduce eye strain:
Some research suggests that specific keyboard colors can help reduce eye fatigue. For instance, people believe green is a calming color that eases eye strain.
To improve your mood:
Colors can affect your mood. Yellow often brings happiness, while blue promotes calmness. Picking a keyboard color that resonates with you can boost your spirits throughout the day.
To express your creativity:
Changing your keyboard color is a fantastic way to show your personality. You can choose a color of your own. You can even design your unique keyboard color combos for that one-of-a-kind look.
To match your other gaming gear:
If you've got a gaming setup with excellent RGB lighting, matching your keyboard color can tie the whole look together for a sleek and unified appearance.
How do I change the color of my Razer keyboard?
Go to "KEYBOARD" in your settings.
Click on "CUSTOMIZE."
Pick the button you want to customize.
Now, choose "SWITCH LIGHTING" from the options.
Finally, select the lighting effect you'd like to use for that button.
Can I modify my Razer keyboard?
Open up Razer Synapse 3 on your computer. Click on "DEVICES," choose the one you want to customize, then select the key or button. Pick a function like Keyboard, Mouse, Macro, or Inter-Device. That's it! You've personalized your Razer device.
How do I create a custom lighting effect for my Razer keyboard?
To make cool lighting effects for your Razer keyboard, hop into Razer Synapse 3's Chroma Studio. It's a nifty tool that lets you create fancy lighting tricks for your Razer gear.
Wrap up
Alright, you've made it to the end of our guide on how to change the color of your Razer keyboard! Customizing your Razer gear couldn't be easier, right? Just grab that Razer Synapse software, follow a few simple steps, and get yourself a keyboard that's as vibrant or chill as you are.
The best part? You can even make your custom profile and sync it across all your Chroma-enabled Razer gadgets. If you find this article informative, remember to read our other article!
Related Posts: