Category:
How to Change MSi Keyboard Color – Full Guide
We independently research, test, review, and recommend the best products. As an Amazon Associate we earn from qualifying purchases.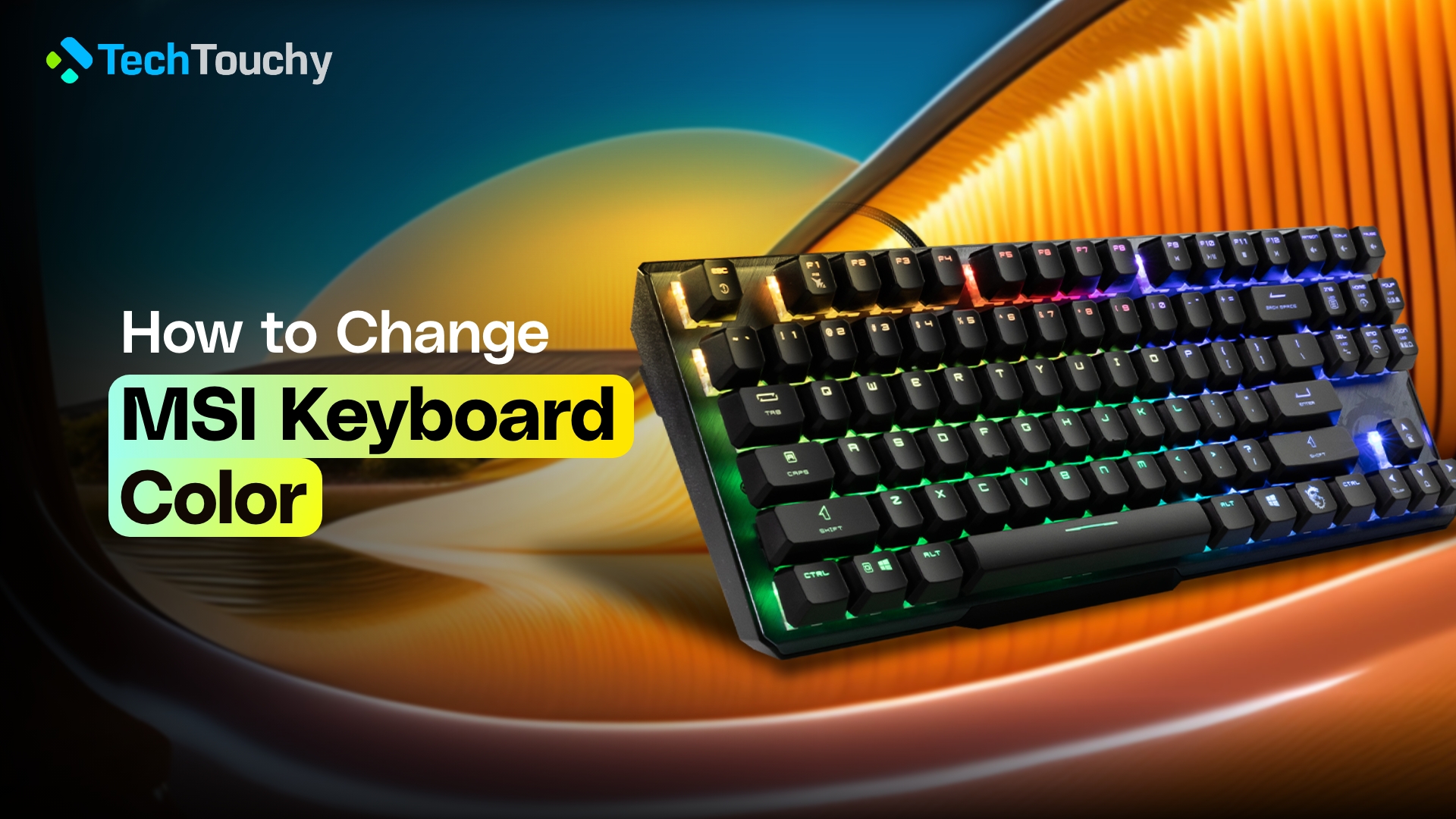 Ever wonder how to change MSI keyboard color? Well, MSI gaming keyboards are pretty cool, and they're known for being top-notch for gamers.
You can change its color to make it even more fantastic. Super easy, by the way. I'll walk you through it right here. If you want your keyboard to match your vibe, keep on reading!
How to change MSi keyboard color with function keys
So, you've got an MSI laptop. You've noticed that the excellent SteelSeries keyboard it comes with. These keyboards aren't just for show – they're customizable! Yup, you heard that right. You can change the RGB colors and make it all you. And the best part? There is no need to mess around with installing extra software. Let me break it down for you.
To switch up the colors, all you need is the magic of the function key. Hold down the "Fn" key and tap the "C" key. Each tap cycles you through a rainbow of colors.
By default, you've got a choice of blue, white, red, or green. Pick one that suits your vibe; you've got a personalized gaming station.
Here's a quick tip – some MSI models might dance to a different tune, meaning they use other function keys, like F1 to F12, to change the colors. These keys are placed at the top of your keyboard and are easy to spot. Check the details for your specific model, so you hit the right notes.
How to change MSi keyboard color with SteelSeries Engine 3
Want to take your keyboard's look to the next level? SteelSeries Engine 3 is this excellent software that lets you do just that. It's like giving your keyboard a makeover with all kinds of colors and flashy effects.
Are you Ready to change that MSI keyboard color with SteelSeries Engine 3? Let's go!
Alright, let's break this down into an easy-to-follow guide on using the SteelSeries Engine 3 app to customize your MSI keyboard colors!
Things to keep in mind
Make sure you're using the latest version of SteelSeries Engine 3. If not, you know where to download it – their official site!
Before you dive into the color-changing spree, set up a profile for your keyboard in the app.
Heads up! Depending on your MSI laptop model, some colors might not be available. If you are seeking your specific color that needs to be added, try another or check in with MSI's customer support.
Here are the Step-by-Step to change your MSI keyboard color with SteelSeries Engine 3
First, check if you have the SteelSeries Engine 3 app by looking in the Start menu.
Don't see it? No worries, download it from their official site.
Once you've got the app open, find the "Engine" option.
Look for the "MSI Per-Key RGB Keyboard" option and give that a click.
You'll see the default color for your MSI keyboard.
At the bottom-left corner, there's a 'Config' button. Click on that.
A window will pop up on the left with predefined color configurations. Feel free to pick any you like!
If you're feeling a bit more creative and want a unique look, head to the bottom left corner and click 'New'.
Name your fantastic new configuration.
There's also an auto-launch feature if you want your color settings to match specific apps. Choose your apps, name them, and hit Save.
Now, the fun part! Get creative and change up those keyboard colors!
Here are some SteelSeries Engine 3 customizing tools to help you out:
Select: Choose a specific area or key.
Group Select: Want to change multiple keys at once? Use this.
Magic Wand: This is cool—it lets you pick areas with similar effects.
Paintbrush: Color over specific zones or keys.
Eraser: Did you make a mistake? It removes effects.
Effect Picker: Snatch any color from a zone or key.
Once your keyboard looks fabulous, remember to click 'Save'.
How to change MSi laptop keyboard color with Dragon Center
So, if you've got an MSI laptop, there's this fantastic built-in software you should know about – the Dragon Center. Wondering what it does? It's like a control center for your laptop. One of the cool things you can play with is the keyboard backlighting.
So, if you want to change up the colors or adjust how bright it is, here's how:
Open up the Dragon Center.
Look for the tab called "LED Wizard".
There's a "Keyboard Lighting" section in there. Click on "Color" and choose the shade you fancy.
If you think it's too bright or dim, slide that "Brightness" control to get it right.
A quick tip: It's always good to check if you're rocking the latest version of Dragon Center. You can grab it from their official site if needed. Stay updated!
Reasons to change keyboard color
I personally think that having a keyboard with changing color is cool. That being said, here are some of my reasons why you should have a keyboard that can change color.
1. Change the Look of Your Laptop
If you're tired of its same old look, here's a fun idea: Why not change the keyboard color? It's like giving your laptop a mini makeover, and it's super quick and easy. Think of it as a fresh look in just a few clicks!
2. Match the Keyboard to Your Mood
Did you know you can match your MSI keyboard color to your vibe for the day? Go for bright colors like yellow or green! But darker shades like purple or black might hit the spot if today's a bit more mellow.
3. Ergonomics
Did you know the color of your keyboard can make it easier on your eyes? Seriously! Some folks notice less eye strain with specific colors, especially when typing for ages. A lot of people dig greens and blues more than the usual white. It's just a fun little way to keep those eyes feeling good!
How do I control the lights on my MSI laptop keyboard?
If your keyboard has full-color backlighting, you can easily tweak the settings using Dragon Center or SSE to make it as colorful as you want. Play with the Fn+ key and "+" or "-" for single color backlighting to adjust the brightness. And well, if there's no backlight, your keyboard doesn't have that feature.
How do I control RGB lights on my MSI laptop?
Just use the SteelSeries software to change the colors on your MSI keyboard. Also, you can customize the color combinations.
How do I change the LED color on my keyboard?
Want to change the LED color on your keyboard? Press the "Fn" + "C" keys together and watch it change! Have fun playing with the shades!
Conclusion
We've walked you through the whole step-by-step guide on how to change MSI keyboard color. Whether you're a fan of using quick keyboard shortcuts, prefer getting hands-on with the SteelSeries Engine 3 software, or love the comprehensive features of the MSI Dragon Center, there's something for everyone.
Each choice has its upsides and downsides, but that's the beauty of having options. It's all about trying each and seeing which feels right. Your keyboard, your rules!
We hope this article sheds some light and adds color to your typing experience. Enjoy the vibes, and let those keys shine bright like a rainbow!
Related Posts: