Category:
How to Charge AirPods Pro without Case
We independently research, test, review, and recommend the best products. As an Amazon Associate we earn from qualifying purchases.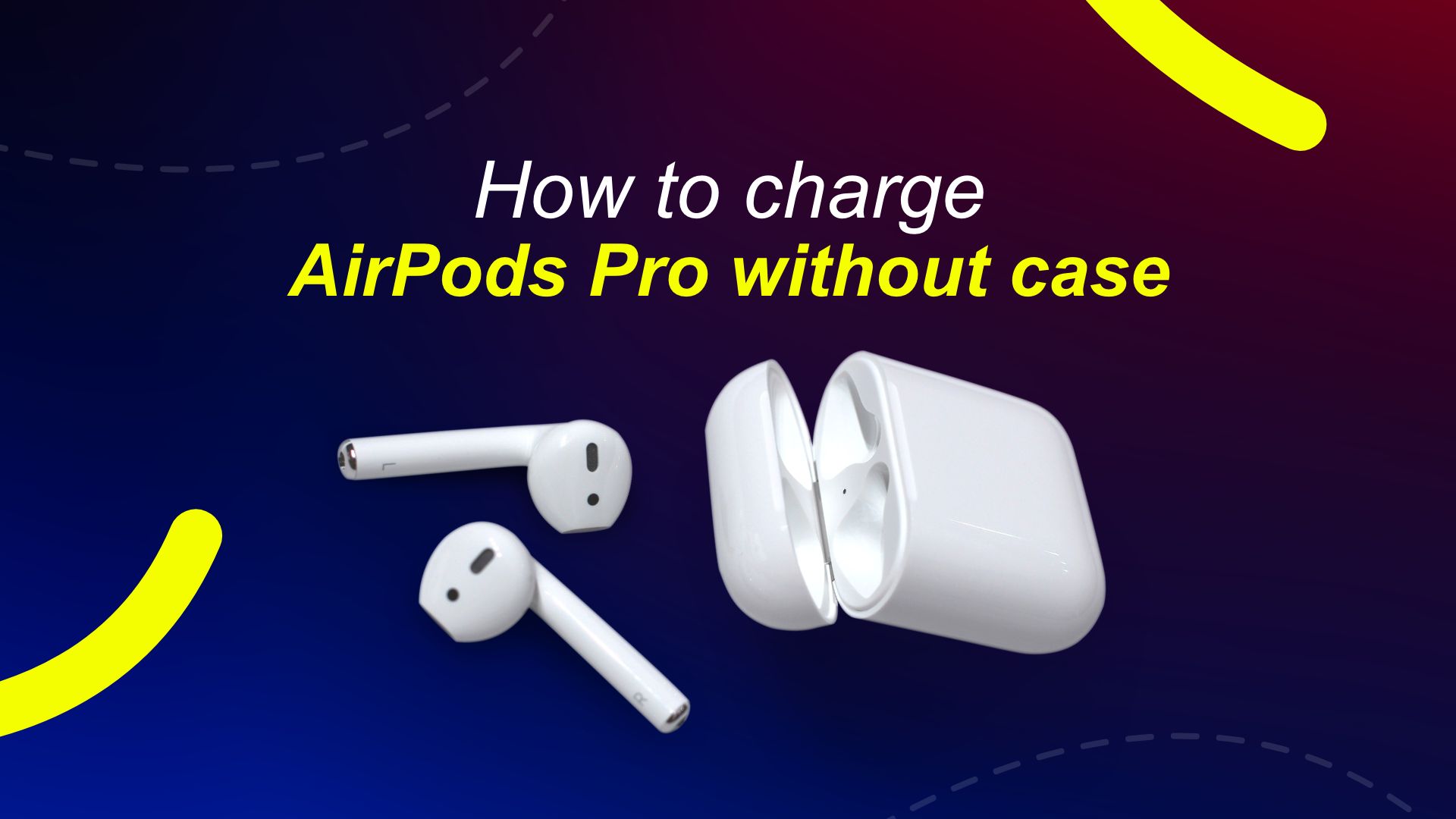 Have you lost the charging case of your AirPods Pro, or does it longer work anymore? AirPods Pro is an expensive product, and you wouldn't immediately decide to replace yours when you just lost the case. So, wondering about how to charge AirPods Pro without case would not be an unusual sentiment.
Can you charge your AirPods without the case?
Currently, there are no methods to charge your AirPods Pro or any other AirPods model without the charging case. You'll find websites and YouTube videos claiming to charge your AirPods without the case using an app or some old Nokia narrow pin type charger. These are false claims, and they don't work. So, if someone says they know a method on how to charge your AirPods without the case, take those claims with a grain of salt.
How to connect AirPods without the case?
The main job of the case is to charge your AirPods when it runs out of juice. Without them, you won't be able to charge your AirPods. In addition, the charging case also provides a safe place to put your AirPods when you're not using them. And another important function of the charging case is to allow you to pair your AirPods with a device like your iPhone for the first time.
Looking for a replacement charging case for your AirPods? Check out Apple Wireless Charging Case for AirPods on Amazon.
After the initial pairing process, you no longer need the case to connect your AirPods with that device. So, you can only connect AirPods without case with a device that you've already paired with.
Why is my AirPods Pro case not charging?
Your AirPods case may not be charging for a variety of reasons. So don't hastily seek an AirPods Pro charging case replacement or even buy an entire new AirPods. You should first identify the problem before you make such a costly decision. Sometimes, the problem is so trivial that it can be easily fixed.
Here are some ideas you should try first:
You should try charging your AirPods case with a different charger, whether a cable or wireless charger. Or you could try charging a different Apple device with the same charger. It might be possible that your AirPods case is working just fine, and the problem lies with your charger.
If your charger works just fine, you could try a full reset of your AirPods case. For resetting your AirPods case, press and hold on to the setup button located at the back of your case. You'd have to hold for 15 seconds or until the light flashes from amber to white. Then try charging again to check.
You should try cleaning the AirPods Pro case's charging port. Sometimes dirt or lint can clog inside the case's charging port. So, you can use a toothpick or toothbrush to scrape the dust-out and clean the charging port.
If your AirPods Pro case still doesn't charge, there is a problem with your case. You could then take it to your local Apple Store to see if it can be repaired. Or you should think about getting a new one.
How to check the Airpods battery without the case?
If you're wearing your AirPods and connected to your iPhone, you can use the battery widget to check its battery life. So, from your iPhone Home screen, swipe right to the widget screen. Then scroll down and tap on Edit. Next, tap on the Plus + symbol located at the top left of the screen. After that, scroll down to select Batteries and then tap on Add Widget. You'll then be able to see the battery status of your iPhone and all the device that is connected to it.
Learn how to tell if your AirPods are charging
Your AirPods case has a light that shows the charging status. If you don't have your AirPods inside the case, the light shows the charging status for the case. When you have the AirPods inside your case, then the light shows the status of your AirPods charge. So, if the light flashes amber, you have less than one full charge, and green means it is fully charged.
Can Airpods charge wirelessly?
You cannot charge your AirPods without a case, whether you're using a cable or wireless charger. However, if you've got a wireless charging case for your AirPods, then you can use it to charge it wirelessly. You can use Apple's MagSafe charger to wirelessly charge your AirPods through its wireless charging case.
How long does the AirPods Pro case take to charge?
It should take nearly an hour for your AirPods Pro case to fully charge and will hold three to four charges for your AirPods Pro. So when you place your AirPods Pro inside the case, it should take around 20 minutes to fully charge.
What does the button on the back of the AirPods case do?
The button located at the back of your AirPods case is called the Setup button. You can use the button to pair with other devices, reset your AirPods, or disconnect them AirPods.
Is there a way to find your lost AirPods case?
It depends on whether the AirPods themselves are inside the case or not. If you've just lost your charging case and not the AirPods, then there is no chance for you to find them. Apple's Find My feature is the best option to find your lost AirPods. However, if you've lost your case with the AirPods inside them, there is a small hope to find them. With the Find My feature, you'll be able to find the last know location of the case when it was active. To find your AirPods, open the Find My app on your iPhone. Then tap on the Devices tab and select your AirPods to check their last know locations on a map. After that, pray that your AirPods are still there.
Conclusion
Hopefully, this tutorial on how to connect AirPods without a case was useful to you. We've already established in this article that you cannot charge your AirPods without the charging case.