Category:
How to Clean Apple Silicone Case for iPhone – 7 Easy Ways
We independently research, test, review, and recommend the best products. As an Amazon Associate we earn from qualifying purchases.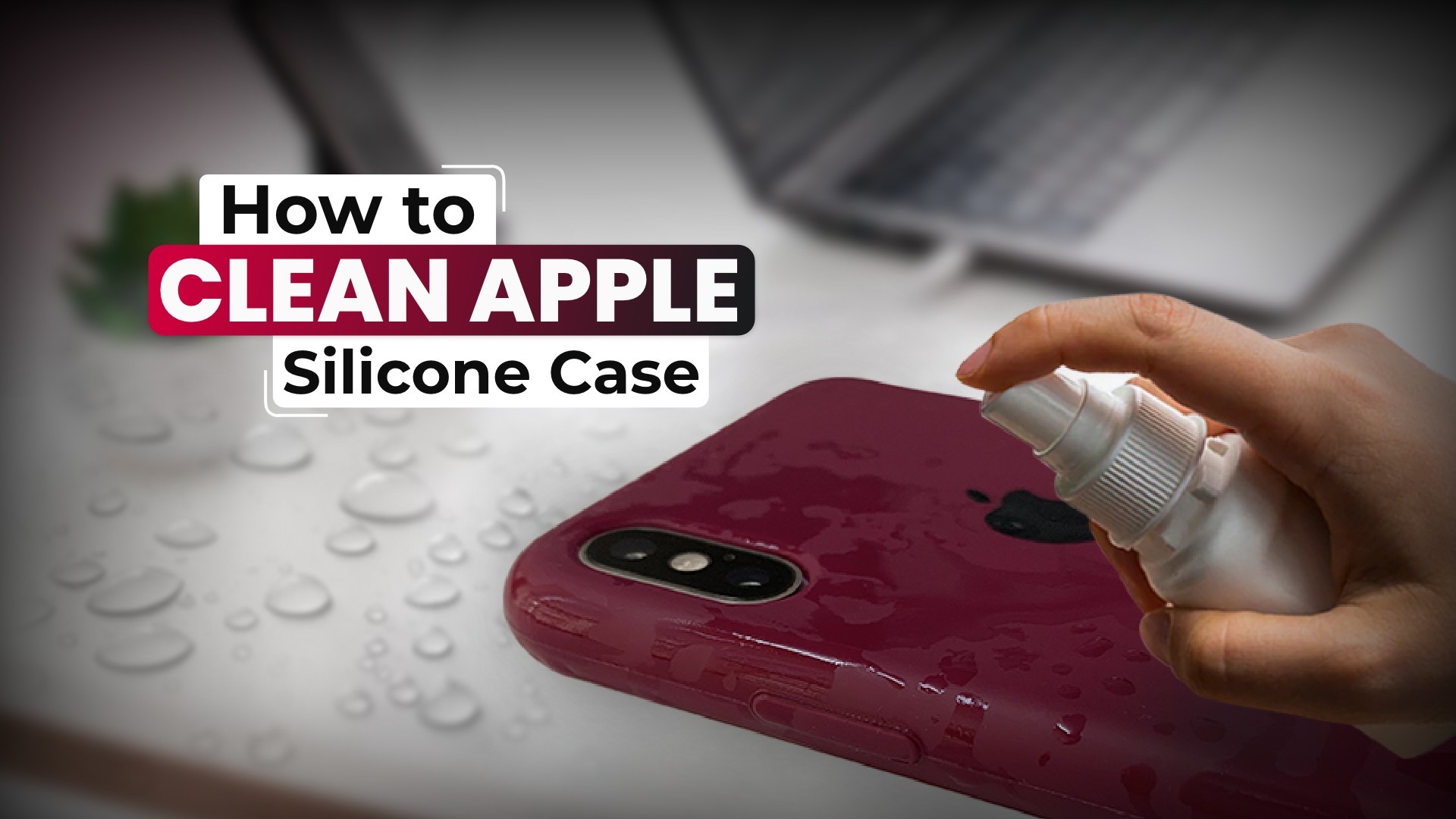 The silicone case of your iPhone tends to get dirty quickly. It is always recommended to clean the silicone case of your phone at least once a week. However, regularly cleaning the case is always the best practice to keep away from filth and bacteria. Keeping this good practice in mind, we have brought you different tips on how to clean Apple Silicone Case.
There are many ways how to clean silicone case. Whether it's a silicone case or a clear phone case of any iPhone you got, careful sanitizing can keep you away from pathogens. The official websites may give you several restrictions on cleaning Silicone cases for iPhones. For instance, they often recommend you not to use a dishwasher, glass cleaner, or any harsh chemical liquid as such.
How do I clean my Apple MagSafe silicone case?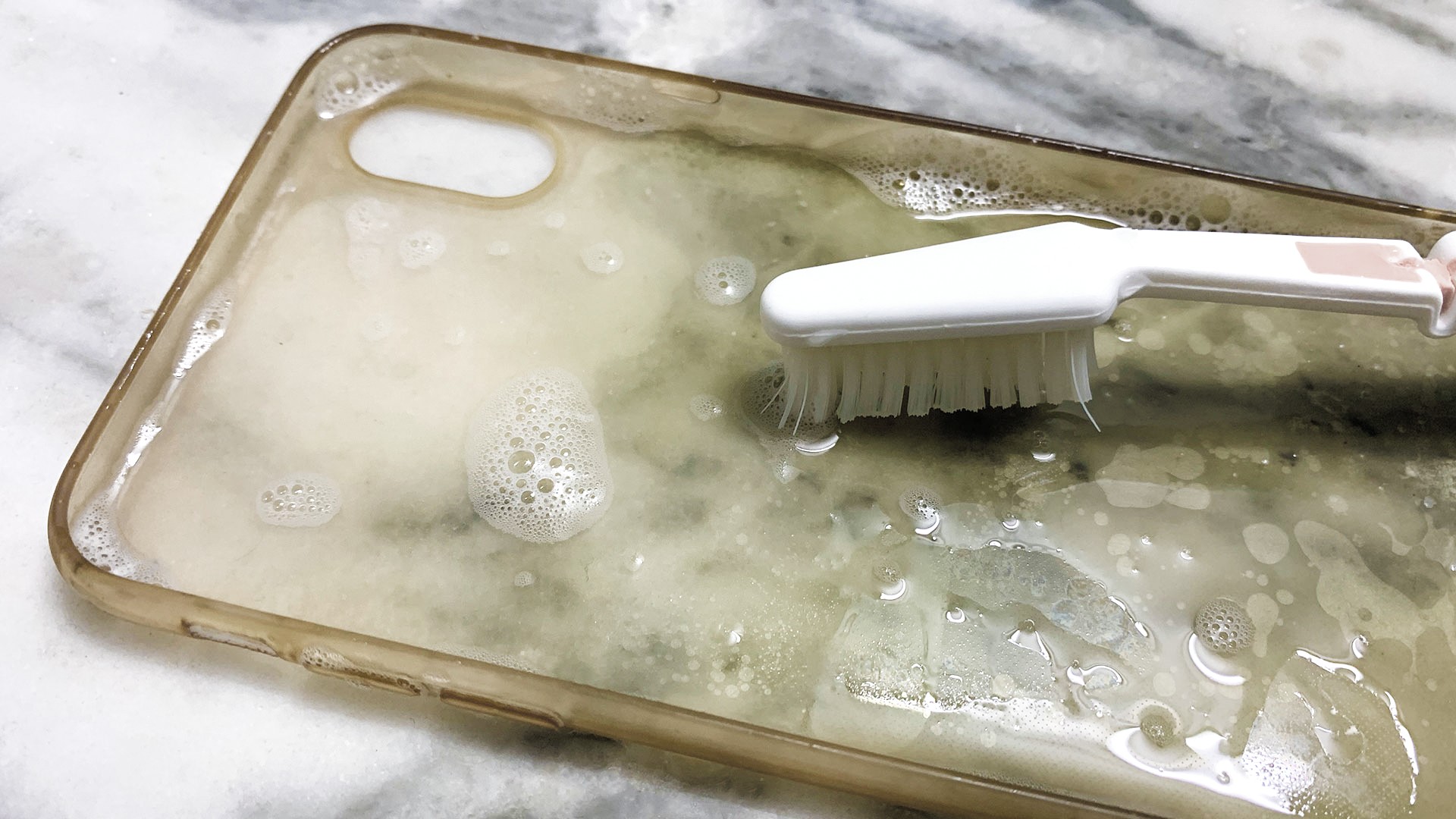 We have tried cleaning a dirty Apple iPhone 12 Pro silicone case with MagSafe. In order to clean the case, we simply used a microfiber cloth and dishwasher liquid. The result of the cleaning turned out to be fine and without any issues. However, we suggest you not take any risky steps and use plain tap water and a linen-free cloth to wipe your phone case. Here's how to clean the iPhone case with MagSafe:
A bowl of warm water mixed up with a few drops of dishwasher liquid
Two pieces of clean microfiber wipe cloths. Make sure it is linen-free
Carefully detached the silicone cover from the iPhone
Used one of the dry microfiber cloths and wiped the entire case thoroughly in and out
At this point, dip the second piece of cloth in the bowl containing warm water mixed with the liquid dish wash
Squeezed it well before wiping the silicone case thoroughly with it
Rub and wipe the visible stains and spots until you are satisfied with the cleaning
Finish the cleaning process by re-wiping the iPhone cover with the dry cloth
Wiped clean my device with dry microfiber before installing back the Silicone case
How to clean a silicone case- 7 best ways
Dry wiping the Silicone cover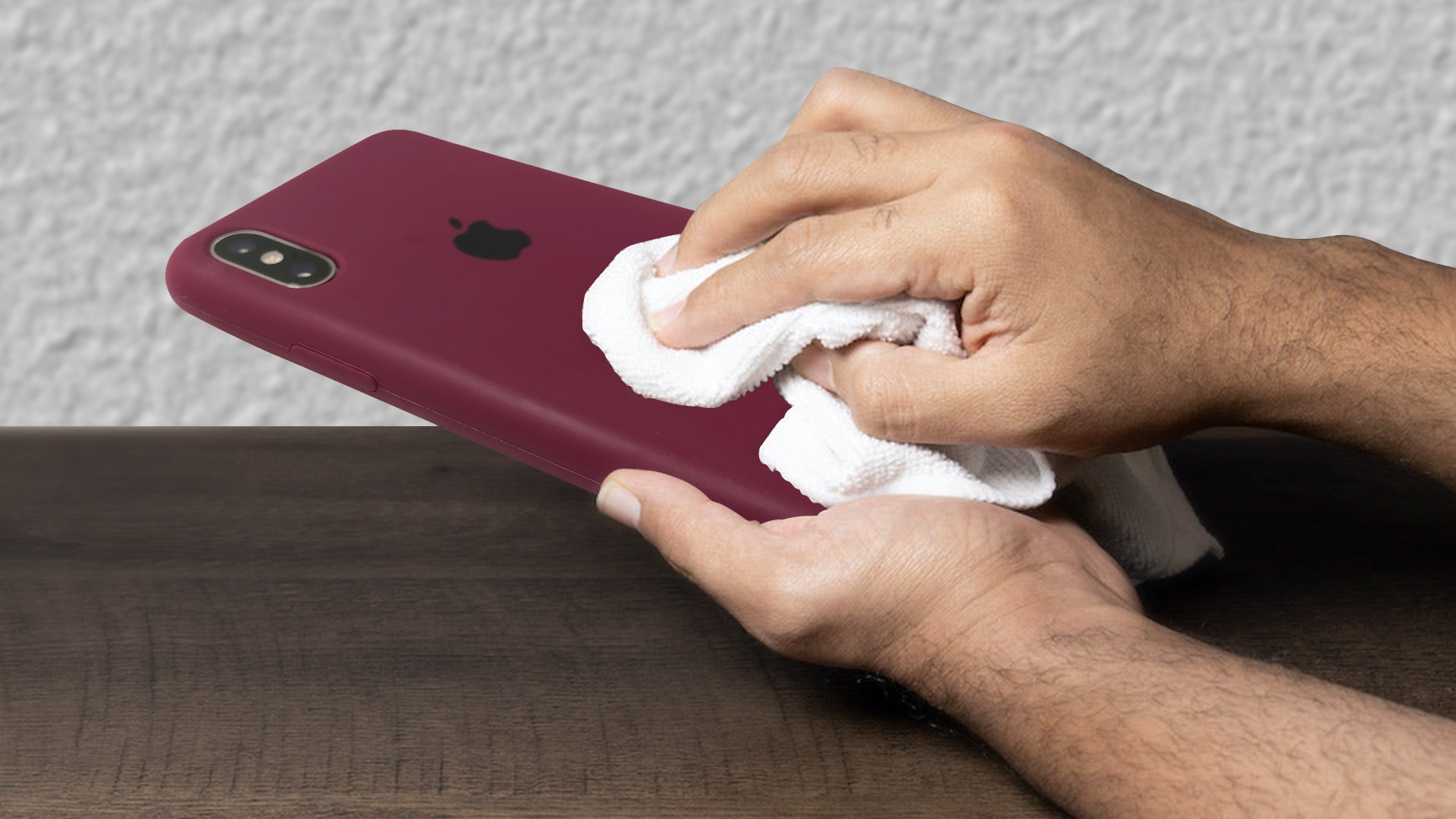 One of the simplest ways to clean the silicone cover of your iPhone regularly is by using a dry clean linen-free cloth. Ensure you have detached your iPhone from the case and thoroughly wiped both the device and case. Try to make sure dirt doesn't accumulate at the silicone case's inner corners. You can use cotton buds to clean up corners and small crevices of your device, as well as the silicone cover.
Warm water treatment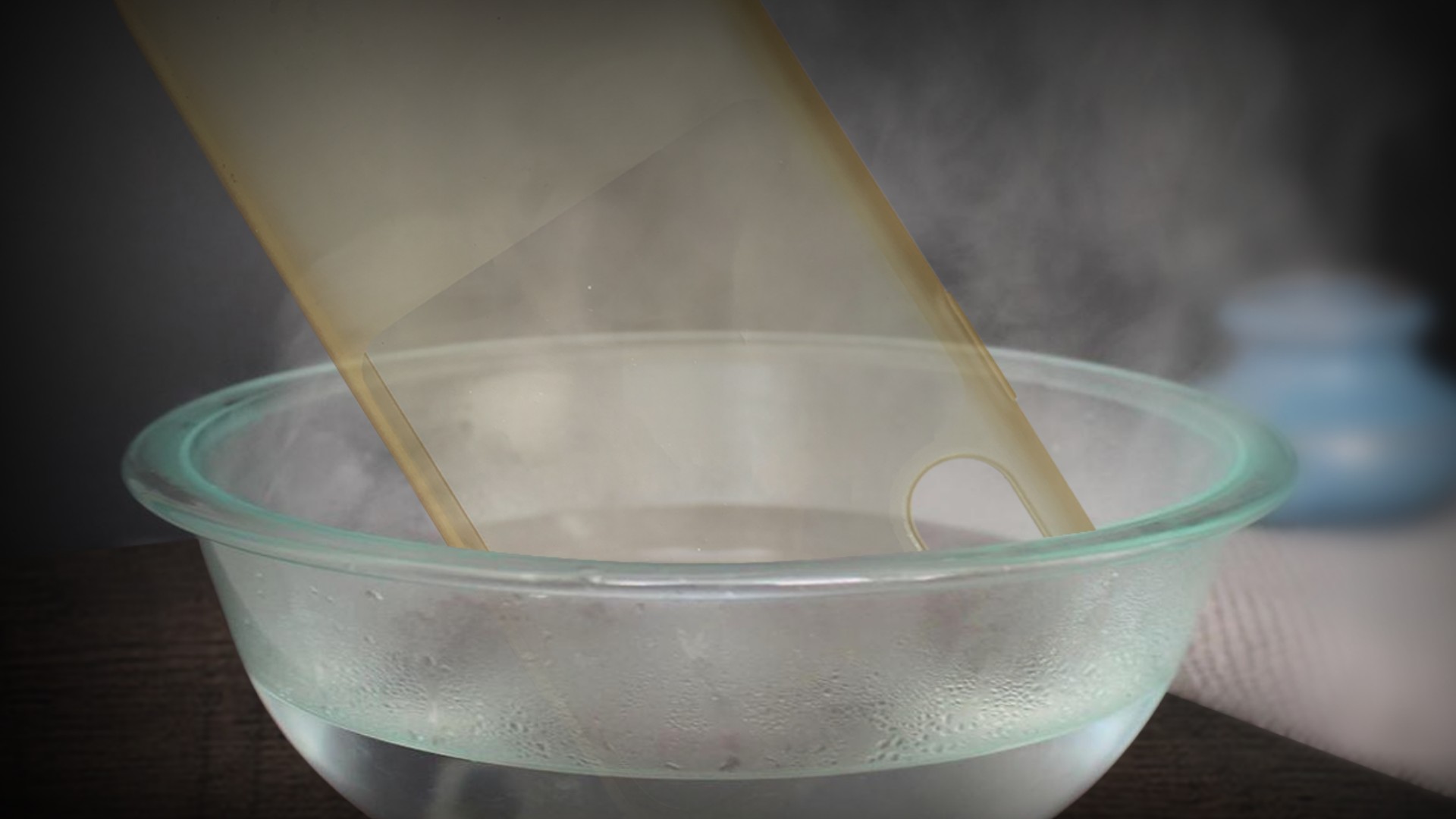 The warm water treatment is the next level of cleaning your iPhone silicone case. It is also simple and doesn't involve any chemical that might harm the coating of your iPhone's body. All it requires is warm water, a used toothbrush, a linen-free microfiber cloth, and your iPhone silicone case. First, you need to soak the silicone case in warm water for some time. After that, remove the case from the water and rub the toothbrush over the unclean part of the case. Next, use the linen-free microfiber cloth to wipe and further remove any dirt from the case. Once you have cleaned the case, rinse and dry it properly.
Use an Alcohol base wipe to rub off the stains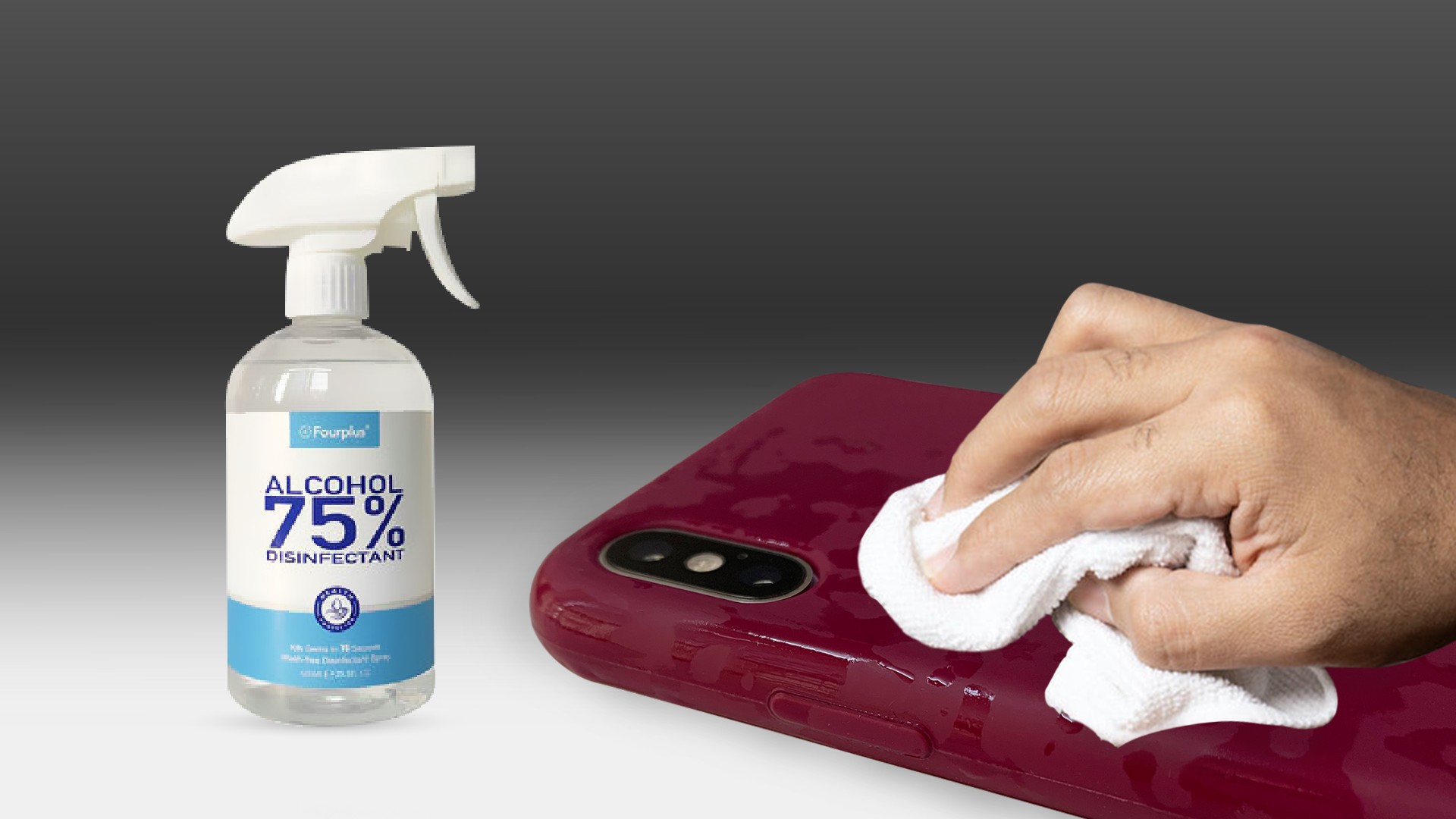 A more sanitized option can be by rubbing the silicone case with Alcohol-based rubs or cleaner. Though we won't recommend rubbing alcohol solution on the device, it's suitable for cleaning the cover. The silicone cover stores up all the filths and bacteria over time. Therefore, alcohol solutions can definitely be one of the best cleaning processes. After alcohol wiping, you must clean the inner portion of the cover with a dry clean cloth. This will prevent possible alcohol stains on the back of your iPhone.
An alternative to alcohol solution is alcohol wipes. Check out the Care Touch Alcohol Wipes pack that has 400 pads on Amazon.
Rub with baking soda paste
Baking soda is a cheap material that you can use to clean your iPhone's silicone case. By mixing the baking soda with water, you would create a paste that you can use to clean your phone case. To start, create a paste by combining some baking soda with some water. Then take the soft paste mixture and apply it to the dirty area of your iPhone case in a circular motion.
Once your case is cleaned, wash it with soapy water and then rinse it with clean running water. After that, when the case is fully dried up, only then inserting it into your iPhone. Make sure to remove the silicone case from your iPhone before starting the cleaning process.
Don't have baking soda on your home? Check out one of the best baking soda brands called Arm & Hammer Baking Soda on Amazon.
Soak your silicone case with lemon juice
This is one of the most practical techniques since all you need is a lemon to clean the silicone iPhone cover. Here are the steps on how to do it:
First, you must remove your case from your iPhone.
Then you need a big enough container that can hold your iPhone case.
After that, cut the lemon in half and squeeze the juice into the container.
Next, add some water to the container and mix it well.
Now, soak your unclean iPhone case in the container and place it there for at least an hour.
After an hour of soaking, take a brush and rub it gently over the case to remove any spots or stains.
Afterward, you need to wash and rinse the case with running water and then lit dry before inserting your iPhone.
Rub toothpaste over your silicone case
Another everyday household item that you can use to clean your iPhone silicone case is toothpaste. For this, you need a pair of gloves, a sponge, and toothpaste. Here is how to clean the Apple silicone case for iPhone using toothpaste:
Remove the silicone case from your iPhone.
Put on the gloves and then apply toothpaste over the case.
Next, lightly scrub the paste over the entire case using the sponge.
After that, rinse the case on running water to remove the toothpaste.
Finally, rinse the case thoroughly and let it dry.
Soak the silicone case with vinegar
Vinegar, with its acidic content, is a very useful cleaning agent. This solution works well to clean the silicone cover of your iPhone. Here's how to do it:
Add two cups of vinegar and some water to a bowl.
Next, soak the iPhone silicone case in the vinegar solution for 45 mins.
Then remove the case from the bowl and use a brush to scrub clean the case.
Finally, rinse and dry the silicone case thoroughly.
Check out Aunt Fannie's Vinegar Wash on Amazon for keeping your iPhone silicone case clean.
Few tips for cleaning the Apple iPhone silicone case
People using Apple iPhone X silicone case and iPhone XR silicone case often enquire about cleaning sharp corners and small crevices of the silicone case. Here are a few tips that can deal with cleaning silicone case corners and dents:
Old toothbrushes work like a charm when deep cleaning the silicone case
Cotton buds are great tools to deal with stubborn corners and crevices of the silicone case
A soft-bristled makeup brush can be a subtle tool for daily cleaning the silicone case and device
A car blower can come in handy to dust off loose dirt off the silicone case as well as dirt from the iPhone sound grills.
Baking soda works great at removing reddish stains from the Silicone case. You can try that but make sure the solution is well-cleaned before putting it on your iPhone
Does Apple white silicone case get dirty?
Silicone phone cases are not easy to get dirty because they do not have tiny holes where dirt can get stuck. But they can still get oily, fuzzy, or stained from using them every day. To make them clean, you can follow the method described above. After washing them, you must dry them well before putting your phone back in them. In addition, we suggest to clean the case every month to keep it clean and germ-free. But do not use strong cleaners or chemicals that may harm the silicone or your phone.
Is silicone case safe for iPhone?
Silicone cases can protect your iPhone from damage caused by falls or scratches and are easy to clean. They can also handle heat and moisture well, which makes them a durable option for protecting your iPhone in various environments. Additionally, silicone cases offer a comfortable grip, preventing accidental slips and providing an enhanced user experience. So, silicone cases are usually safe for iPhones.
Conclusion
Cleaning up the silicone case of your iPhone is comparatively easy. But Silicone covers weather, and to some extent, it is recommended to replace the old case with a new one. So, if you feel like cleaning your current silicone case is a waste of energy, It's time you get a new one, maybe with a better design to give your iPhone a new attire. If you like this reading, you can also read our best iPhone leather cases and best iPhone wallet cases.