Category:
How to Clean Clear iPhone Case – A Detail Guide
We independently research, test, review, and recommend the best products. As an Amazon Associate we earn from qualifying purchases.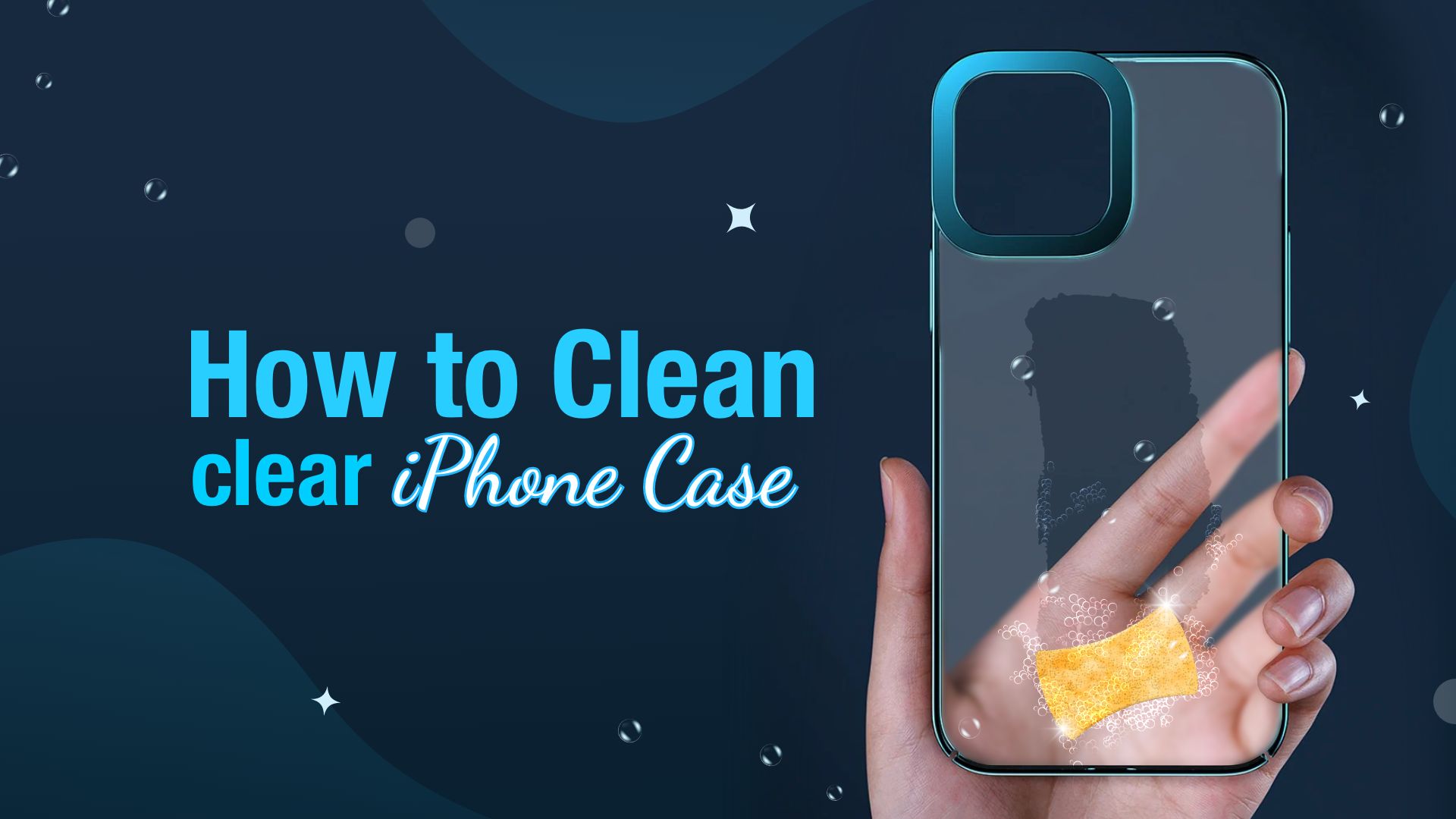 iPhone cases come in a plethora of colors and finishes. Nonetheless, all of us have had at least one clear iPhone case for its aesthetic and transparent looks. The issue with these clear iPhone cases is that they often turn yellow and show a lot of dirt. Today, we will explain how to clean clear iPhone case the right way.
How to clean clear iPhone case using DIY methods
A phone case protects your iPhone from those sudden yet expected drops which lead to those pesky nicks and scratches. Ideally, you want your transparent iPhone case to be spotless because it's something we'll be holding and showing off all the time to our peers.
Here are some excellent cleaning practices for knowing how to clean a clear iPhone case. You can simply do these from the comfort of your home to ensure you remove stains and discoloring from a yellowing case:
Note: Different categories of stains necessitate various additives. But first and foremost, remove your phone's case before you begin. You don't want to harm your iPhone, though it may very well be water-resistive.
Depending on the intensity of the dirtiness on your iPhone case you can try:
Dish soap and hot water can be used to remove tiny stains and grime
Isopropyl alcohol can be used to remove mild stains and grime
Baking soda and an old toothbrush can be used to remove tougher stains
How to clean iPhone clear case using Dish Soap and Water to Clean a Case with Light Stains
Add an estimated two drops of dish soap to a basin of hot water or a sink (Try Ajax or Palmolive)
Scrub the exterior of your iPhone case in a circular motion with a soft cloth or toothbrush. Make sure you get all of the hard-to-reach areas, such as the internal rings, camera slot, and button or charging port-holes
Rinse and re-rinse as needed. If scuffs and scratches persist, try rubbing them away with an eraser
After cleaning your case, dry it with a gentle cloth and let it air dry for 1-2 hours before replacing it on your phone.
Trying to clean iPhone clear case with baking soda
Using a tiny amount of baking soda, cover the case or specific spots
Brush the bristles of a soft-bristled toothbrush with water
Scrub any harsh markings or stains on the case after it's soaked. Get into those hard-to-reach spots (corners and edges) where dirt and grime prefer to hide. The baking soda should get rid of the tougher stains and grime
Remove any leftover baking soda with a clean, gentle cloth
Allow 1-2 hours for the case to dry before replacing it on your phone.
Using Isopropyl Alcohol is used to clean a case with light stains
Note: If you have an iPhone case made from specific materials mentioned by the manufacturer, do not use isopropyl alcohol since it may harm your case and/or void any possible warranties.
Scrub your phone case with minor quantities of isopropyl alcohol applied to a soft cloth. Make sure you get all of the hard-to-reach areas (such as the case's edges) where dirt and grime prefer to hide. (The alcohol should get rid of the tougher stains and buildup)
After you've finished cleaning the case's outside and interior, wipe it down with a soft dry towel to remove any remaining alcohol. To the touch, your case should be dry
Allow 1-2 hours for the case to dry before replacing it on your phone.
Why do clear cases turn yellow over time?
Because these clear iPhone cases are made of silicone, a material known for its low cost and flexibility, it is commonly used to make clear phone covers. Unfortunately, when these polymers age, they turn yellow. When exposed to a reasonable amount of chemicals, light, and heat, this natural process is accelerated. The yellowing is an element of material deterioration, not merely a stain.
Ways you can avoid yellowing on your transparent iPhone case
Unfortunately, almost all so-called silicone and hard plastic phone covers will eventually yellow with time, primarily if they are used often. That's just how the cookie crumbles.
Way 1: Invest in a new case
Once you replace your existing clear iPhone case with a better quality one, you run a lower chance of constantly having a dirty phone cease. (Maybe you can even get a non-transparent case to switch things up)
Some excellent alternative cases include:
Leather case
Leather cases are relatively low maintenance. Therefore, leather phone cases can be cleaned using a mild solution. You can clean your leather case with a damp microfiber cloth and mild hand soap. Pour the soap onto the fabric and evenly distribute it. Use a mild detergent and a dry cloth if you have one.
Rubber case
Rubber phone cases, much like silicone cases, are pretty similar in composition. These can be cleaned with a solution of dish soap and water. This is the most hassle-free method for cleaning an iPhone case. Simply soak the case in soapy water and use a toothbrush to clean the edges. Then, using a microfiber cloth, wipe clean the rubber casing.
Wood finish case
Because wood is the most sensitive phone case material, dusting your wood phone cases more frequently. This will keep oil, grime, and debris from seeping into the surface or damaging it. When cleaning your wood phone case, avoid using water if at all feasible. Wood may degrade if it is exposed to too much water. Instead, wipe your wood case with a dry microfiber cloth on a regular basis to keep it in good shape.
Way 2: Try to keep your phone case away from direct sunlight
Silicone casings are known to be damaged by UV radiation. However, they can also be damaged by neoprene/latex, sunscreen preparations, chlorine, and other substances.
Way 3: Clear protective film
Consider applying a clear protective film on your transparent iPhone case. This, in turn, can actually protect the original surface on your TPU case.
Final statements
This was our run-down on how to clean clear iPhone case using simple yet effective do-it-your-self techniques. If followed regularly, one can keep their transparent iPhone case free of discoloration and insignificant blemishes. We are confident that now you will know how to clean a clear phone case that turned yellow.
If you would like to know more about the best leather cases for your iPhone device, you can check out our other blog – Best iPhone Leather Cases.