Category:
How to Clean Silicone Apple Watch Band
We independently research, test, review, and recommend the best products. As an Amazon Associate we earn from qualifying purchases.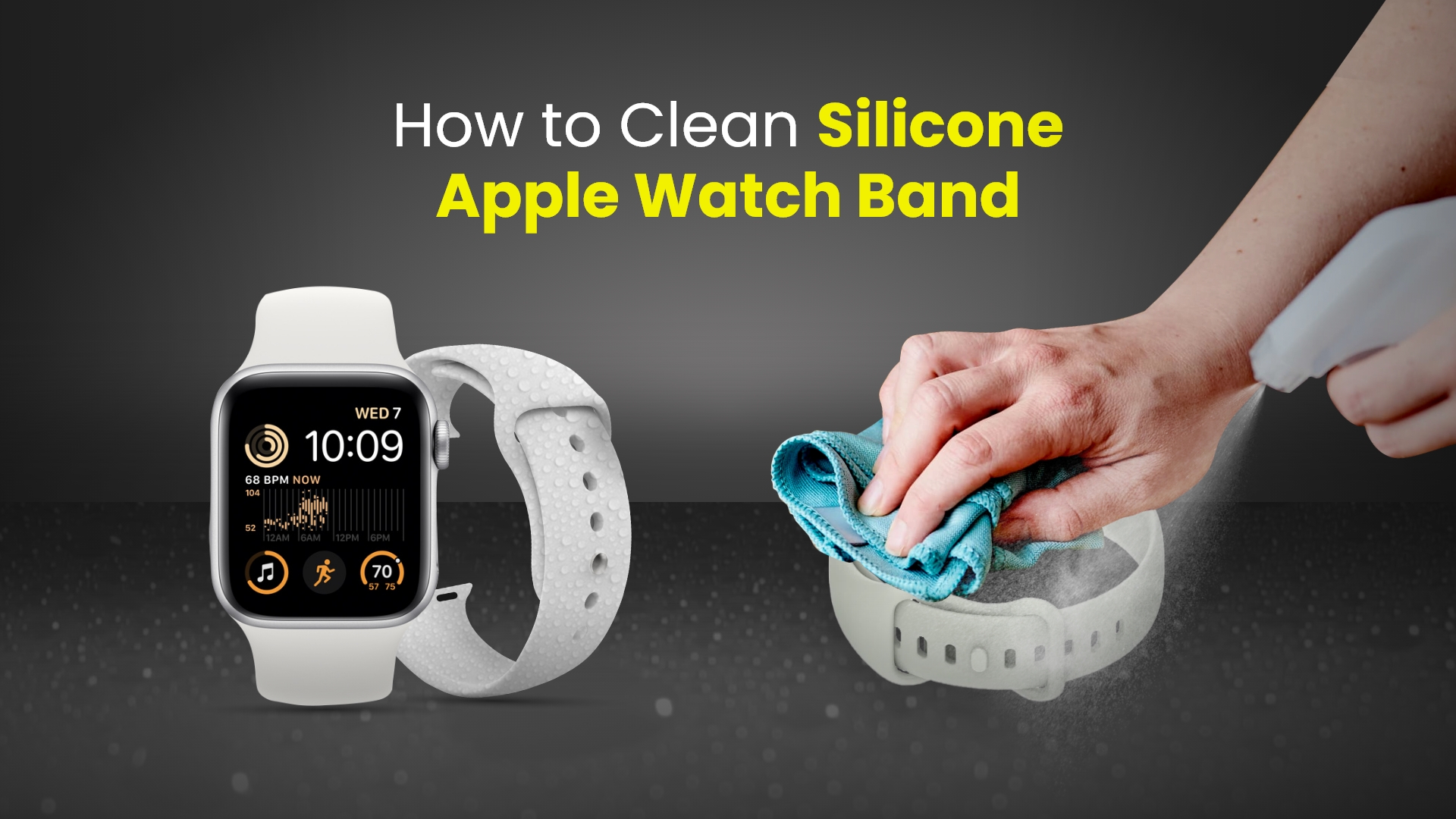 Among Apple Watch users, silicone bands are the most popular. They are durable, waterproof, and come in varieties of colors. However, silicone, as in the form of a watch band, tends to get stained easily. This article on how to clean silicone Apple Watch band will try to show the most effective ways of cleaning.
Before you learn how to clean silicone Apple Watch band
Silicone bands get dirty quickly, but they are easy to clean. Due to their durable nature, you are allowed to use cleaning products as well as abrasives. However, you must be careful while using strong cleaning substances on a colored silicone band.
If your watch band is white, it will probably get dirty more quickly than colored bands. However, it is much safer to clean white Apple Watch bands as there is no risk of discoloring. Our take on how to clean Apple Watch silicone bands will show the safest and most accessible ways.
Learn how to clean silicone Apple Watch band in the most straightforward ways
The easiest way to clean your silicone band is with a damp cloth. You can use a microfibre cloth when cleaning a silicone watch band. Add cleaning agents to the water if the stain is difficult to remove. Additionally, you also have the option to use mild abrasives like Mr. Clean Magic Eraser.
Whatever option you choose, handling strong cleaning substances requires patience and carefulness. Otherwise, there is a risk of damage. In terms of silicone bands, you can easily discolor the band. Now, caution aside, let's find out the steps on how to clean silicone Apple Watch band.
Steps on using a microfiber cloth to clean silicone Apple Watch band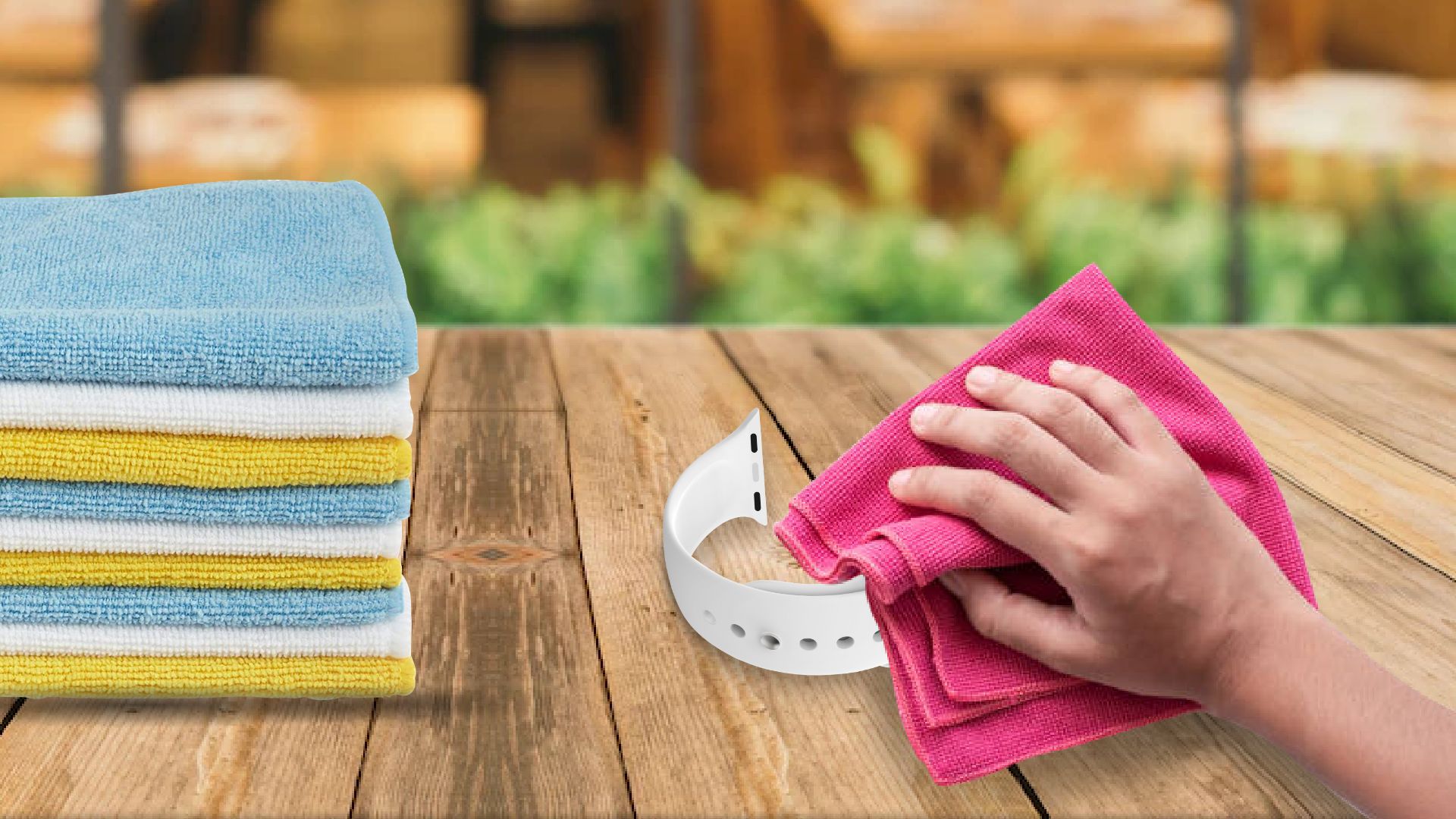 First, dampen the microfiber cloth with water.
You may also add liquid soap to the water or use a cleaner spray on the band's surface.
Remove the silicone band from your Apple Watch and put it on a flat surface.
Now, use the microfiber cloth to clean the dirt or stains slowly.
After you are satisfied with the cleaning, put your silicone band back on your Apple Watch.
Our recommended products:
Non-Abrasive Microfiber Cleaning Cloths
Product Dimensions: 16L x 12W inches
Material: Polyester, Polyamide
Lysol Clean and Fresh Multi-Surface Cleaner
Product Dimensions: 2.6 x 4.6 x 10.5 inches
Item Volume: 40 Fluid Ounces
Mrs. Meyer's Clean Day's All-Purpose Cleaner Spray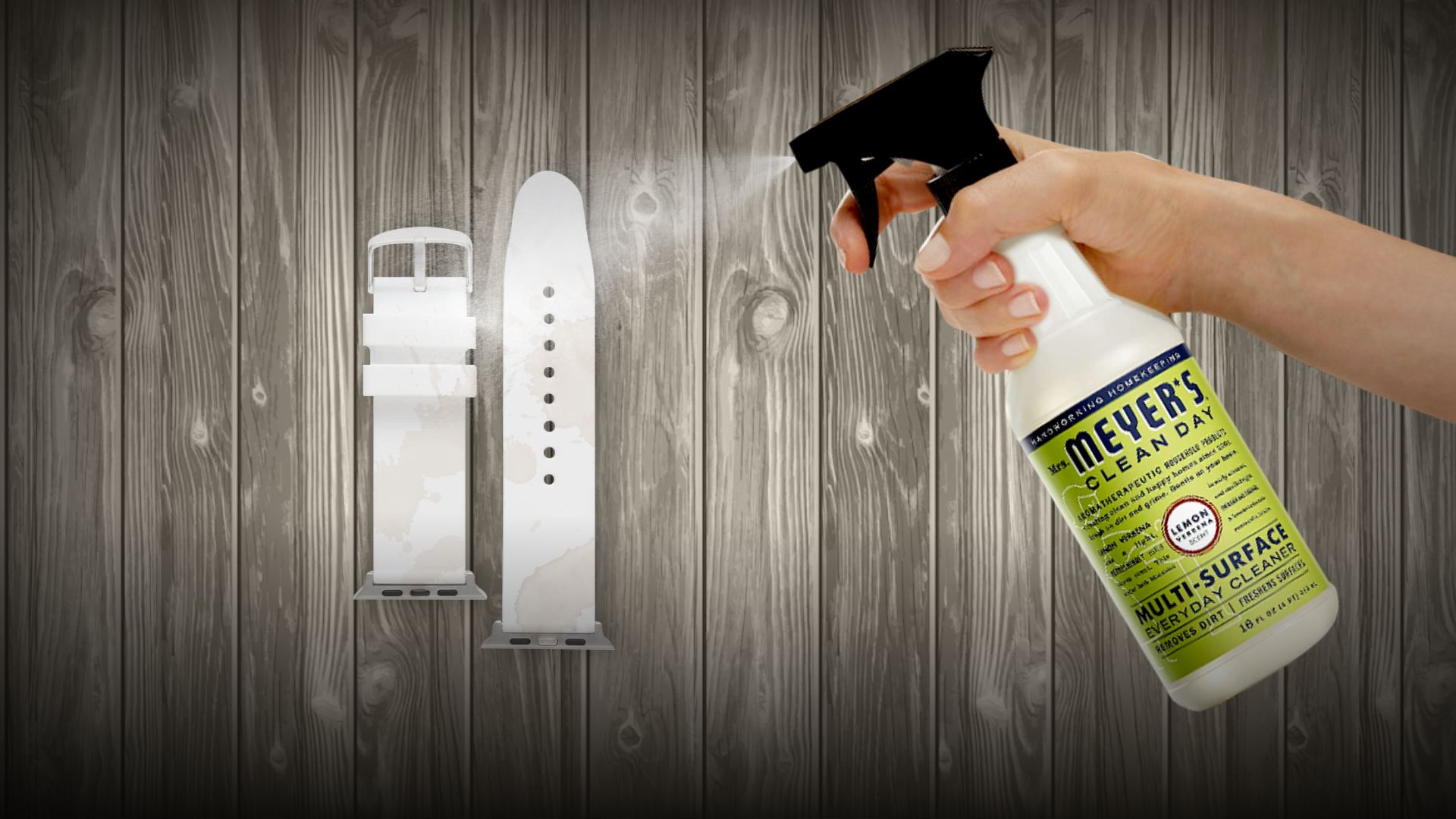 Product Dimensions: 2.9 x 3 x 9.9 inches
Item Volume: 16 Fluid Ounces
Steps on how to clean silicone Apple Watch band using toothpaste and toothbrush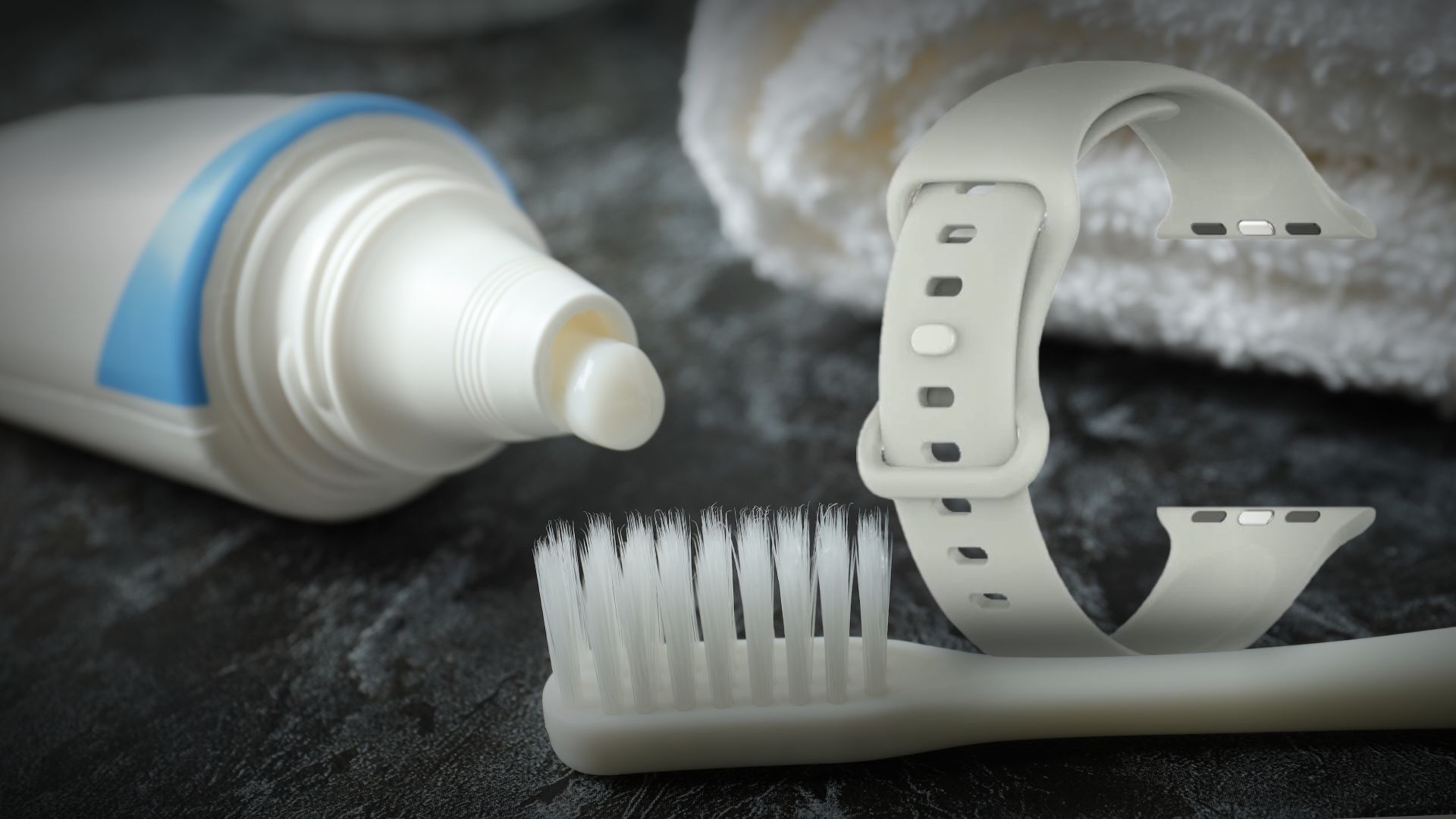 First, use any toothpaste and put it all over the dirty silicone watch band.
Add a few drops of water to make foam all around the band.
Now use a toothbrush to clean the band surface gently.
Finally, rinse the band with water and put it back in its place.
Steps on how to remove stains from silicone watch band with a magic eraser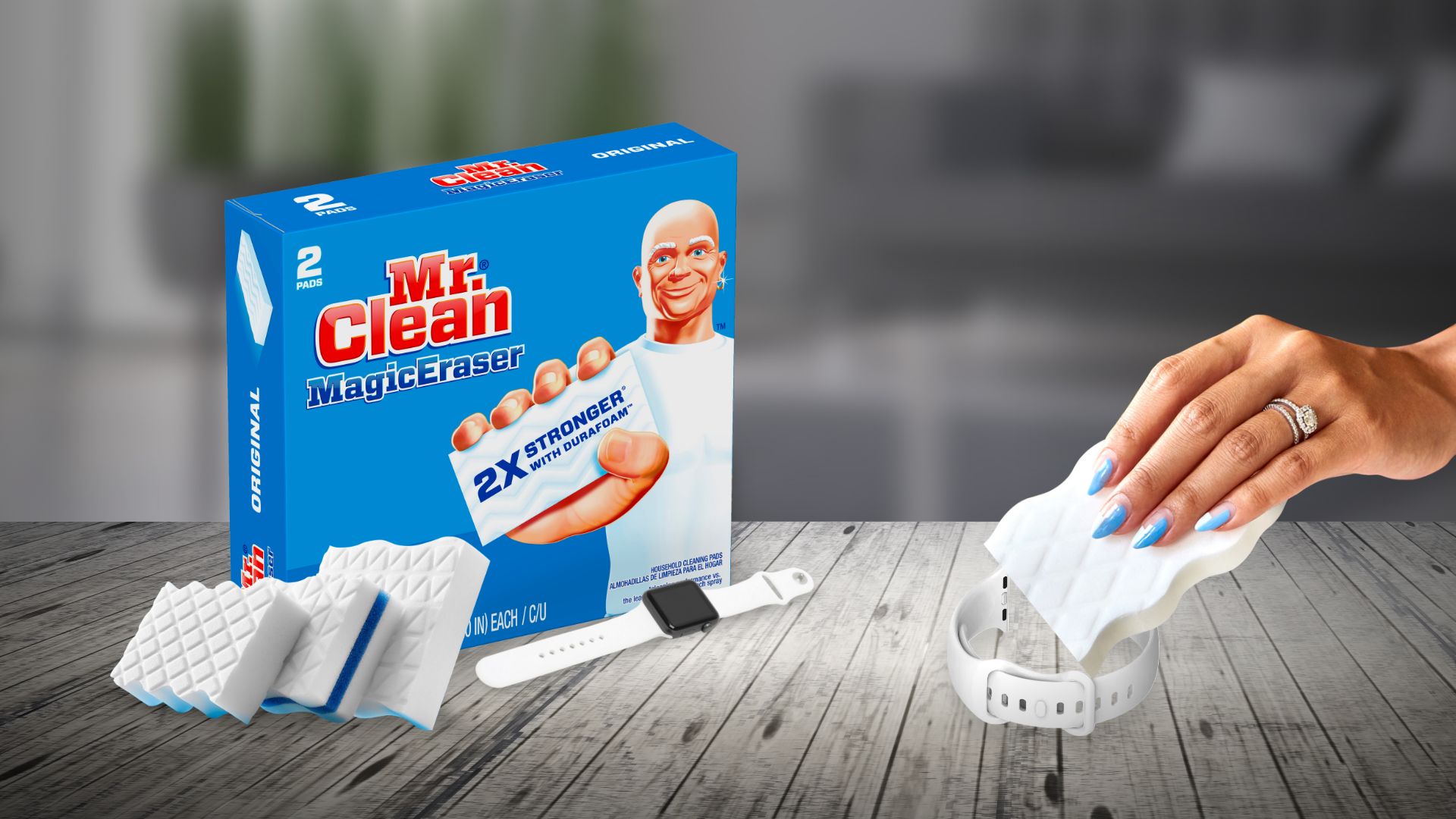 First, take a small portion of Magic Eraser and dampen it with water.
You may use a small amount of liquid soap or a cleaner spray to dampen the scrubber.
Now, slowly use the Magic Eraser to rub off the dirt or stains.
Finally, install the silicone band back into your Apple Watch.
Recommended product:
Mr. Clean Magic Eraser
Product Dimensions: 8.74 x 2.68 x 5.78 inches
Unit Count: 10 Count
End Notes
Silicone bands for Apple Watch are long-lasting and stylish but prone to stains. We have discussed the best ways to clean silicone watch bands to fix that issue. If you like this take, you will also enjoy our other content. You may want to know about the best Apple Watch bands for surfing. Alternatively, check our take on the best Apple Watch bands for sensitive skin.