Category:
How to Clean White Apple Watch Band
We independently research, test, review, and recommend the best products. As an Amazon Associate we earn from qualifying purchases.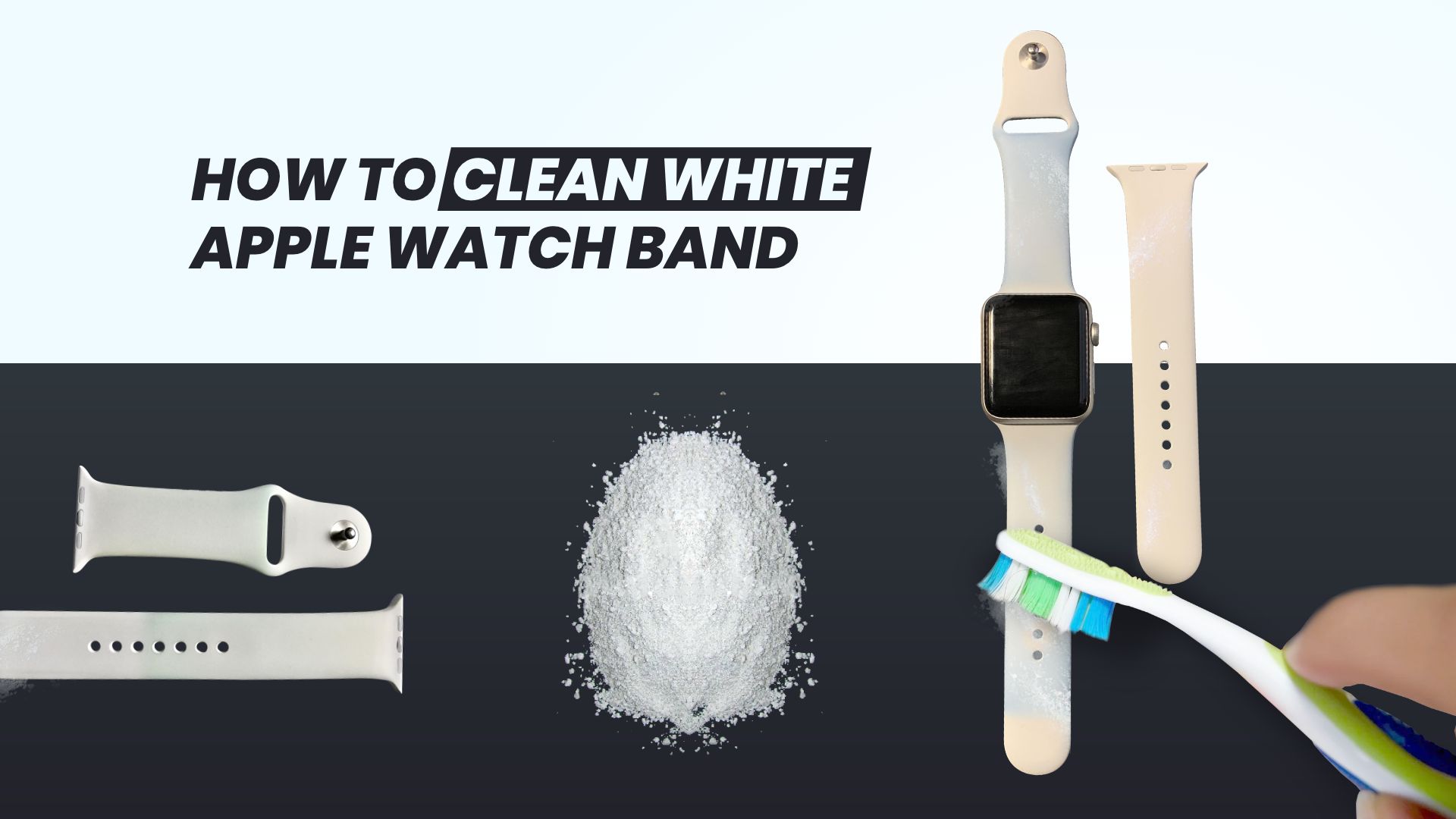 Wondering how to clean white Apple Watch band? Yellowing out and superficial specks of dirt are apparent when you have the white silicone band for your Apple Watch. Through this writing, we will give you multiple solutions for cleaning the white Apple Watch band at home.
White Apple Watch band tends to get dirty pretty fast, especially when you are an athlete hiker. No matter what occupation you have, owning an Apple Watch on your wrist calls for a scheduled cleaning, particularly if it has a white band. In this piece of writing, we will give you a couple of useful tips on how to clean a white Apple Watch band thoroughly at home.
How to clean white Apple Watch band: 3 easy ways
The cleaning steps we are going to describe are all easy processes. The cleaning agents and materials we will mention are all common household items. Please note that the tricks we are sharing here worked pretty well on our white Apple Watch band.
However, we cannot assure the same result for your white band, but we believe it's worth trying. Many of you may have already used these methods but failed to get a satisfactory result. After illustrating our watch band cleaning methods, we will also explain why the process didn't work for you in the first place.
The warm water and dish-cleaner treatment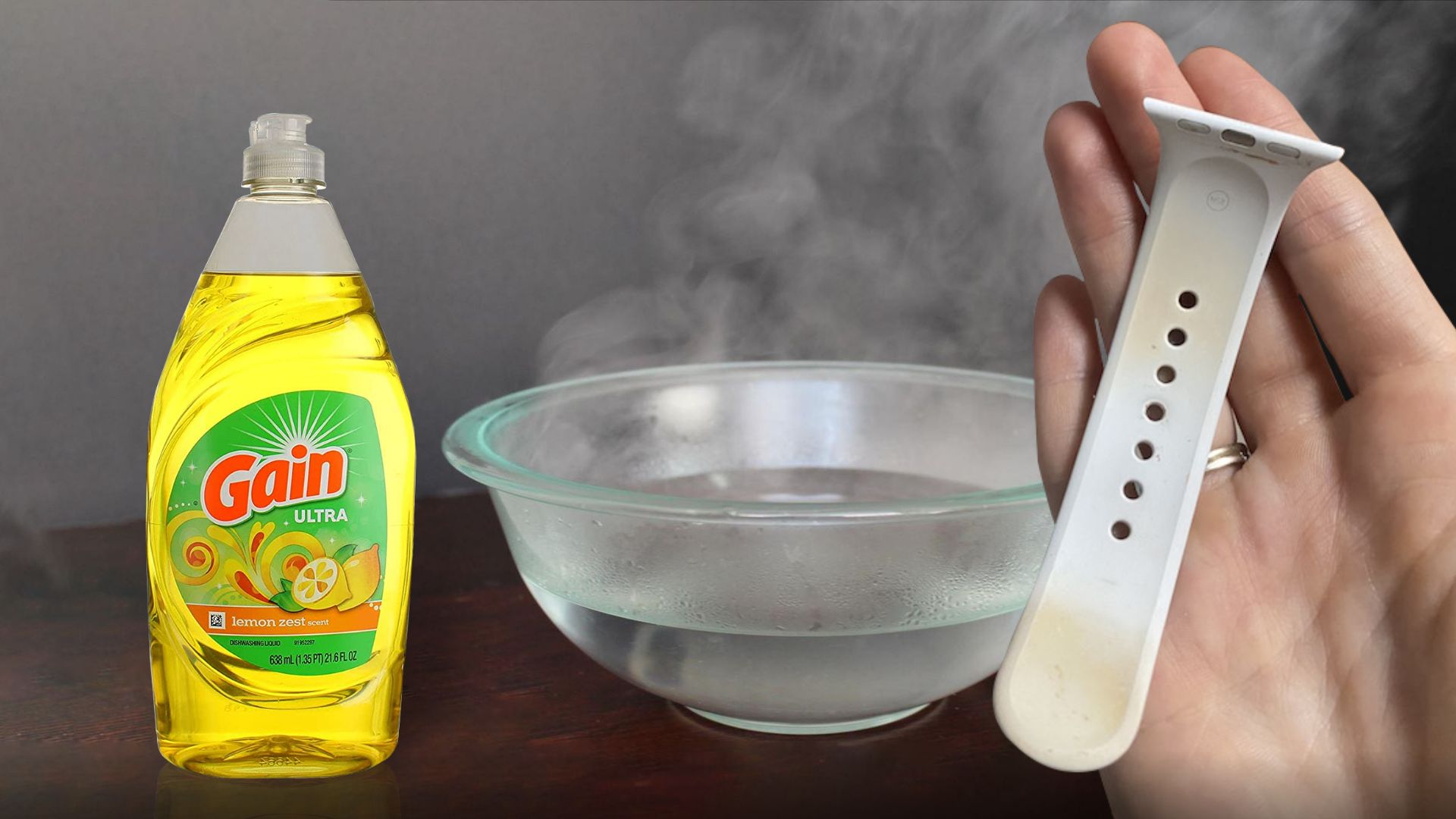 The most common way we have tried to clean the white Apple Watch band is by applying warm water mixed with a good dish cleaner liquid. What we do is mix one part dish cleaner liquid with 3 parts lukewarm water. Mix them well until foam solution is formed.
We then detach the band from the Watch face and dip the band in the solution for 10 to 15 minutes. This usually removes all loose dirt and stubborn grease patches from the silicon band. Next, we grab an old toothbrush, dip it in the solution and scrub the band gently to clear out the yellowish layer off the band.
Treating with bleach solution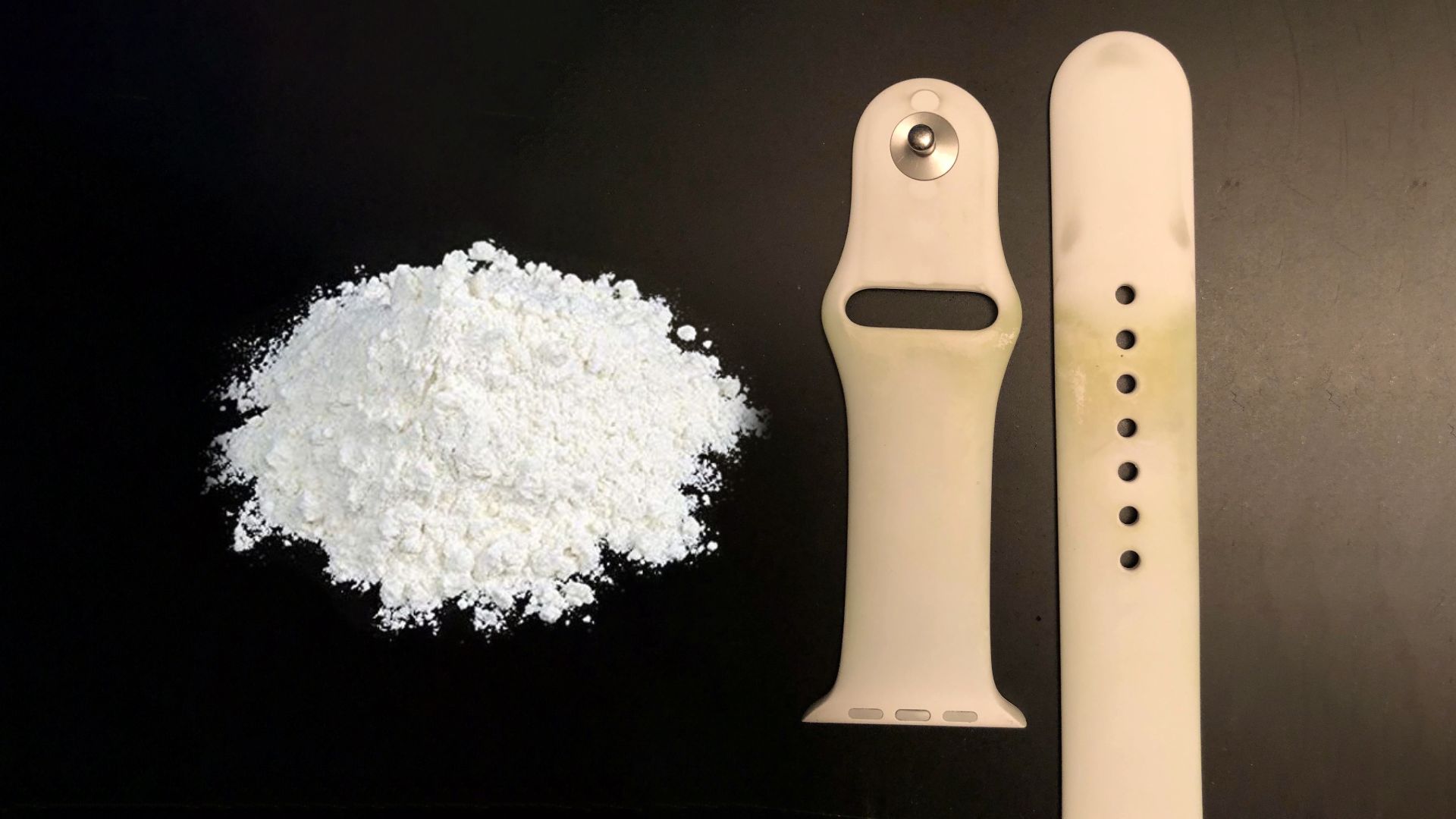 The next method we found useful is the bleach solution treatment. Bleach is often available in the household kitchen, and a reasonably concentrated bleach solution is often used as a universal whitener. We have tried this concept while cleaning the yellowish tints of our Apple Watch band.
We made a concentrated bleach solution using bleach powder with water for this to work. Made a bleach solution in a container and simply dumped the band on that container for several minutes. Following this,  we pulled them out and scrubbed them with a lint-free cloth soaked in the same bleach solution.
The result was impressive, and the tint was almost gone in the first wash. We tried the same procedures two to three times, and our white band was good as new. Please take safety measures while implementing this method, like wearing gloves while handling bleach solutions.
The tooth whitener and magic eraser method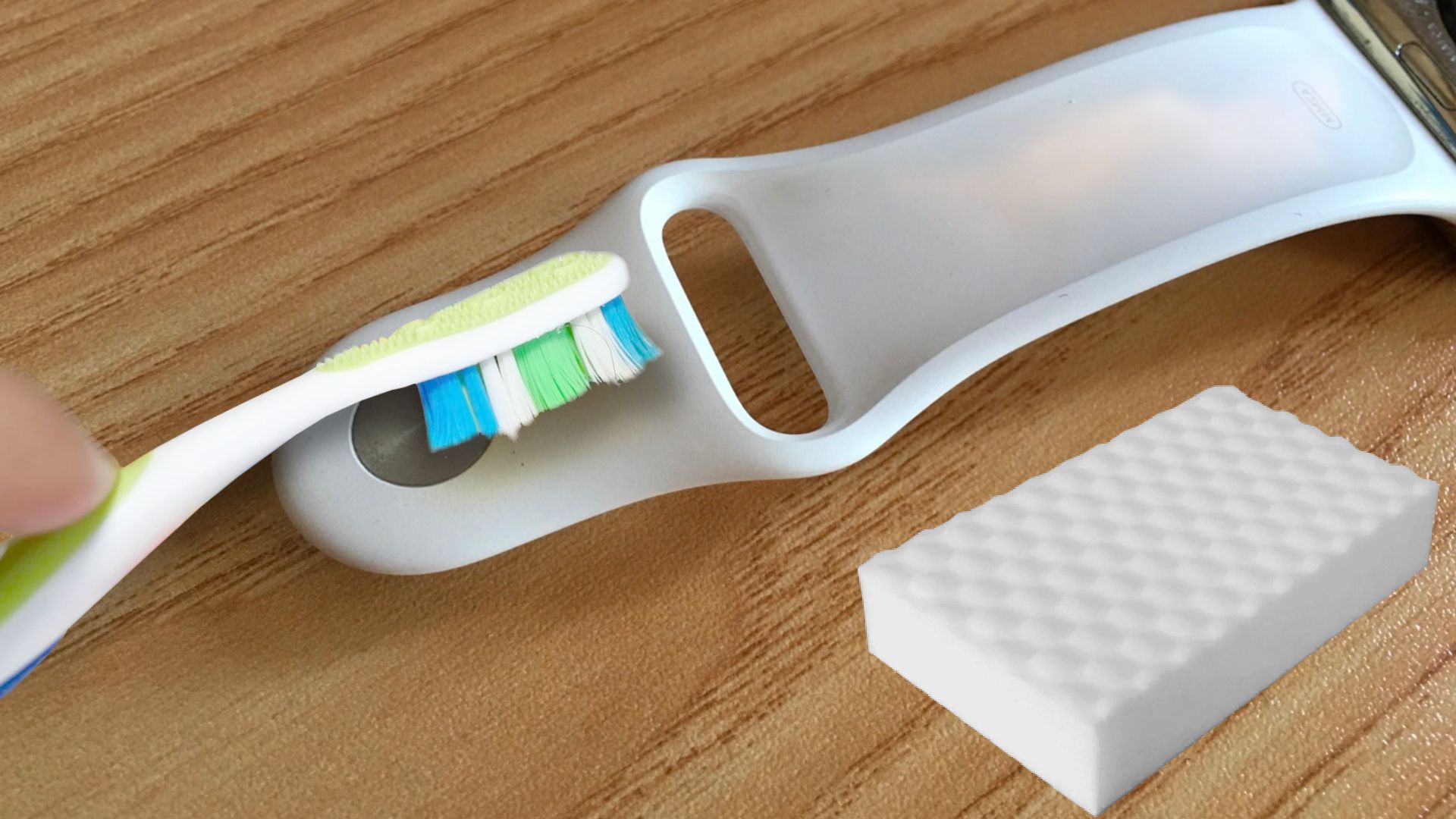 Magic eraser composed of 100% melamine works like a charm when it comes to cleaning the white Apple band. Magic eraser combined with enamel whitener or simply tooth whitener works great in cleaning silicon or nylon woven white Apple Watch band.
Take a small lump of enamel whitener and rub it gently on your apple band using a soaked Magic eraser. Keep rubbing the band in one direction so that dirt and tint wipe off the band and no tint residue remains.
Why the yellow layer didn't go away even after cleaning
You must be wondering why the methods mentioned above didn't work for you when you have tried them earlier? Here are some of the possible reasons the tint went permanent on your white Apple Watch band:
One of the most common reasons is that you didn't clean your white Apple Watch band for weeks, months, or even years. White accessories get dirty fast, especially when it is wearable accessories. In our case, we practice a daily cleaning routine.
We try to wipe our Apple band clean at the end of every day or at least every other day. This prevents any permanent tint or dirt on the band.
Sweat stain can be the source that gives a yellowish layer to the band. So, keeping your Apple watch and its band away from sweat can be a good remedy. We have seen several cyclists wearing a full sleeve sweat inner and an Apple watch over it, which reduces sweat contacts.
Again the solution lies in regular cleaning at the end of the day. It prevents permanent sattling of dirt on the white Apple watch band. Moreover, it is also a more hygienic practice.
EndNote
We have tried to give you the best solution of how to clean white Apple watch band. However, there is no better remedy than regularly cleaning the band, particularly when it is white. So, in summary, we would strongly suggest you wipe and sanitize your Apple watch band regularly. It keeps the Watch band out of stain and keeps you away from germs and diseases.