Category:
How to Connect iPhone to Tv Without WiFi – A Complete Guide
We independently research, test, review, and recommend the best products. As an Amazon Associate we earn from qualifying purchases.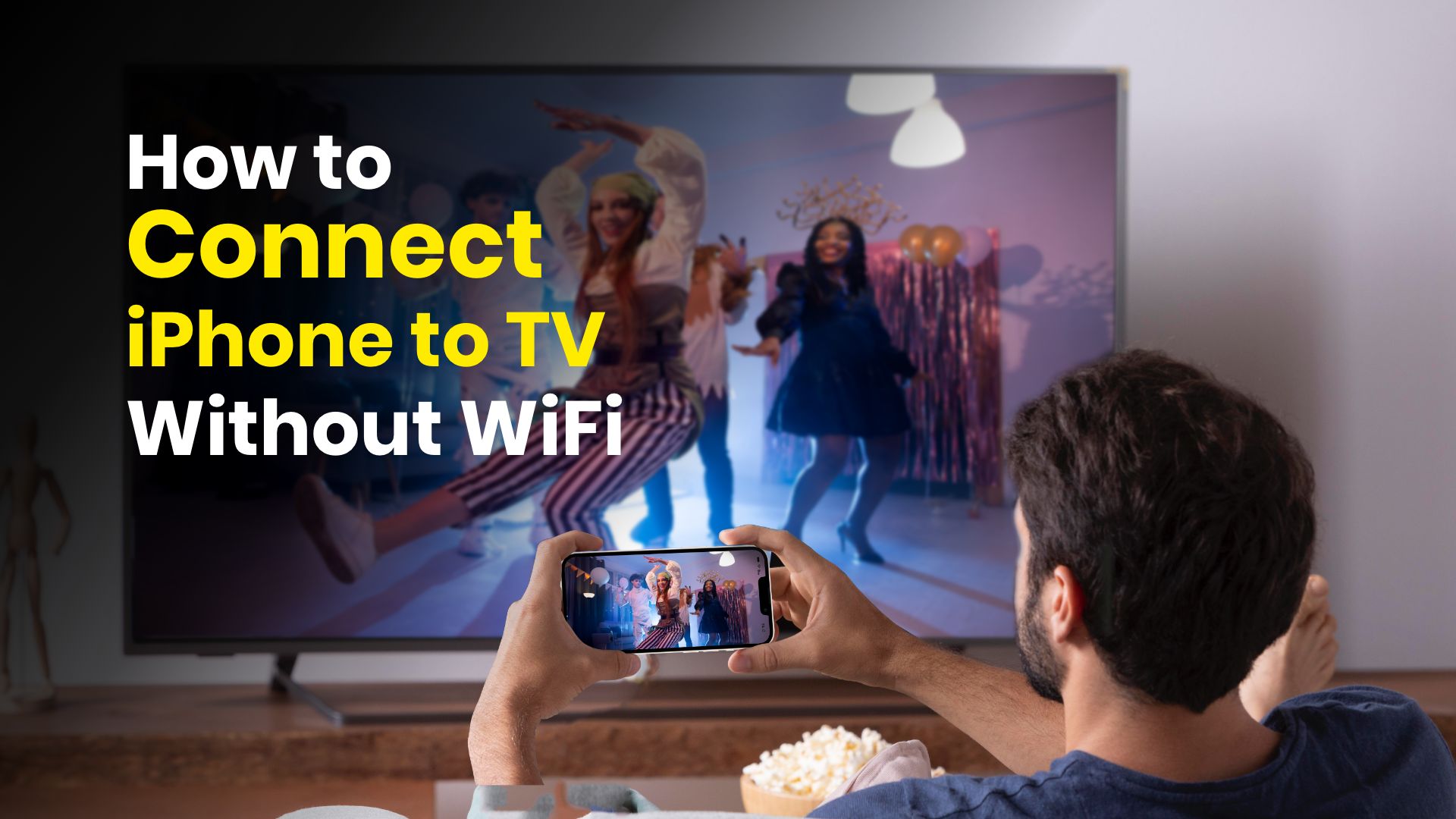 When you desire to share content from your iPhone to a different screen but don't have access to Wi-Fi, you can actually do so now. In this post, we will explain how to connect iPhone to Tv without WiFi seamlessly.
Figure out how to connect iPhone to Tv without Wifi
As stated above, you can now use your iPhone to watch any material on your television screen. Users who don't have readily available high-strength WiFi connections can now stream from iPhone to Tv without WiFi.
If you're seeking a means to screen share from your iPhone or iPad without using WiFi, you've come to the right spot.
Note: Peer-to-Peer Airplay without Wi-Fi will be supported by the most recent iterations of the Apple TV, such as the likes of the Apple TV 4K (2nd generation—2021) or Apple TV HD (Previously dubbed Apple TV 4th generation—2015). Apple TV 7.0 or later should be installed if you have an Apple TV (Third Generation)
You'll also need an iOS device with at least a 2012 model and running iOS 8 to function. Unfortunately, older devices do not support Peer-to-Peer Airplay. Screen mirroring is still possible on older devices, but it requires Wi-Fi. And screen mirroring without WiFi is doable using peer-to-peer AirPlay. It is a straightforward method if you have the relevant devices on hand.
Peer-to-peer AirPlay is only available when none of your devices are linked to a network. As a result, you have to first disconnect your Apple TV from any Wi-Fi network before reconnecting. Doing so can mirror iPhone to tv without WiFi.
Follow these quick steps on how to connect iPhone to Tv without WiFi using Peer to Peep AirPlay:
Select "Settings, then Network, then Wi-Fi
The Apple TV will display on your TV screen if it is linked to a network. Choose to Forget
Network after selecting the name of the existing Wi-Fi network
To check the current connection information on your iOS device,
Click to Settings, then Wi-Fi
To disconnect, select Forget Network
Both devices must be connected to Bluetooth
Turn on Wi-Fi on your iOS device
In the Control Center, Airplay Controls appear as Screen Mirroring.
Select Screen Mirroring from the drop-down menu
Your Apple TV should appear on the list
Tip: If you're asked for a password, it should display on your TV screen. To use the functionality, you'll need to enter that information. It's important to know that forgetting the Network prevents your devices from. In addition, automatically reconnects to your Wi-Fi. If you wish to rejoin your Wi-Fi later, you'll need to remember both the SSID and password.
How to Connect an Apple Lightning Connector to an HDMI Port on your Tv 
An alternative way to mirror your iPhone screen is to use a wire to link both devices. The Apple Lightning Connector connects the bottom part of your iPhone to an HDMI cable. Connect the gadget to your phone's Lightning port, connect an HDMI cable to your TV, and plug the HDMI cable into the Lightning Connector to mirror your screen to your TV.
If constantly fussing with all the cables isn't a factor for you, this approach is a quick and straightforward option. You don't even need an Apple TV to make this work. This approach works as long as your TV has an HDMI port. Disconnect the connections if you wish to discontinue mirroring.
There are alternative connection cords available that aren't officially affiliated with Apple that you may use if you so choose. However, there is no assurance of dependability or safety. It's essential to stay with the original product to ensure that your gadgets are safe from harm.
Finally, not everyone has access to Wi-Fi at all times. It's convenient to mirror your iPhone to your TV without using Wi-Fi. Yes, transferring your phone's contents on a larger screen shouldn't be limited to Wi-Fi connections, and Apple now allows you to do just that!
What exactly is screen sharing 
In other words, screen mirroring, also known as screen sharing, is a method of projecting the contents of your tablet, laptop, computer, or phone onto a television screen. Screen mirroring may be accomplished using either a wired or wireless connection.
The advantage of wireless Screen mirroring is that it eliminates the need for additional cords and wires. You're probably wondering how to construct a screen mirror without cables. As a result of technical advancements, most mobile phones, including the iPhone, now include built-in wireless display technology.
The technology is simple to use. All you need is a compatible smart television or a wireless adaptor that can be linked to television. One of these external instruments will receive your device's wireless signal.
Also read: How to connect HomePod to new wifi
To wrap up
We all know it's cool to do screen sharing with our iPhone devices. However, we may find the need to share our iPhone screens without using the internet from time to time. We hope this post on how to connect iPhone to Tv without Wifi will be of good use to you. Enjoy WiFi-less screen sharing!