Category:
How to Connect Soundbar to Projector- Complete Guide
We independently research, test, review, and recommend the best products. As an Amazon Associate we earn from qualifying purchases.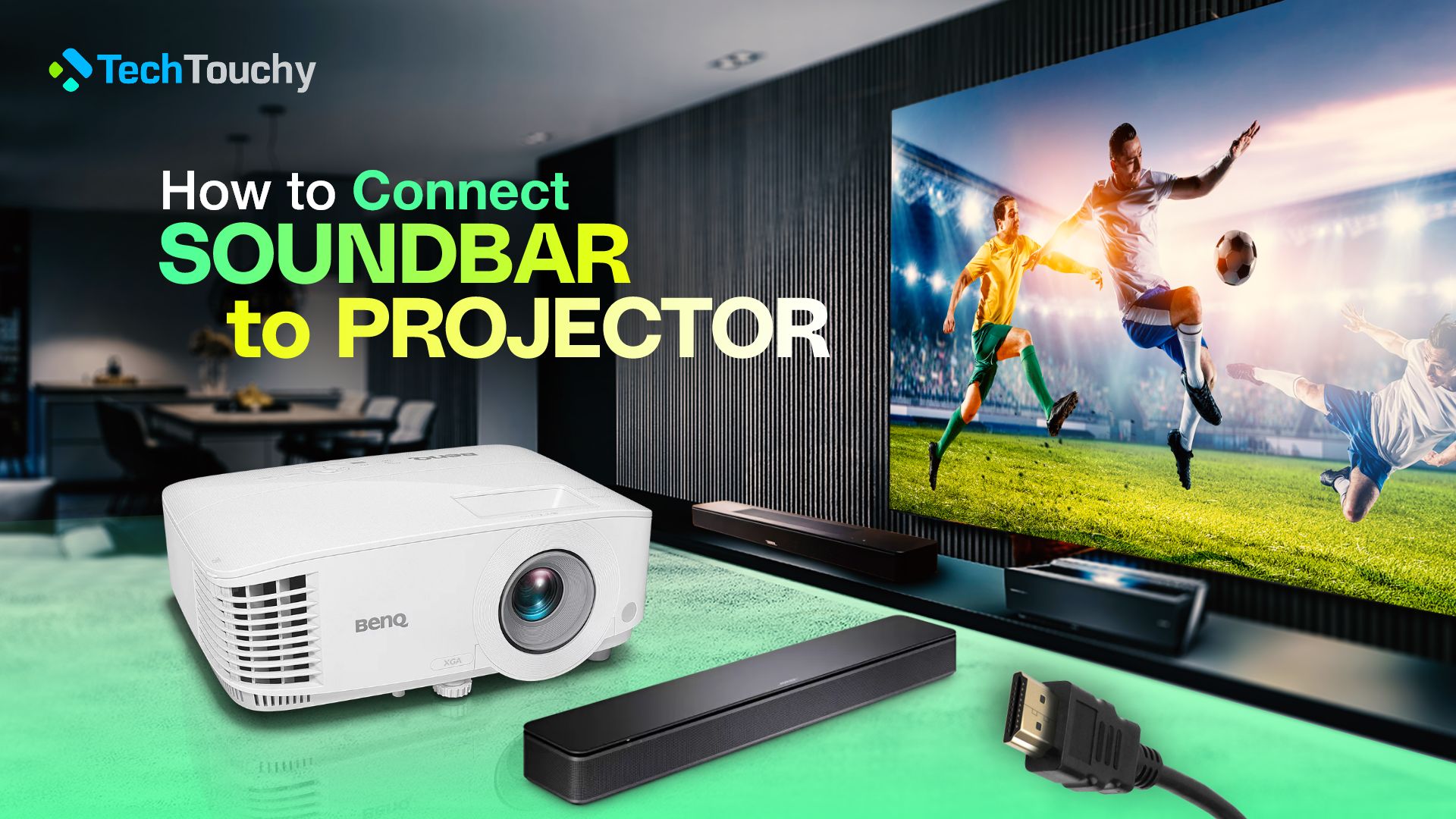 In today's world of entertainment, visuals often steal the show, but what's a good movie without impressive sound quality? That's where the soundbar comes in.
Whether it's a movie night with your friends, a gaming marathon, or even a presentation at work, a soundbar and a projector are a great combination. With such a setup, you can get a great audio and visual experience. So, if you don't know how to connect soundbar to projector, we have got you covered.
We will cover the step-by-step process of connecting a soundbar to your projector. There will not be just one method but more than one, so you can choose the one that suits your setup and preferences best. By the end of this blog, connecting your soundbar to your projector will be a breeze!
Connections that your soundbar and projector might have:
Before we can talk about which method to use, it is important to know what type of connections are there on both devices. This information will help you decide which of the following methods best suits your soundbar and projector combination.
Here, we've listed the common connections that you might find on your projector and soundbar.
On the projectors:
HDMI Port:
The majority of modern projectors have HDMI connectors. Look for HDMI outputs and inputs. Several HDMI connections are available on some projectors, and these ports can be used for a variety of things, including connecting to external audio equipment like a soundbar.
Audio Out:
RCA (red and white) or a 3.5mm headphone connector are commonly used as the audio output. It enables you to output audio from the projector to sound bars or external speakers.
Optical (Toslink) Port:
Some projectors come with an optical audio output that can send high-quality audio to soundbars and other suitable audio devices.
Bluetooth:
Some projectors may come with built-in Bluetooth capabilities that let you wirelessly connect to soundbars that support Bluetooth without the use of cables.
On the soundbars:
HDMI Ports:
HDMI input and output ports, including HDMI ARC (Audio Return Channel), may be found in soundbars. Both audio and visual connections between the soundbar and projector are made using these ports.
Optical (Toslink) Port:
Soundbars frequently contain optical audio input connections for taking in high-quality audio signals, much like projectors do.
3.5mm Audio Input:
Some soundbars offer a 3.5mm audio input (headphone jack) that can be used to connect to equipment like projectors using a standard audio cable.
Bluetooth:
Many modern soundbars have Bluetooth connectivity, allowing you to wirelessly connect them to your projector if the projector has Bluetooth features as well.
USB Port:
Some sound bars contain USB ports that can be used for external device connections or audio file playback, such as flash drives.
You may choose the most suitable way of connecting them and ensure compatibility by being aware of the ports and connections that are accessible on both your projector and soundbar.
How to connect soundbar to projector – Multiple Ways
You can pair the soundbar to your projector in a variety of ways, and most of them are done via some sort of cable. However, there is one method we've mentioned that involves wireless pairing done via Bluetooth connectivity.
Here, we've described various methods for connecting a soundbar to a projector.
Method 1: Using HDMI/HDMI-ARC
HDMI is not only one of the easiest ways to link your soundbar to a projector but also the best one. Especially when you compare it with the other wired connections, this approach simplifies your setup by providing seamless audio and visual integration. Newer devices have HDMI-ARC, which is an improved version of HDMI and provides even better high-quality audio and video.
Here's how to connect your soundbars to your projectors using HDMI/ HDMI – ARC: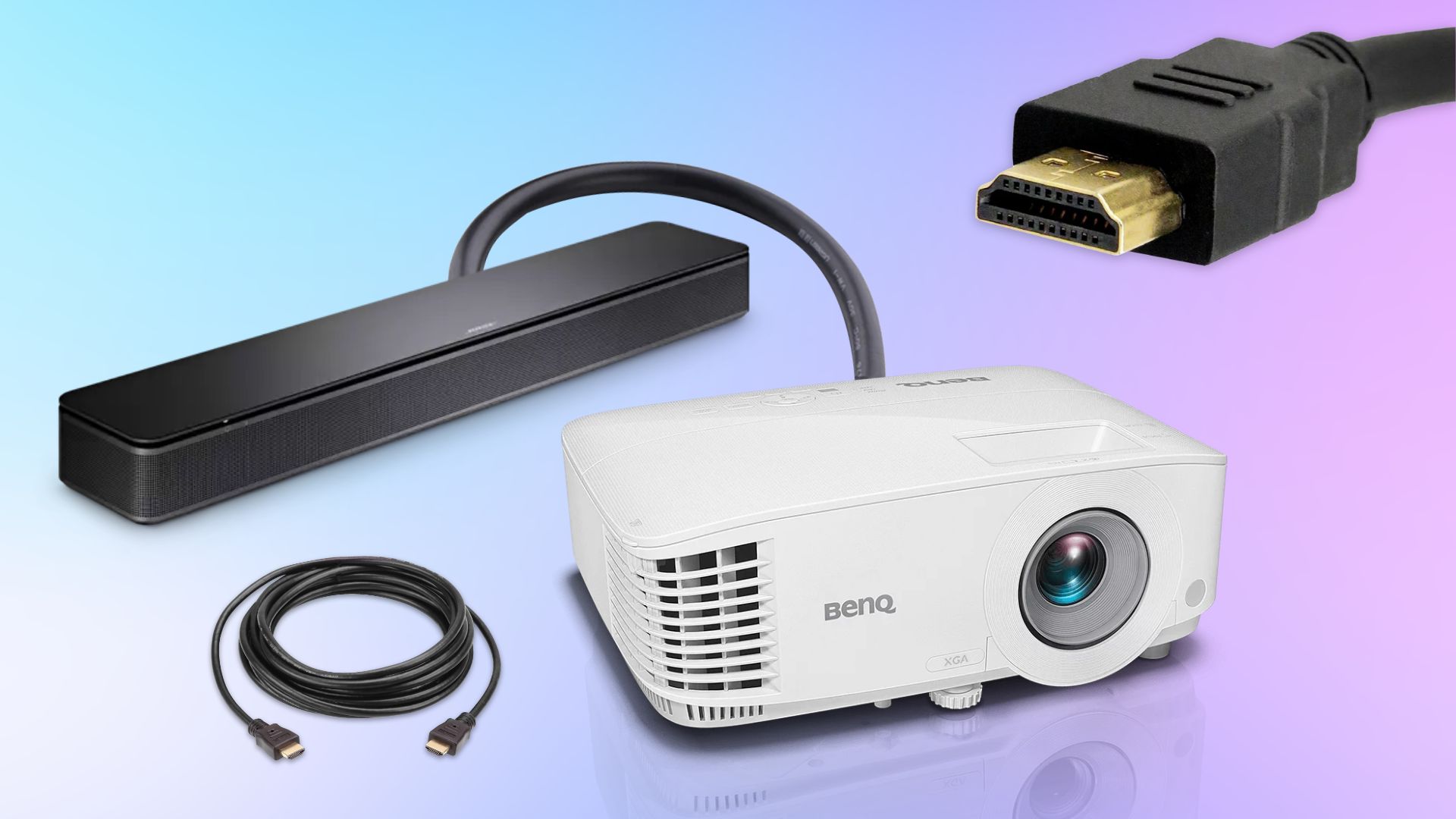 The first step is to turn off your soundbar and projector.
Next, you need to plug one end of an HDMI cable into your projector's HDMI/HDMI-ARC output port.
Then plug in the other end of the HDMI cable to your soundbar's HDMI/HDMI-ARC input.
Then, turn on both devices.
If required, configure your projector's audio output settings to use HDMI and your soundbar's audio input settings to accept audio via HDMI.
One more thing, you need to already have a media player connected to the projector. After all, you need to play something on the projector in order to listen its audio in the projector. You can connect your Apple TV to the projector, streaming devices, computer, etc. Also, if you have a Netflix or subscription of any other streaming platform, you can watch it on a projector from your iPhone or other devices.
For people who value both audio and video quality, HDMI connections are ideal because they just require one cable.
Method 2: Using Optical/SPDIF
The square-shaped TOSLINK connector is commonly used for optical audio connections, but SPDIF provides a digital channel that can be connected using either a TOSLINK or RCA connector. Take a good look at the input and output of your soundbar and projector before making any connections to make sure they are a perfect fit.
In addition to the circular RCA connector, which uses the conventional coaxial cable method, SPDIF also provides the square TOSLINK connector for optical connections. Therefore, to enjoy flawless audio, make sure your connectors are in sync. If you have made sure they are in sync, follow the process below.
Here's how to connect soundbar to the projector using an optical cable: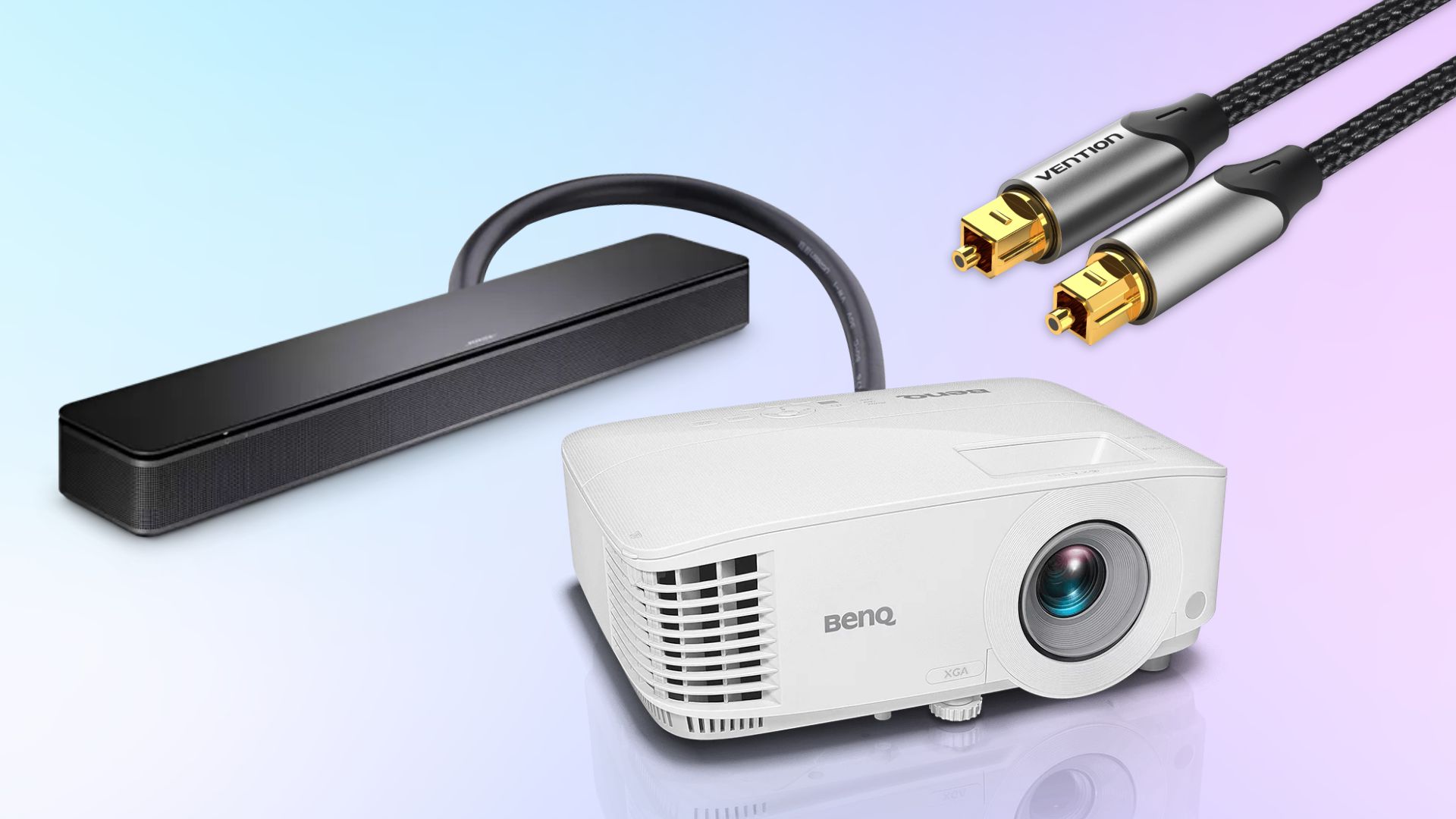 Step 1: Turn off power on soundbar & projector
Make sure the projector and soundbar are both powered off to avoid any potential electrical problems during setting up.
Step 2: Locate Optical/SPDIF input & output ports on the soundbar & projector respectively
First, locate the Optical/SPDIF input port on your soundbar. Usually, it has a label that says "Optical In" or "SPDIF In." Then, locate the optical/SPDIF output port on your projector. It may have a label that says "Optical Out" or "SPDIF Out."
Step 3: Use the cable to connect the soundbar & projector
One end of the optical/SPDIF cable should be inserted into the projector's optical/SPDIF output port. Then, connect the cable's other end to the soundbar's optical/SPDIF input port. After that, plug in and power on both the soundbar and the projector.
Step 4: Choose Optical/SPDIF as the projector's audio source
Navigate to the audio settings on the projector's onboard menu or with the remote control. The audio output source should be set to "Optical" or "SPDIF" in the projector's audio settings. By doing this, the audio is sent to the connected soundbar.
Step 5: Play content to test the connection
Now, play some content, such as a movie or video, on your projector. Make sure the audio is playing via your soundbar by adjusting the volume. To change the sound settings and volume, use the remote control for the soundbar. Also, you can customize the audio experience by looking through the soundbar's settings. A variety of sound enhancements, including bass and treble, can be changed.
Thanks to your soundbar's optical/SPDIF connection, you can now relax and enjoy the enhanced audio quality of your movies or presentations.
Method 3: Using Bluetooth
The HDMI and the Optical/SPDIF method mentioned above to connect your soundbar to the projector uses cables. With Bluetooth connectivity, you can pair your soundbar to a projector wirelessly. But this depends on whether the projector or both devices support Bluetooth connectivity.
You can place your soundbar anywhere in the room (depending on the room size) while still keeping your entertainment area neat and tidy. With this method, you have the freedom to enjoy great audio without having to deal with the fuss of cables. Continue reading if you want a neat and simple setup!
Follow these steps to start the setup: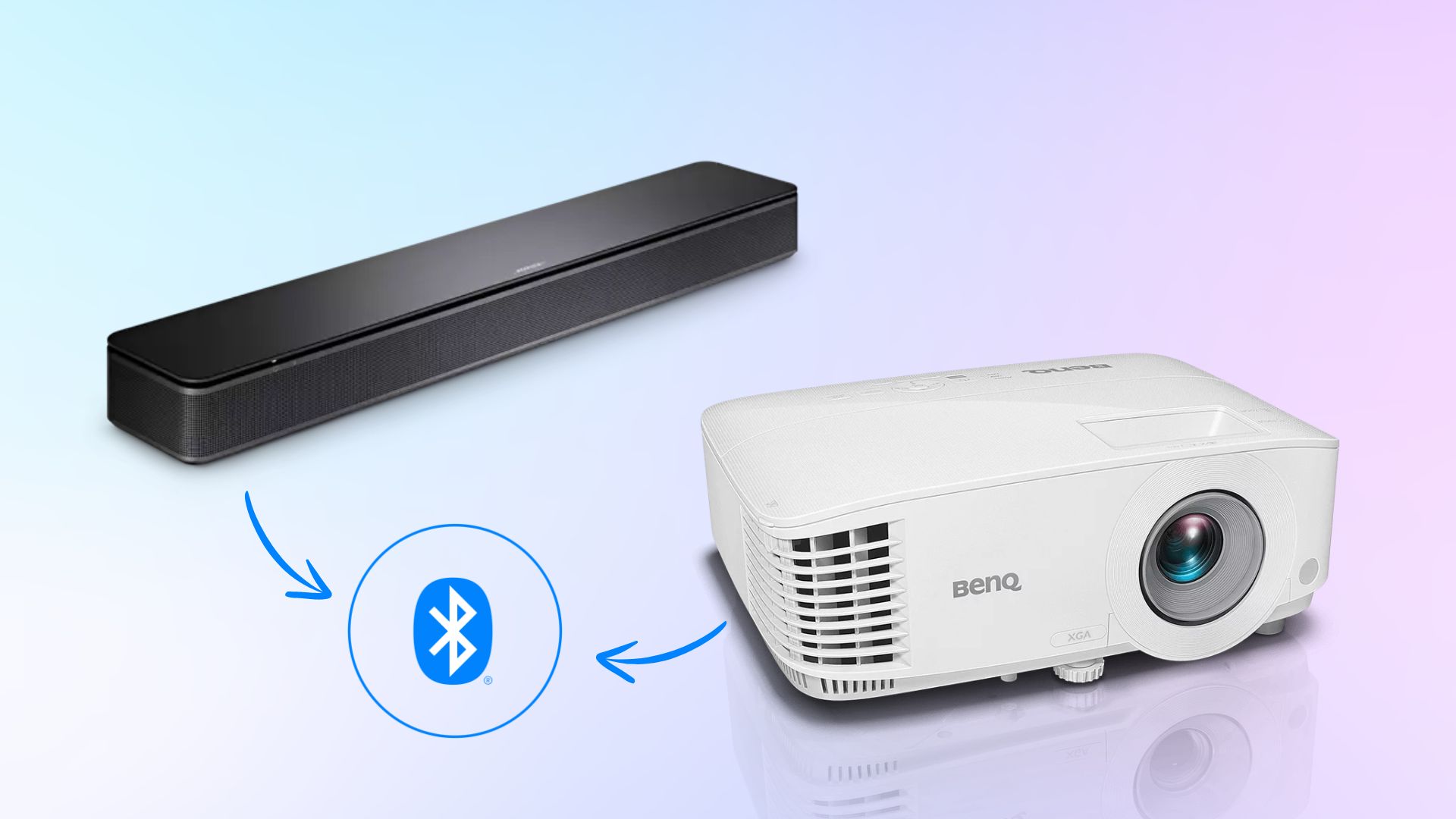 Step 1:  Turn on the power for both the soundbar and projector
Make sure your projector and soundbar are both switched on and prepared for setup. Typically, the Bluetooth range would allow you to place the devices in different parts of the room. It is best practice to keep them closer to each other for better signal strength.
Step 2:  Turn on Bluetooth for the soundbar and projector
Activate the Bluetooth feature of the soundbar using the remote or onboard controls. To enter pairing mode on most soundbars, you must press and hold a dedicated Bluetooth pairing button or follow a specific set of button presses. For the projector, use the remote control or onboard menu to access the projector's settings, then turn on Bluetooth.
Step 3: Search for the soundbar on your projector
Start a Bluetooth device search for nearby devices on the projector. The list of accessible devices should include your soundbar. From the projector's list of Bluetooth devices, choose your soundbar.
Step 4: Pair your soundbar to projector
When you select the soundbar, the pairing process between the two devices starts. When the connection is completed, you'll hear a confirmation sound.
Step 5: Play content for testing
To test the audio, play content on your projector. Your linked soundbar should now play the audio. Also, customize the volume using the soundbar's remote control.
Pretty easy and simple, right? Now, enjoy your favorite movies, video games, or presentations while taking advantage of the convenience of wireless audio streaming, thanks to Bluetooth connectivity.
Method 4: Using an Analog Connection
RCA input and 3.5mm audio jacks are old-school connections that are found on some projectors and soundbars. With the right adapter, you can plug the 3.5mm cable from your projector to the RCA slots on your soundbar.
This is how it is done: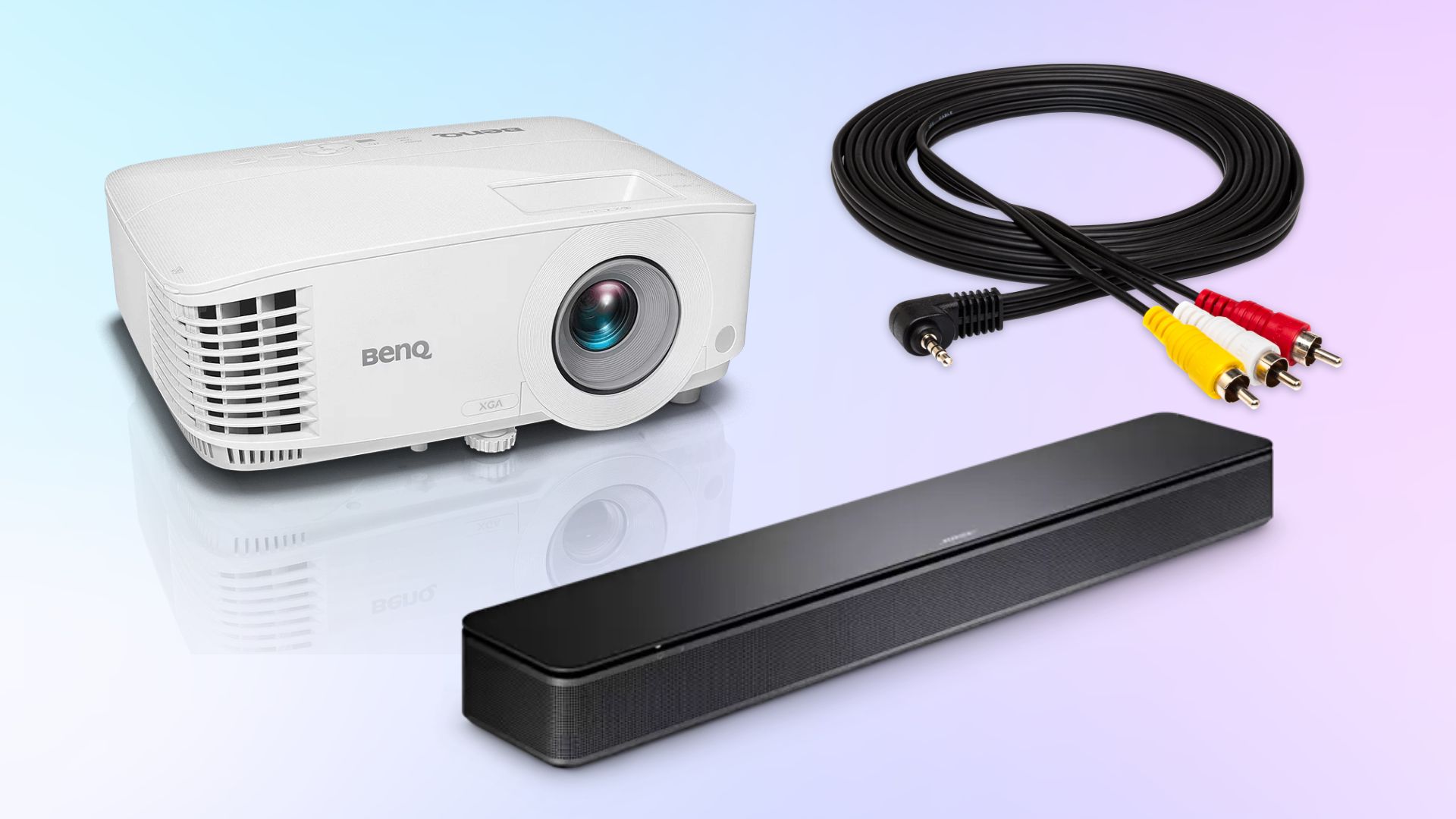 Make sure your soundbar and projector are switched off to stay safe during setup.
You have two options: RCA connectors or a 3.5mm jack. Either works fine, and you can even use an adapter to switch between them.
Plug one end of your RCA cables (they usually have red and white ends) into your projector's RCA outputs, or if you're using a 3.5mm cable, connect it to your projector's audio jack.
Hook up the other ends of your cables to the matching inputs on your soundbar. It's like connecting pieces of a puzzle.
Connect your gadgets, like a DVD player or gaming console, to the projector.
Turn on both your soundbar and projector. You're almost ready to enjoy great audio.
If needed, make sure your projector's sound is set to analog and your soundbar is set to receive analog sound. This way, they speak the same language.
That's it! Your soundbar and projector are now working together to bring you awesome sound for your movies and more.
Where to place a soundbar with a projector? 
Imagine that you have your excellent projector setup and are wondering where to place your trusty soundbar for the best audio quality. Well, we have got you covered!
Below is the Projector Screen
A traditional option is to place your soundbar directly beneath the projector screen. The sound is kept in close proximity to the action, guaranteeing that it properly matches the visuals. It's like having a little movie theater in your house!
Above the Projector
Consider putting your soundbar on a shelf or wall mount just above your projector if it is ceiling-mounted. You will feel as though you are in the middle of the action. 
In Front of the Projector
Placing the soundbar directly in front of the projector, on the TV stand, or in the entertainment center can also produce amazing results. This configuration ensures that the sound is directed directly at you, resulting in a direct and clear audio path. It's like having a front-row seat to the sound show!
On a Stand or Cabinet
Putting the soundbar on a stand or cabinet is an efficient option if you have a special media cabinet or TV stand. To ensure that the sound may travel easily, just make sure it is centered and unobstructed by any obstructions.
On the Sides
You may position extra soundbars on the sides of your viewing area to create a surround sound setup. When playing challenging video games or watching exciting movies, this produces a multi-dimensional audio experience that puts you right in the thick of the action.
Beside the projector
Putting your soundbar on the backside with the projector isn't the smartest move. There are much better spots to position it for top-notch audio. So, skip the back and explore the front and sides for a more engaging sound experience!
Remember, the most important thing is to make sure your soundbar enhances the images from your projector. Therefore, make sure it is centered, not blocked by anything, and that it offers you the finest audio experience possible wherever you choose to position it.
Is a soundbar good for a projector? 
Absolutely, a soundbar can be an excellent companion for a projector! Here's why:
Enhanced Audio Quality
Built-in speakers on projectors frequently fall short of your expectations for audio quality. With a soundbar, you can enjoy audio that is clearer, richer, and more immersive for movies, gaming, and presentations.
Easy Setup
Normally, it is easy to connect a soundbar to a projector. There is nothing complicated about connecting these two devices together. All you have to do is use a cable and plug one end of that cable to the soundbar and the other end to the projector. And that's mostly it.
Versatility
There are a number of audio modes, adjustment settings, and connectivity choices available with soundbars. Because of their adaptability, your audio experiences can be customized to a wide range of preferences and content genres.
Wireless Options
Many modern soundbars are compatible with wireless connections, such as Bluetooth or Wi-Fi, which makes it even simpler to connect and stream music from your devices.
Cost-Effective
Compared to purchasing a whole home theatre system, soundbars offer a cost-effective method to upgrade your audio setup.
The quality of the soundbar itself, the audio of your room, and your personal tastes all play a role in how successful a soundbar is. A soundbar is an excellent choice if you value great music to go with your projector's beautiful graphics.
Conclusion
You've unlocked the door to a more engaging and pleasurable home entertainment experience now that you've finished reading our comprehensive guide on how to connect soundbar to projector. You may simply enjoy incredible audio quality by following the simple instructions provided above!
Now, your soundbar will exactly match the pictures produced by your projector as you relax for movie evenings, gaming sessions, or business presentations. A simple step that significantly alters your audio-visual experience is connecting a soundbar to your projector.