Category:
How to Remove Scratches from Apple Watch Sport Screen
We independently research, test, review, and recommend the best products. As an Amazon Associate we earn from qualifying purchases.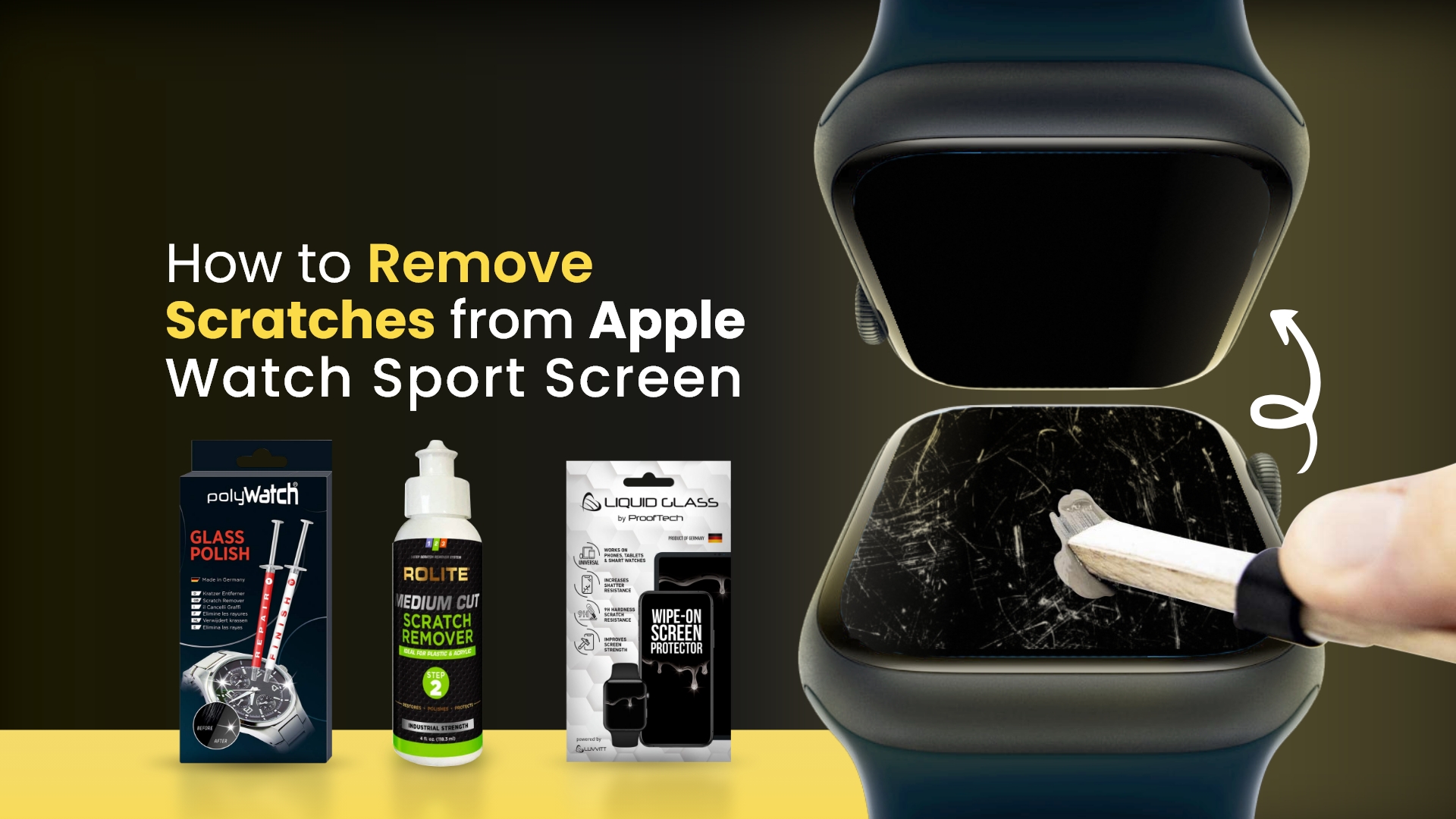 Apple Watches may be tough, but they're not indestructible. Especially they are not immune to scratches. However, don't lose hope if your Apple Watch has been scratched in some way. Here, this post will serve as a guide to aid you in how to remove scratches from Apple Watch sport screen.
Find out how to remove scratches from Apple Watch sport screen | 3 easy ways
The glass used for the Apple Watch's display has been reinforced to be more resistant to breaking. However, the watch faces of the aluminum-cased, less expensive variants are composed of Ion-X glass. So they are somewhat prone to scratches.
On the other hand, the stainless-steel models, gold, and ceramic versions of the original Apple Watch Edition are made of sapphire crystal. Sapphire is allegedly the toughest glass ever created. So they are much less prone to scratching.
Despite being careful enough, you can still find some scratches on your Apple Watch. Based on the intensity of the scratch, you can try a liquid glass polishing agent, a liquid screen protector, or a soft TPU screen cover. Stay with us and find out step-by-step directions on how to remove scratches from Apple Watch sport screen.
Caution: Most of the cleaning agents used in this guide are liquid elements. So, use masking tape or take proper steps to prevent accidental spillage and avoid damage to your Apple Watch.
Method 1: Removing mild scratches from Apple Watch screen
Liquid screen protector is a non-abrasive liquid film for your Apple Watch. As it's a liquid compound, it works best for filling out the micro gaps due to scratches. Although, you have to be careful about accidental spillage. If the liquid compound sips through the inside of your Apple Watch, it can damage the watch.
As the Apple warranty will not be applicable for damages due to bad-quality product usage, using the highest quality and recommended products is the best option for extending the lifetime of your Apple products.
Steps to use liquid screen protector to remove Apple Watch scratches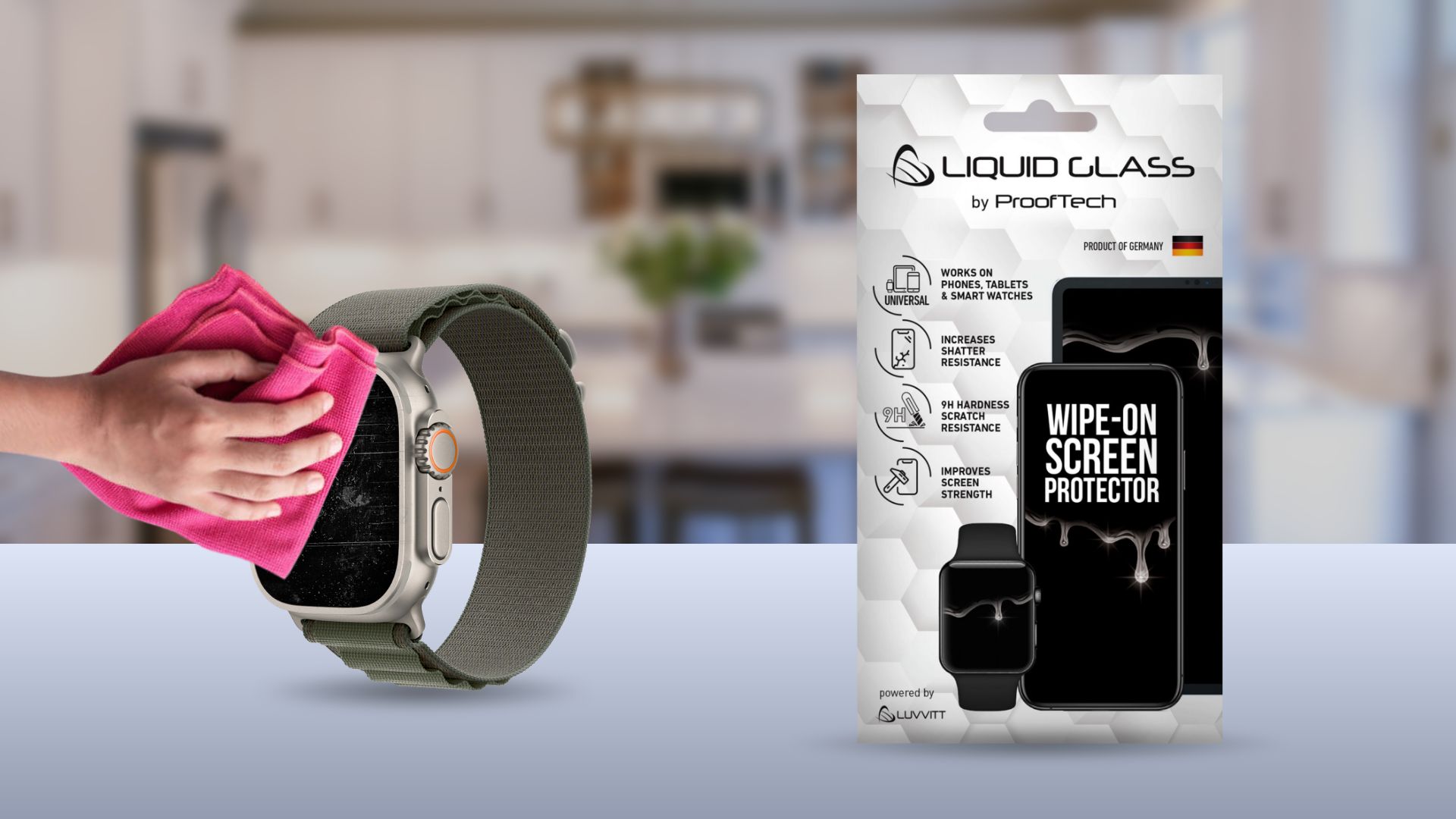 Step 1: Make sure your Apple Watch is turned off and cleaned carefully with the included microfiber cloth and cleaning wipe.
Step 2: Use masking or scotch tape to cover any openings or moving parts (e.g., the crown) for accidental spillage. Liquid screen protectors will harden over time, so accidental spillage may result in long-term damage.
Step 3: Apply the liquid screen protector in a circular motion. Ensure the whole surface and edges are covered thoroughly.
Step 4: Let the coating cure for at least 30 minutes or more. After curing, use a lint-free dry microfiber cloth to wipe any residue.
Step 5: Check the state of the scratch on the screen now. Based on the amount and level of scratch, you may need to apply this product more than once. So, repeat the process till you are satisfied with the result.
Method 2: Remove visible scratches or deeper scuffs from Apple Watch screen
If your Apple Watch has been used for a long time, chances are there are some visible scratch lines. Also, if you are a heavy user or athlete, the chances of deep scuffs are more. So, in this part, we will talk about how to buff out a scratch on Apple Watch.
Keep in mind that any sort of scratch on the Apple Watch is very hard to buff out. So, despite using the best methods and cleaning agents, you may not completely get rid of the scratch. But from our experience, we found out these are the best Apple Watch screen scratch removers to deal with deeper scratches.
PolyWatch Glass Polish
Rolite 3-Step Scratch Remover
PolyWatch is a high-performance diamond-based paste. It tries to fill out the micro gaps of a scratch in the surface. Additionally, it's a paste-like thick compound. So, the chances for accidental spillage or damage are very low. Therefore, you can safely use it to remove a scratch from the Apple Watch screen.
On the other hand, Rolite is the most heavy-duty and effective solution for scratch removal. Its multipurpose formula works on most devices with glass tops. Additionally, it has three types of agents for most of your needs.
But Rolite is a liquid compound, so you must be careful about accidental spillage. Therefore, you can use masking tape to cover up the openings or moving parts.
Steps on how to remove scratches from Apple Watch sport screen with PolyWatch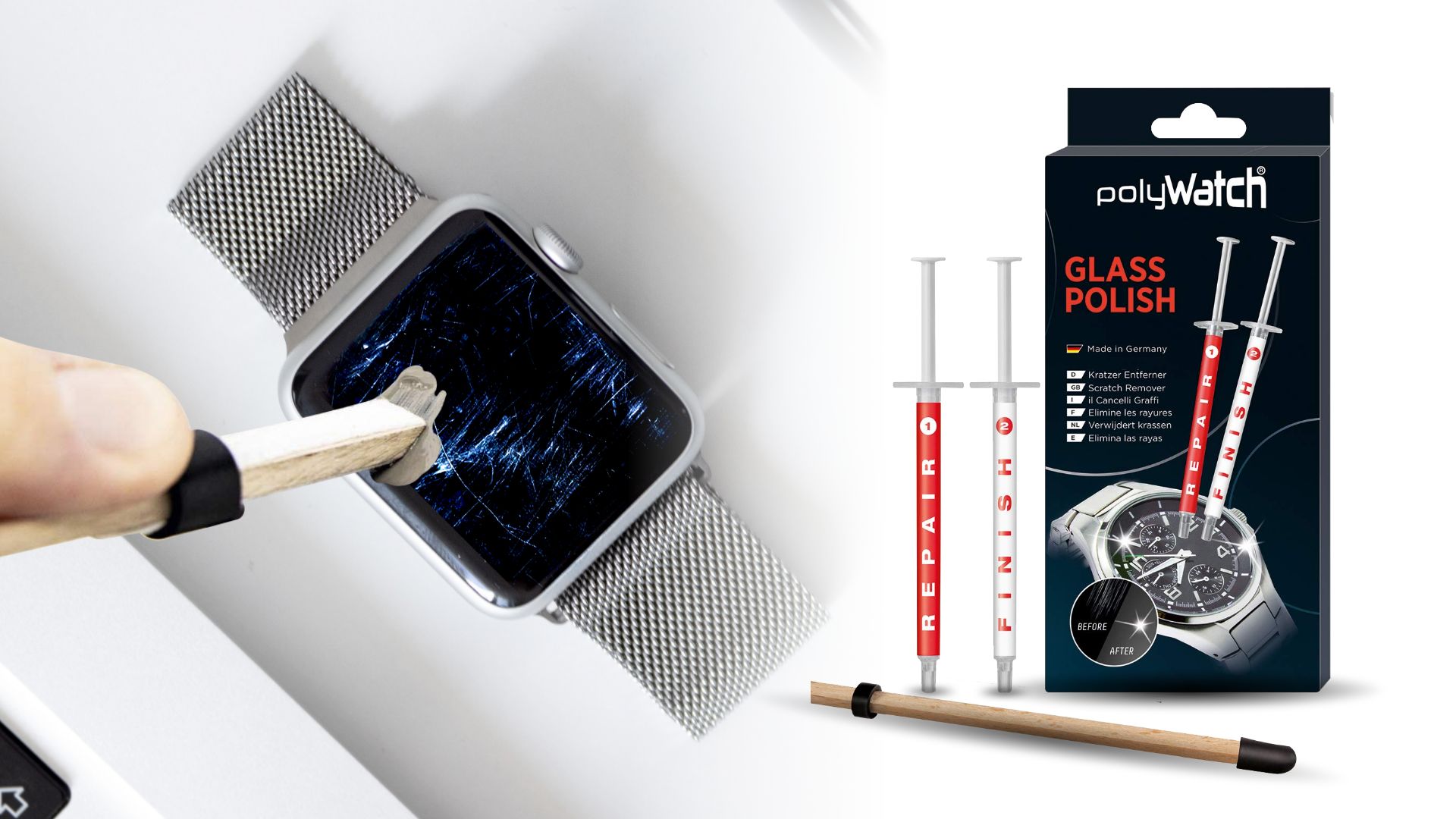 Step 1: Turn off and cover the holes and openings of your Apple Watch with masking tape for accidental spillage.
Step 2: Clean the surface with a microfiber cloth and ensure no lint or dust is present.
Check the PolyWatch Glass Polish on Amazon
Step 3: Unpack PolyWatch and use the syringe denoted as "Repair" on the scratched places. Use the rubbing stick given in the packet to polish. Until you are satisfied with the state of scratch, keep repeating this step.
Step 4: Use the syringe denoted as "Finish" and rub the agents out. After that, the scratches will be mostly gone or barely visible.
Steps on how to remove scratches from Apple Watch sport screen using Rolite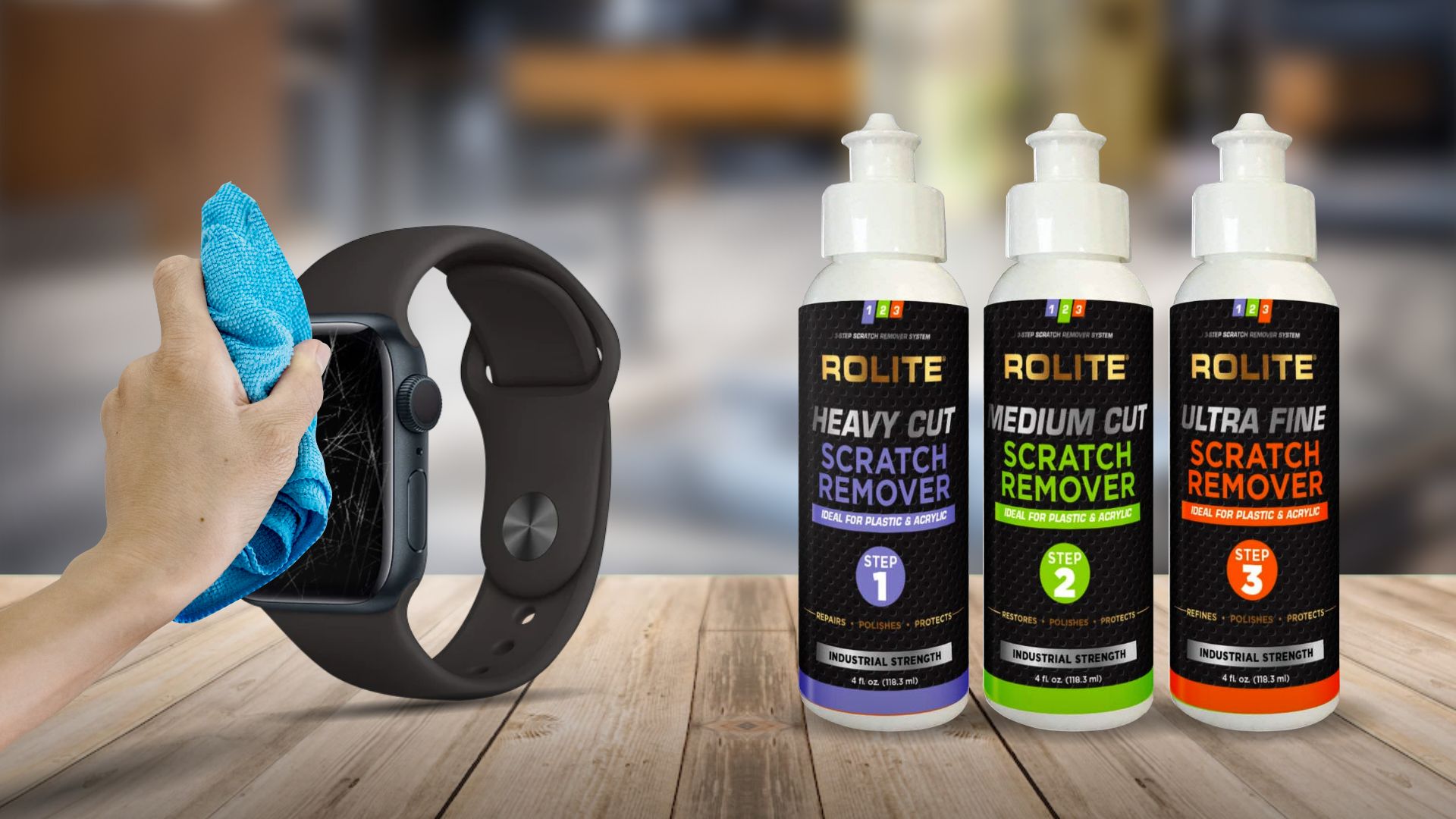 Step 1: Turn off and cover up any openings of the Apple Watch to prevent spillage. If the liquid solution sips into any watch opening, it may damage the Apple Watch.
Step 2: Clean the surface with iCloth and make sure it is completely dust free. Any residue or dust particles can reduce the effectiveness of the process significantly.
Step 3: Based on the level of scratch, use the heavy cut, medium cut, or ultra-fine denoted bottle. The Heavy cut solution is best for deeper grooves, and the Medium cut is for the basic scratch on the surface.
Step 4: After applying, use a foamed wool or microfiber cloth and rub it gently.
Step 5:  Finally, the Ultra fine solution is for the finishing touch. Use the "Ultra fine" denoted bottle and rub it off gently for the best result. Make sure to rub quickly after applying, and don't let it dry on the screen.
Method 03: Prevent scratches on Apple Watch face
If you are an Apple Watch user concerned about a scratch or noticing some minor scratching already, this section is for you. Keep in mind that once your Apple Watch is scratched, there's very little to get the scratches out of Apple Watch. But you can surely hide it by following some simple steps.
For the best solution for your Apple Watch scratch removal, you can use a thin TPU screen protector film or casing. TPU screen protector is a soft silicone cover case for Apple Watch. The case is very lightweight and doesn't create any discomfort in hand. Therefore, it's a good option for keeping your Apple Watch safe from scratches or hiding small minor scuffs.
Steps to prevent scratches from Apple Watch sport screen with a TPU screen protector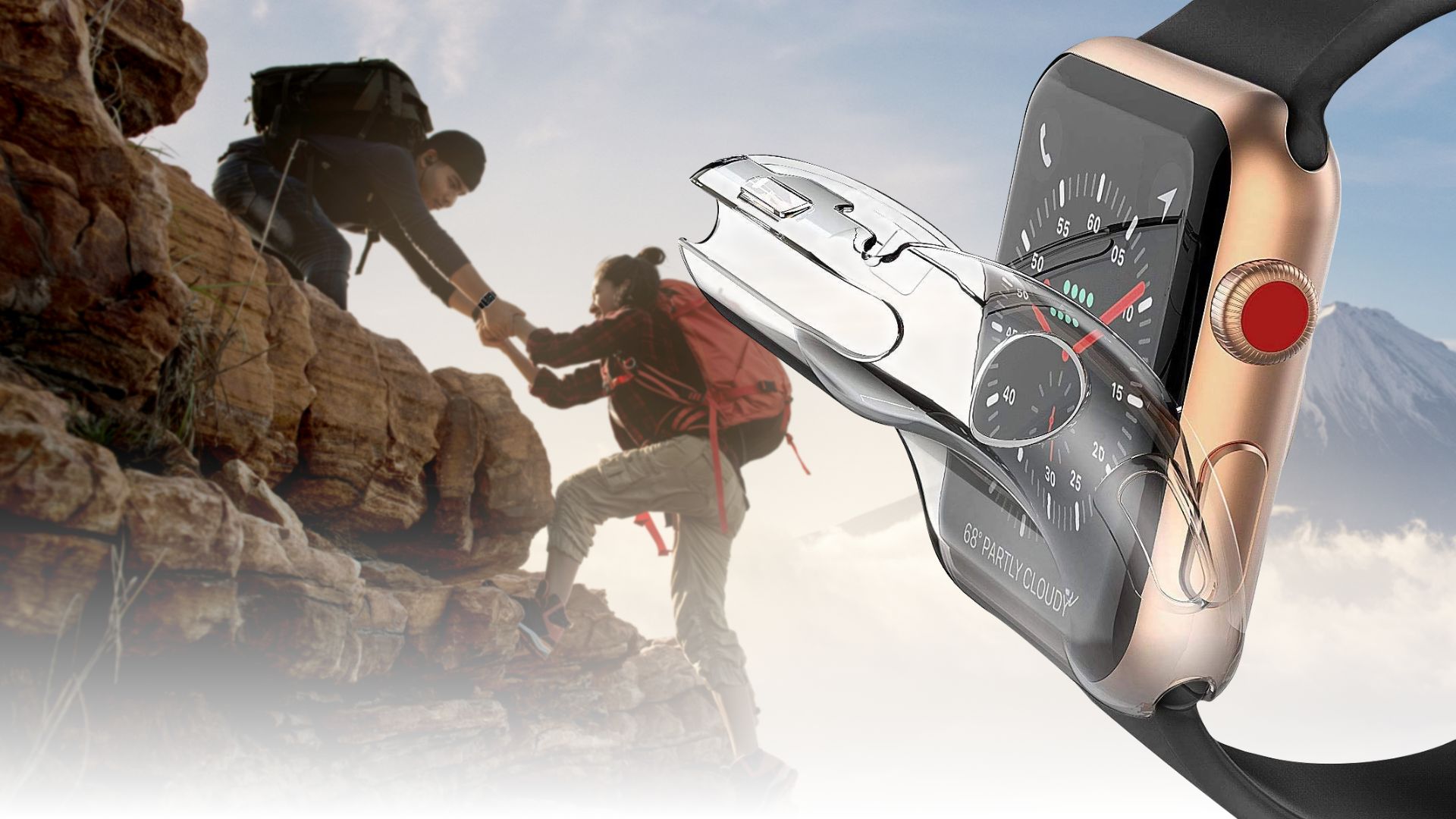 First, turn off your Apple Watch and detach the wristband from it.
Then, clear the surface with a clean microfiber cloth.
After that, unpack the TPU screen protector and gently put your Apple Watch in it.
Finally, put your watch straps back on. Most of the minor scratches will be hidden or barely visible.
Closure
Here we have discussed all the best ways how to remove scratches from Apple Watch sport screen. If this was helpful, explore our other findings on cleaning white Apple Watch bands or some of the best waterproof Apple Watch cases for your convenience.