Category:
How to Unblur a Video on iPhone – Best 3 Easy Ways
We independently research, test, review, and recommend the best products. As an Amazon Associate we earn from qualifying purchases.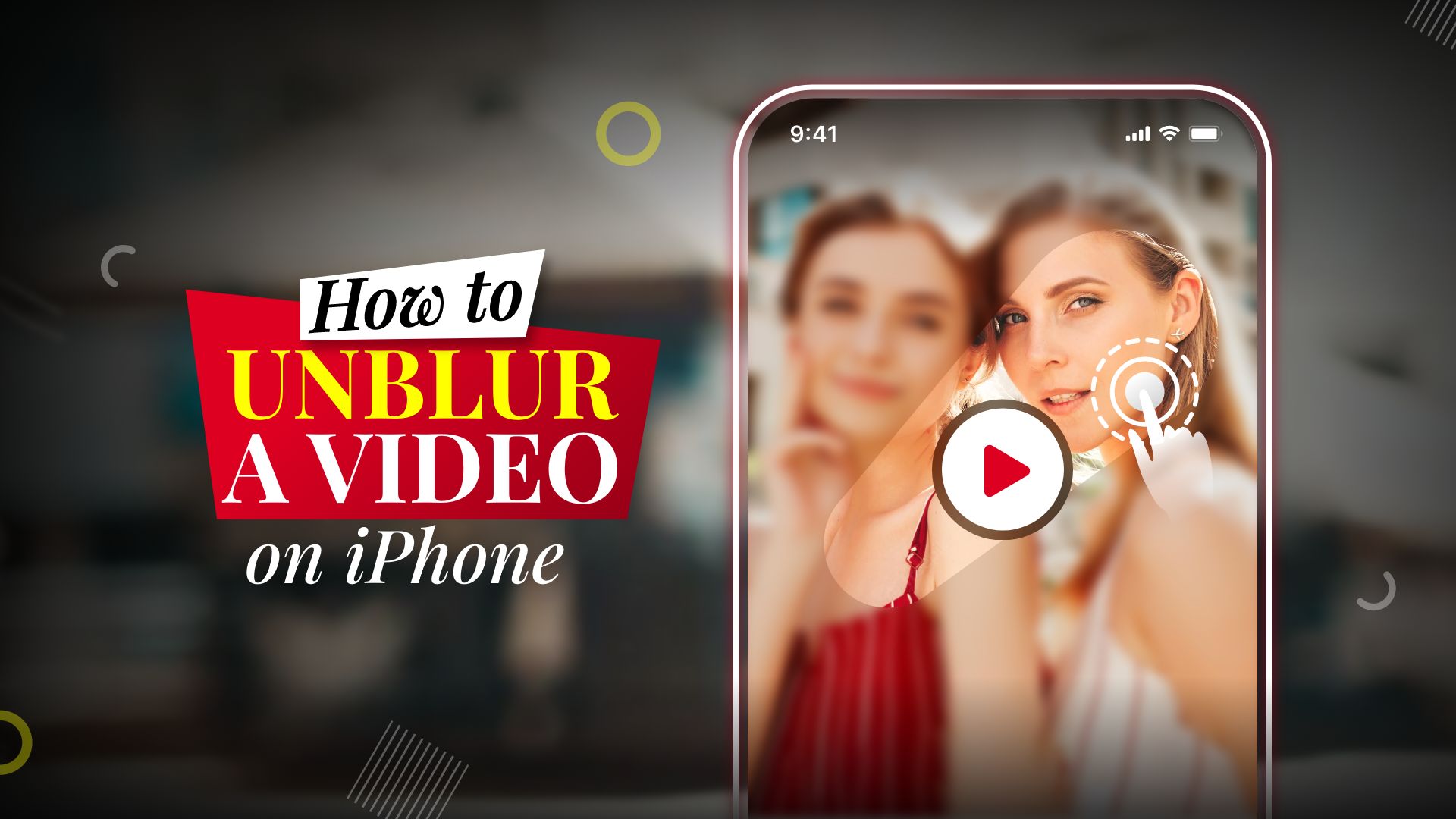 Let's begin
The most recent iPhone models feature advanced camera systems. They are capable of shooting high-quality photographs. Apple has also focused a lot of emphasis on its video algorithm. The video quality of iPhone devices is undoubtedly industry-leading. So, how does a device that has received recognition for its camera technology produce a blurry video? There might be various explanations for this. This blog post will explain why this happens and show you how to unblur a video on iPhone. In the end, you will know about different methods of fixing blur on your videos.
How to unblur a video on iPhone using the Photos app
The iPhone devices are powerful, yet they fall short of advanced editing applications to fix blurry videos. You can tweak settings on the Photos app to improve blur on a video depending on the intensity of the blur. The end product may or may not meet your expectations. However, you should utilize a PC/Mac application for the best results. Below you will find the instruction to use the Photos app to fix blur on your iPhone.
Steps on how to unblur a video on iPhone by the native Photos app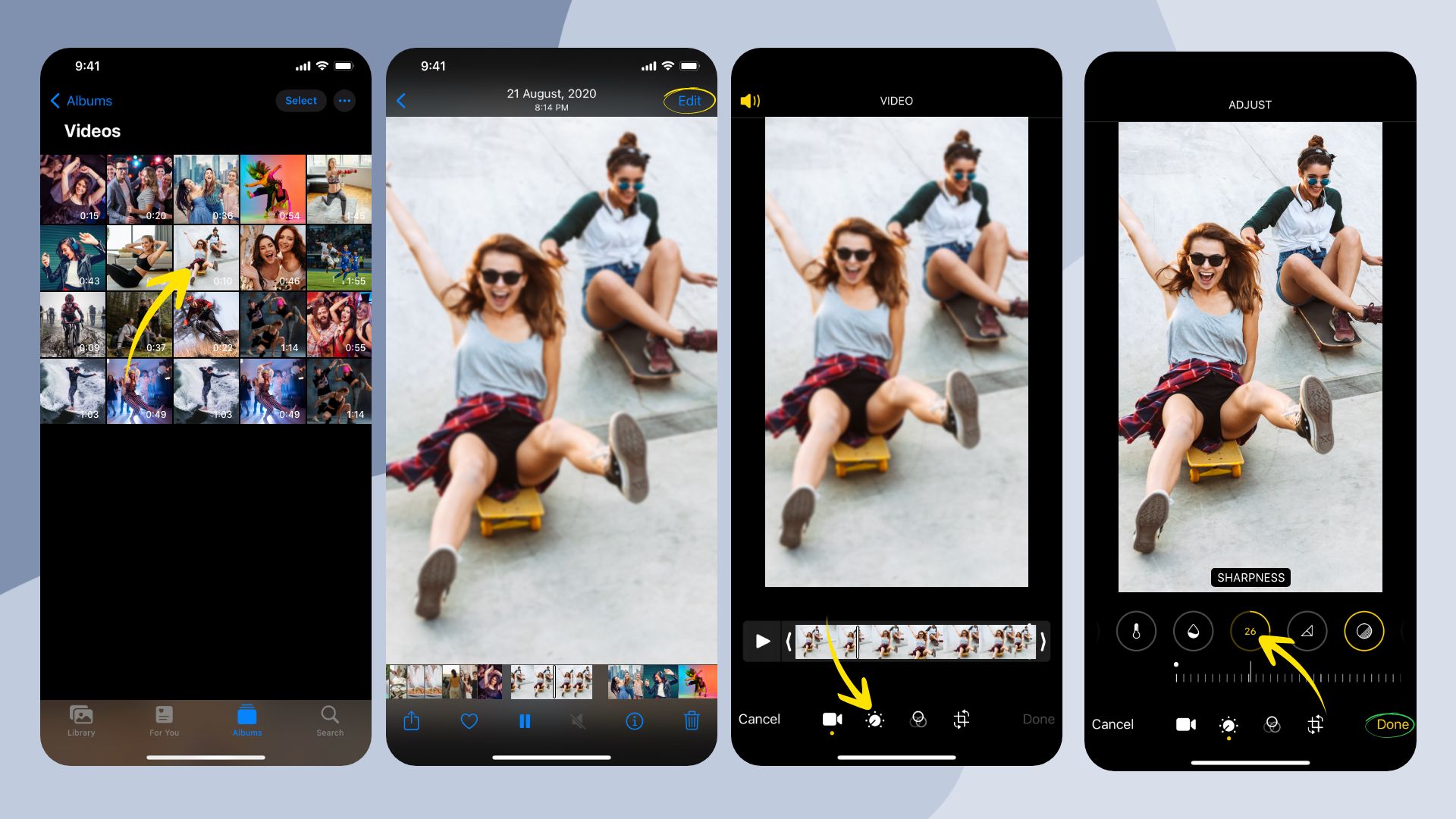 First, open the default Photos app on your iPhone and select the blurry video you want to fix.
Next, tap on "Edit.
Select the "ADJUST" tool at the bottom.
Now select "SHARPNESS" and use the slider to increase the value until the blur level decrease significantly.
Finally, tap on "Done" and wait until the video processing is complete. (it may take some time)
How to unblur a video on iPhone using advanced applications
If the native Photos app cannot unblur the video correctly, you may then rely on a third-party app. Otherwise, you can take the long road of using a desktop application to fix your video. Adobe Premiere Rush, an excellent third-party app for iPhone, can be your safest bet. It is maybe one of the best powerful video editing apps for the iPhone on the market. It can even compete with a desktop application in some areas. Although it can't entirely remove blur from any video, this app has an advanced algorithm to fix the sharpness of a video. Let's find out below how to use the app to unblur a video on your iPhone.
Step by step guide on how to unblur a video on iPhone using Adobe Premiere Rush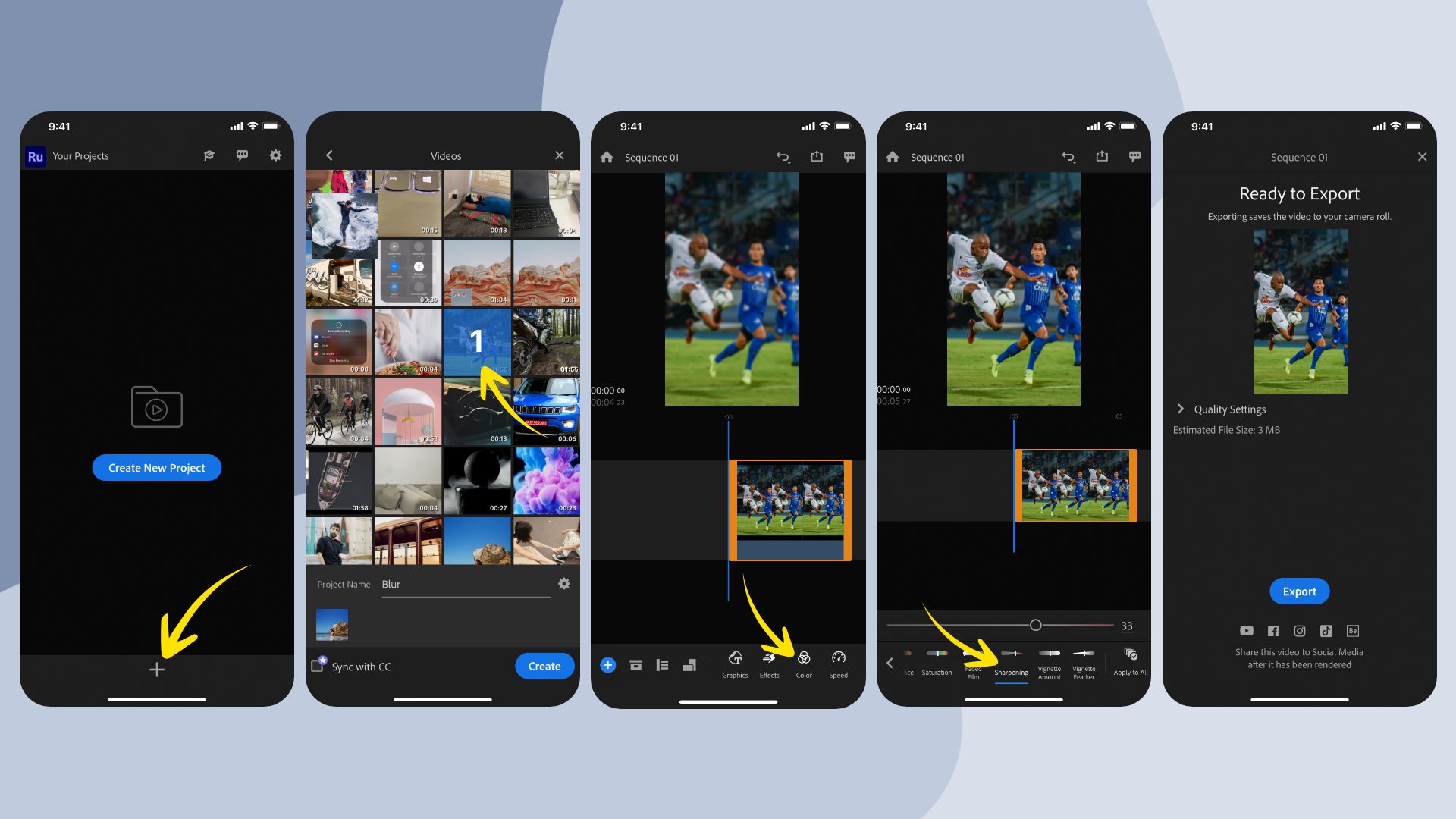 Download and install Adobe Premiere Rush on your iPhone from the App Store.
Run the application on your device and tap on the plus icon at the bottom of your screen.
Select Add Media, then Videos, and finally choose the blurry video.
Now, type a name for your project and tap on the "Create" button.
In the editing menu, select the Color tool to bring up additional tools on your screen.
You can now select the "Sharpening" tool and increase the value to lower the blurriness of your video.
After you are satisfied with the result, tap on the "Export" icon at the top.
Then, tap on the "Quality Settings" and select the highest quality preset with "Match Framerate."
Finally, tap on the "Export" button to complete editing and save the video on your Camera Roll.
How to use an advanced desktop application to unblur a video on iPhone
Sometimes the level of blur can be too much for an iPhone to handle. In those situations, you may want to rely on a desktop application. One such application developed by Apple is called iMovie. It has a mobile version, but the desktop version you need for advanced editing. Fixing blur on a video on an iPhone is easy with iMovie. However, the application is currently only available for Mac. Follow the instruction below to understand how the app works to unblur videos on iPhone.
Also Read: How to Crop a Video on iPhone
Steps on how to use iMovie to unblur a video on iPhone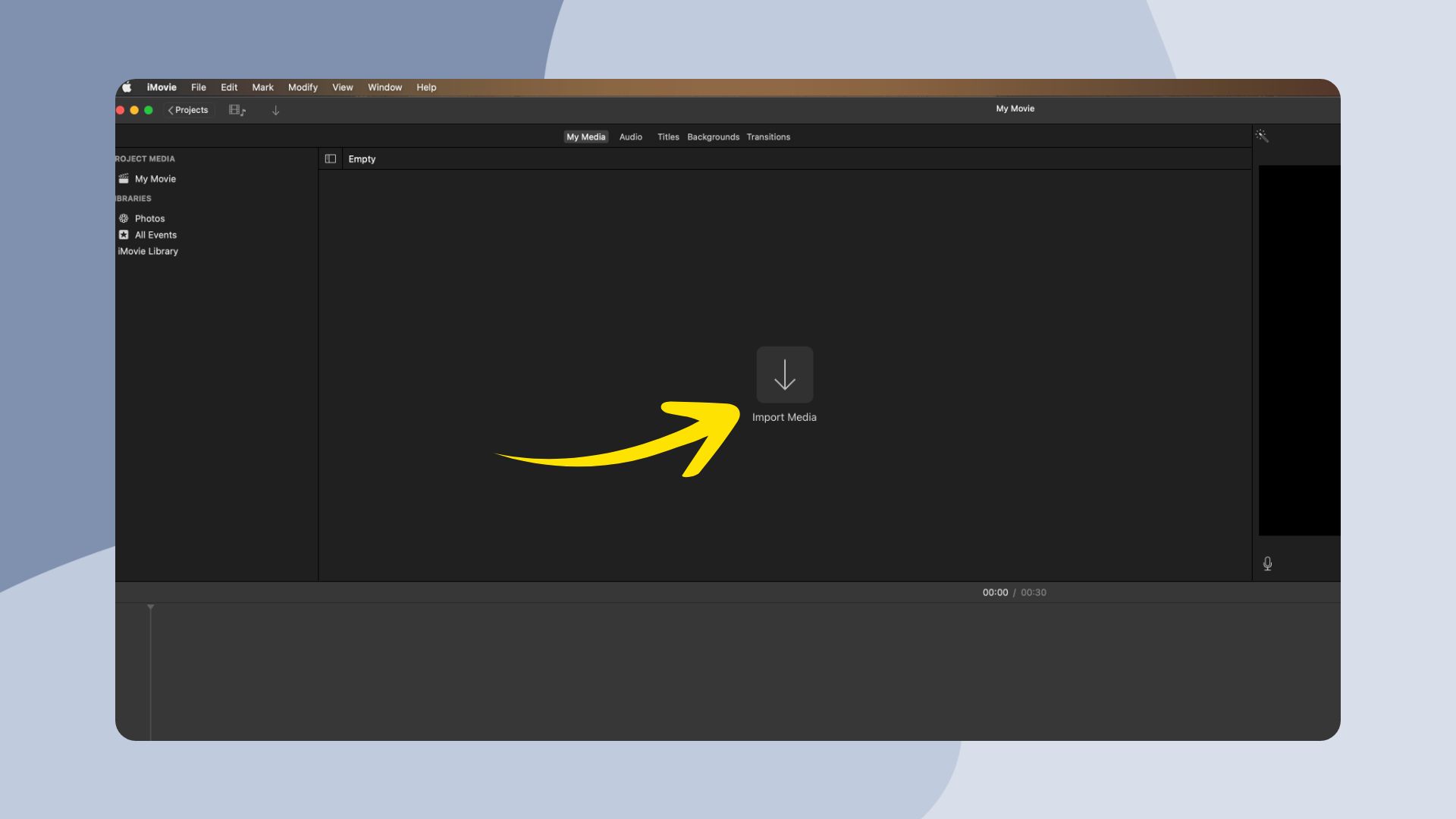 Connect your iPhone to a Mac and import the video to iMovie.
Now, click on video footage.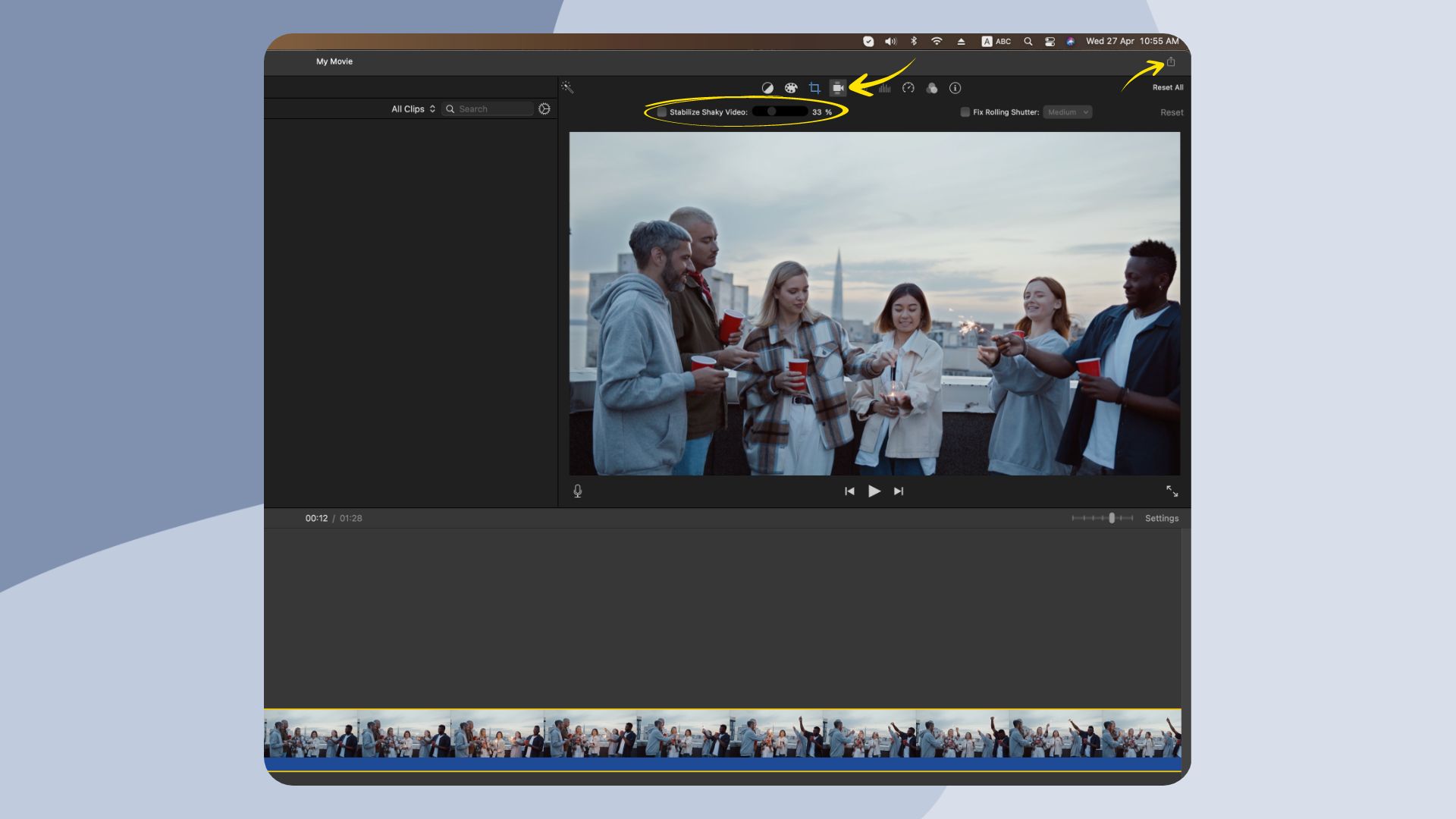 Afterward, click on Shaky Video, then Stabilization, and finally click Fix Rolling Shutter.
The application will then fix your video, and a checkmark will appear on the "Fix Rolling Shutter."
Finally, you can check the video and save it to import back to your iPhone.
Conclusion
Blurry iPhone videos might ruin an otherwise wonderful moment taken with your device. However, you have now learned how to unblur a video on your iPhone using various apps. These apps range from basic native apps to sophisticated Mac applications. The way to fix blurry videos exists, and we trust this post has appropriately provided you with the solutions.
If you would like unblur a photo on your iPhone, you can check out the detail guide on – How to Unblur an Image on iPhone.