Category:
How to Change Songs on AirPods Pro
We independently research, test, review, and recommend the best products. As an Amazon Associate we earn from qualifying purchases.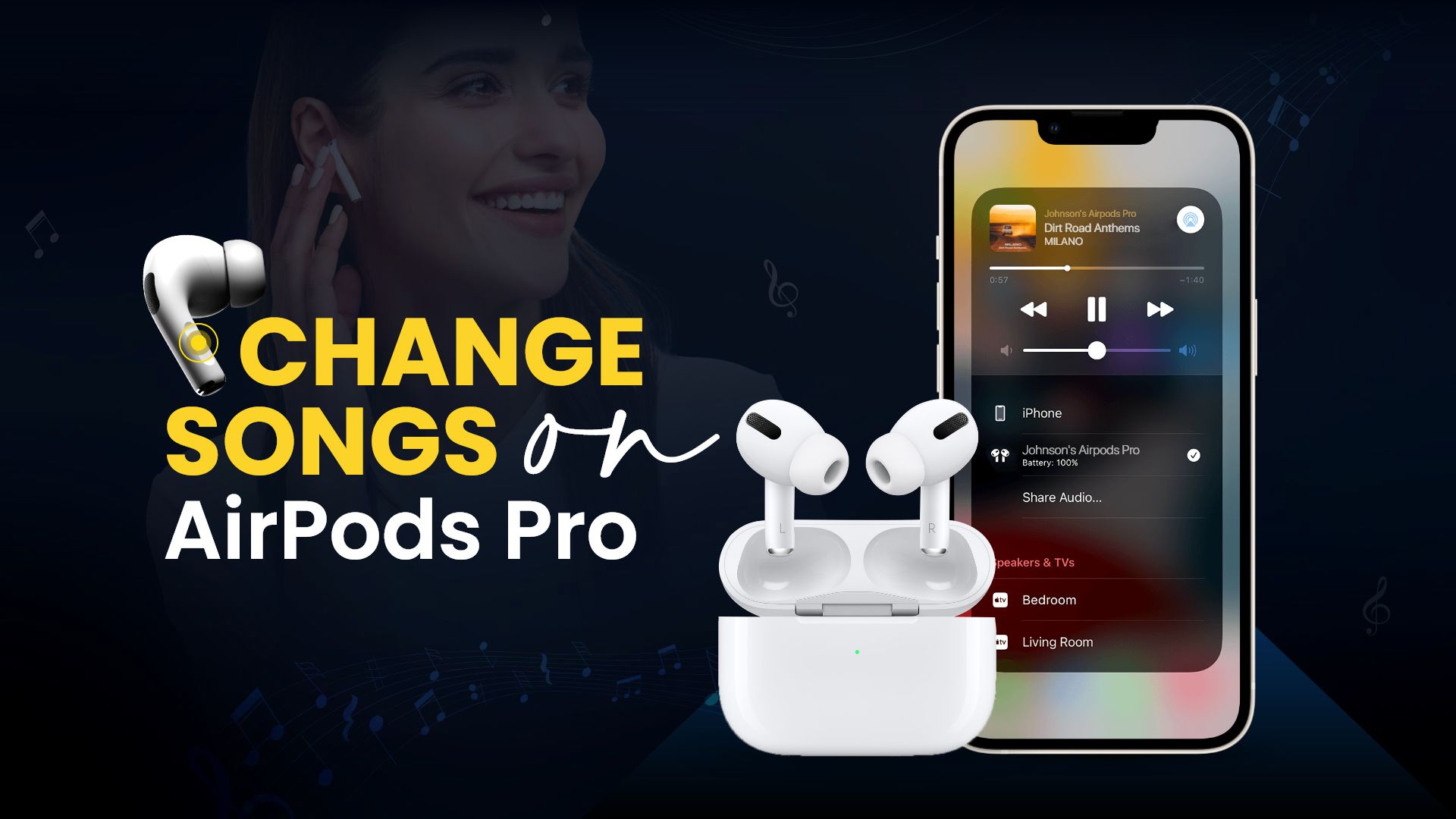 Get your hands on the guideline for the query about how to change songs on AirPods Pro. Know how to change song on AirPods Pro and get bonus tips like AirPod pro skip song and AirPods volume control function.
If you have AirPods Pro, you will be surprised to know the various functions these earbuds offer in their tiny form factor. One of the promising functions is changing songs on AirPods Pro. We will give you a clear view of how to change songs on AirPods Pro. In other words, this article will be a useful walkthrough guide on how to skip songs on AirPods Pro or on other AirPods versions.
How to Change Songs on AirPods Pro
Unlike other third-party wireless earbuds, AirPods Pro has a distinct pressure sensor. This sensor in each AirPod is programmed ingeniously to perform multiple sound controlling tasks. Below included a step-by-step method of how to change songs on AirPods Pro.
Quick steps of how to switch songs on AirPods Pro
Pair your AirPods Pro with your iPhone. Don't know how to pair them? A simple guide on how to connect AirPods Pro to iPhone can be found later on in this content.
When listening to music with your AirPods, play the next audio track by pressing the pressure sensor twice on your AirPod stem.
When you quickly press the force sensor three times, it skips the current audio track and plays the previous track on the album.
Are you still using the AirPods Pro (1st Generation)? You can now upgrade to the latest AirPods Pro (2nd Generation). Check it out on Amazon. 
Note that this is the default setting for changing songs on Airpods Pro. However, if it's not working with your AirPods, you should preferably reconfigure it using your iPhone or iPad settings. To do this, you have to follow the steps mentioned below:
Go to the Settings of your iPhone or iPad
Locate and tap the Bluetooth function
You will find your AirPods Pro under the Devices list. Tap the 'i' icon next to it.
Implement dedicated Audio functions for each of your earbuds. Under Press and Hold AIRPODS banner, select Noise Control for each left or right earbuds. You can also set the Siri command settings instead of pressing action from the AirPods Pro settings window.
How to control volume on AirPods Pro
By now, you should be clear with the query of how to change songs on AirPods Pro. Now let's move on. In this portion of the article, we will explore the process of controlling volume on AirPods Pro. Whether to tweak between high and low volume or enjoy noise cancellation and noise transparency, dedicated click functions are programmed on your AirPods Pro. This is how you can control the volume on your Apple earbuds:
Noise cancellation and transparency setup on your AirPods Pro
Go to the Settings option from your iPhone or iPad followed by Bluetooth
Tap the 'i' icon next to the AirPods listed under the Devices list
You will get Press and Hold AIRPODS. Under this banner, you can select left, right, or both earbuds
Choose earbuds individually to add noise control functions. You can add Noise cancellation or transparency functionality.
Volume tune-up functions of AirPods Pro
While playing music using AirPods Pro, tap-hold the pressure sensor and Activate Siri
Clearly say "Hei Siri" and then "Turn down the volume."
You can enjoy more precise volume control. Simply say "Hei Siri" followed by, for example, "Turn the volume to 40%."
How to control the volume on AirPods Pro without Siri
Now, it is possible if you are in a state where Siri's voice feels annoying, and you want to control your music without Siri. You need your iPhone, iPod, or iPad for this to happen.
Using iPhone
Drag down the drawer from the top right corner to launch the Control Center for iPhone x and newer models. For older models of iPhone, swipe up from the bottom of the screen
Swipe the audio bar up or down to control the volume of your AirPods pro connected with this iPhone.
If the device screen is locked, slide the volume bar left or right from the music notification that appears on the screen.
Using Apple Watch
If you got the Apple Watch connected, you would see a Now Playing icon at the top when playing music on AirPods Pro.
Tap on that icon, and the music screen appears. Here you will see a volume icon at the right of that window.
Roll the crown of your Apple watch, and a green volume meter appears, which you can tune up or down.
How to control music on Apple Watch
Wondering how to change songs on AirPods Pro using just your Apple Watch? The steps are simple, and you don't need to pick up your iPhone every time for this job. When connected with the iPhone, the following steps will be sufficient:
Press the Digital Crown at the side of your Apple Watch
Tap the Music app from the menu
Select On Phone and choose any category of your preference to listen to music that is available on your iPhone library
Tap to play the audio track you want to listen to from the playlist
You will get Play, pause, skip forward, backward, and volume control functions on the audio player interface