Category:
How to Charge a Solar Power Bank
We independently research, test, review, and recommend the best products. As an Amazon Associate we earn from qualifying purchases.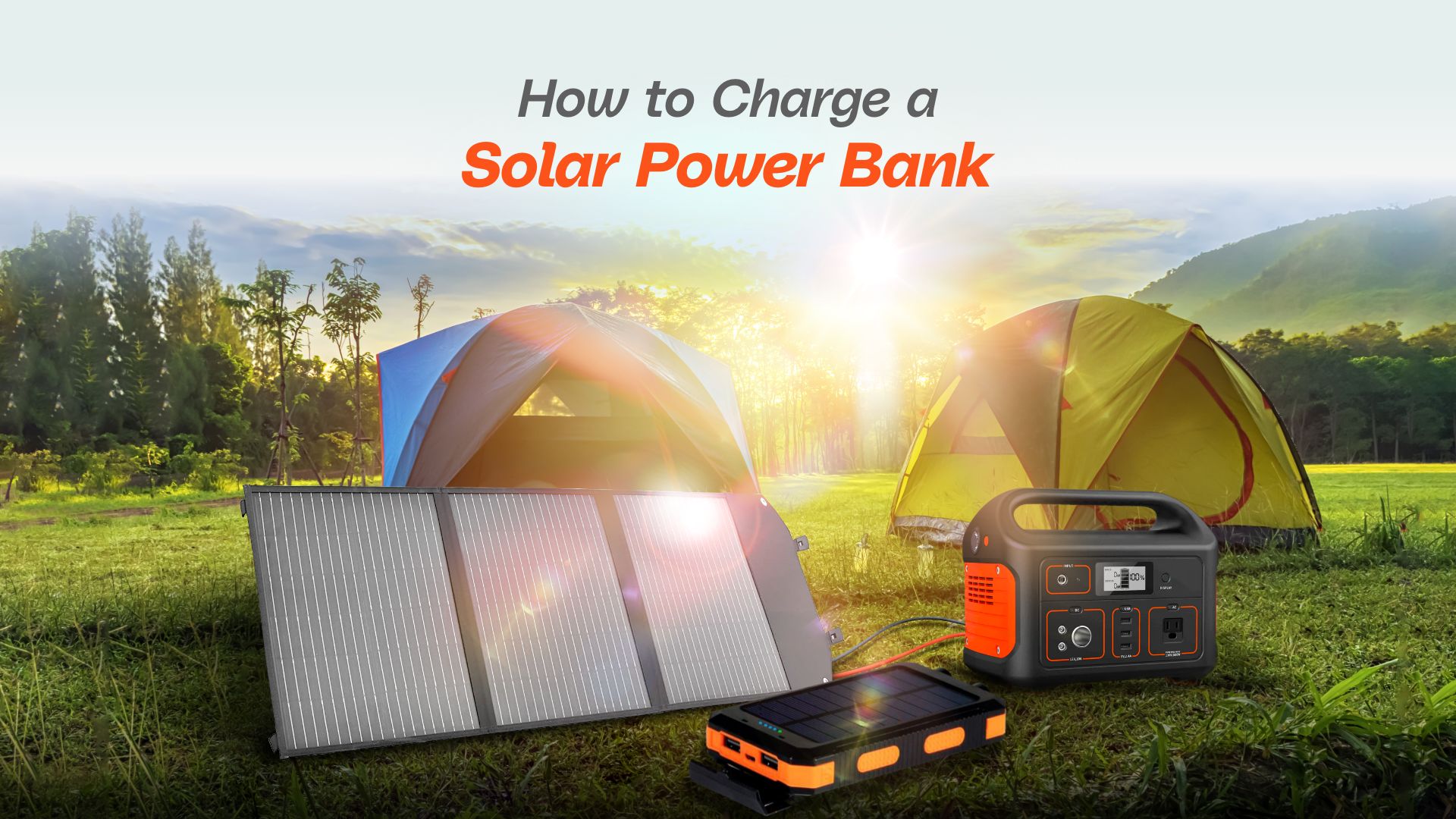 A solar power bank can save your day if you are on a hiking trip or in a remote location where electricity is scarce. But to keep your devices running, the power bank itself has to be charged from time to time. Therefore, here we will explore how to charge a solar power bank regardless of the situation.
How to charge a solar power bank | Best 3 ways
If you have a solar power bank, whether it is a small form factor power bank or a portable powerhouse, charging it up can become a hefty task. Thankfully, most solar power banks come with a built-in solar panel to charge it. Alongside, you can also use direct charging with power adapters, external solar panels, or alternative power sources. Here we will provide some in-depth instructions about charging a solar power bank in any situation.
If you live in some place where direct sunlight is not very available or in cloudy season, charging your power bank through a wall outlet will be your best choice. By using some of the best charging stations or high-wattage power adapters, you can easily charge a solar power bank without sunlight.
How to charge a solar power bank in the sun
Solar power banks come with pre-installed mini solar panel units. So charging them up is easy if you are in a sunny place. Due to the panels' usual size factor, it may take longer to charge compared to wall power adapters or external solar panels. But in most cases, the built-in panels work perfectly when placed under direct sunlight.
Also read: Best Solar Power Banks for iPhone
Steps to charge a solar power bank in the sun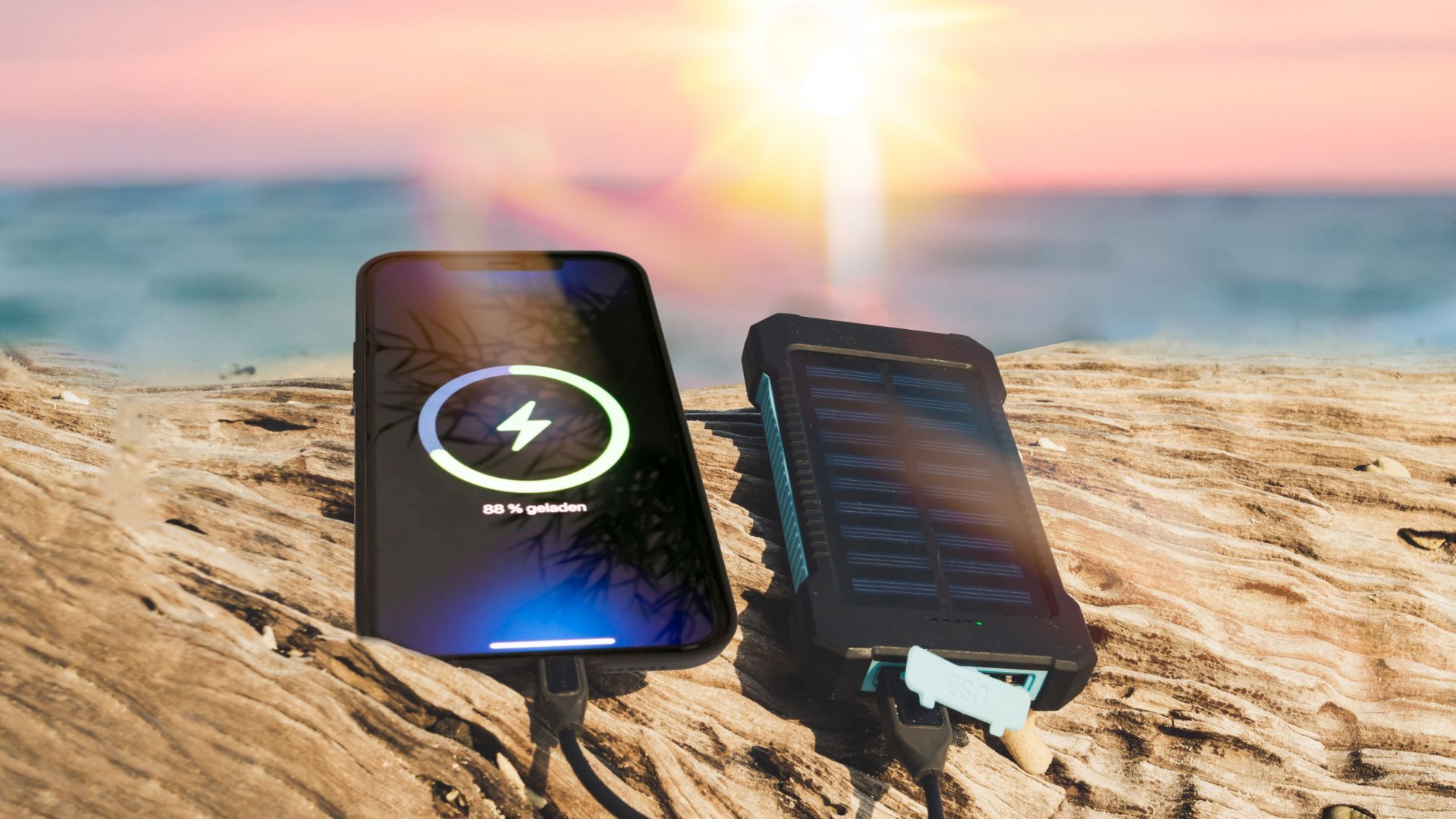 Firstly, disconnect the power bank from any charging devices.
Next, uncover the solar panel of the power bank if it comes with any cover.
Then, place the unit under direct sunlight and make sure the charging indicator lights up.
Finally, keep the device temperature in check and remove it from sunlight after fully charged.
Charging a solar power bank with portable solar panels
It's easy to carry around portable solar panels, and you can quickly set them up. Due to high-efficiency monocrystalline technology, some of these panels are flexible too. So, uneven surfaces like yachts, car roofs, or difficult terrain areas in hiking tracks or camps won't be an issue. In essence, using portable solar panels allows you to charge your solar power banks more quickly than the built-in panel.
Also, when you are tracking, hiking, or on the move, you can easily charge your solar power bank with your backpack too. For that, you can pick from some of the best backpacking chargers that come with a built-in powerful solar panel. By connecting your solar power banks with the output ports, you can seamlessly charge up your power banks and stay on the move.
Steps to use external portable solar panels to charge a solar power bank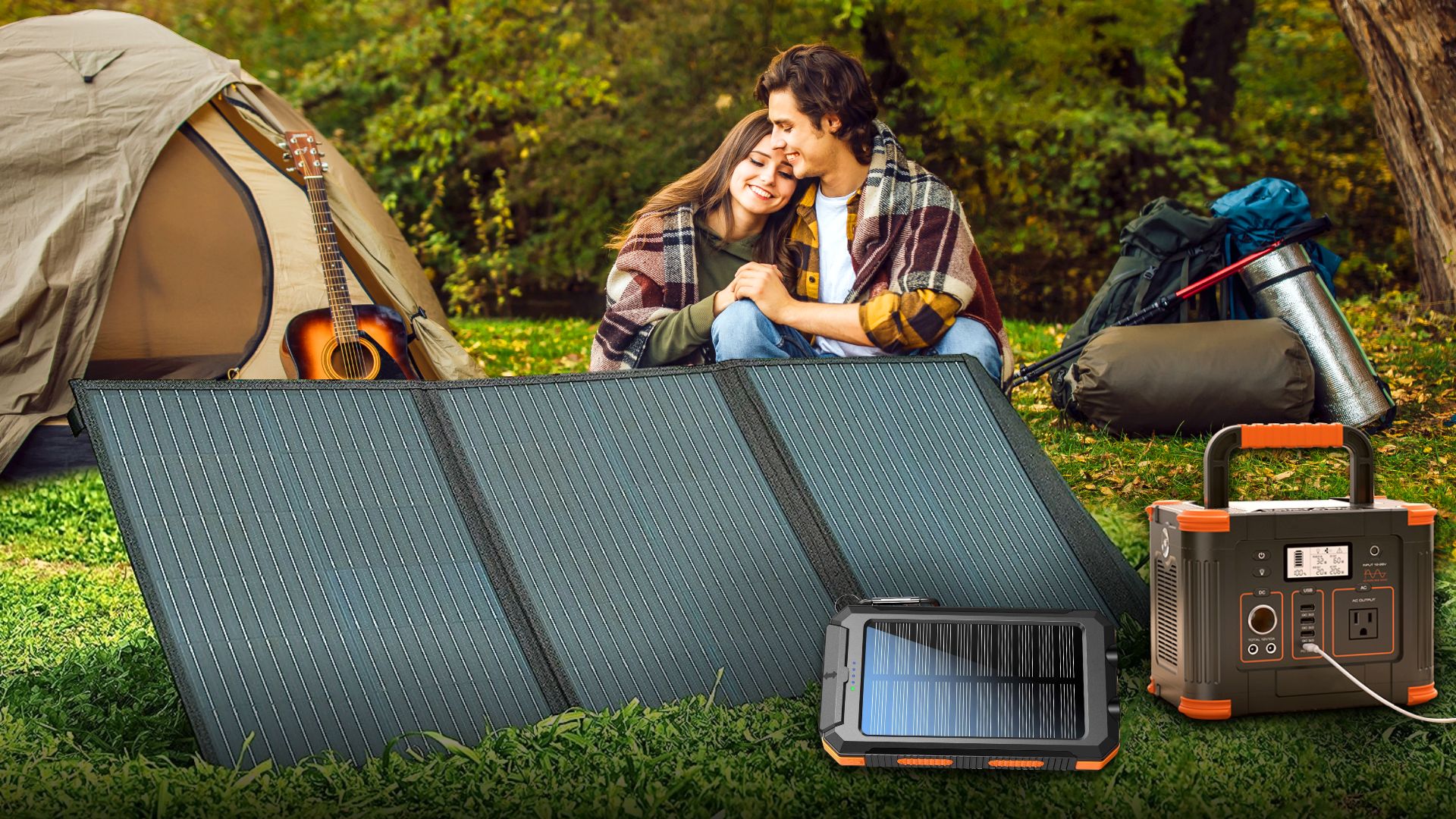 Unfold the solar panel and place it in a sunny place under direct sunlight.
Next, connect the power bank to the power terminal from the solar panel.
Then, place the power bank under a shaded place to avoid heating up from sunlight.
Finally, check the power bank charging state after some time. Unplug the panel when fully charged.
Note: Due to sunlight, power banks can heat up quickly. Let the power bank cool down for some time before charging it up.
Best portable solar panels
Keshoyal Foldable Solar Panel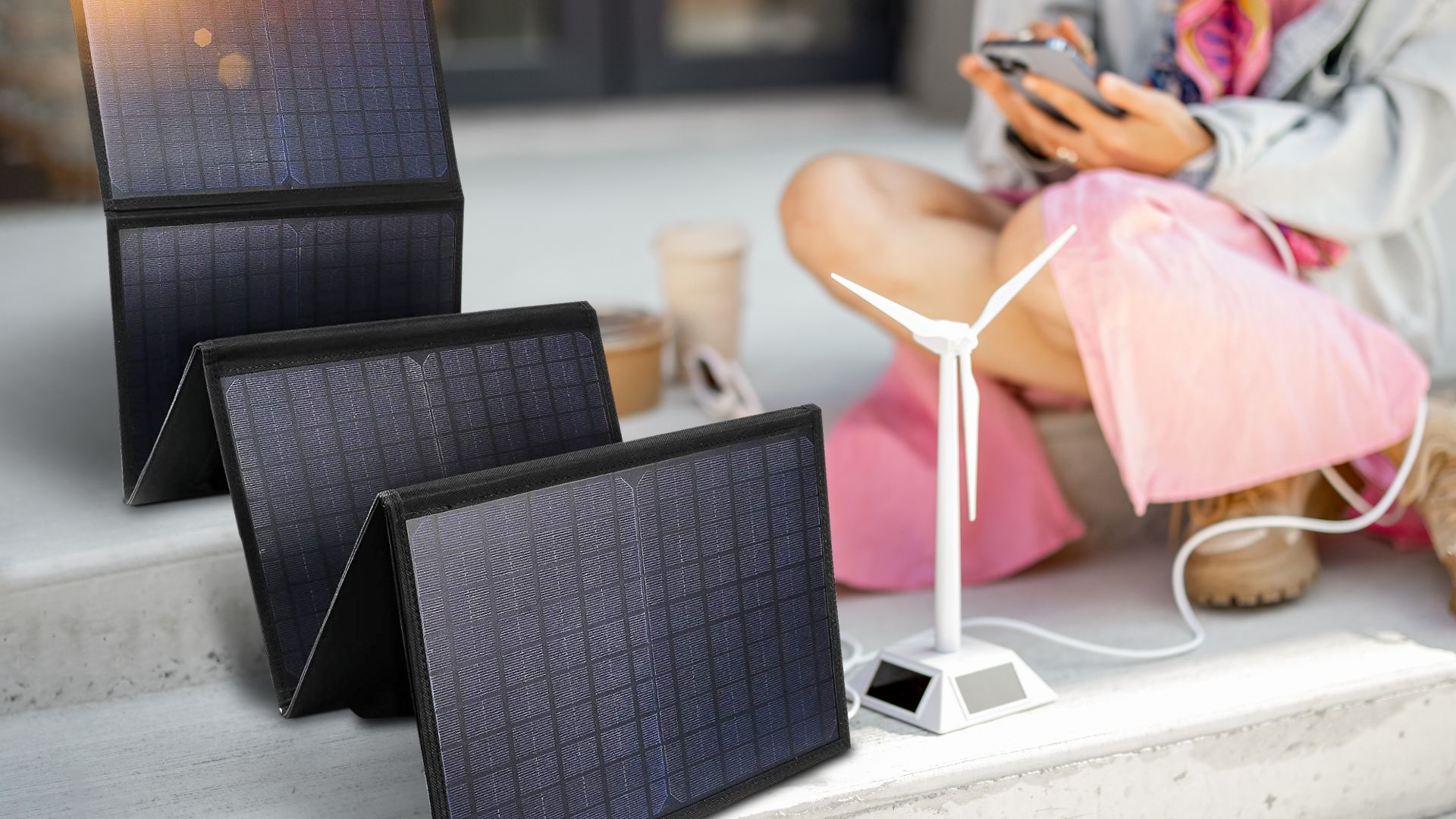 Peak power: 60W
Weight: 4 lbs
Pros
High energy conversion efficiency (Up to 23.5%)
Easy to carry around
High current protection system
Built with corrosion and temperature resistive material
Cons
JJN Portable Foldable Solar Panel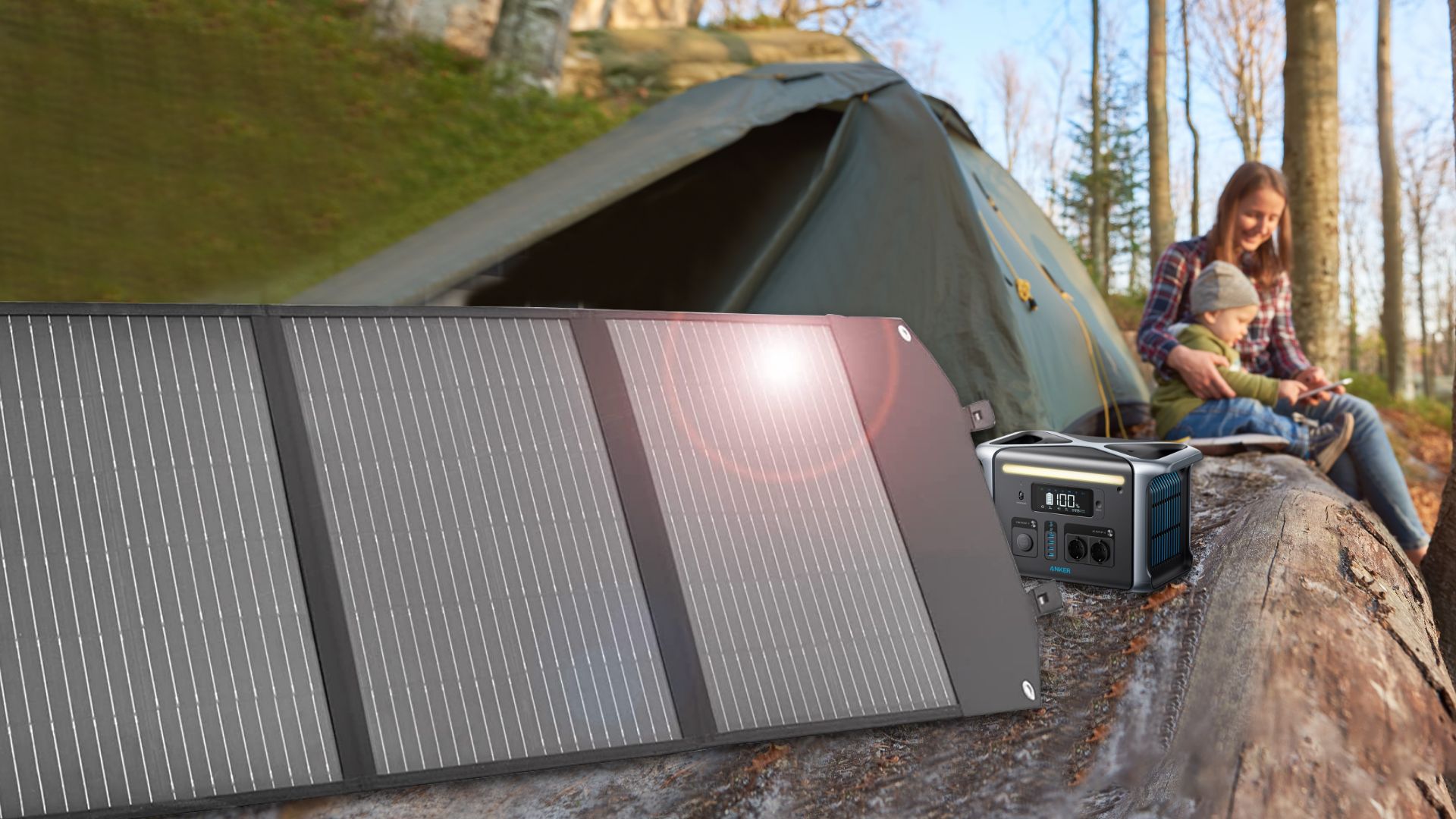 Peak power: 100W
Weight: 8.8 lbs
Pros
USB A and Type-C ports for direct solar smart charging
IP65 water resistant
Multiple DC ports for connecting a wide variety of devices
Parallel cable connection for multi-unit operation
Cons
Requires direct and heavy sunlight
BigBlue Solar Panel Charger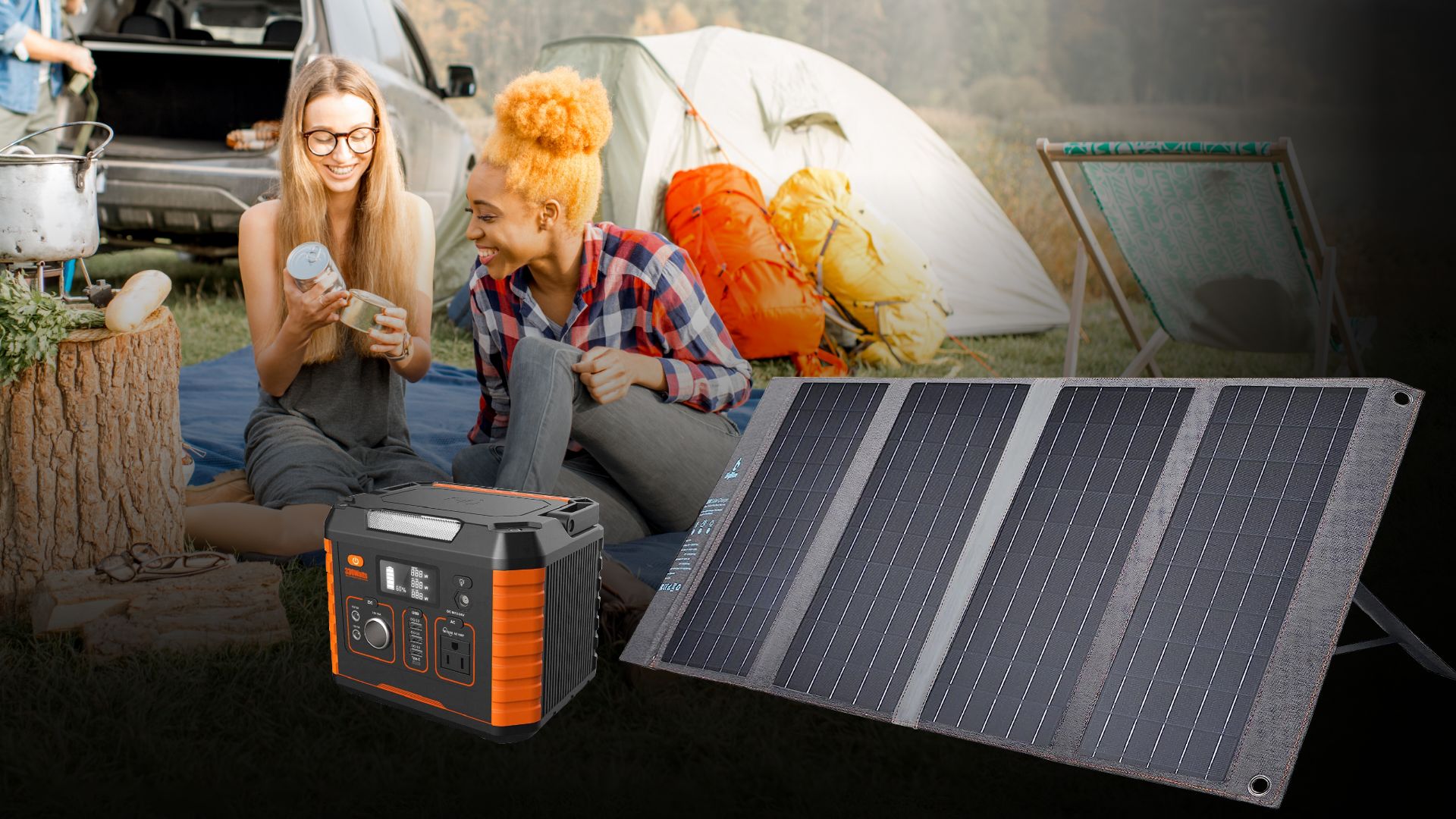 Peak power: 36W
Weight: 3.64 lbs
Pros
Very lightweight
Optimized circuit and current flow protection system
Charge multiple devices at once
A variety of ports and charging cables included
Cons
Low power output compared to others
Renogy Solar Panel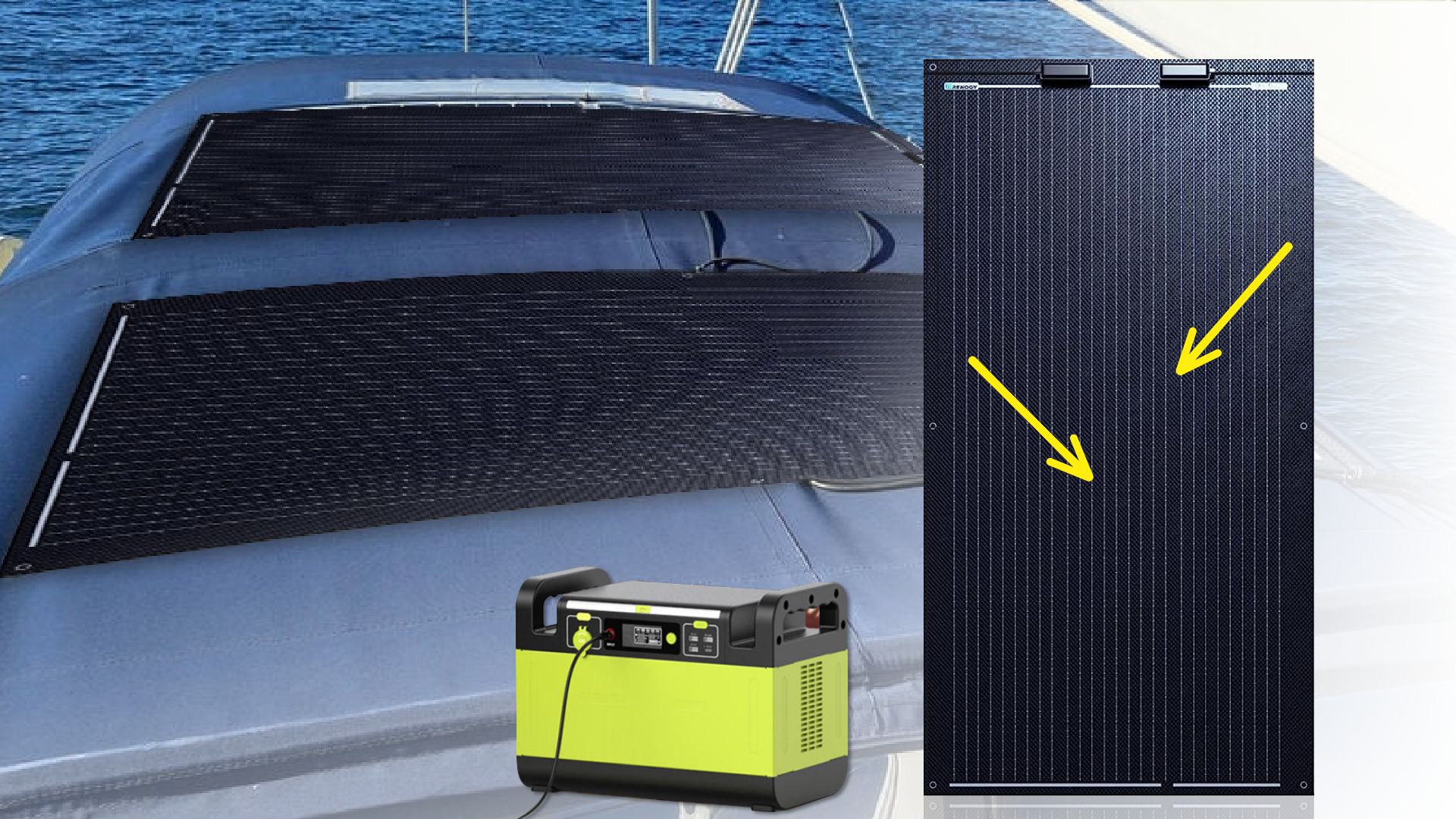 Peak power: 100W
Weight: 5.3 lbs
Pros
Flexible and easier to place on any surface
Bendable up to 240 degrees
PERC technology for high efficiency
Extreme weather endurance
Cons
HQST Flexible Monocrystalline Solar Panel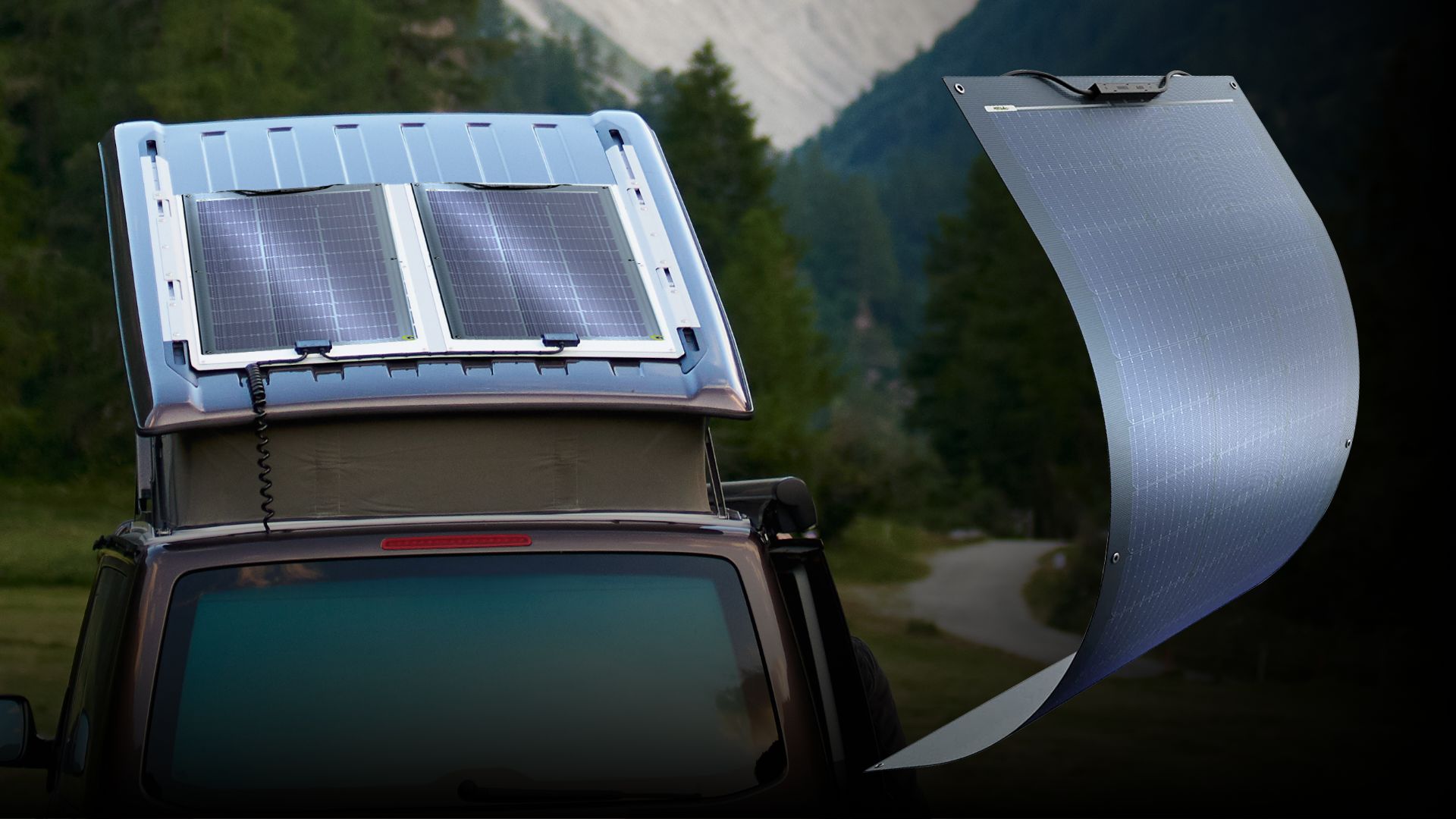 Peak power: 100W
Weight: 5.3 lbs
Pros
9 Bus bar solar cells
Pre-drilled mounting holes for convenient placement
IP67-rated water and dustproof
Ultra-thin and flexible
Cons
Power output efficiency could be better
How to charge a solar power bank with an alternate power source
If you are going camping or hiking where setting up solar panels will be difficult, you can use some alternative power sources. For places where sunlight is obstructed by heavy clouds or foliage deep inside a forest, it will be difficult to charge a power bank. Also, during blizzards or in winter, sunlight becomes very low. To deal with power outages in such cases, you can utilize air, water, or heat to charge up your solar power bank.
For instance, if you need to charge heavy power banks like Anker PowerHouse 757, you can use a 500W water turbine generator if there is a running water source near your campsite. By putting it in a flowing water bank, it will generate adequate power to charge your devices. Also, you can use the BioLite CampStove, which uses fire as an energy source to charge up a power bank. It comes with a specific compartment to burn and generate power. Therefore, it acts as a stove and power bank charging station at a time.
Best alternative power sources
SABUIDDS Water Turbine Generator (Water-based)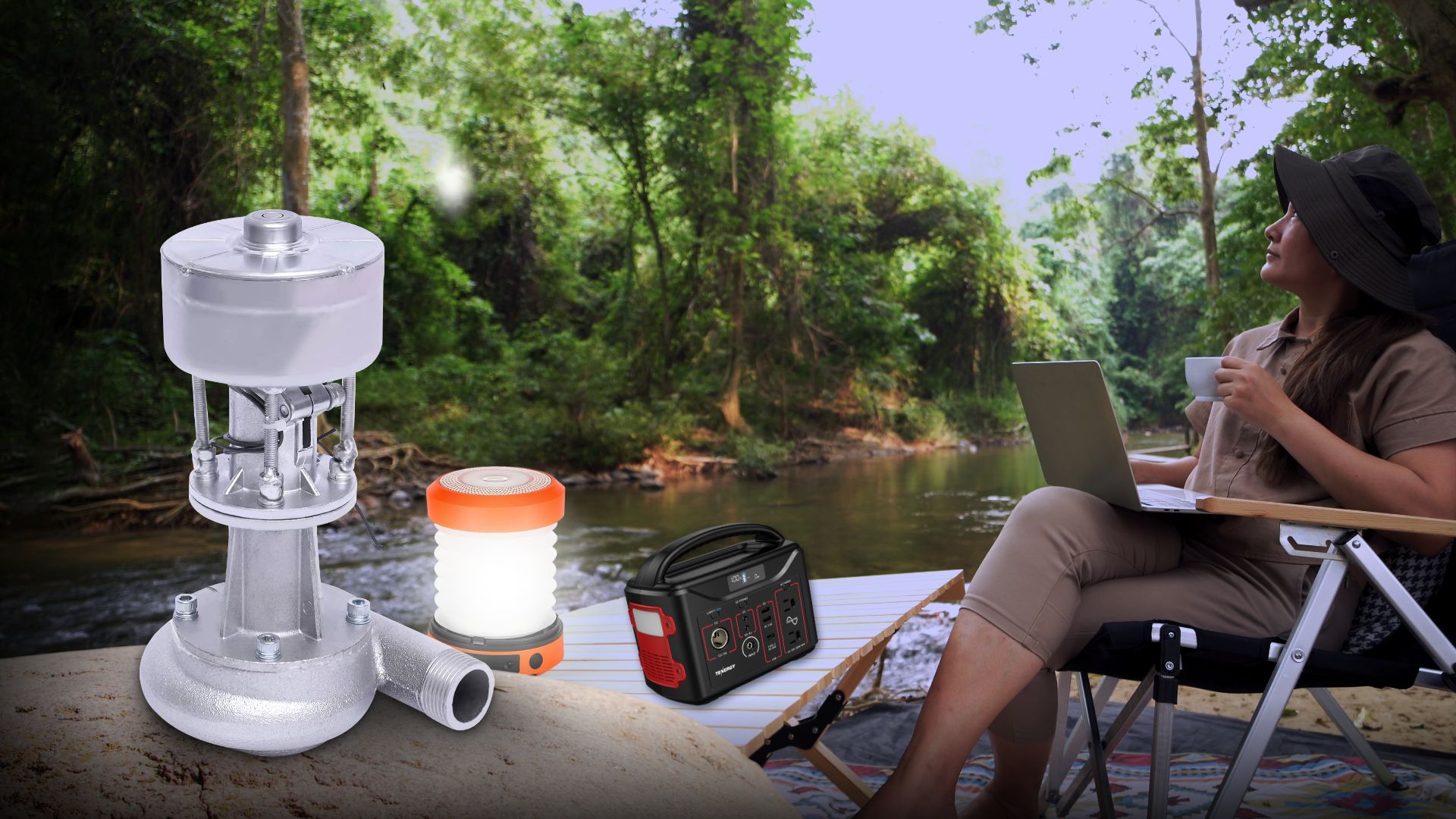 Wattage: 500W
Voltage: 110V
Often, there might be a situation where sunlight does not have enough intensity to provide power from solar cells. How to charge a solar charger or power bank in such a situation? This Sabuidds water turbine generator comes to save the day in such times.
If your campsite or place has a flowing waterbody nearby, you can easily utilize this to generate enough electricity to charge up your power banks. It can generate up to 500W, which is more than enough to charge most modern-day portable power banks.
Pros
Robust build quality
Large power generation capability
Easy to set up
Requires no additional charge controller
Cons
Requires high water flow for operation
Yosoo DC Water Turbine Generator (Compact)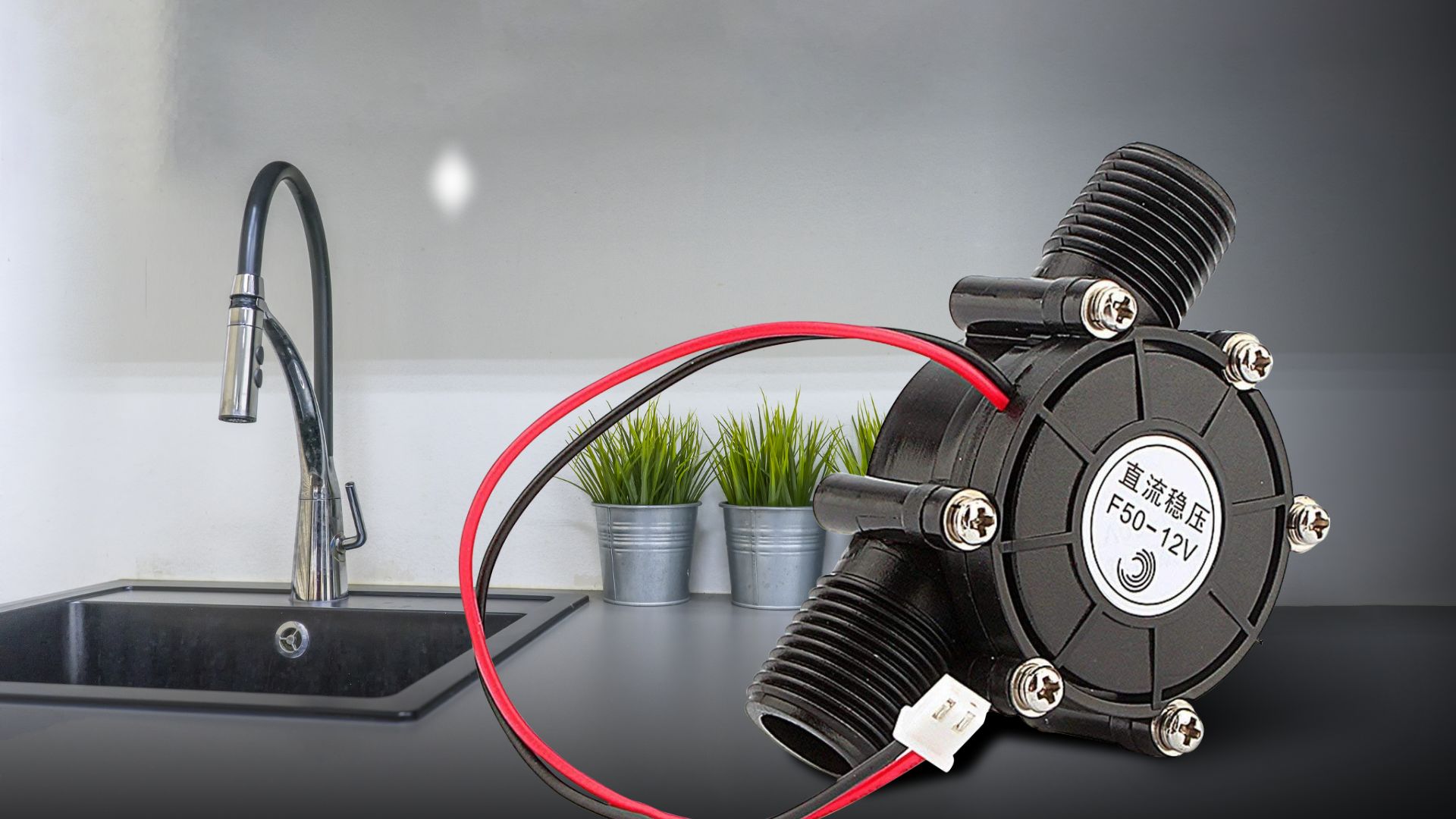 Wattage: 10W
Voltage: 12V
The Yosoo DC water turbine is an extremely portable water generator that can generate power from any small water flow. It can produce up to 10W energy that can provide your solar power bank with a 12V constant charging flow. The device is very lightweight and easy to set up.
The water turbine requires 60-70 psi of water pressure to generate. So, you can use it with your faucet in your house. By simply turning on the faucet, you can charge up your solar power bank without any sunlight.
Pros
Ultra-portable
Requires very little water flow
Easy to use
Very low mechanical noise
Cons
Low power generation capability
BioLite CampStove 2+ (Thermal power converter)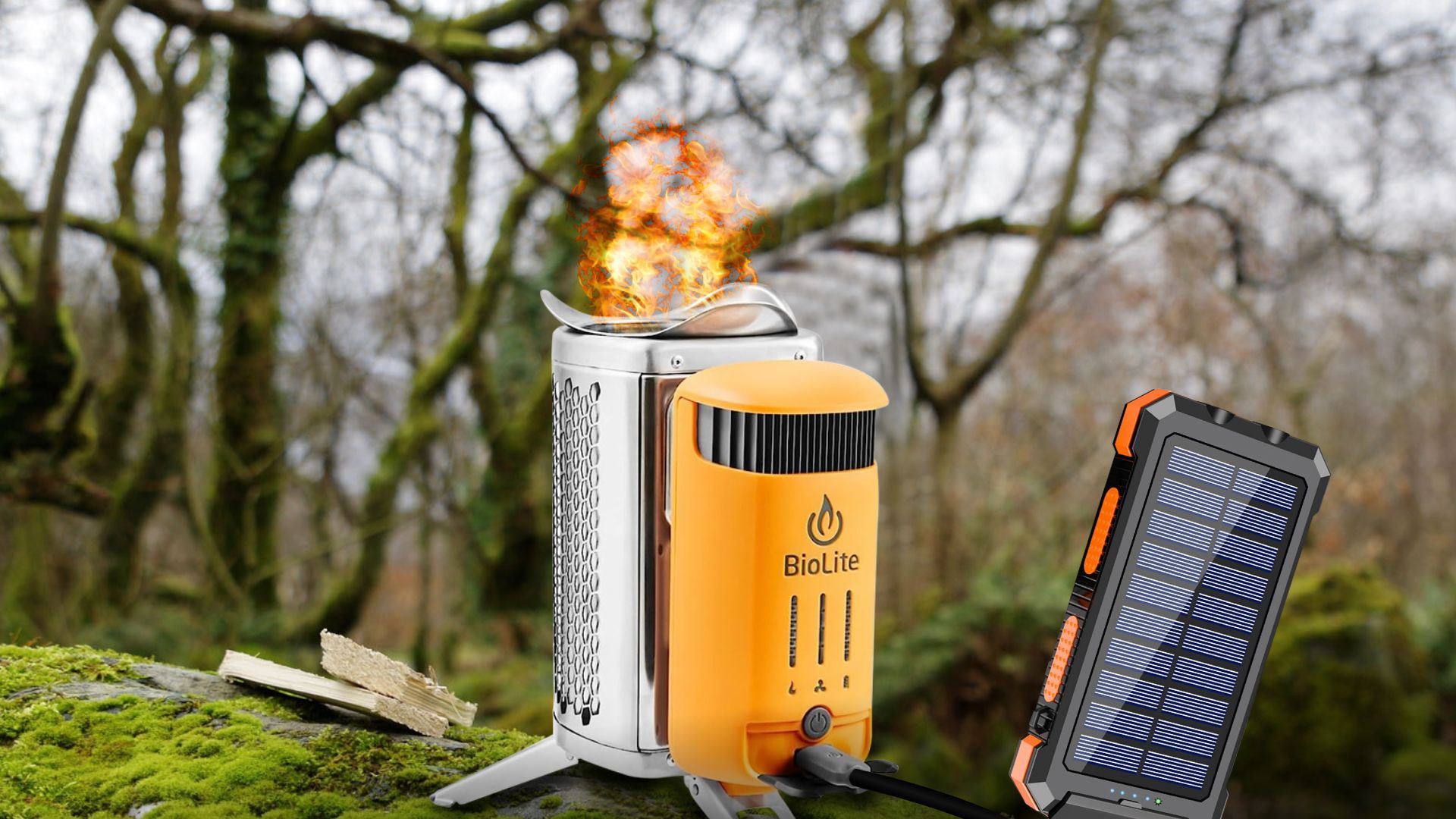 Wattage: 3W (USB)
Built-in battery: 3200mAh
Whether it's a zombie apocalypse or a snow blizzard, the BioLite CampStove 2+ will be amazingly useful to you. It generates power from burning wood or anything in its chamber and stores them in a 3200mAh battery. The most exclusive convenience is that you can use anything to generate heat on it and use it for cooking and charging up your power bank.
It comes with a built-in battery to store power for later usage. This intelligent design keeps your sensitive devices safe from heat damage. Furthermore, the design is sturdy and well-engineered to ensure high efficiency and output level in harsh environments or critical situations.
Pros
Easy to operate
Small form factor
Highly effective and efficient compared to other sources
Lightweight and portable
Cons
Nature's Generator Gold WE System (Solar Panel & Wind Turbine)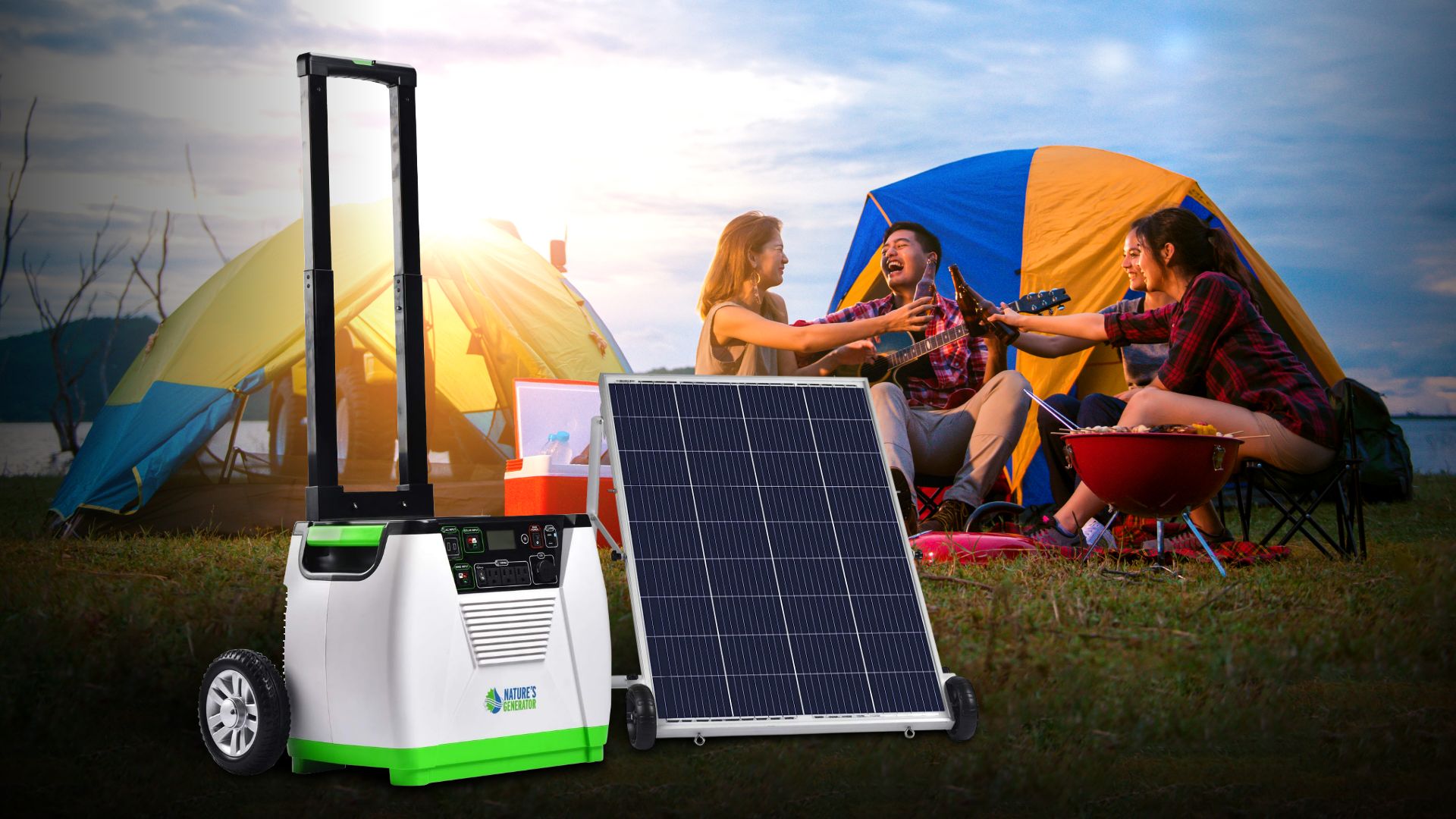 Wattage: 1800W
Voltage: 120V
For emergency situations or severe power outages, Nature's Generator Gold WE system provides the ultimate solution for power backup. It comes with a completely renewable energy system with a 60Ah SLA battery, 100W solar panel, and 150W wind turbine. So, you can easily provide power to your power banks or devices seamlessly in any situation.
Pros
Complete renewable power generation set
Portable and easy to set up
Efficient built-in battery
Convenient power control panel
Cons
Bulky device compared to others
How long does it take to charge a solar power bank?
The duration of charging up a solar power bank totally depends on the intensity of sunlight, placement of the solar panel, and size of the panel. But on average, a moderately sized 50W solar panel will be able to fully charge a 5000mAh power bank in about 2 to 3 hours. This time can increase or decrease based on the cloud presence and sunlight intensity.
Conclusion
We have tried to provide deep insights into ways how to charge a solar power bank in different situations. We hope our findings will be helpful for you in choosing the right option. Furthermore, you can check out some of the best MagSafe battery packs or power banks for MacBook Pro.