Category:
How to Disconnect iPhone from Mac
We independently research, test, review, and recommend the best products. As an Amazon Associate we earn from qualifying purchases.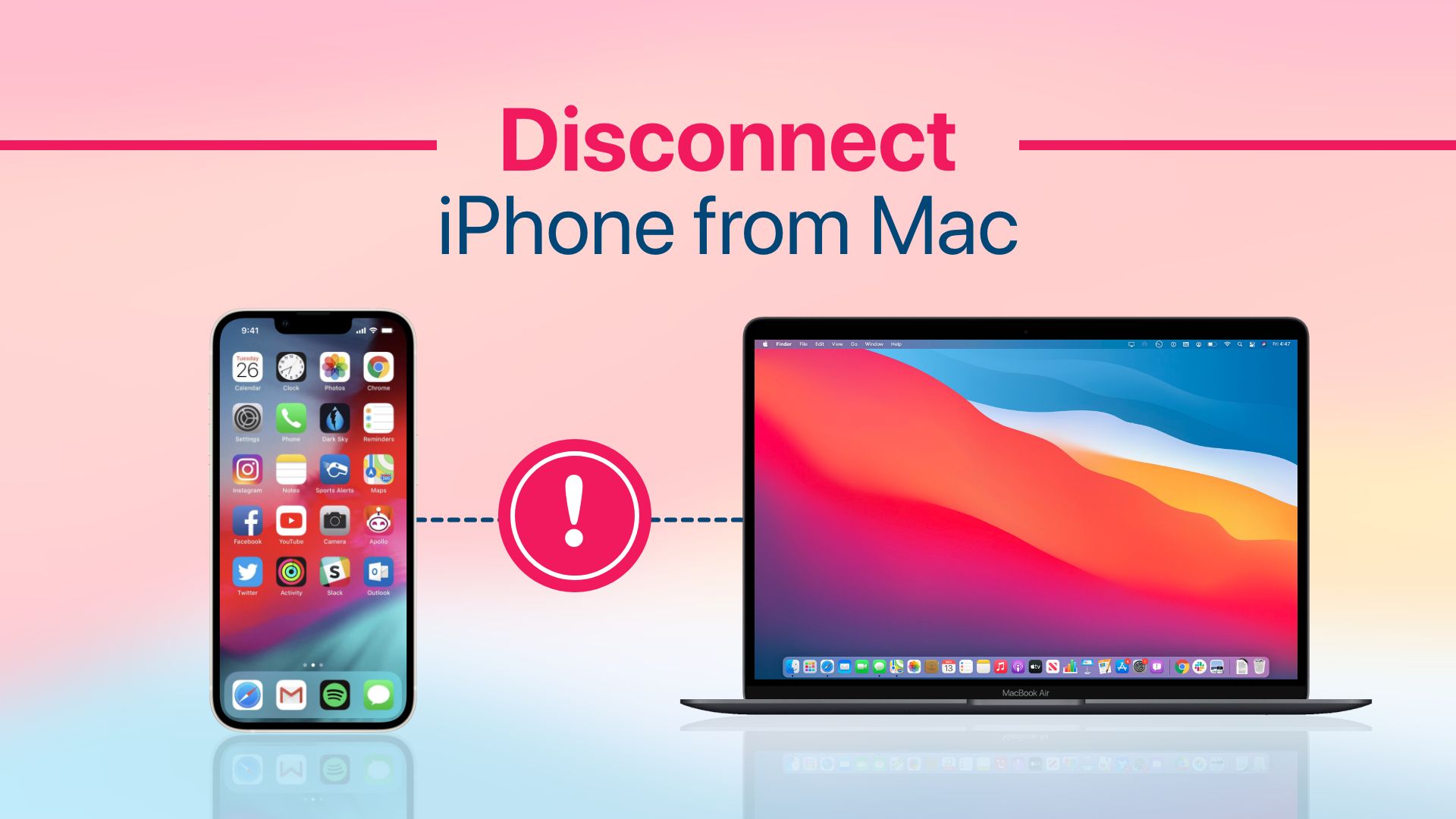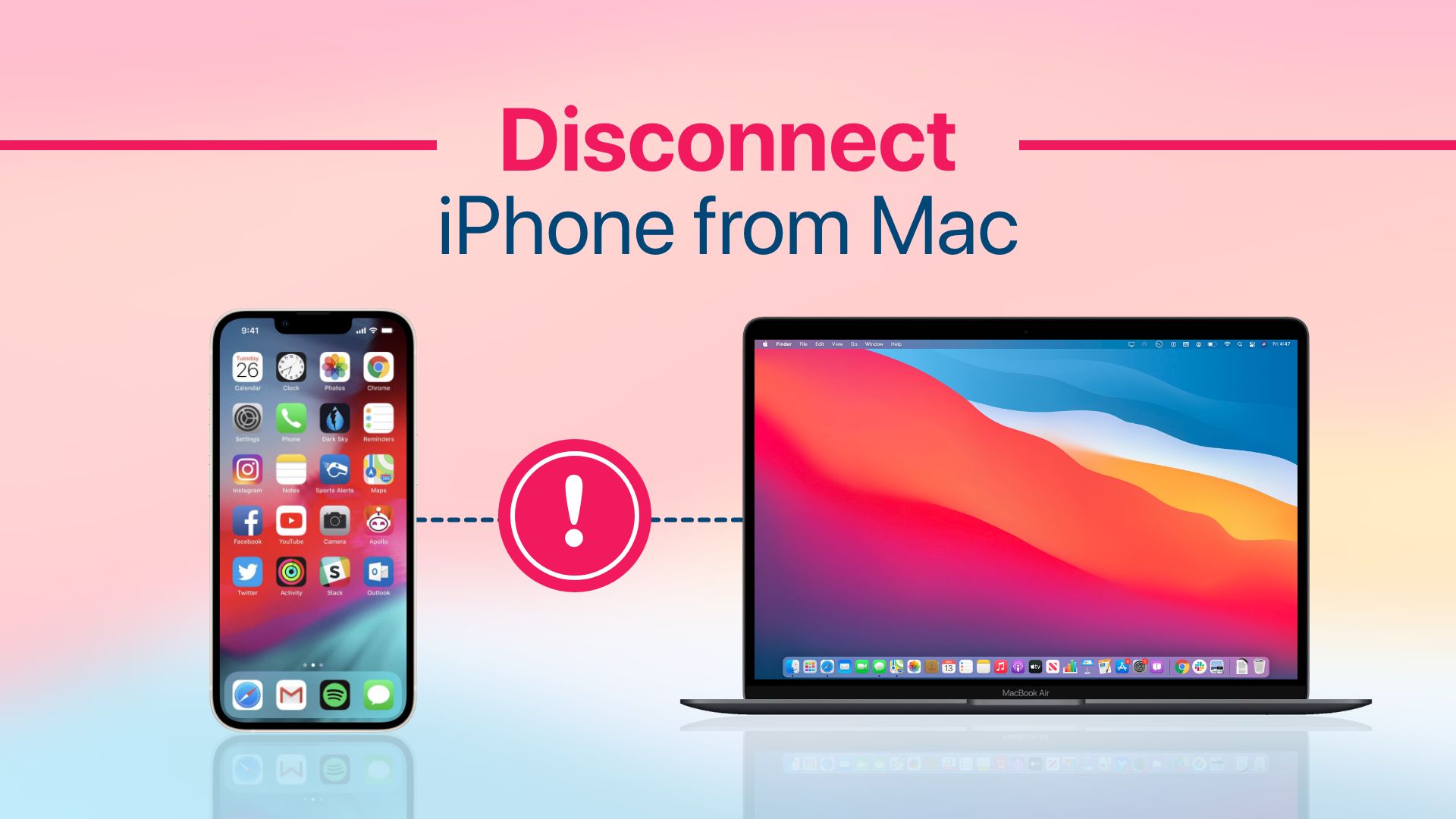 In this context, we will discuss how to disconnect iPhone from Mac. The highlighted topic will focus on multiple ways a user cut off the connection between our iPhone and Mac. Apart from that, we will also include several advanced-level processes for you that came straight from tech masters.
Apple ecosystem is undoubtedly amazing. Our iPhone, Macbook, Apple Watch, and even Homepod mini are all connected to one Network. They synchronize and automatically share or update data. But this close synchronization brings forward several annoying glitches, especially between your iPhone and Mac. This is where the question arises,' how to disconnect iPhone from Mac.'
For example, we have received our iPhone's cellular calls and SMS notifications on Mac several times. It is annoying, particularly when you are in the middle of an online office conference. So, we decided disconnecting iPhone from Mac would be the best choice for some time. After all, it's better to come out from a complex ecosystem now and then, no matter how good it is.
Now, we know some of you have similar complaints and are trying to disconnect iPhone from Mac. Keeping in mind the issues and queries, we have compiled several solutions of how to disconnect iPhone from Mac.
How to disconnect iPhone from Mac- 7 easy steps
Apple ecosystem offers optimized connectivity between Apple products in a network. In our case, we will concentrate on iPhone and Mac only. Do you know that there are more than 7 different ways your iPhone can connect to a Mac? That means now you got at least 7 disconnecting processes in your pallet. We will touch up each of these processes individually as we proceed with this article.
1. How to unlink iPhone from Mac- Disconnecting Airdrop pairing
One of the typical processes of how to disconnect iPhone from map is by cutting out the Airdrop connectivity between them. It is the most common connection pathway between your iPhone and Mac. To disconnect this, you have:
Open your iPhone's Setting app
Go to General that you will find in the Settings list
Tap on AirDrop, which comes third from the top
Tap on Receiving Off, and it will be selected
Disconnecting Airdrop from Mac end
From your Mac, launch the Finder app
Select Airdrop on the sidebar
You will see drop-down options with "Allow me to be discovered by:"
Select "No one" from the drop-down menu
2. How to unsync iPhone from Mac- Cutting off Personal hotspot
The next option of how to disconnect iPhone from Mac is by disconnecting personal hotspot. You can set up your private Wi-Fi network even when you are cut out of the internet. If a personal hotspot needs to be disconnected, you have to follow the steps below:
Turn off hotspot on newer iPhone models
Open the Settings app
Next, select Wi-Fi
At the bottom of the list, you will find Auto-Join Hotspot
Tap on it, and you will get three choices; Never, Ask to Join, and Automatic
Select Never to disconnect all hotspot connection
Turn off hotspot on iPhone (Older models)
Launch Settings app of iPhone
Go to Personal Hotspot
Locate Allow Others to Join
Toggle this option off
Turn off hotspot feature on Mac
From your Mac, launch the Apple Menu
Go to system performance followed by Network
Here you will see the Wi-Fi option followed by 'Ask to join Personal Hotspots'
Uncheck the tick box next to the 'Ask to join Personal Hotspots'
3. How to disconnect Mac from iPhone-Restrict iCloud syncing
iCloud establishes a robust ecosystem among Apple products. This mostly involves syncing media, content, and data exchanging process among various Apple devices, including Mac and iPhone. Other than the way mentioned regarding how to disconnect iPhone from Mac, you can halt the iCloud from your iPhone or Mac to stop content synchronizations. This is how the processes go:
From iPhone's end
Open the Settings app of your iPhone
Tap on the Apple ID followed by iCloud
On the iCloud page, you will get multiple synching and toggle function
Turn off functions you don't want to share with Mac, such as media contents, mails, etc.
On Mac's end
Launch Open menu
Next, go to System Preferences
In this function interface, you will find Apple ID
You will find a list of apps that are using iCloud
Each app entry has a checkbox next to it which you can check or uncheck
Uncheck apps such as iCloud Drive, Photos, Mail, Contacts to cut off syncing
4. How to unpair iPhone from Mac- Unpair Bluetooth
One convenient pairing option between your iPhone and Mac is via Bluetooth. With the Bluetooth paired and connected, you can easily sync media files and even play wireless music. But when not needed, it's better to be off to conserve an extra bit of battery juice on your devices. This is how to disconnect iPhone from Mac by switching off the Bluetooth function:
Turn off iPhone Bluetooth
Go to Settings
Tap on the Bluetooth option from the list
Turn Bluetooth toggle button off
If you wish to disconnect and remove the Mac permanently from the Bluetooth list, tap on the Info icon next to the Mac
Next, tap on Forget This Device.
Turn off Mac Bluetooth
Launch App menu
Go to System preferences
From there, choose Bluetooth
Choose Turn Bluetooth off to close Bluetooth connectivity with your iPhone
If you want to remove the iPhone permanently from the Bluetooth list, click on the cross icon next to it
A pop-up notification will appear confirming the removal request.
Click on Remove to finalize the unpair process via Bluetooth
5. How to disconnect iPhone from Mac- Disallow Handoff
Another useful connection route between your iPhone and Mac is the Handoff function. This is a brilliant way to remotely control your Mac from an iPhone. If you think that Handoff can breach your privacy, then here are the steps to unpair them:
Disable Handoff on Apple devices
Open Apple Menu followed by System preference
From system preference, click on General
Uncheck "Allow Handoff between this Mac and your iCloud devices." At the bottom of the interface
If you want to prompt out iPhone notifications only, go to Settings on your iPhone
From Settings app to General in the list followed by AirPlay & Handoff
Toggle off the Handoff option
6. How to disconnect macbook from iPhone- Signing out Apple ID
An effective way to disconnect your iPhone with Mac is by signing off the Apple ID. If you use a single Apple ID for both iPhone and Mac, the process gets much easier. You simply have to log off from the Apple ID of either iPhone or Mac. Henceforth, the procedures for the query how to disconnect iPhone from Mac are:
Sign out of Apple ID from iPhone
Go to the Settings on your iPhone
Tap your given device's name at the beginning of the Settings list
Choose the device at the bottom you want to cut off from Apple ID
Tap on the 'Remove from Account'
A pop-up confirmation notification appears
Select Remove to disconnect iPhone from Mac by cutting off Apple ID
Sign out of Apple ID on Mac
Open Apple menu
Click System preferences followed by Apple ID
Select the device you want Apple ID to be removed
Click on the 'Remove from Account…' button at the button
7. How to eject iPhone from Mac- Unplugging the USB cable
The last option of the puzzle, how to disconnect iPhone from Mac, is probably the easiest and the most primitive way, and that is by unplugging the USB cable between them. If a USB to thunderbolt cable is the last means of connectivity, simply disconnect the cable from one end, which will do the disconnection task. If you are unable to disconnect even after pulling off the cable, your Mac must have the Finder function on, keeping the iPhone connected.
If the Finder function of your Mac has your iPhone enlisted over Wi-Fi, then you have to manually shut it off. The steps below will lead you the way to disconnect the iPhone from Mac via the Finder app:
Locate your iPhone on the list in the Finder app. It is located at the left of the sidebar
From the Options segment, uncheck the box against 'Show this iPhone when on Wi-Fi.'
8. A bonus tip- Unlink iPad from iPhone
Till now, you must have a pretty firm idea of how to disconnect iPhone from Mac. If your curiosity brought you this far, we got an extra goodie for you. Here's a bonus tip of how to unlink iPad from iPhone:
From your iPhone, Tap on the Settings
Tap on your device's given name, which lies at the beginning
Select iTunes & App Store
From iTunes & App Store, tap Apple ID followed by View Apple ID
Enter Password (If needed)
Scroll down the menu and select iTunes from the Cloud segment
Choose the device and then tap on 'Remove This Device.'