Category:
How to Uncensor Apple Music on iPhone & Mac
We independently research, test, review, and recommend the best products. As an Amazon Associate we earn from qualifying purchases.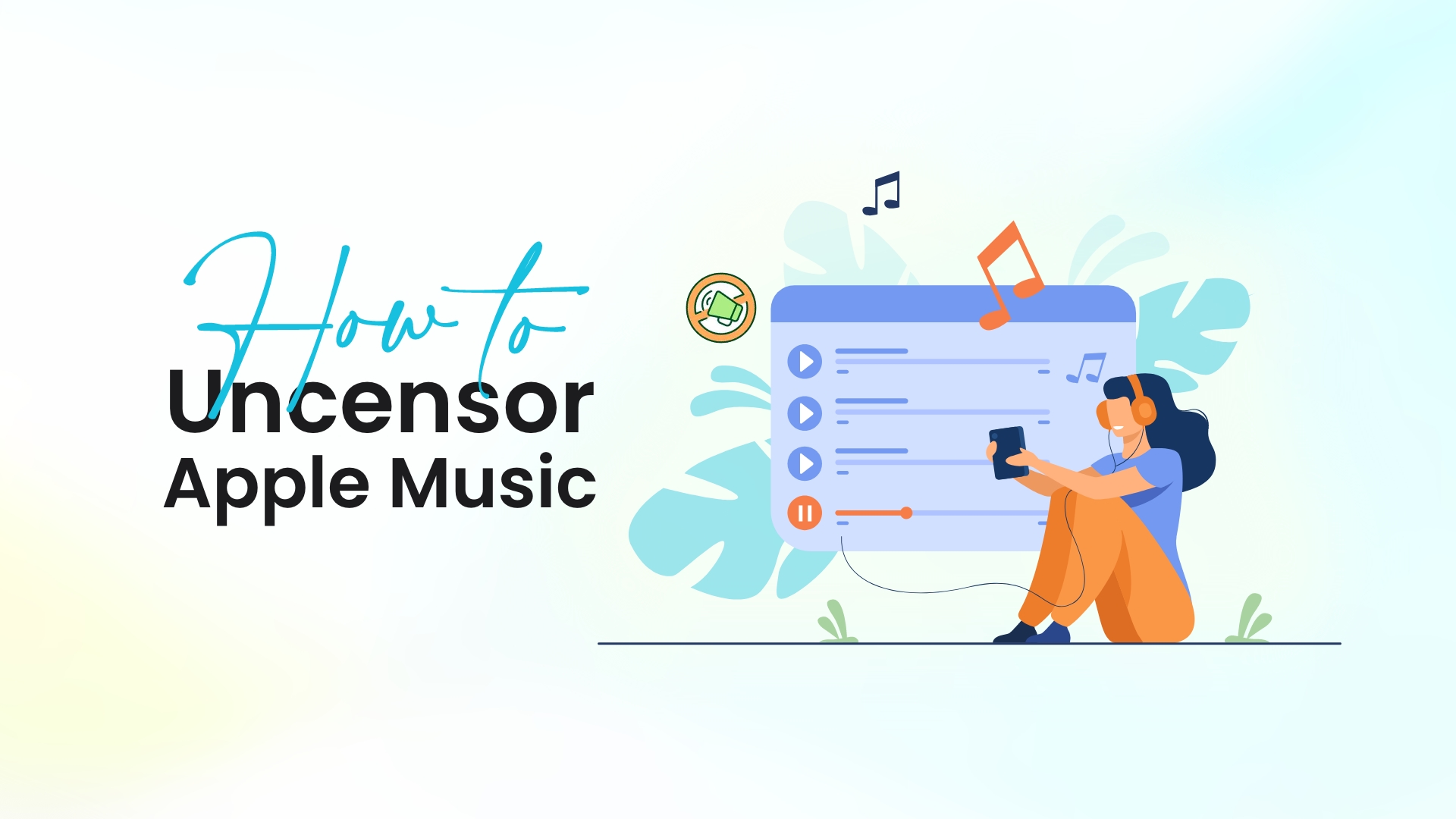 Apple Music is one of the largest and most popular music streaming platforms for not only iPhone but also Android users as well. Housing over 100 million songs and 30 thousand playlists, their collection is only increasing. Therefore, the huge library of Apple Music contains all types of songs from every category, including explicit and adult music. And if you'd like to experience the full version and are not bound by age, here's a quick guide on how to uncensor Apple Music on iPhone and Mac.
Why does Apple Music censor or block music?
In simple terms, Apple does this to protect users from profanity. Apple Music offers both clean and explicit versions of songs and allows the respected user to choose the content they want to hear. So, by default, explicit content is censored. But you can turn the safety off anytime and enjoy explicit tracks and albums.
How to Uncensor Apple Music | iPhone & Mac
Learning how to uncensor Apple Music is necessary to unlock the full version of this versatile streaming platform. Why? Because there's an explicit filter on Apple Music to keep inappropriate songs away from our young ones. While the approach is entirely reasonable, it might get frustrating if you can't enjoy some hip-hop, explicit, or adult content at times. Hence, we've come up with how to allow explicit content on Apple Music from the content restriction settings.
The screen time or content & privacy restrictions are Apple's integrated parental controls for iOS devices. You can easily set up parental controls through Screen Time and limit access to apps, websites, and yes, media content. That's where you can find how to turn off censoring on Apple Music. Let's check out the process in the following.
How to turn on explicit content for Apple Music on iPhone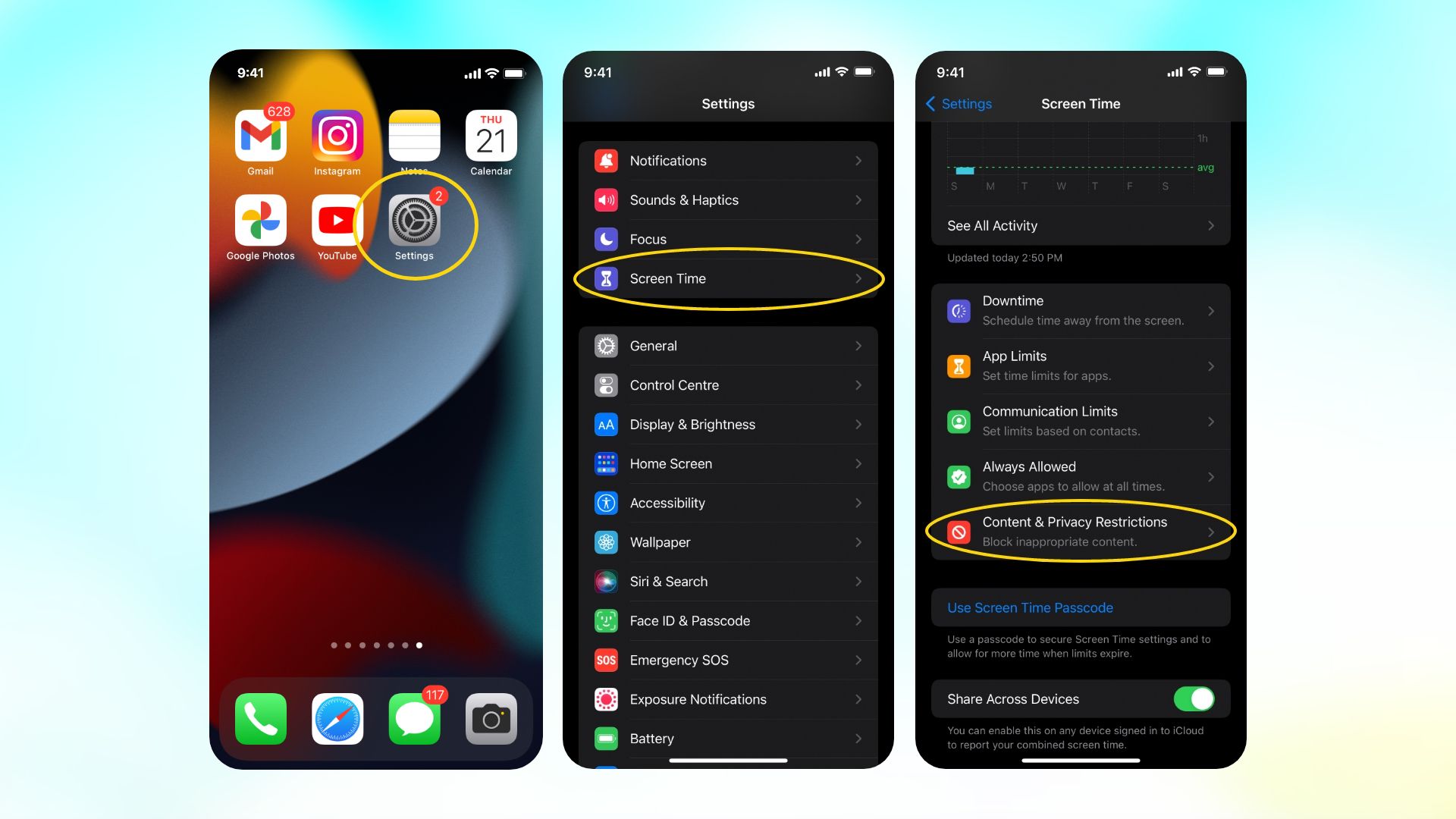 Open your iPhone Settings.
Scroll down and tap on Screen Time.
Turn it on if it's not already. Then go to Content & Privacy Restrictions.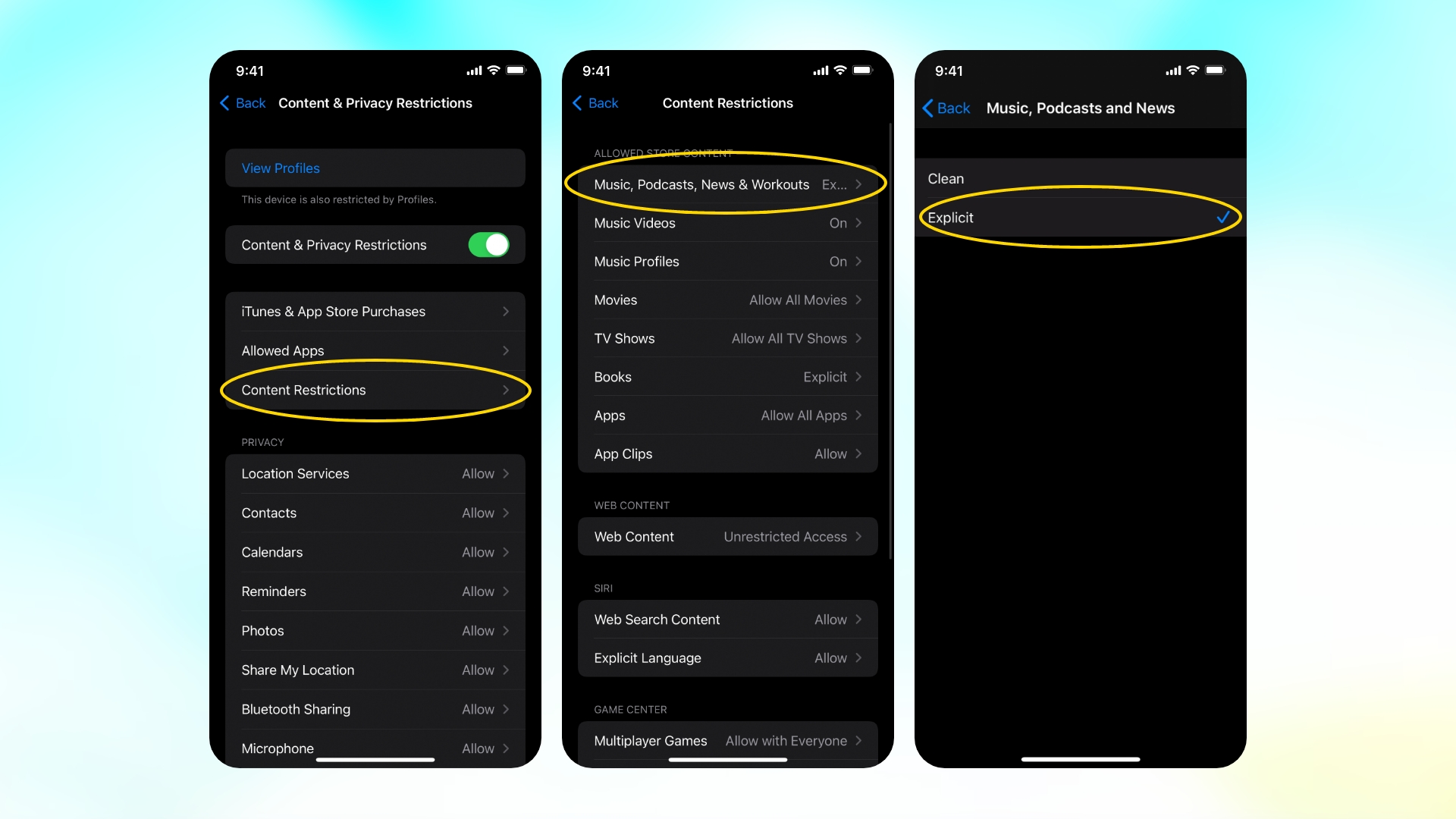 Next, tap on Content Restrictions.
From the top, select the "Music, Podcasts…" option.
Finally, hit the Explicit setting to allow it.
Here's how to turn on explicit filter for Apple Music on Mac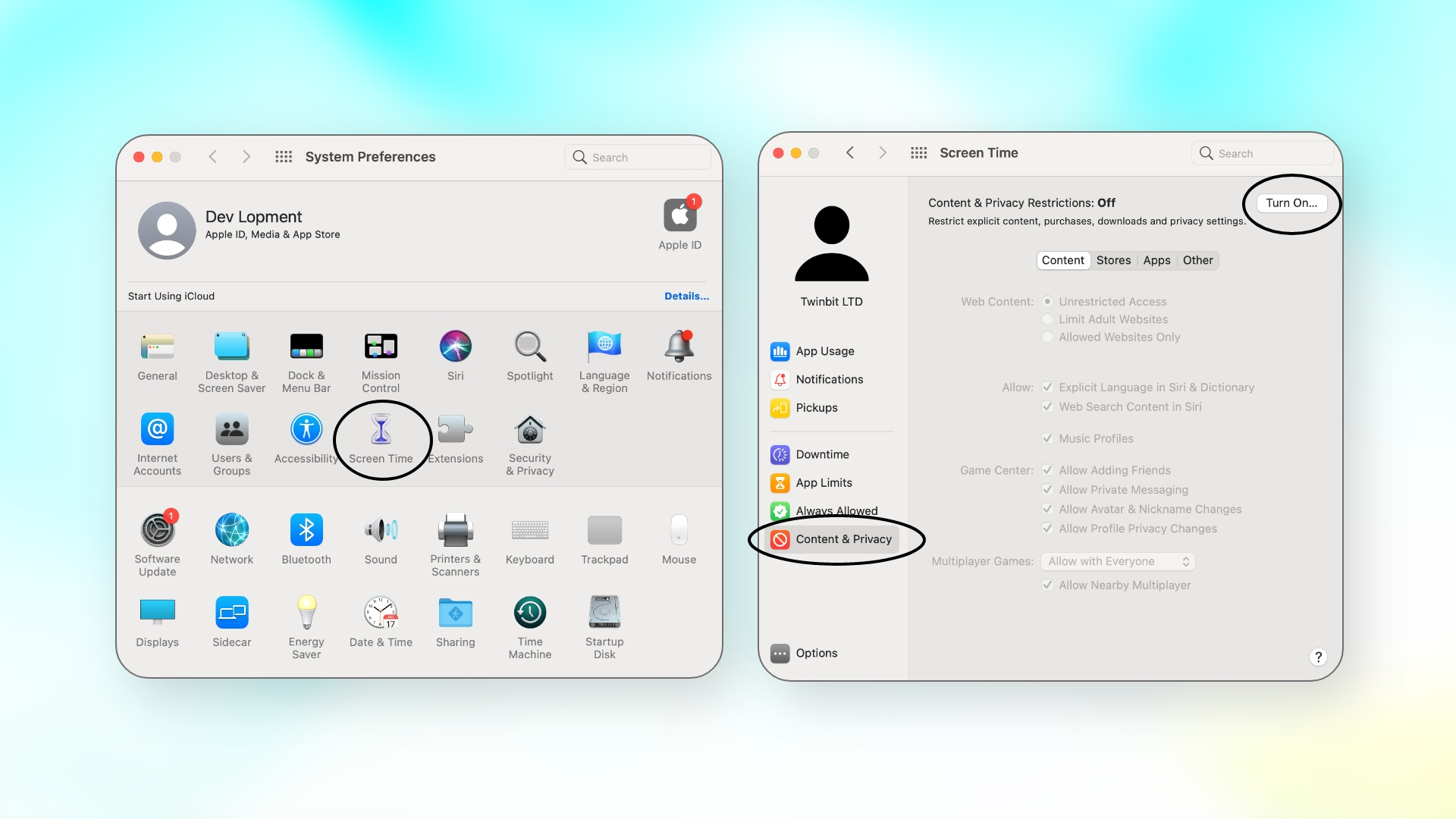 On your MacBook or iMac, go to System Preferences.
Select Screen Time from there.
Then tap on Content & Privacy and turn it on.
Next, select the Stores option from the menu bar.
Check the box for Music, Music Videos, and others as you require. That's it.
How to Censor Apple Music on iPhone
We've learned how to uncensor Apple Music on iPhone and Mac, but what if you wanted to censor instead? If you're wondering how to turn off explicit on Apple Music, you're not alone. Whether it's your kids or you don't have a taste for adult music, you can sign off of them from Apple Music and block explicit content.
The process is quite similar to the previous method. All you have to do is head over to content restrictions from your iPhone.
Here's how to block explicit songs on Apple Music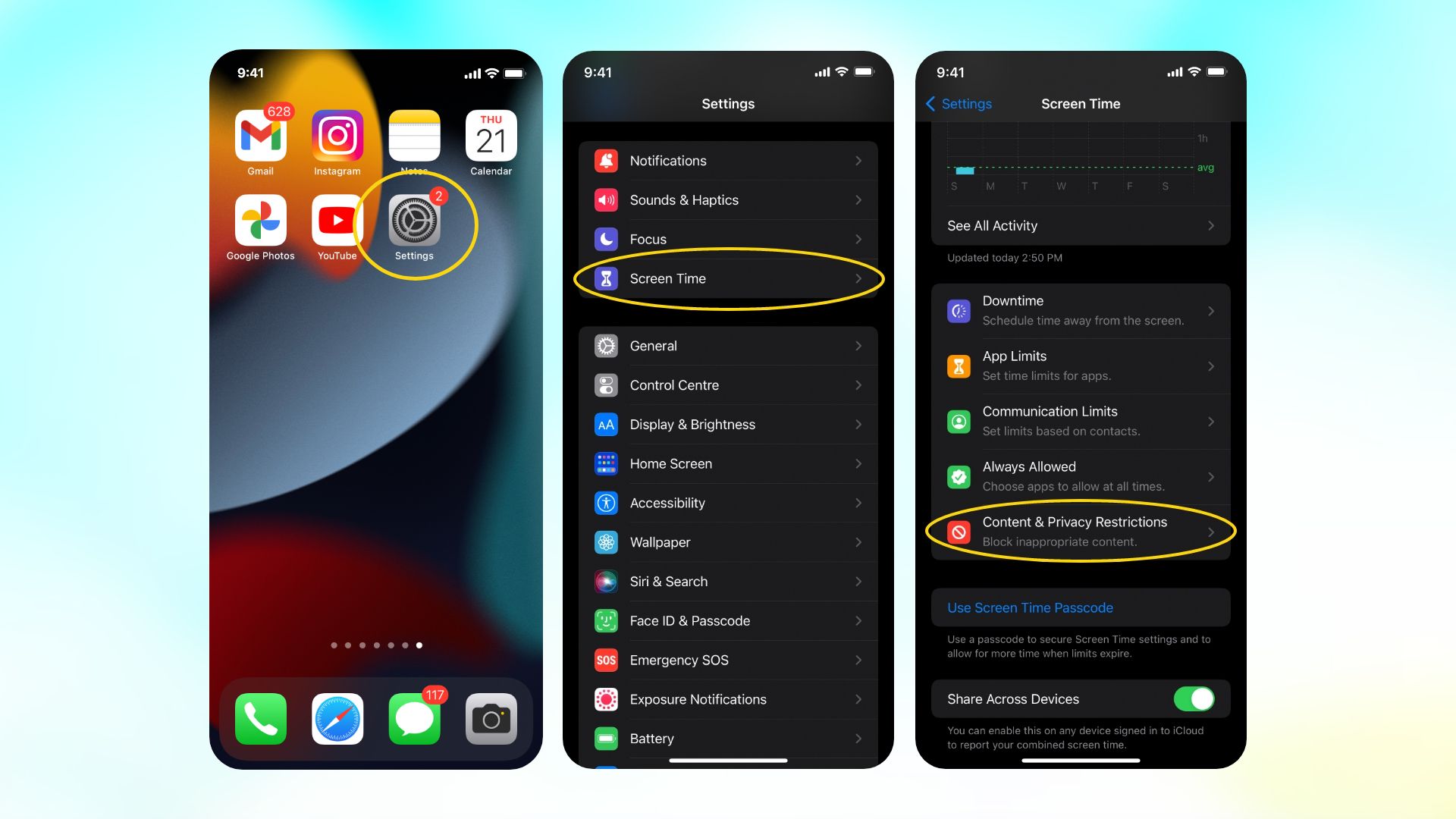 Open your iPhone Settings.
Go to Screen Time from the menu.
Then tap on Content & Privacy Restrictions.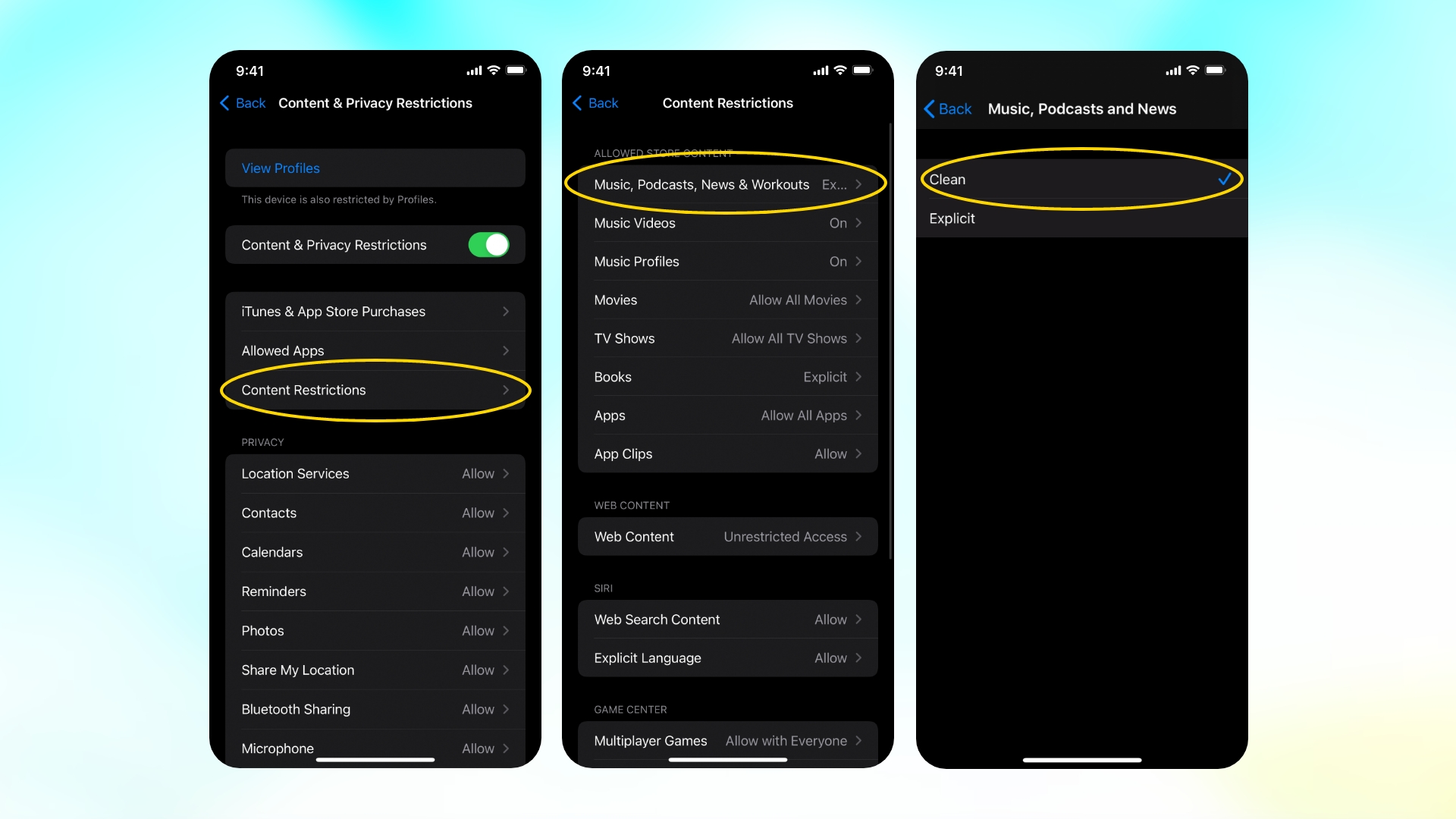 Next, head over to Content Restrictions.
And select Music and Podcasts menu on top.
Finally, select the Clean filter, and you're good to go.
Why is Apple Music not showing explicit songs, albums, and playlists?
If your Apple Music is not showing explicit content, chances are it's disabled in settings. To turn on explicit content, go to your device's Settings > Screen Time > Content & Privacy Restrictions > Content Restrictions > Music, Podcasts, News > select Explicit.
If the issue still arises, you can try another method directly on the Music app to allow explicit content. Here's how —
Open the Apple Music app.
Search for an explicit song and open it.
Then play the song preview.
It should show a prompt message with "Allow."
Tap on it and return to your playlist to play the Explicit (E) media.
How to uncensor Apple Music lyrics?
Apple Music contains millions of songs, including explicit tracks with constant swearing words. While you can enjoy explicit songs by tweaking a few settings, you'll find Apple Music is censoring swearing words in the lyrics, such as curses or inappropriate words. To answer how to uncensor those lyric parts on Apple Music, you can't. The lyrics published with the songs come censored and can't be shown on your Music app. However, you can still listen to the whole song and miss nothing.
Wrap up
In this guide, we've seen how to turn on explicit content on Apple Music for you to enjoy the vast library as a whole. If you want to know how to turn off explicit and get clean music on Apple Music, we've covered that too. Organize your playlists according to your music taste and experience your favorite songs on the go.
If you like listening to music on the go, check out how to add songs on your Apple Watch. Also, don't forget to check out the best soundbars for music lovers and elevate your home audio system.