Category:
How to Back up Your Data and Why You Need it
We independently research, test, review, and recommend the best products. As an Amazon Associate we earn from qualifying purchases.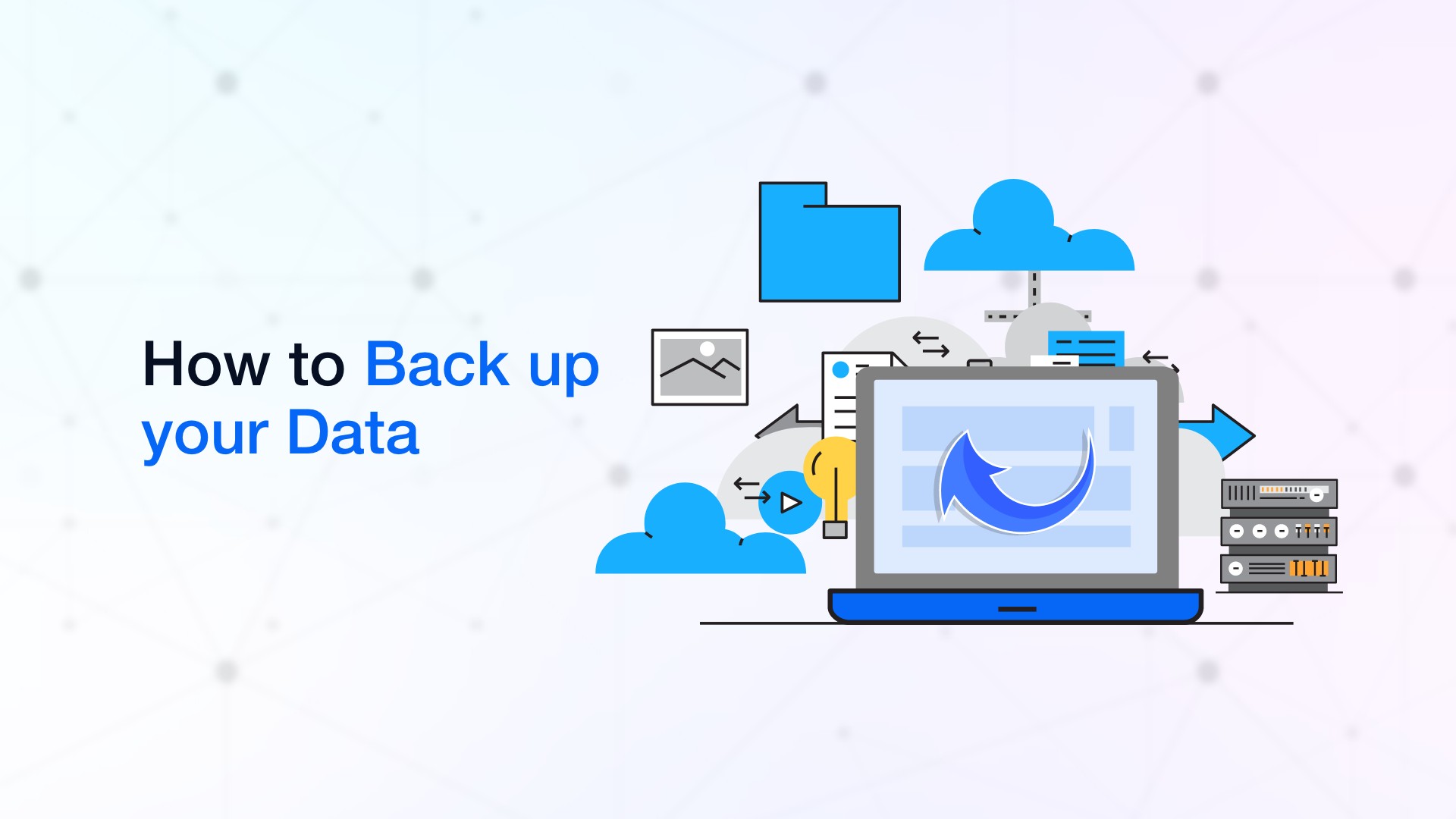 Introduction
In this article, you'll frequently come across the terms data backup and recovery. So, what actually is a data backup and recovery? Backup is the process of storing data for recovery in case a problem occurs. The process usually includes creating a copy of your important data and storing it in a separate location. It is so that you can easily retrieve it in case of any unexpected data loss. This is why we recommend having multiple backups in different locations for added security.
Why are data backups important?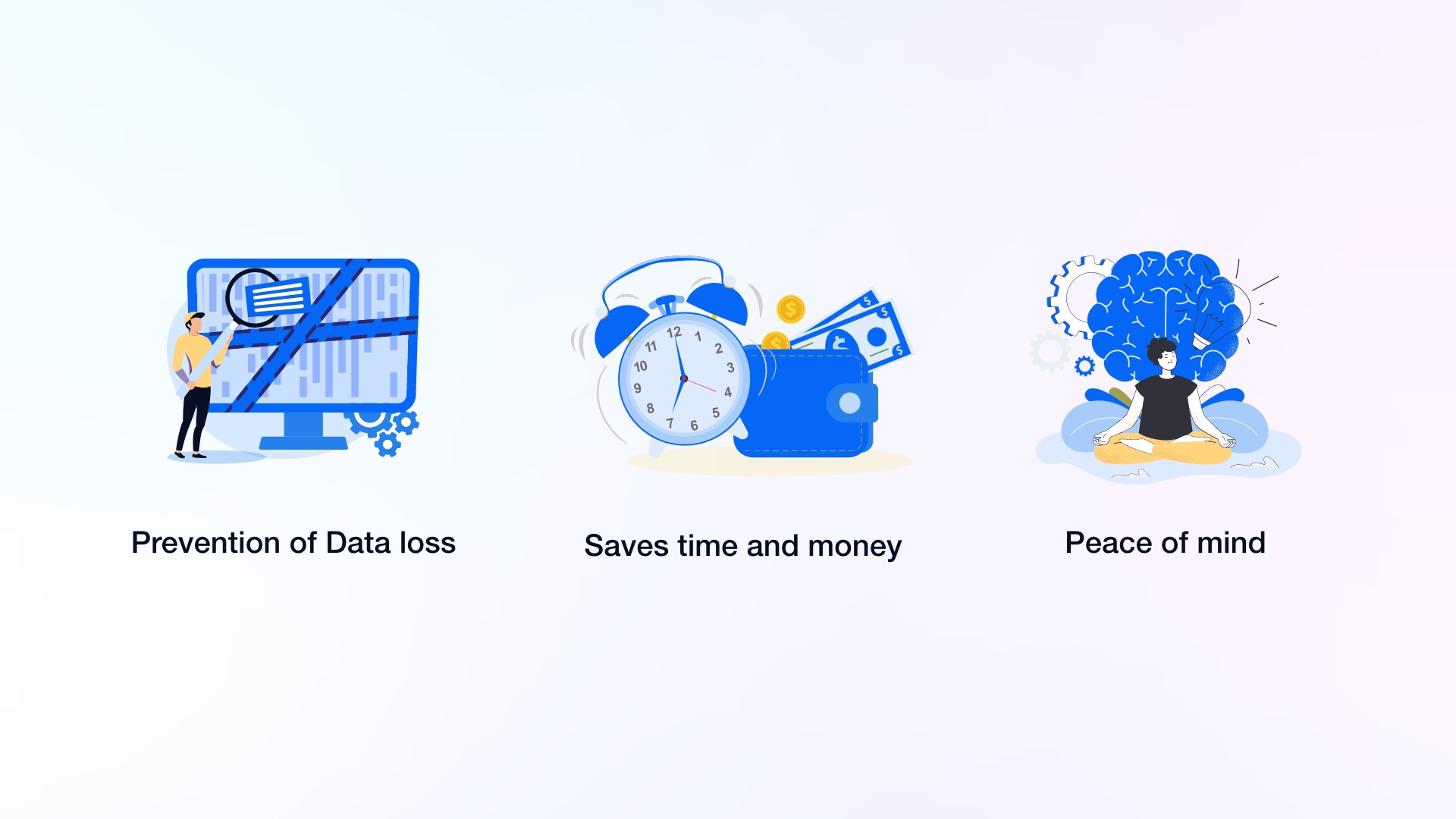 Backups are important because they protect your data from being permanently lost due to hardware failure, natural disasters, cyber-attacks, or accidental deletion. According to a statistic, 54% of respondents reported having suffered some form of data loss, and around two-thirds had accidentally deleted important files. Even more concerning statistics show that 20% of people never back up their data, and only 10% back up daily.
These numbers show how important it is for people and businesses to have backup and recovery plans for their data. In the following, we'll explain the importance of data backup and recovery.
Prevention of Data loss
Data loss can occur for various reasons, such as hardware failure, malware attacks, natural disasters, and human error. Last year, about half or more of the people who lost data did so because of security problems, deleting files by accident, etc. So, having a backup and recovery plan can stop data loss and make sure that important information doesn't get lost forever.
Saves time and money
Businesses can save time and money by making sure they don't lose data using proper backup. If they did, they would have to spend time and money finding lost data or making it from scratch. It can also keep a company's reputation from getting hurt and keep customers' trust in the company.
Peace of mind
Peace of mind is another reason why you need a data backup plan. Knowing that your crucial data is safe and secure can give you peace of mind and allow you to feel more at ease at your business. Additionally, having a data backup plan can help businesses comply with industry regulations and avoid potential legal issues.
Types of Data Backups
There are several types of data backup you can choose from, and we're going to focus on three backup types, and they are full backup, differential backup, or incremental backup. Your best backup option will depend on things like the size of your data and how frequently you'd like to back it up.
Full Backups
A full backup involves copying all of your data to a separate location. It provides the most complete and reliable backup option in case of data loss or corruption. However, this type can be time-consuming and require a lot of storage space.
Differential Backups
With differential backups, you are only backing up files that have been added since your last full backup. This makes the differential backups way faster and requires less storage space than full backups.
Also read: How to Delete Messages from Apple Watch
Incremental Backups
It works like a differential backup in that it copies all the changes that have happened since the last backup. However, unlike differential backups, incremental backups only copy the changes made since the last backup, whether it was a full or incremental backup
How to Back Up Your Data | 4 Best Ways
You can back up your data in a number of ways, including locally, in the cloud, or with network-attached storage (NAS). However, if you use more than one of these storage options, managing them all to ensure proper backup can be a challenge.
In that case, we recommend using data backup and recovery software, and the best in the field would be EaseUS Todo Backup. Also, we will show you how to back up your data locally, in cloud storage and NAS.
1. Back up your data with EaseUS Todo Backup
EaseUS Todo Backup is a free data backup software with one-tap backup and instant recovery functions. Additionally, it has some amazing features, like the ability to back up your system, files, and data from your computer or hard drive to the cloud. Also, you can perform full, differential, and incremental backups and perform disk or partition backup and cloning, among a lot of other functions.
Step-by-step process on how to back up your data with EaseUS Todo Backup software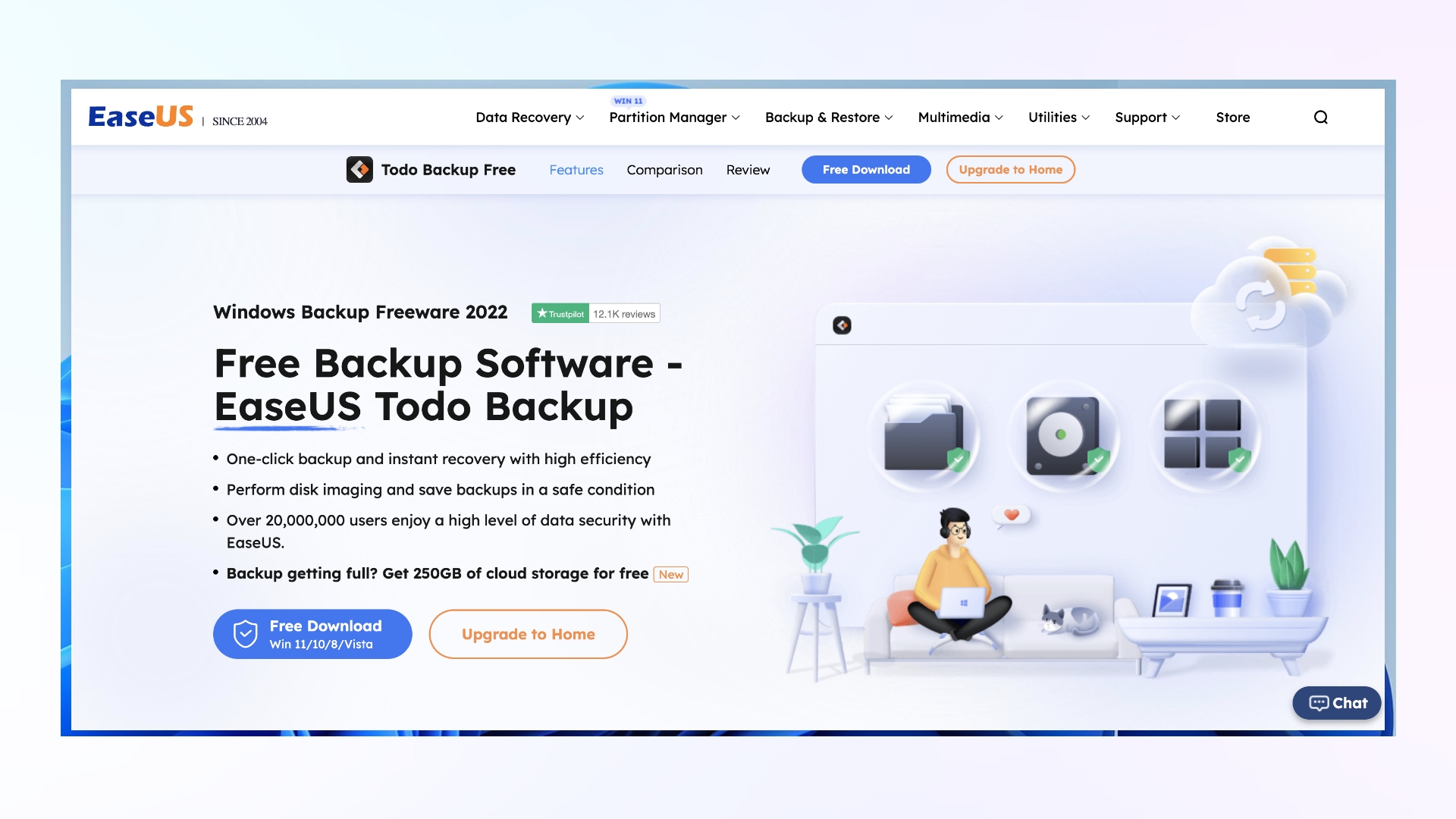 Step 1: First thing you need to do is download the Free EaseUS Todo Backup software on your Windows computer. The entire process is very straightforward. All you have to do is simpy visit their site and click on the Free Download button. And if you want to unlock more features, you can upgrade to their premium Home version.
Step 2: Once downloaded, you have to now install the application on your computer. Then you need to launch the EaseUS Todo Backup software on your Windows computer.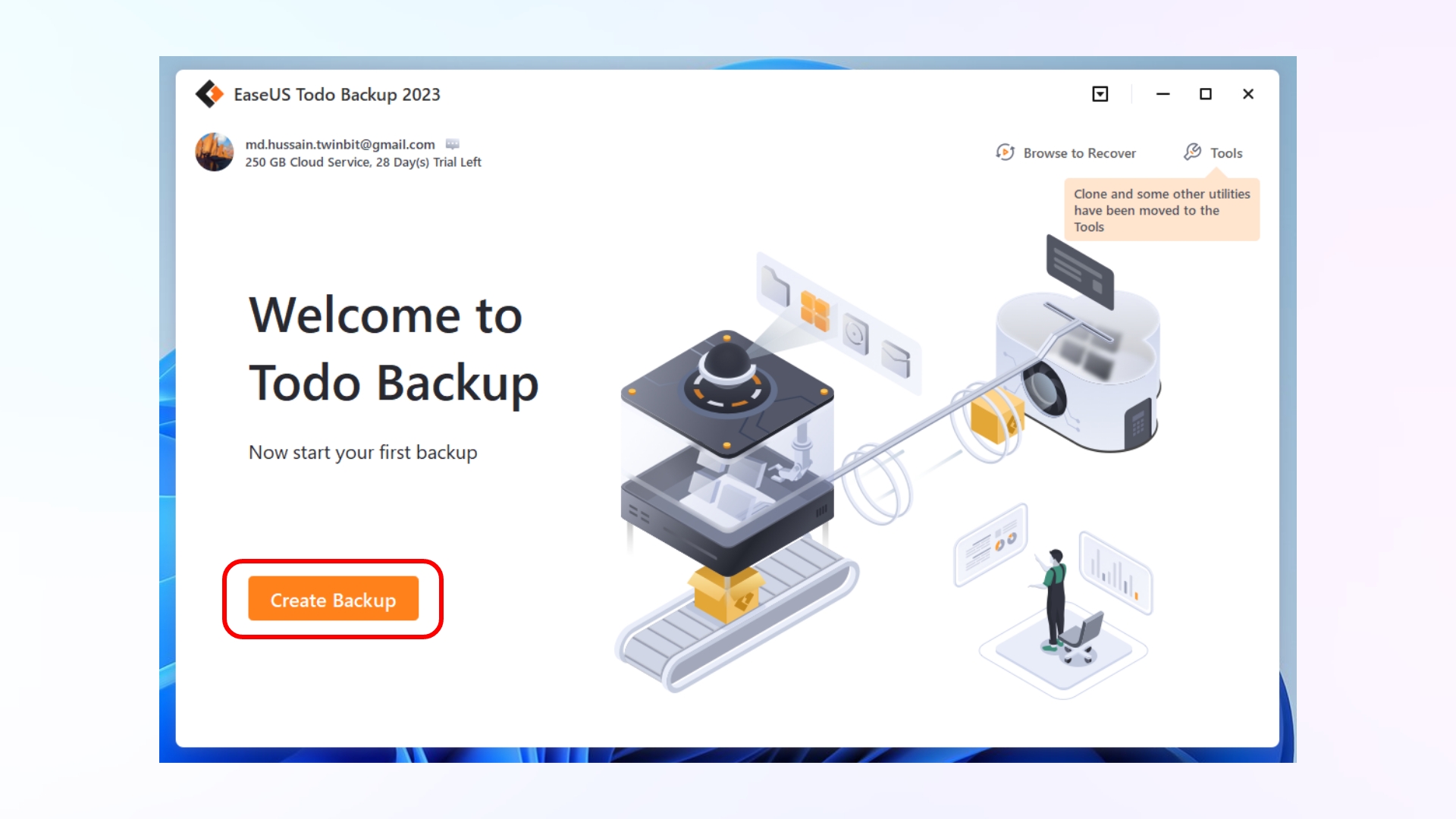 Step 3: Now, to start backing up your data, click the Create Backup button. Next, you give a name to your backup so that you can keep track of it when you'd have multiple other backups. For this, you need to click on the 'Edit' icon located on the backup card at the top-left of the software window.
Step 4: After that, you can select the type of data you'd like to back up. It includes the options for all the Files on your computer, your Disk, Apps data, and Operating System (OS) files.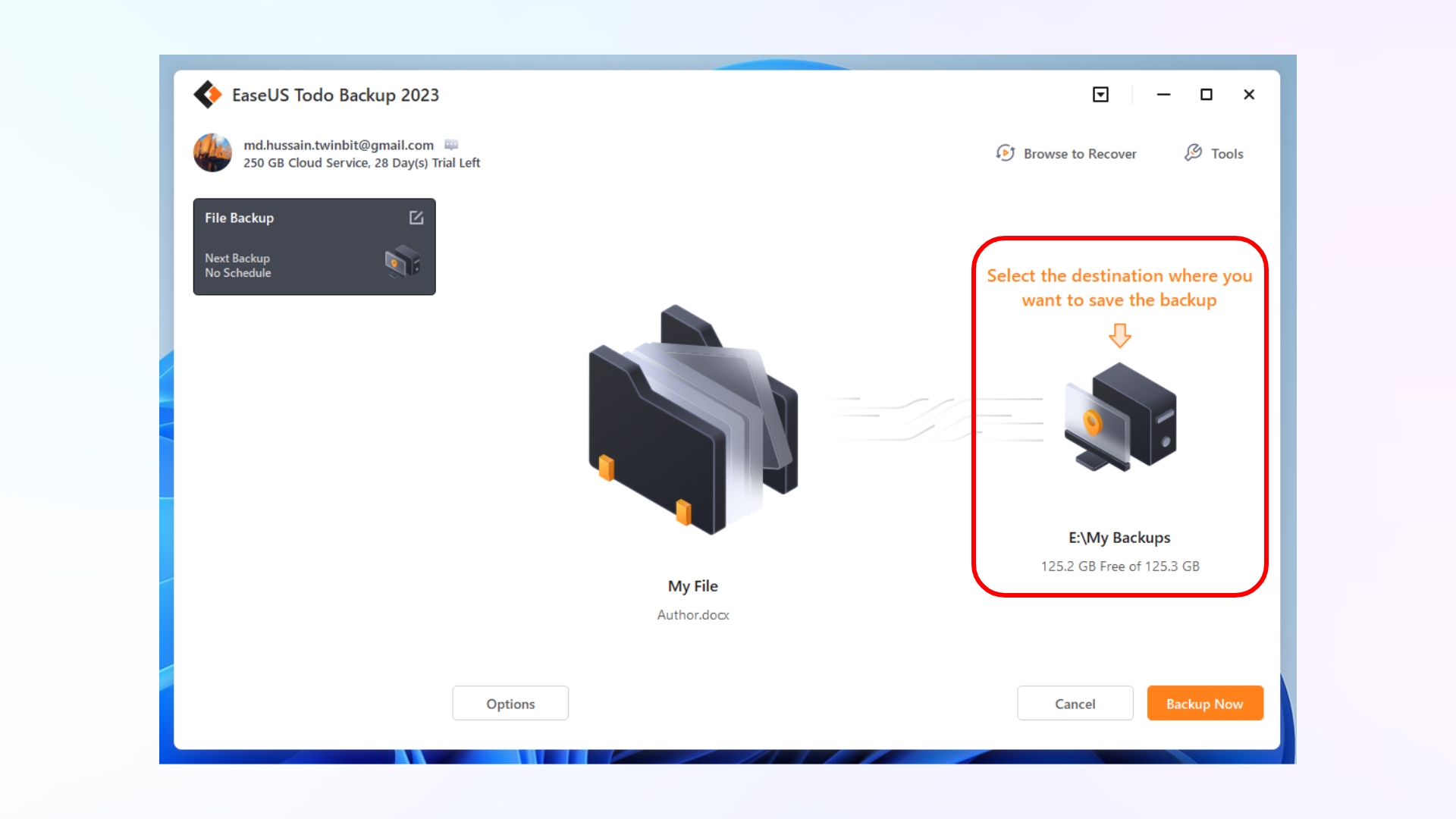 Step 5: After selecting the files or system you'd want to backup, you need to select the destination for your backups. So, click on the My Backups image icon.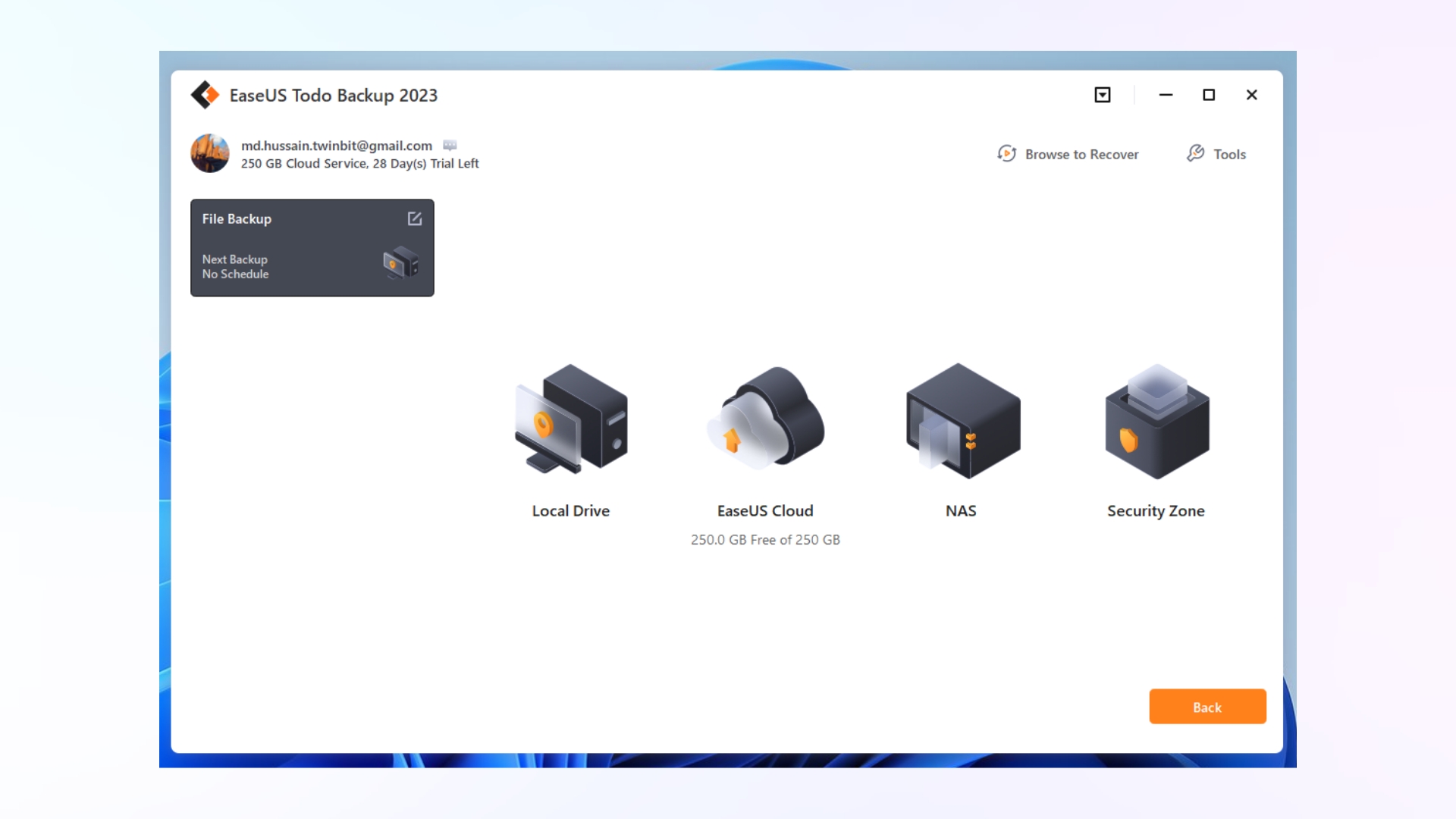 Step 6: Now, you can choose whether you'd want to store your backup data on Local Drive, EaseUS Cloud, NAS, and Security Zone. If you choose 'Local Drive,' you can store your backup data in another location on your computer or external devices like a hard drive or USB stick. Also, you can save your data on cloud storage services like Google Drive, Dropbox, and OneDrive.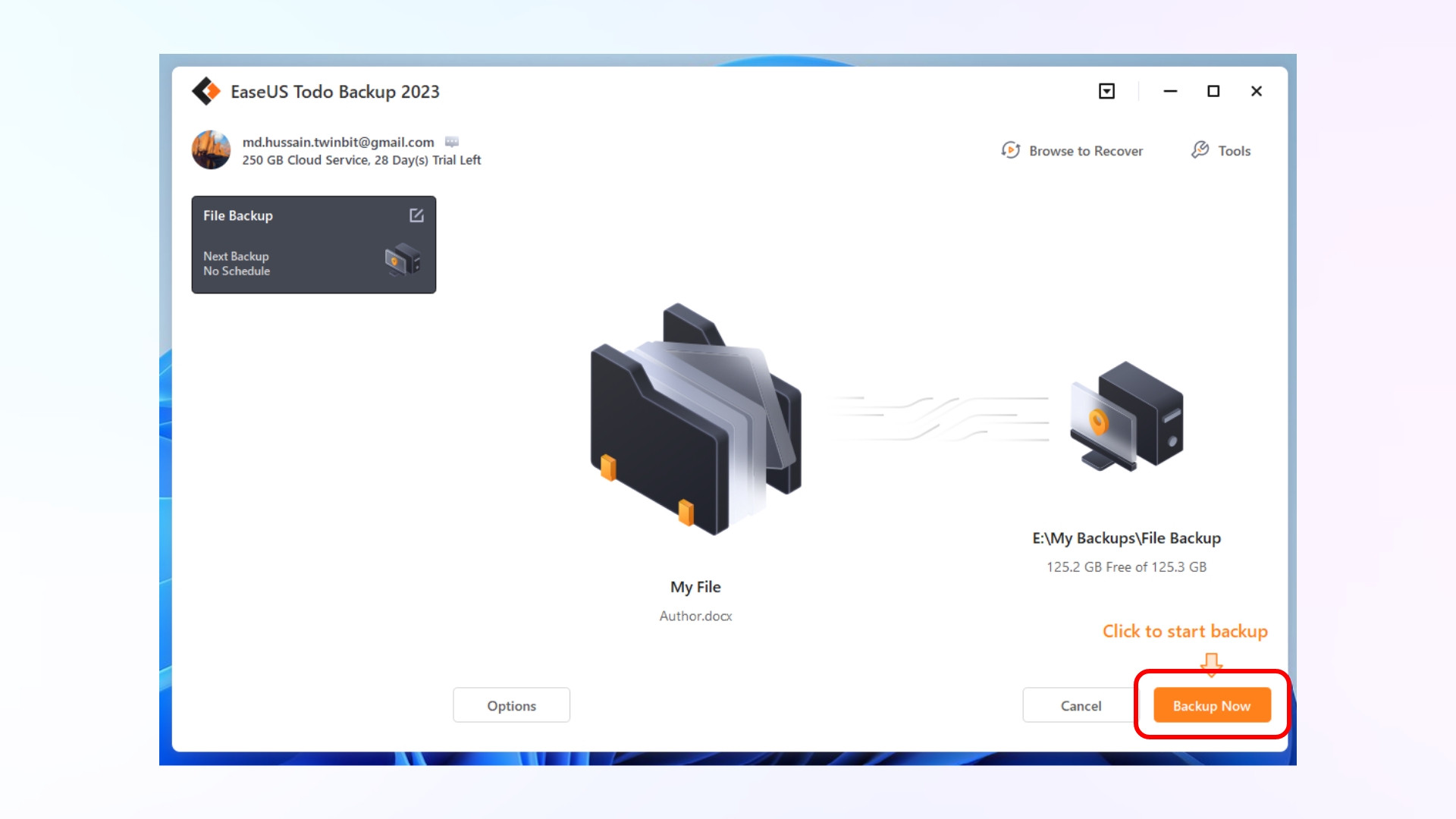 Step 7: Once you've selected a backup destination, click on the Backup Now button to start the backup process. Once your backup is complete, you can now schedule the next backup for the data. The backup file would be stored in (.pbd) file format.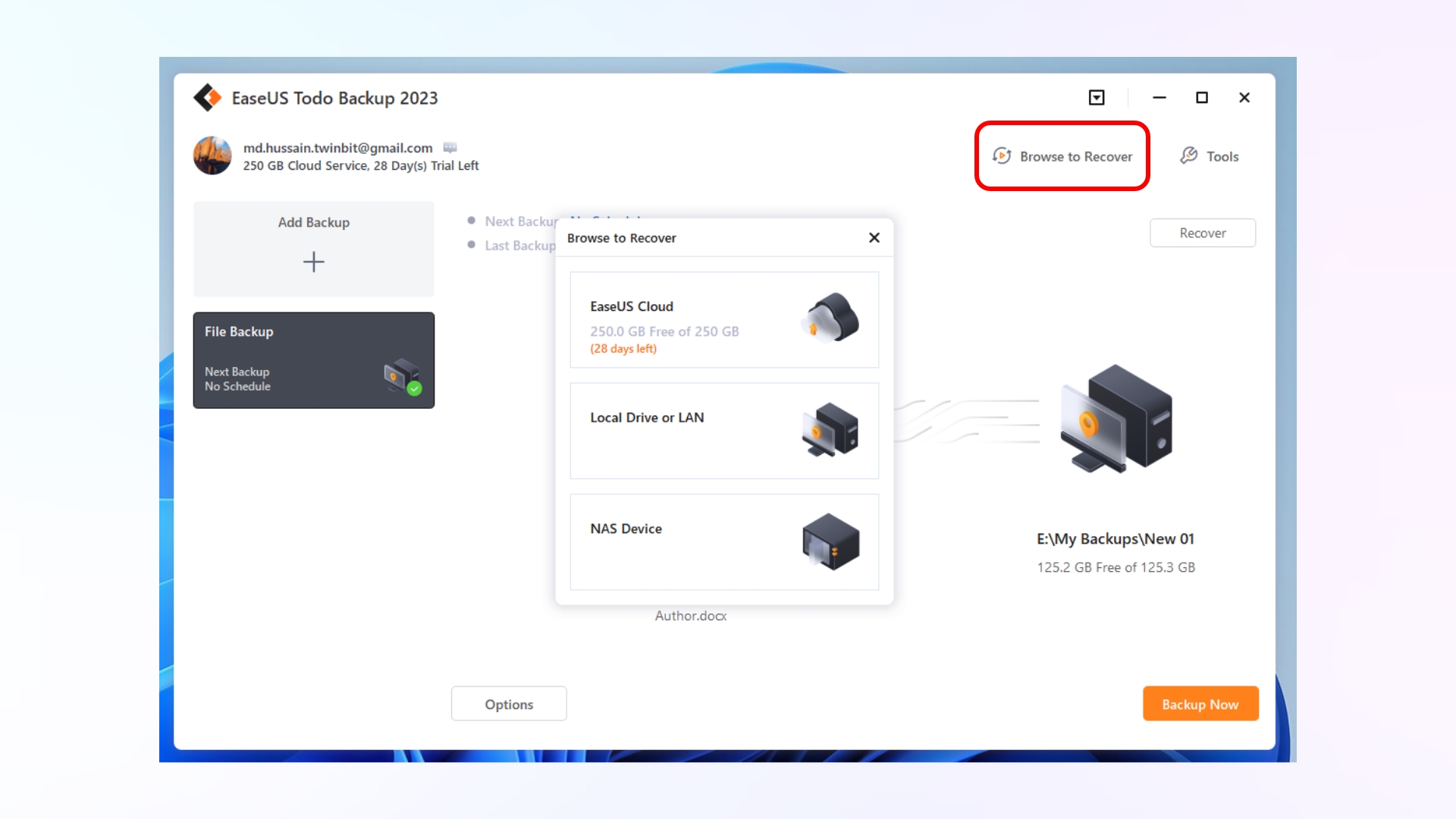 Step 8: Now, to recover your stored backup data, click on the Browse to Recover option from the top-right corner beside Tools. Then select the destination where you've stored your backup, and then find and choose the backup file. Then click on OK.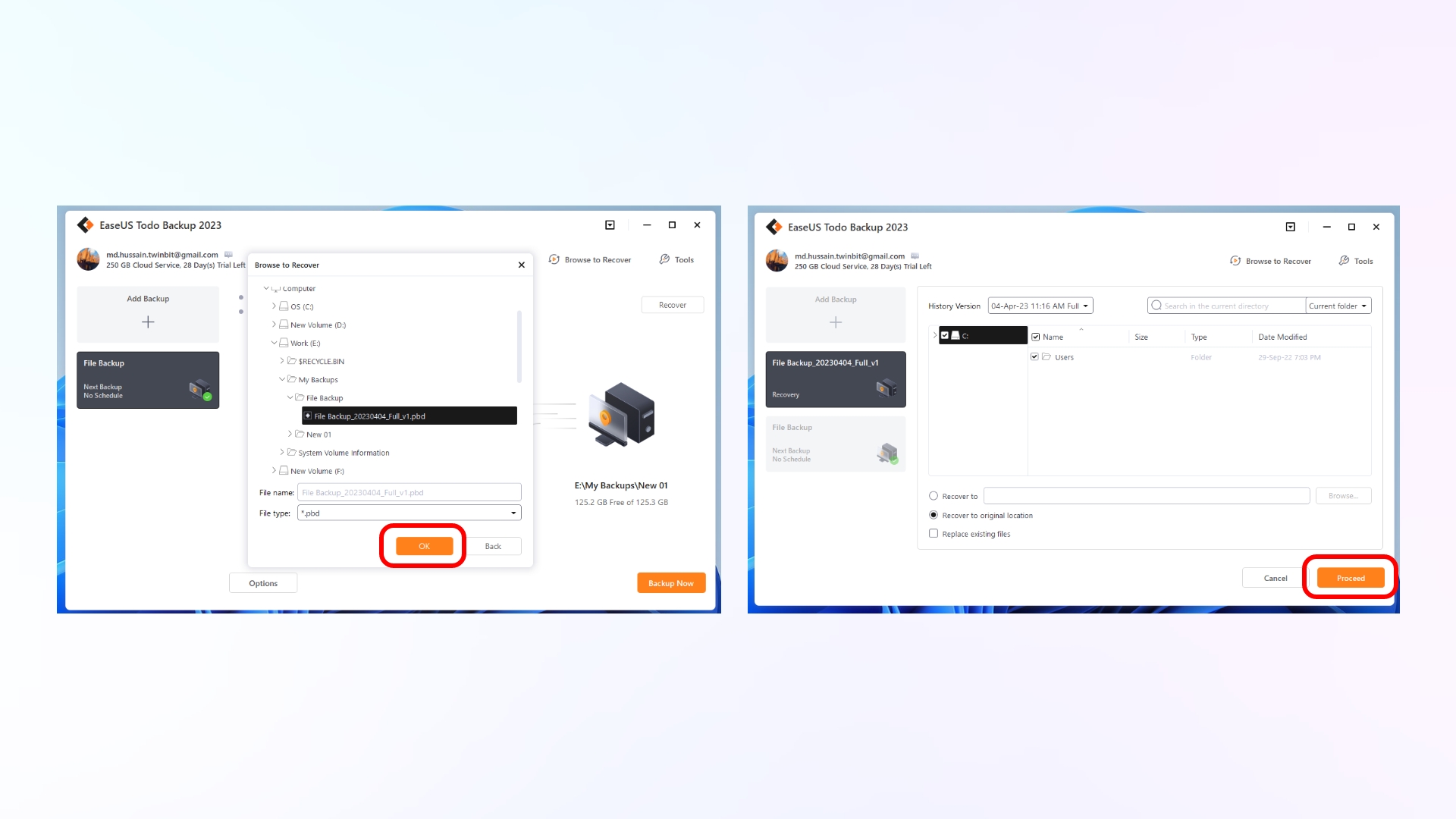 Step 9: Next, choose a destination where you'd want to save your recovered backup data and click Proceed. Once the recovery process is complete, click on Finish.
2.   Backup data locally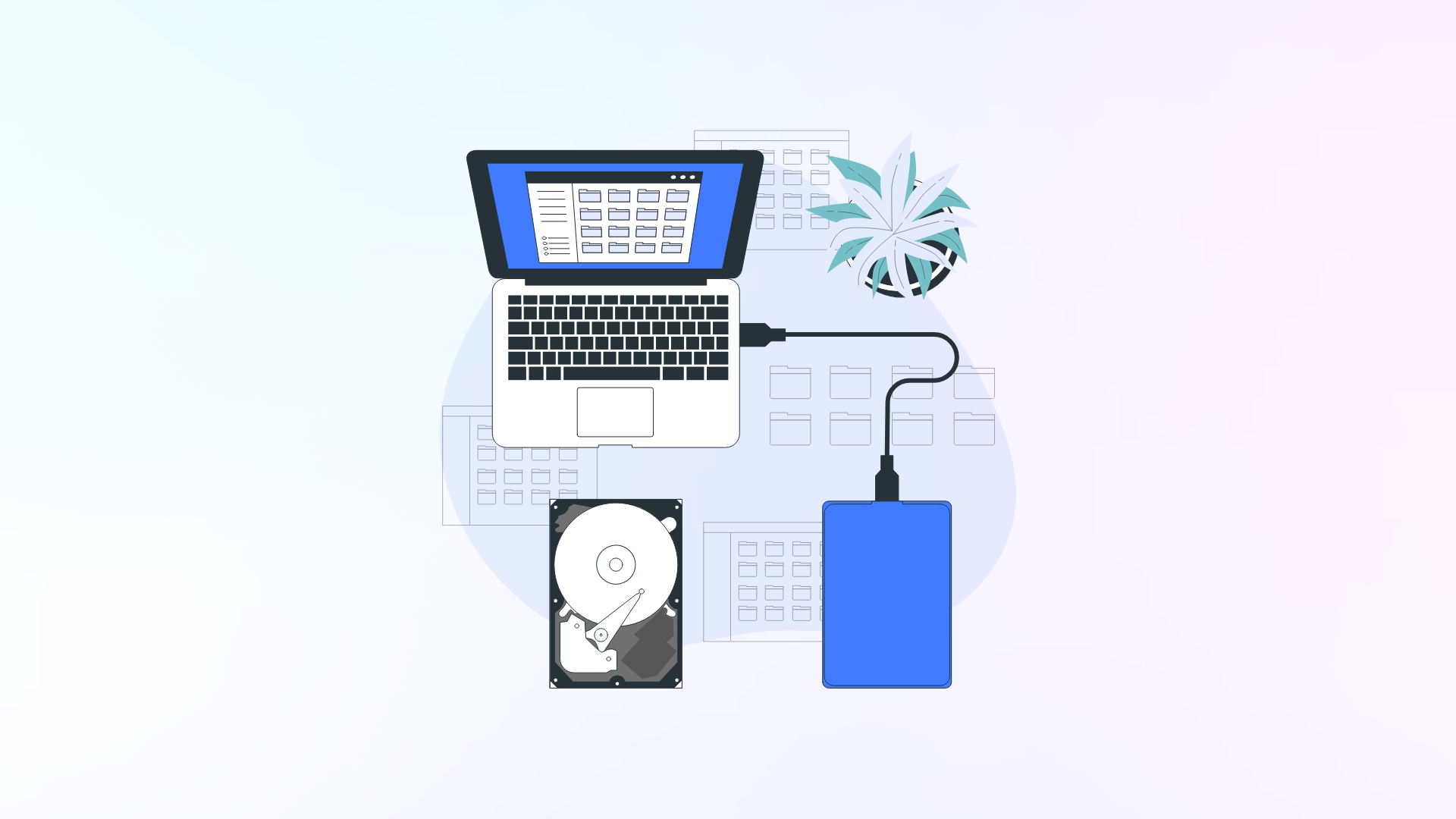 When we say backing up your data locally, we mean either storing it in another location on your computer or on external storage devices. This is a good way to create a backup if your computer crashes or you accidentally delete files. Additionally, it enables quick and simple access to your data without requiring an internet connection.
We suggest, though, that you keep a copy of your data on an external hard drive or USB stick. You can buy external hard drives with up to 10 TB of storage and USB flash drives with up to 256 GB of storage.
But there are other alternative devices that you can use, like your smartphone or laptop, which has significant storage space. They may not have as much storage capacity as external hard drives, but they can still serve as a backup option for important files and documents. It's always better to have multiple backup options in case one fails or gets lost.
Therefore, if you want to backup your data, you must connect the removable external media to your computer. Then open their file folder on your computer, and copy and paste all the data you want to back up into that file. Once it is done, remove the external media from your computer.
The main issue with this approach is that updating the backup requires effort because it is not automated. Also, if the external media is lost or broken, all the data backed up may be lost.
3. Backup data on Cloud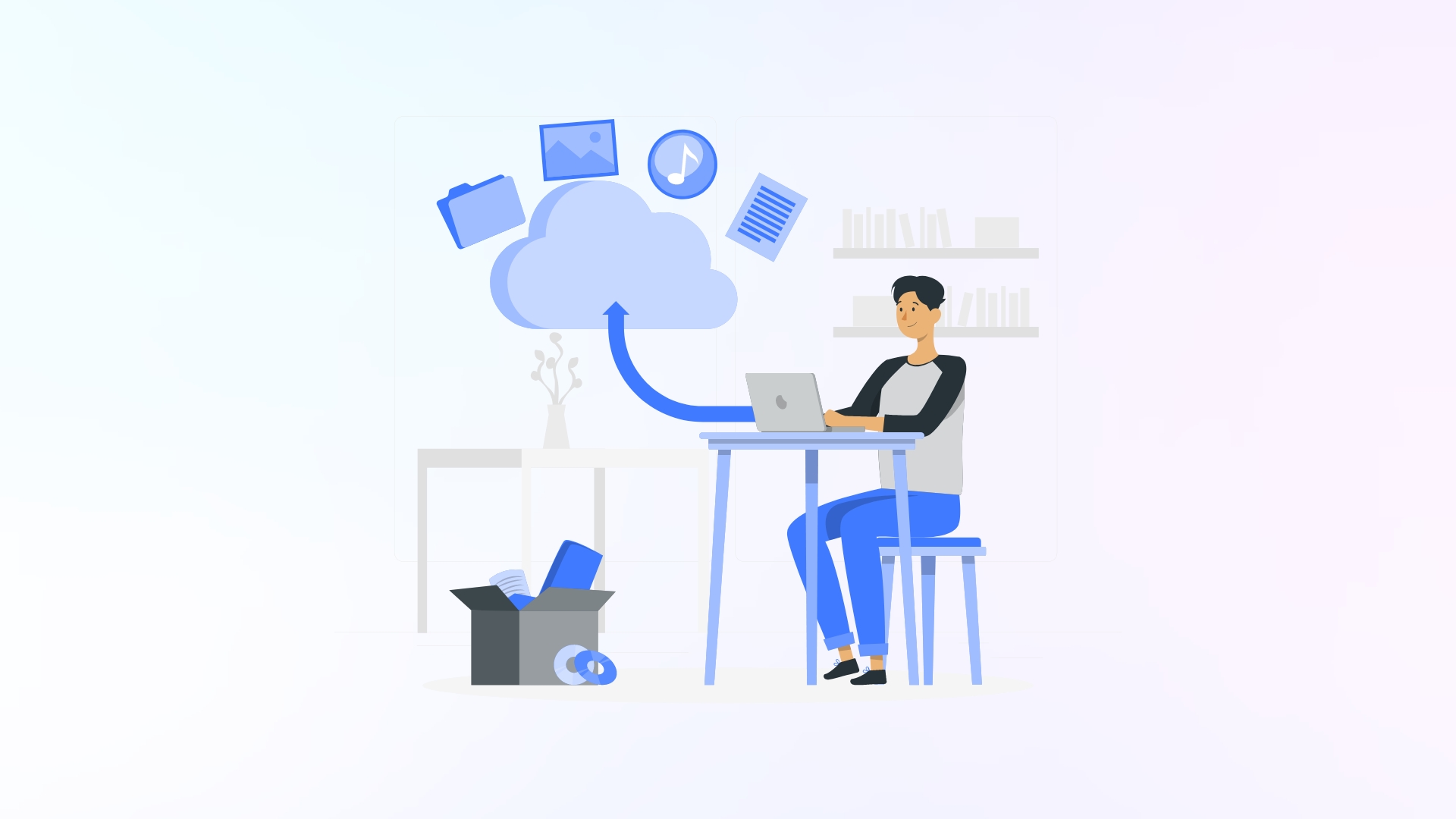 Another way to back up your data is to upload it to the cloud, which is a remote server accessible via the internet. This way, you can access your data from anywhere, and it is protected against physical damage or loss of external media. Sometimes, cloud backup also provides an extra layer of security as the data is encrypted and stored in multiple locations.
Moreover, cloud backup eliminates manual backup processes and ensures that your data is always up-to-date. Also, it allows for easy access to your data from anywhere with an internet connection. So you can remotely access your data without any hassle.
There are several cloud storage platforms that are out there, and a few well-known names are Google Drive, Dropbox, iCloud, and Microsoft OneDrive. They all offer different storage plans for personal and business use and even provide free storage, and here are a few examples:
Google Drive: 15 GB
Dropbox: 2 GB
iCloud: 5 GB
Microsoft OneDrive: 5 GB
The main problem with storing backups in the cloud is the risk of data leaks and privacy concerns. To reduce these risks, choosing a reliable and safe cloud storage service is important. Also, relying only on cloud storage can be hard in places with slow internet or limited access to technology, making it hard to find important files when they are needed. So, for more security and ease of access, it is best to have multiple backup options, including physical storage devices.
4. Backup data on NAS
Another data backup option would be to use the Network Attached Storage, also known as NAS. It is a type of physical storage device that can be accessed over a network. You get easy access to your files, which can be set up to back up data from multiple devices automatically.
This method is the same as storing your data on an external hard drive. The only difference here is that the device is connected to the network, making it accessible to multiple users and devices simultaneously. Additionally, NAS devices often have RAID configurations that provide an added layer of data protection in the event of hardware failure.
The main issue with the NAS backup option is that they can be quite expensive to set up, especially if you need a lot of storage space or advanced features. Additionally, you might need some technical knowledge to set up and maintain this setup.
What data to Back Up?
It is best to make a backup of any important files, especially ones that can't be replaced, such as important documents, spreadsheets, presentations, photos, and videos. It is also important to regularly back up any frequently updated or changed data.
In addition, it is advisable to back up the operating system and software applications to ensure a smooth recovery in the event of a system failure. If you use a lot of apps on your computer, it may be wise to back up the app data as well, especially if you have customized settings or preferences.
The 3-2-1-1-0 Golden Backup Rule
The 3-2-1-1-0 Golden Backup Rule is a widely accepted backup strategy. It recommends having at least three copies of your data stored on two different media types, with one copy stored offsite and one online. The final "0" stands for zero errors or issues encountered during the backup and restoration process.
Best Practices for Backing Up Data
The following are some of the top backup practices to use in order to protect your data:
Back up your data regularly
Establish a backup schedule and stick to it consistently
Store backups offsite
Test backups to ensure they're working properly
Encrypt your sensitive data
Use multiple storage media like cloud etc.
Make sure to change your backup plan as your needs for storing data change.
Conclusion
In this article, we've covered why you need to back up your data and how you can do it in great detail. Following our guide and using the recommended software ensures your data is backed up securely and efficiently. Don't wait until it's too late; start backing up your data today to avoid any potential loss or damage.
With the EaseUS Todo Backup software, you can easily manage all your storage options and ensure that your data is backed up properly.
Check out our other articles: