Category:
A Complete Guide on How to Connect JBL Speakers and Headphones to iPhone & Mac
We independently research, test, review, and recommend the best products. As an Amazon Associate we earn from qualifying purchases.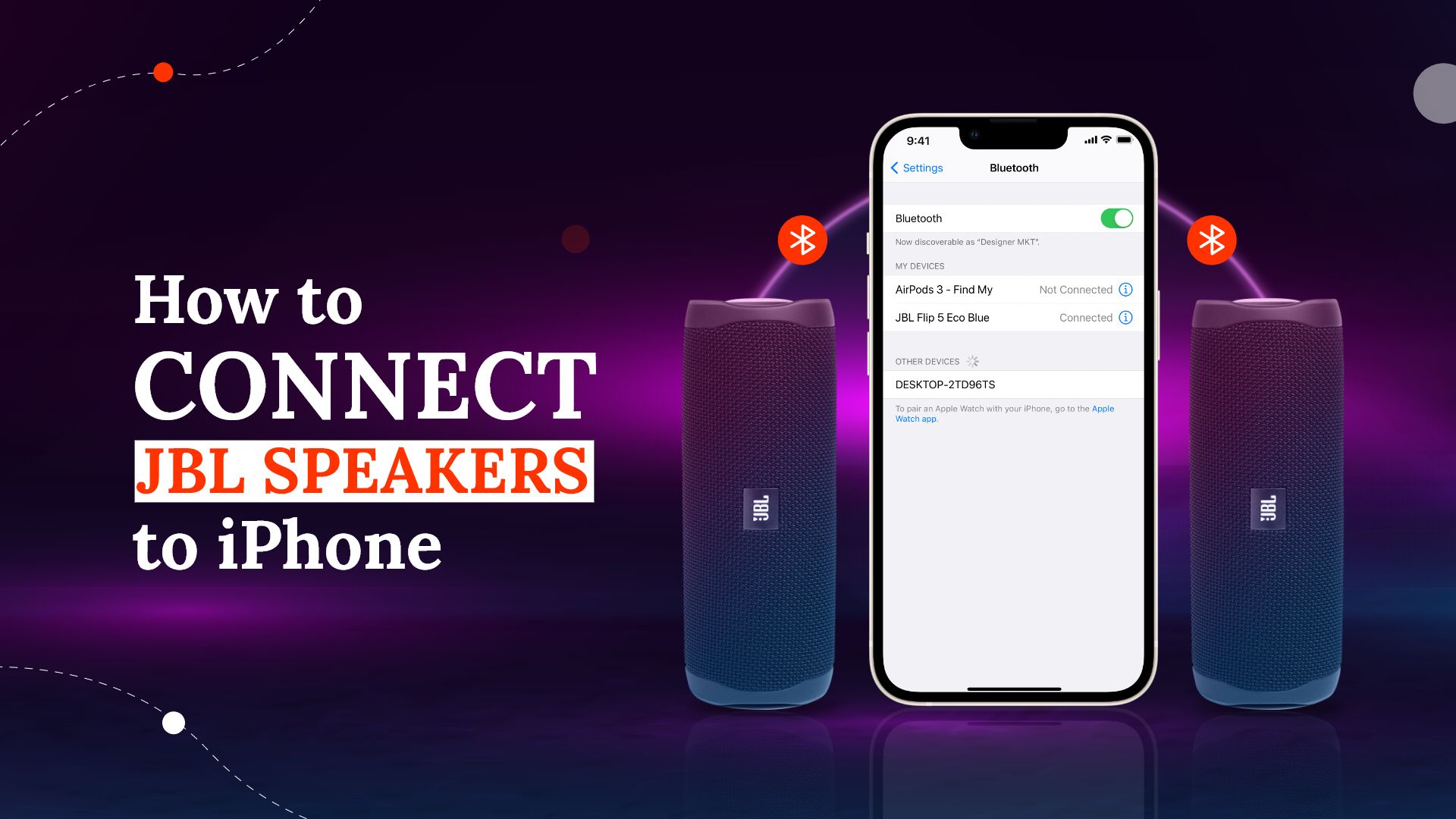 Speakers and headphones are great accessories that enhance the listening experience of your smartphones, computers, and other devices. Although both of them elevate the audio quality of what you listen to, they do it differently. And, if you are looking for the best speakers and headphones for your iPhone or Mac computers, then JBL is a great option.
JBL speakers and headphones are widely known for their super-quality sound, durability, and convenience. So, if you want to discover how to connect JBL speakers and headphones to your iPhone or Mac and enjoy music on another level, this is for you.
How to connect JBL speakers and headphones to iPhone
JBL is widely known to make some of the best speakers and headphones. They have an amazing collection of wireless Bluetooth speakers and headphones that you can easily pair with your iPhone. So, here in this article, we will focus on connecting JBL Bluetooth speakers or headphones with your iPhone.
Here's how to connect JBL speakers to iPhone
Wireless Bluetooth speakers are perfect for pairing with your iPhone and JBL offers a wide range of them. If you are looking for a portable, waterproof, and Bluetooth speaker that you can use to liven up any gathering then you could check out JBL Boombox 3 or JBL Charge 5. With them you would get 20 or more hours of playtime, great sound quality, and you can even connect multiple JBL speakers together.
Another alternative is JBL Flip 6 speaker which is smaller and cheaper than Boombox and Charge and perfect for outdoor use. However, it can hold only 12 hours of playtime. Almost all JBL speakers use Bluetooth as a means of connectivity and so you can use that to pair it with your iPhone.
Step-by-step guide on how to pair your JBL speaker to iPhone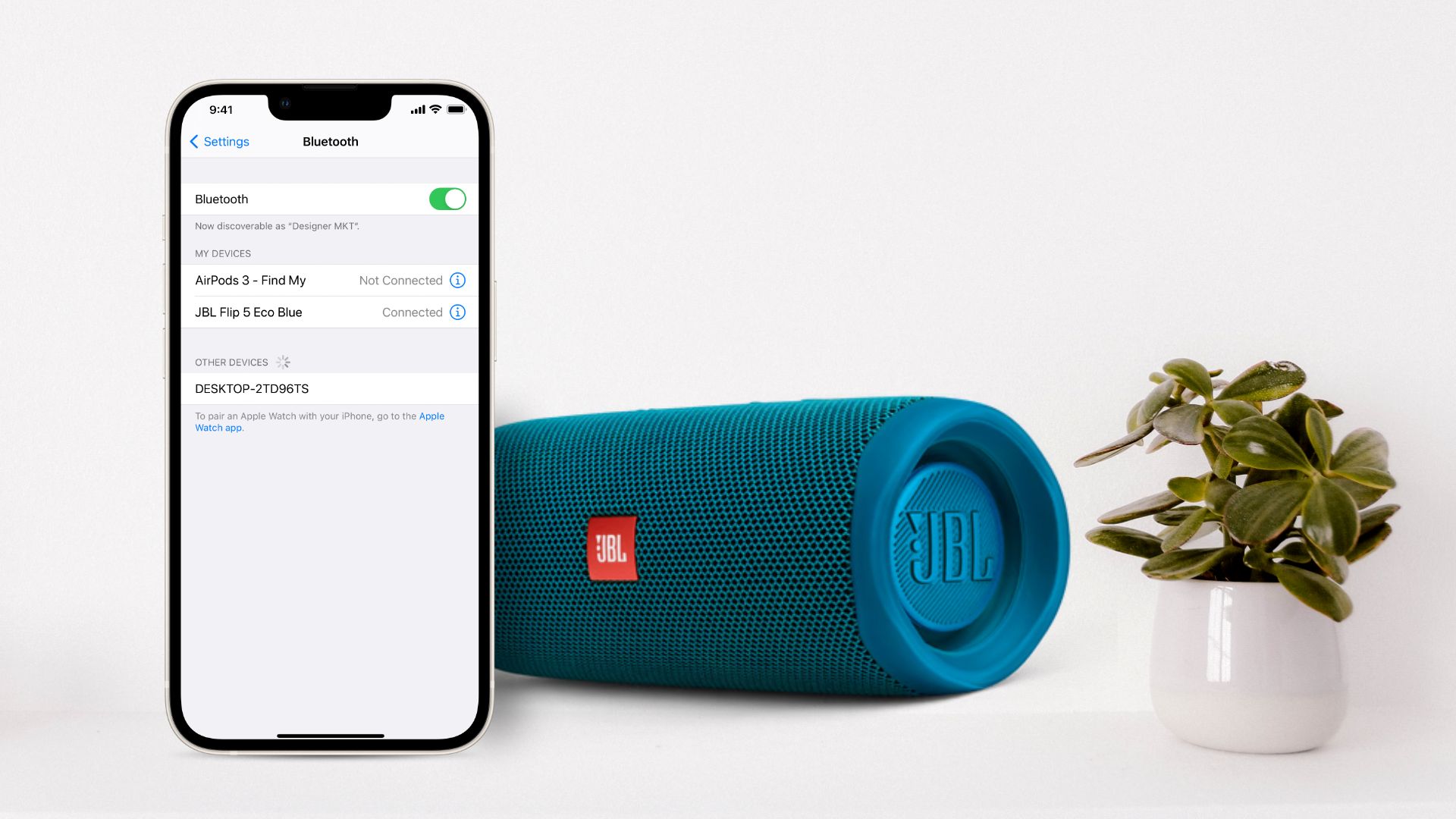 Step 1: Turn on the power of your JBL speaker and also make sure to bring your iPhone closer to your speaker.
Step 2: Next, you need to make sure that the JBL speaker is in the pairing mode. For this, press the Bluetooth button on the speaker to enable the pairing with your iPhone.
Step 3: Now on your iPhone, head over to Settings > Bluetooth > turn ON the toggle for Bluetooth. Then under the Other Devices section choose the JBL speaker.
The two devices will now pair and you can now enjoy music from your iPhone on the JBL speaker.
Here's how to connect JBL headphones to iPhone
If you are using JBL wired headphones, you cannot connect with the latest iPhone models as they don't have an AUX input. But you can use a Lightning to 3.5mm Headphone Jack adapter to make it work.
However, most JBL earbuds and headsets support wireless Bluetooth connectivity. And the process of connecting your JBL Bluetooth headphones to your iPhone is very straightforward and almost similar to the process for speakers mentioned earlier.
Steps on how to pair JBL Bluetooth headphones with iPhone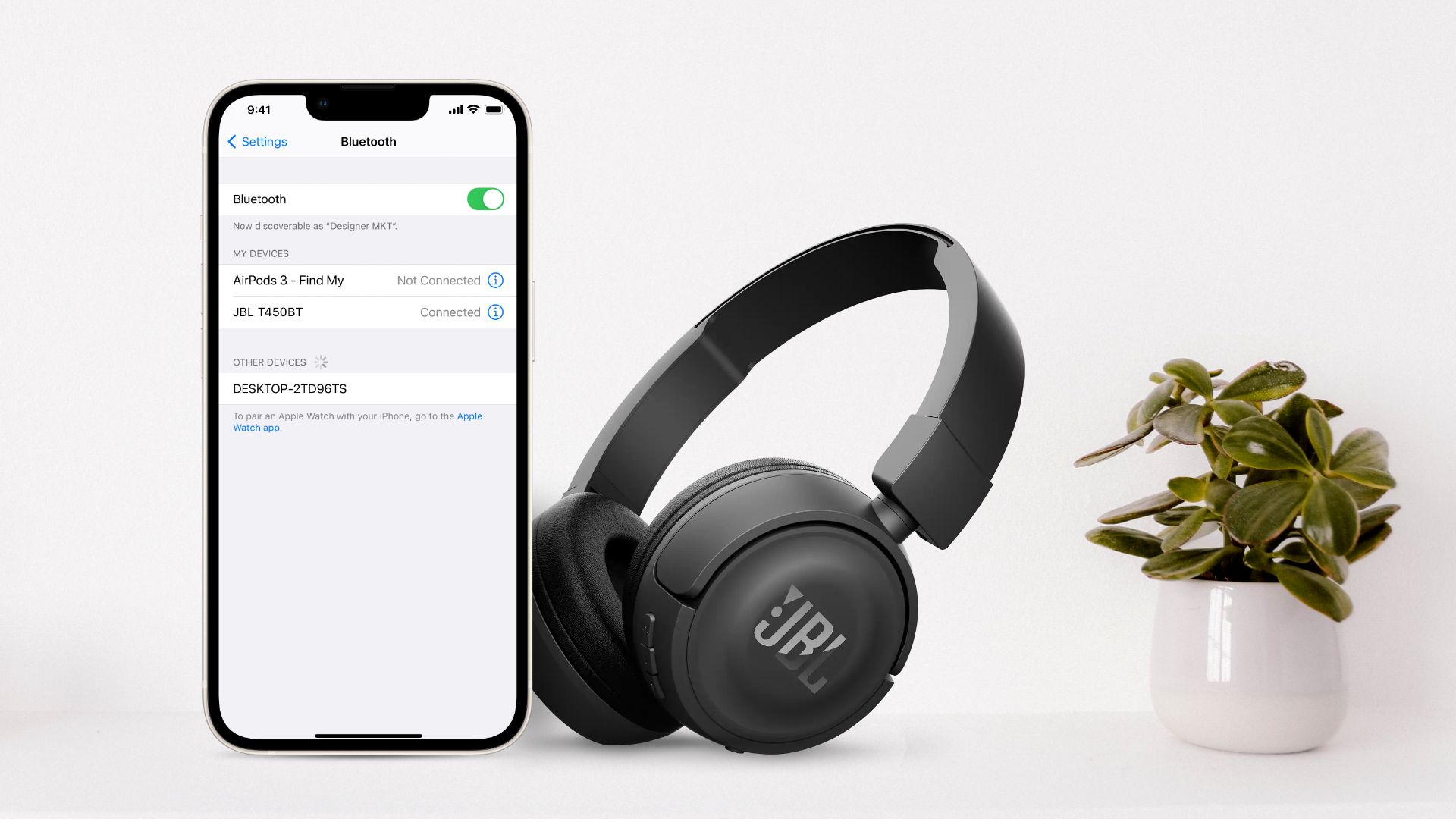 Make sure your iPhone is closer to your iPhone
Turn on the power for your JBL headphone
Next, turn on the pairing mode on the headphone by pressing the 'Bluetooth pairing' button
Now open the 'Settings' app on your iPhone and head over to 'Bluetooth'.
Turn on the toggle for Bluetooth, and under the 'Other Devices' section, choose your JBL headphone
How to pair multiple JBL speakers together
A cool feature of JBL devices is the ability to connect with each other. You can easily pair two or more JBL speakers at the same time. However, there's a catch! Every JBL speaker comes with a connection protocol.
If you have multiple JBL speakers that supports the same connection protocol, you can connect them together. That way, music will flow through all of those speakers and boost the overall listening experience. You need only to ensure that the speakers have the same connection system.
There are three different types of connection protocols for your JBL speakers, and they are:
PartyBoost
Connect
Connect+
The JBL Boombox 3, JBL Charge 5, and JBL Flip 6 all support the PartyBoost connection protocol. So, you can try and pair them together. In the following section, we will show you how.
Step-by-step on how to connect two JBL speakers together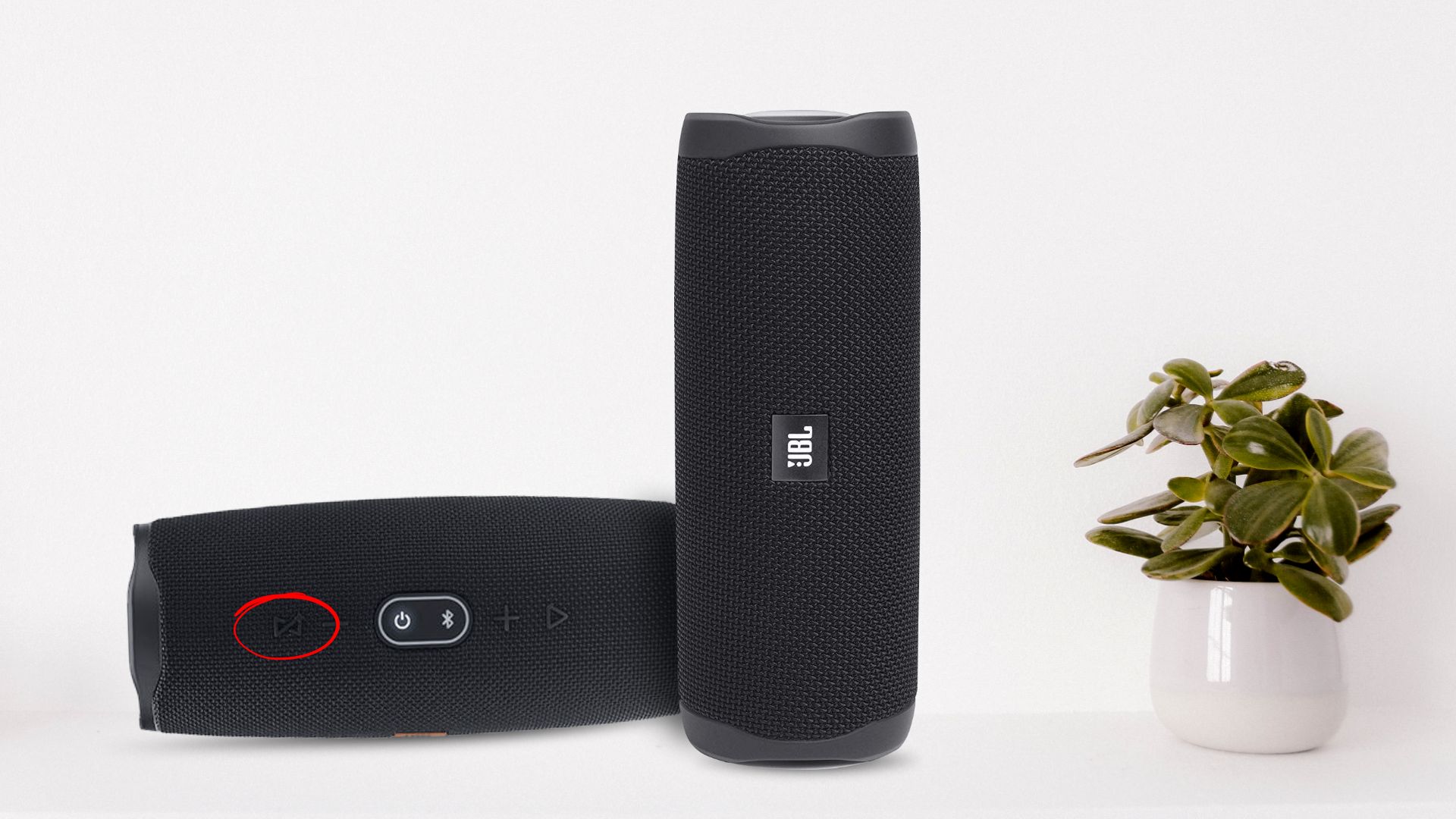 First, make sure both of the JBL speakers are already paired with your iPhone. If not, follow the preceding guide to pair them.
With the speakers connected, play any audio on your iPhone.
The music will start to come through one of the speakers.
Next, press the connect button on the other JBL speaker. For Connect and Connect+ features, there should be an hourglass icon. And for PartyBoost, it looks like an infinity icon.
That's it. In a moment, music will start to play through both of your devices. You can connect multiple JBL speakers using this same process.
How to Disconnect and Unpair JBL Bluetooth Speakers
We've learned how to connect JBL speakers to iPhone and pair speakers together, but how to disconnect them from iPhone? Well, it's relatively easy. Simply accessing your iPhone's Bluetooth settings should do it. JBL speakers and headphones for iPhone make it effortless to connect and boost the regular sound to another level. And if you're wondering how to disconnect and unpair JBL headphones, earbuds, or speakers, here's what to do.
Here's how to disconnect JBL speakers or headphones from iPhone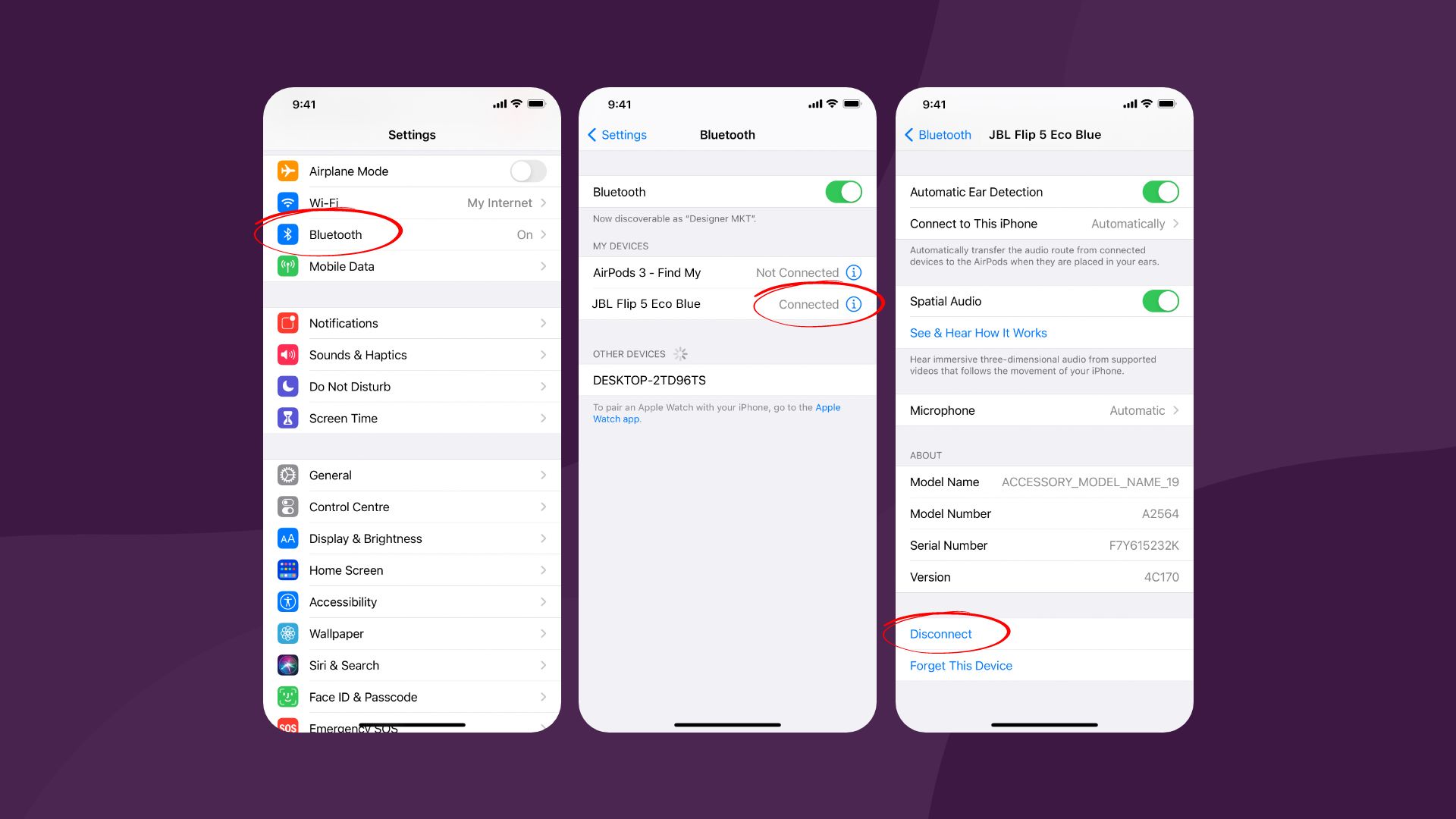 Open your iPhone Settings and go to Bluetooth.
Find your JBL device and tap on the info or (i) icon next to it.
Then tap on the Disconnect option at the very bottom.
Here's how to unpair your JBL headphones or speakers from iPhone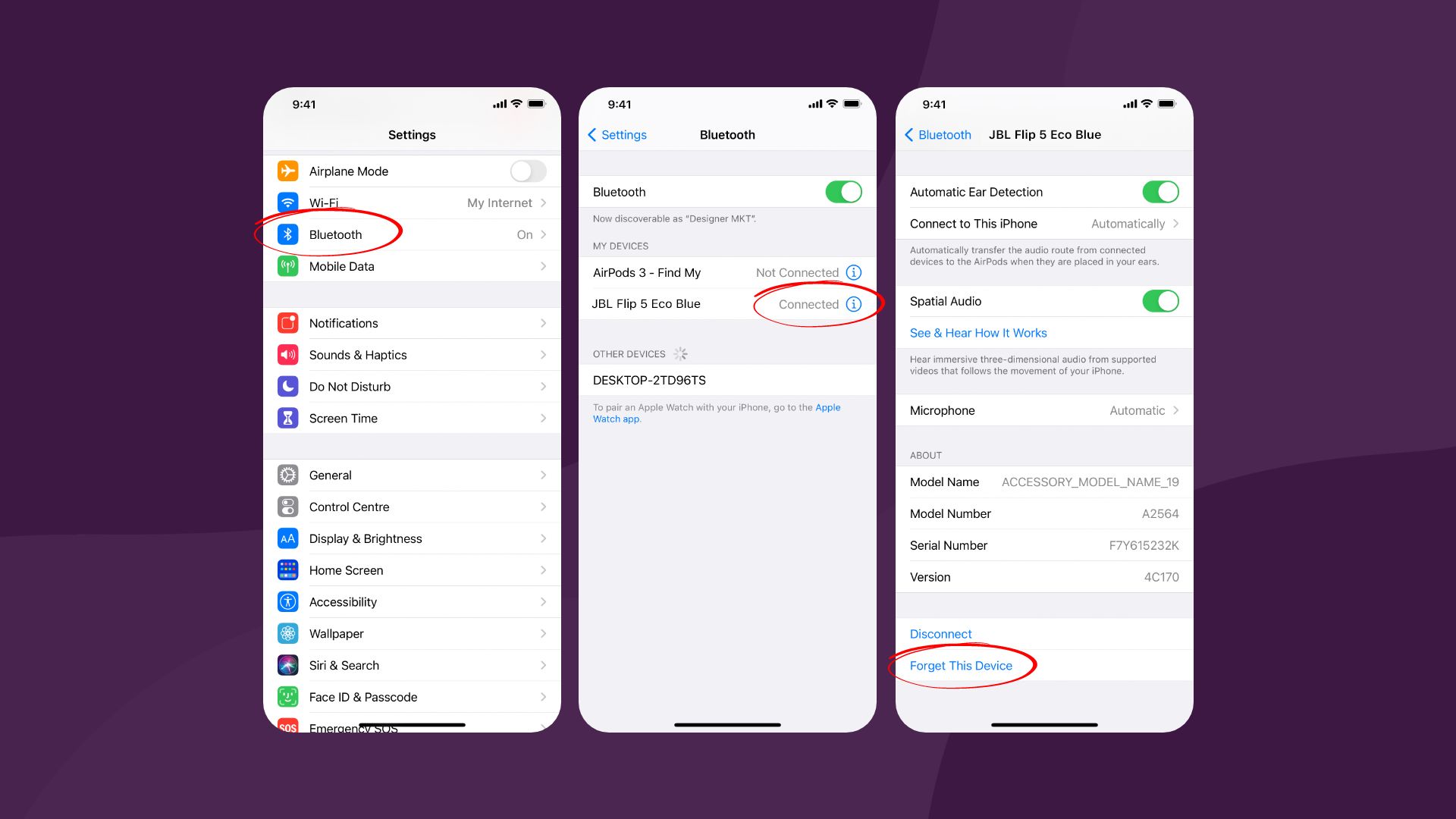 Go to the Bluetooth option from your iPhone Settings.
Tap the (i) icon next to your JBL speaker or headphone.
Finally, tap on Forget This Device at the bottom. Note that once you select this, you will have to pair the device again to use it in the future.
How to connect JBL Bluetooth speakers or headphones to Mac
Pairing your wireless JBL speakers or headphones with Mac using Bluetooth is also straightforward. The steps for pairing your Bluetooth speakers are almost the same as for connecting wireless headphones to Mac. Here's how-
Make sure that your speaker or headphone is within the Bluetooth range of your Mac.
Next, turn on the power of your JBL speaker or headphone.
After that, press the Bluetooth button to prepare the speaker or the headphone for the pairing mode. This will make the Bluetooth devices discoverable by your Mac.
On Mac, Click on the Apple menu > System Preferences > Bluetooth.
Now hold your mouse pointer over the JBL device in the list of discovered devices and click Connect.
If you are interested in speakers for Mac other than from JBL, then you can check out our other article for the best speakers for MacBook Pro and iMac.
Is your JBL speaker not connecting to iPhone?
If a JBL speaker is unable to connect to your iPhone, check a few things and then try to connect again. First, make sure both iPhone and the speaker has Bluetooth turned on and charged enough. Next, make sure the devices are close to each other. Then turn your Bluetooth off and back on again, and give it a retry.
If you're trying to pair a JBL for the first time, turn on the pairing mode on your speaker beforehand. If you still can't connect it to your iPhone, try resetting the device. You can reset a JBL speaker by simultaneously pressing the Volume+ button and Bluetooth button for several seconds.
Do JBL headphones work with iPhone?
Yes, all JBL headphones work with iPhones, whether Bluetooth or wired. Since Bluetooth is the only thing needed to connect a Bluetooth device, JBL Bluetooth speakers, earbuds, or headphones have no problem pairing with iPhone.
How many JBL speakers can you connect together?
You can connect up to 100 JBL Bluetooth speakers together and play music as one single source. Keep in mind that you need the same connection protocol for all of the speakers you wish to connect. For instance, if some of the speakers have the Connect and some are with the Connect Plus feature, the first ones will not connect to the latter.
Final words
In this guide on how to connect JBL speakers and headphones to iPhone or Mac, we've discussed all the possible ways. Knowing how to connect iPhone to JBL speakers or headphones can open up tons of possibilities for entertainment. Need to light up a house party? Connect ten, twenty, and even up to a hundred JBLs and play music through them all. Boosting the audio experience has never been easier.
An alternative to JBL speakers is Sony speakers. We've covered a similar article on pairing a Sony speaker to an iPhone.