Category:
How to Screen Record Netflix on iPhone 
We independently research, test, review, and recommend the best products. As an Amazon Associate we earn from qualifying purchases.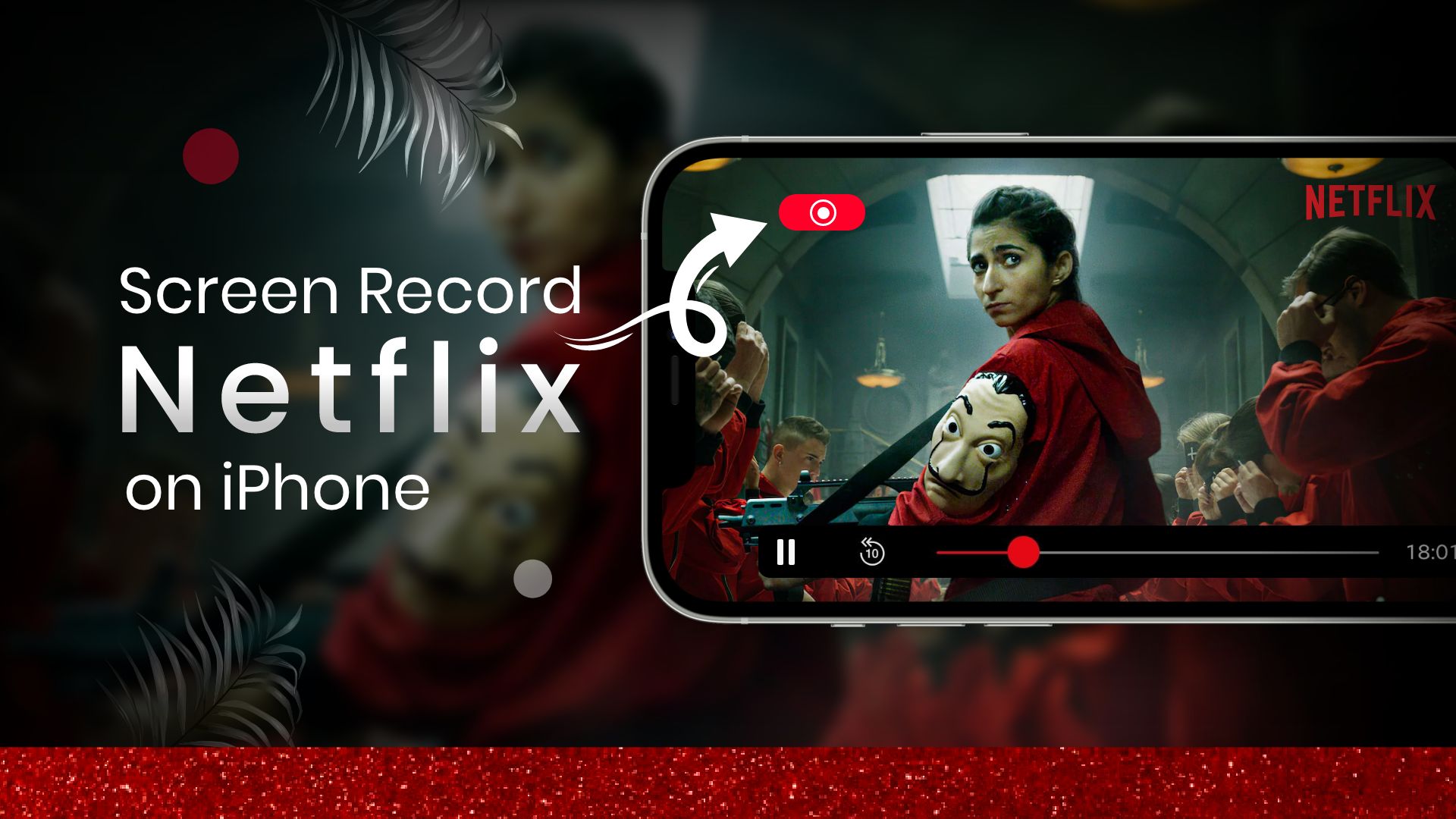 With contents from many languages, Netflix is the most popular video streaming platform in the world right now. Nowadays, even movies are being released on such platforms first instead of in theatres. In addition, old movies, TV shows, or documentaries are being added regularly, giving you a rich collection.
Like adding new content, Netflix also frequently axes content from their platform. This could be a disappointment if your favorite shows or movies are on that list. You could avail yourself of Netflix's download option to view your movies offline.
If that's the case, why do you need to screen record Netflix? Does Netflix really prevent screen recording their content? Can you really screen record Netflix videos on your iPhone or on other devices, for that matter?
In this comprehensive guide on how to screen record Netflix on iPhone, we'll try our best to answer all those questions.
How to download Netflix shows on your iPhone?
We know that you can easily download movies and TV shows on your Netflix app. But can you watch the downloaded Netflix movies offline? Yes, you definitely can. If you're traveling and have no internet, you can still enjoy your favorite shows. However, your downloaded content will only be available on your Netflix account for 30 days. In addition, you can only view the content from your Netflix app.
Steps on how to download Netflix movies on iPhone for offline viewing: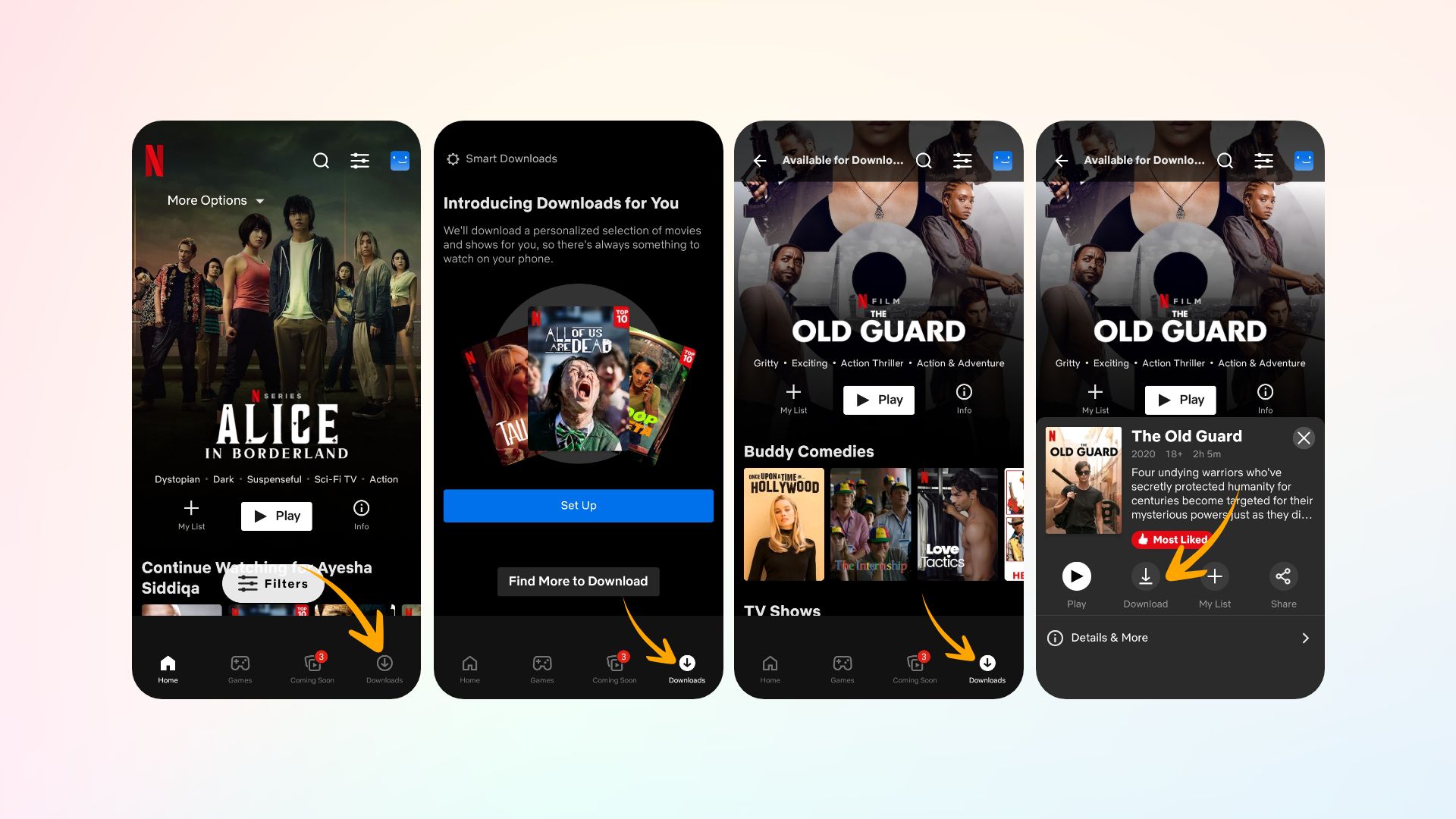 Start the Netflix app on your iPhone and sign in to your account.
Then tap on Downloads located at the bottom-right of your screen.
Next, tap on Find More to Download.
Then browse and select a tv show or a movie to download.
On its description page, tap on the Download icon.
How to screen record Netflix on iPhone?
When it comes to recording videos from Netflix, it is not that simple. You should instead ask the question, "Can you screen record on Netflix with your iPhone?". Your iPhone device comes with a built-in screen recording feature which in theory should allow you to screen record movies from Netflix. However, when you check your recording file, the audio will work fine, but instead of a video, you'll see a black screen. This restriction is applied to prevent the potential piracy of Netflix content.
Despite this, we've shared with you the steps on how to screen record Netflix on iPhone with its native screen recording feature. You could try a third-party screen recorder app on your iPhone, but the results will be the same. You'd also need to know whether screen recording Netflix videos is legal.
Is it illegal to screen record Netflix on iPhone?
In a way, you're not allowed to screen record Netflix on any device. This is because content piracy is still a big thing, and producers lose a lot of money. As long as you use your Netflix clips for personal use only and not for commercial purposes, you're going to be fine.
Steps on how to screen record Netflix on iPhone using its built-in screen recorder:
Swipe down on the top-right corner of your iPhone's home screen to access the Control Center.
Then touch and hold on to the grey screen recorder button.
Next, tap on the microphone icon to enable audio for your recording, then tap on Start Recording.
After a 3-second countdown, your screen will start recording on your iPhone.
Next, launch the Netflix app on your iPhone and sign in to your account.
Then play a show or a movie that you'd like to record.
Once you've recorded your video, exit the Netflix app and tap on the red record button at the top of the screen.
After that, tap on Stop to end your screen recording.
Your screen recording file is now saved on your Photos app.
How to screen record Netflix on Mac and Windows PC
You cannot properly record Netflix movies on your iPhone. Your attempts will only give you a black screen with audio of your content. However, if you're using a Mac or a Windows computer, then there are ways you can record Netflix.
If you want to screen record Netflix without a black screen, then you'd need a screen recording software and disable hardware acceleration. You can disable the hardware acceleration from your browser like Chrome. In addition, there are a number of screen recording software that you could use. There's Wondershare UniConverter, Bandicam, EaseUS RecExperts, among others.
We'll show you how to screen record Netflix on Mac and Windows using the Chrome browser.
Steps on how to screen record Netflix without a black screen:
Launch the Chrome browser on your computer.
Then tap on the Menu (three vertical dots) icon located at the top-right of the screen.
Next, tap on Settings and then Advanced.
Then select System.
After that, disable the toggle switch for "Use hardware acceleration when available" and then tap Relaunch.
Once you've done this, launch your screen recording software and start your recording.
Next, open Chrome again and visit the Netflix site to sign in to your account.
Then play the movie or show that you'd want to screen record.
Once you've finished, stop your recording.
If you try to screen record Netflix without disabling the hardware acceleration, then you'll record a black screen. However, once you've successfully completed screen recording Netflix videos with the above-mentioned steps, you should enable the hardware acceleration.
Conclusion
Now that you understand how to screen record Netflix on iPhone and its challenges. Furthermore, we've also discussed a way to record your Netflix movies without any black screen using your computer. Netflix is not keen on allowing you to record their content. We also don't recommend you screen record your Netflix content for anything other than personal use.