Category:
How to Unlock Apple Watch Without iPhone
We independently research, test, review, and recommend the best products. As an Amazon Associate we earn from qualifying purchases.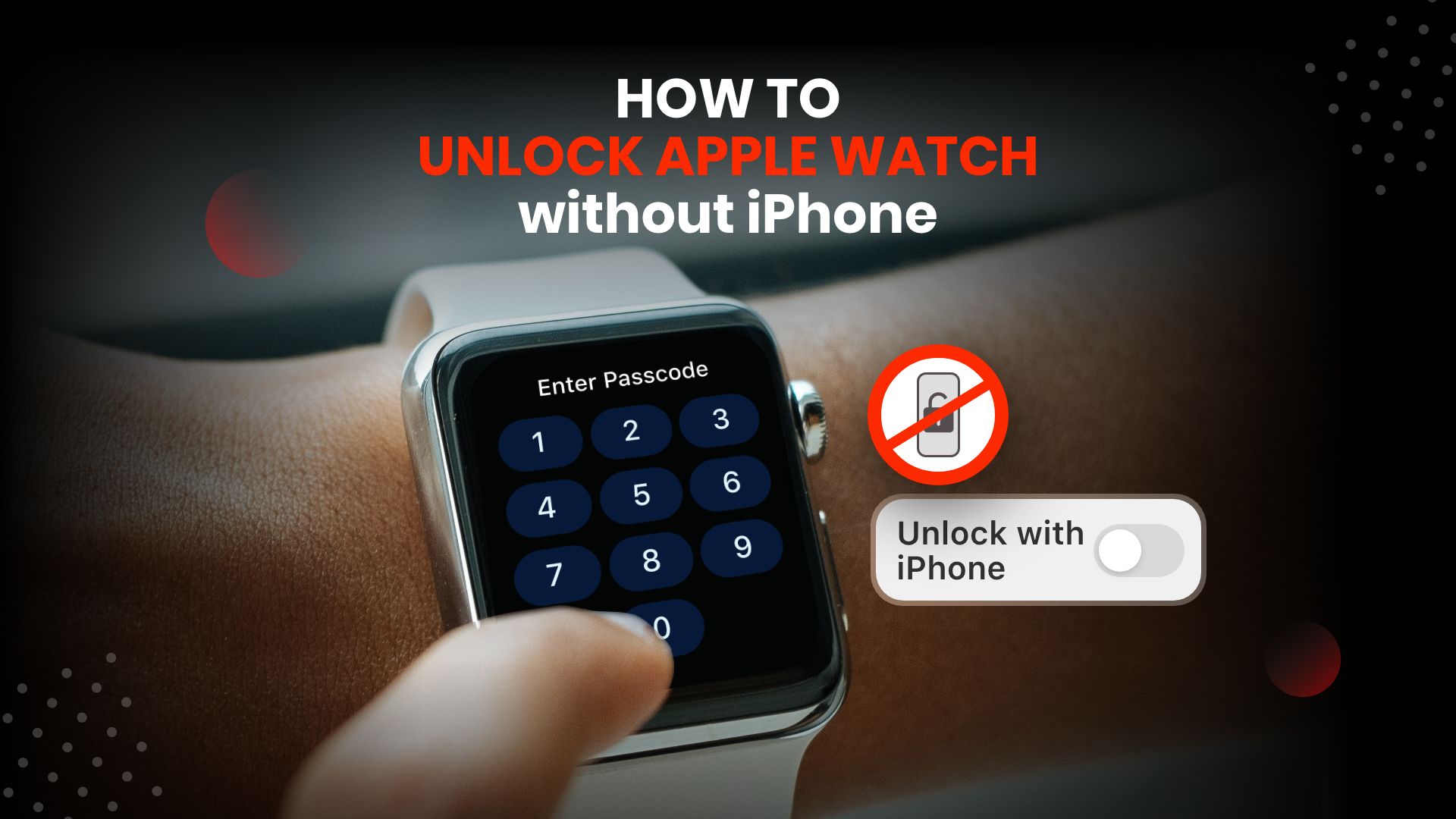 Apple Watch has a wide range of usability in daily life. It makes timekeeping, using Apple Pay, replying to messages, receiving notifications, replying to messages, & receiving calls conveniently. Most importantly, the Apple Watch may work as your trainer for health & fitness. If somehow you are locked out of your Apple Watch, you may find it difficult to unlock. Most users sync their watches with their iPhone devices. However, if you don't have access to your iPhone, there are other ways to unlock your Apple Watch. This article about how to unlock Apple Watch without iPhone will go through them.
How to unlock Apple Watch without iPhone
There are multiple ways to recover your Apple Watch from a locked stance. Yes, if you don't have access to an iPhone, the unlocking process gets longer. So, if you are searching for convenient ways to learn how to unlock Apple Watch without iPhone, you have come to the right place. Here, you will learn how to reset your Apple Watch to unlock without an iPhone. Then, you will learn how to use the passcode and wrist detection feature to safeguard your Apple Watch from ever being locked again.
First, you will learn about the reset method from the steps below. Remember that resetting your Apple Watch will delete existing data if the iCloud service is not enabled on your device.
Do you know Apple devices use iCloud to sync through their other devices? You can use it to get voice memos from Apple Watch to iPhone.
How to reset Apple Watch to unlock without iPhone
If you forgot your Apple Watch passcode or didn't have a paired iPhone to unlock it, there is an alternative way. Yes, resetting an Apple Watch is easy if you have a paired iPhone. The process is a bit longer if you don't have an iPhone. That being said, the Apple Watch has the critical function of resetting it without any paired device. In the steps below, you will find the instructions.
Steps on how to reset Apple Watch to unlock without an iPhone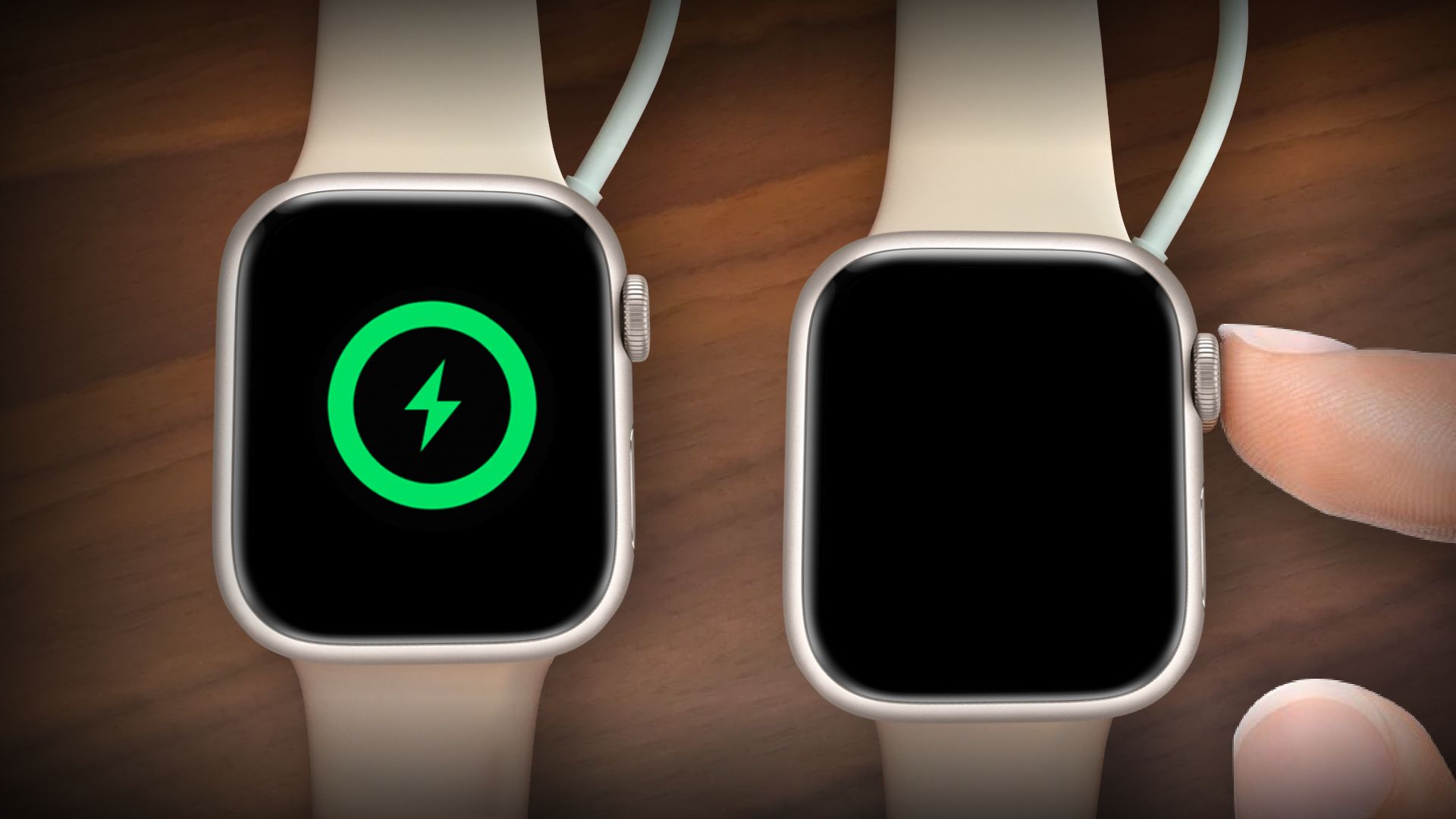 First, put your Apple Watch on the charge; don't remove it until the process is finished.
Then, you must press and hold the side button to turn it off.
When you see Power Off, press and hold the Digital Crown to the point where you see Erase all content and settings.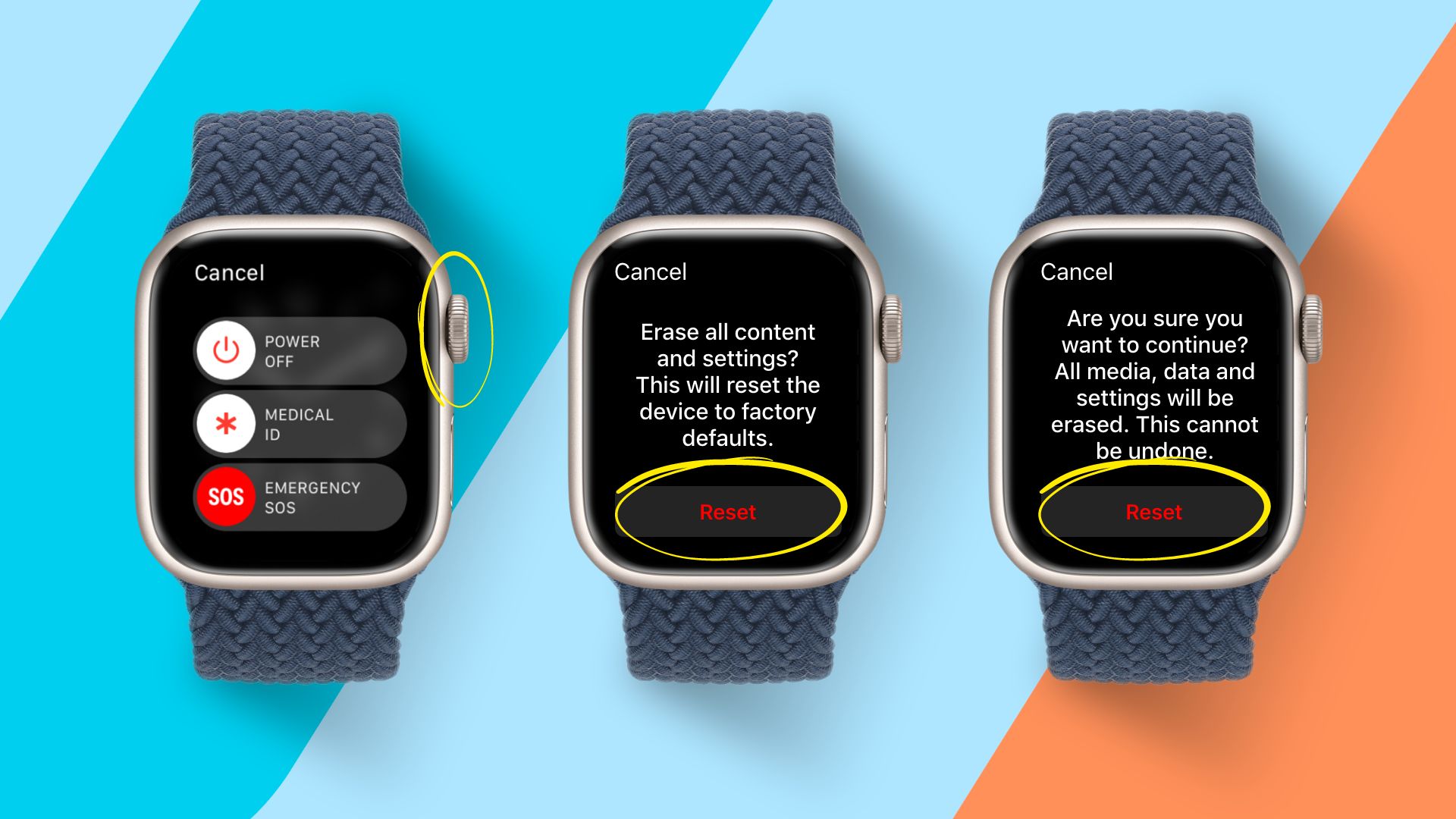 Now, you need to tap Reset and then tap Reset again.
Let the process of resetting finish, and start setting up your Apple Watch again.
Finally, choose to restore from a backup when prompted.
How do you pair your Apple Watch after a hard reset?
Contrary to some beliefs, you won't lose your data simply by resetting a device. In the case of Apple devices, there are some convenient solutions to regain your precious data. The iCloud Backup system will work flawlessly to restore your Apple Watch to its working state in a blitz.
To pair your Apple Watch after a hard reset, follow these steps:
Put your Apple Watch on your wrist.
Now press and hold the side button until you see the Apple logo.
Then, hold the iPhone and Apple Watch near each other and wait for the Apple Watch pairing screen to appear on your iPhone device.
Afterwards, tap Continue.
Alternatively, you can also open the Apple Watch app on your iPhone and then tap Pair New Watch. Then, when prompted, you have to position your iPhone so that your Apple Watch appears in the viewfinder in the Apple Watch app. This will pair the two devices. Now, follow the instructions on your iPhone and Apple Watch to finish setup.
If you face difficulty during the process, you can reset the iWatch information on your iPhone under General and then delete it by Reset – under General through the settings icon on your watch. Then, start the whole pairing process again.
If you need to pair your existing Apple Watch with a new iPhone, watch the video below for a step-by-step guide.
How to unlock Apple Watch without iPhone manually
Apple Watch users should always use the manual technique to unlock their Watch. Your Apple Watch has sensitive data about yourself. So, if you have or do not have an iPhone, manual unlocking is always the safest option to unlock your watch. Manual unlocking does not mean the process is complicated. You are just a simple passcode away from unlocking your device. Apple makes this process very simple.
Alternatively, you can use the Wrist Detection feature to lock your Apple Watch automatically. This feature is usually enabled by default. You may choose to turn it off according to your preference. The separate steps below will give you a complete idea of how to use these options.
Step-by-step guide on how to unlock Apple Watch without iPhone by a passcode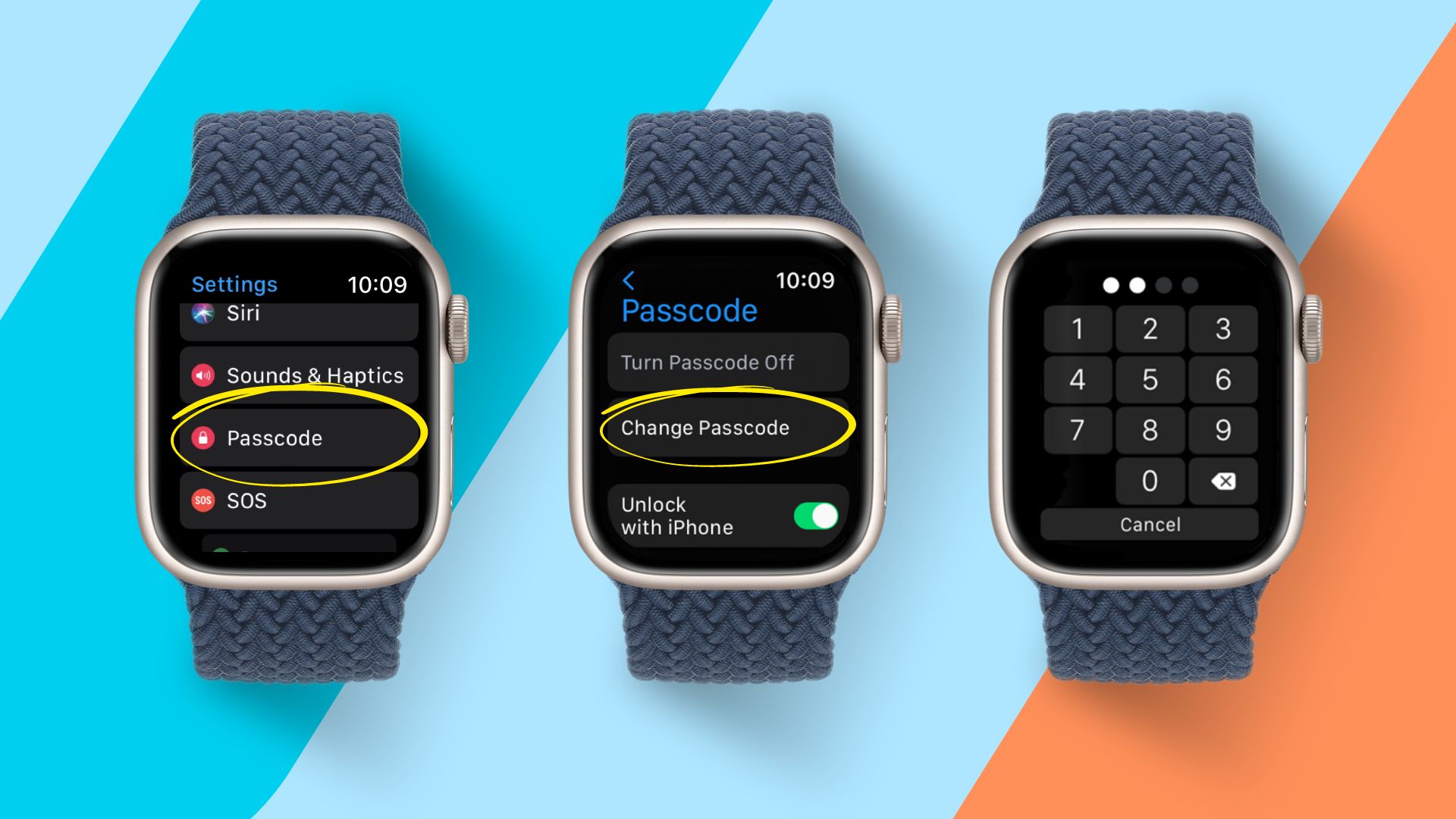 First, bring up the Settings on your watch.
Next, you need to select Passcode.
Make sure that the toggle for Unlock with iPhone is turned off.
Then tap on Turn Passcode On.
Now, try out the passcode option by locking and tapping the Apple Watch screen to bring up the Enter Passcode prompt.
Here's how to lock Apple Watch without iPhone automatically using the Wrist Detection feature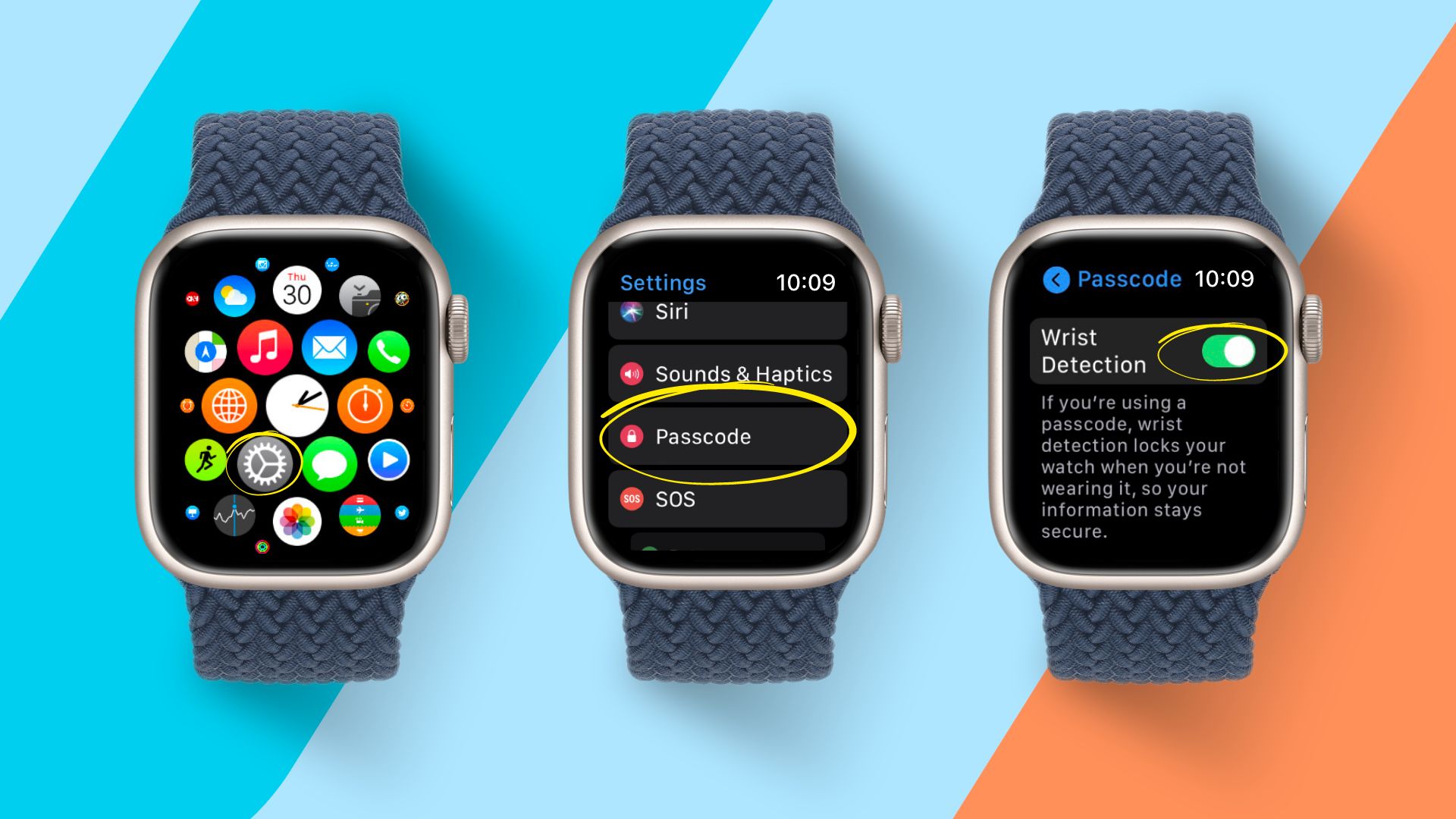 The Wrist Detection feature is for users who want a simple way to lock their Apple Watch when they are not wearing it. This feature is turned on by default. However, it is easy to turn it on again if you have changed it. For that, you need to go to the Settings menu of your Apple Watch. Then tap on the Passcode option. Inside Passcode, you will discover the choice to turn on or off the Wrist Detection feature. The Wrist Detection feature works best when you exercise or participate in outdoor activities. It solves the accidental touch issue on your Apple Watch effectively.
Conclusion
It is frustrating when we forget a passcode and cannot unlock a device. Fortunately, smart devices nowadays come with several options to remedy that. The Apple Watch is no exception. In this in-depth guide, you have learned several methods to unlock the Apple Watch without an iPhone. Another way to lock your Apple Watch is with the Water Lock feature. It is useful for Apple Watch users who sweat a lot (due to intense workouts) or are involved in water-related sports such as swimming.
If you want more solutions like this, you may check out how to unpair and re-pair Apple Watch to iPhone without erasing data. Alternatively, go through our post on how to free up storage on Apple Watch.